At roughly 3am it begins to pour rain. I plan to take my first zero day in the motel as the storm is only predicted to get worse but Ricky Bobby wants to hike out at midday. As the morning arrives the rain is sporadic but heavy and eventually we have several bouts of hail falling from the sky. The power gets knocked out around 10am for a few hours before a technician comes by to fix a nearby transformer. As planned Ricky Bobby leaves at noon back to trail and I settle in once again for the rest of the day watching movies and finish off the strenuous day with a pizza for dinner.
I sleep in a bit to fully enjoy the expensive motel room I've paid for. I went back to the Mexican restaurant for breakfast and surprisingly I found another Florida Trail friend, Yazzie! We caught up and decided to head out back together to trail. Around 10am the motel owner was able to drive both of us back to the trailhead. As we get out I see Bam again who wants to go into town. Yazzie and I hike together for a few miles until I leave him after a shallow river crossing.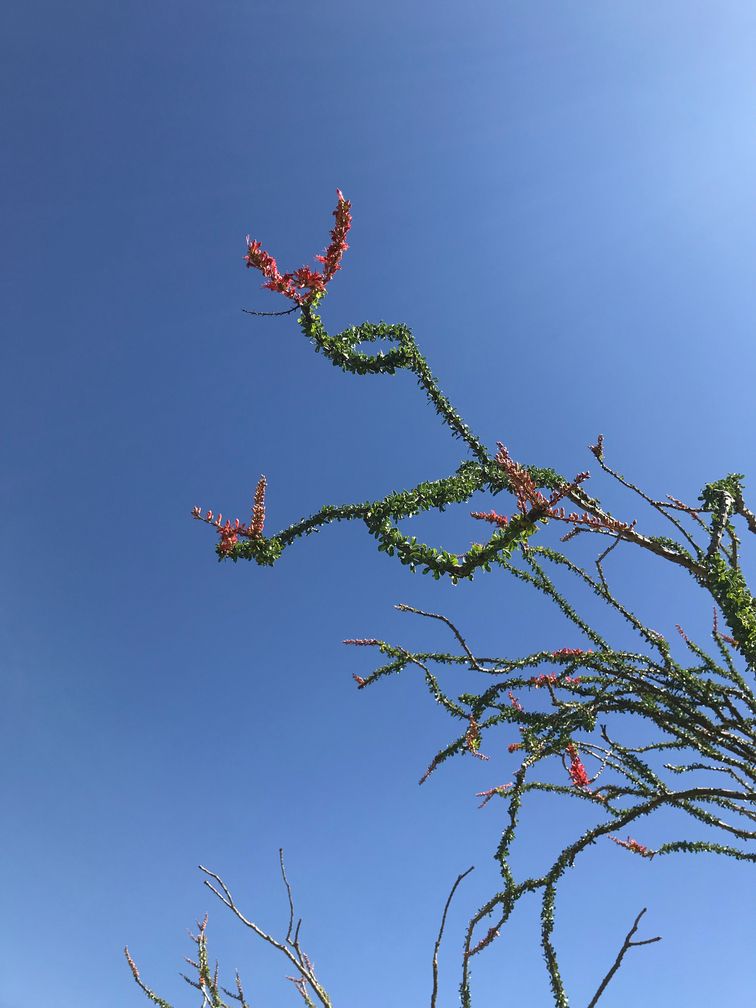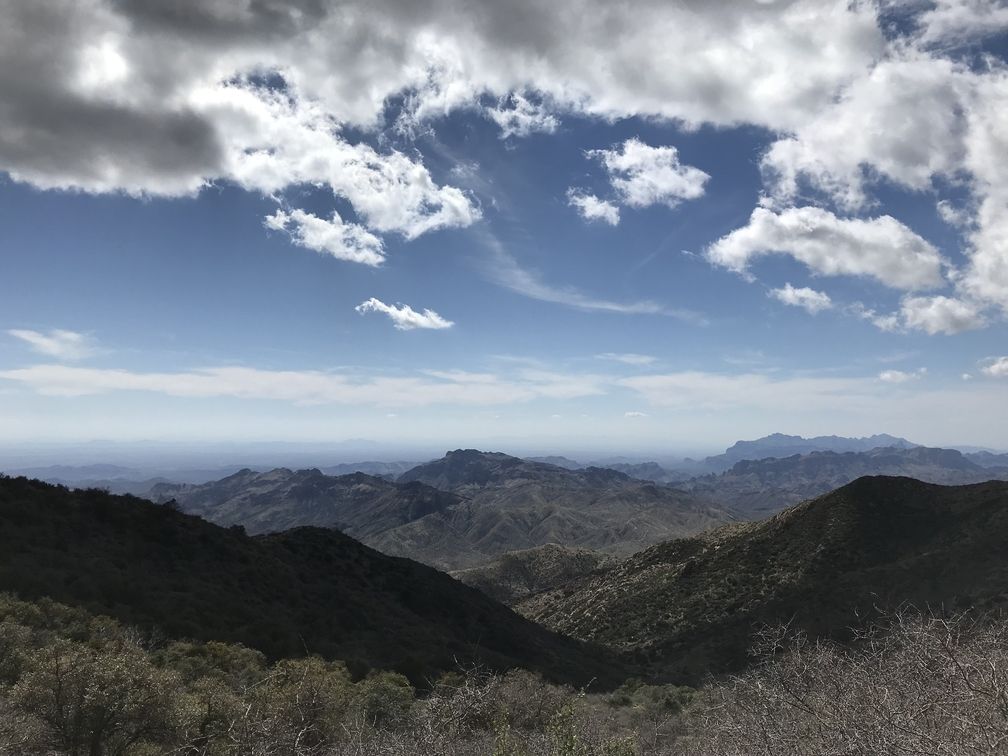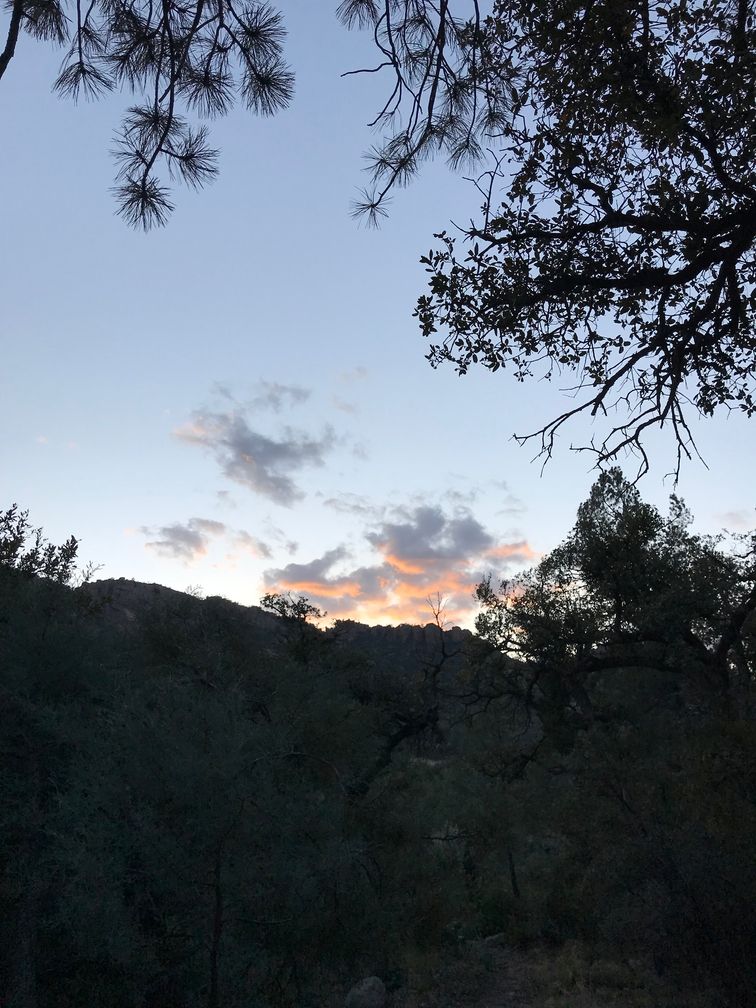 The trail is pretty dry considering the substantial rain that fell quite recently so I make quick progress. I pass a bunch of familiar faces: Gaucho, Lumos and Gypsy. I pass two Canadians: Molasses from Ottawa and Vertigo from Okanagan. The hillsides seem lush despite being mostly various types of cacti which are now blossoming and many have small beautifully bright flowers. I enter the Superstition Wilderness Area which are rough and suffered a recent forest fire. In the evening I catch up to Seabiscuit, Ricky Bobby's hiking buddy, and another hiker Horse Cake. Continuing, the landscape once again makes it's transformation from desert to pine forest as I end my day early by Pine Creek.
I wake earlier hoping to keep company with Seabiscuit and hopefully catch up to Ricky Bobby who was a day ahead. Unfortunately I blast past Seabiscuit while he's still in his tent and before midday I catch Horse Cake. The trail is undulating but the temperature is fairly mild as I push to get to Roosevelt Marina for lunch. I arrive exactly at 11am when they open and meet a ton of hikers hanging out in the area. Star Fox, Tacos, Reels, Moon, Cruise, Sheepdog and a few others whose names I don't catch spent the night camping near the marina last night.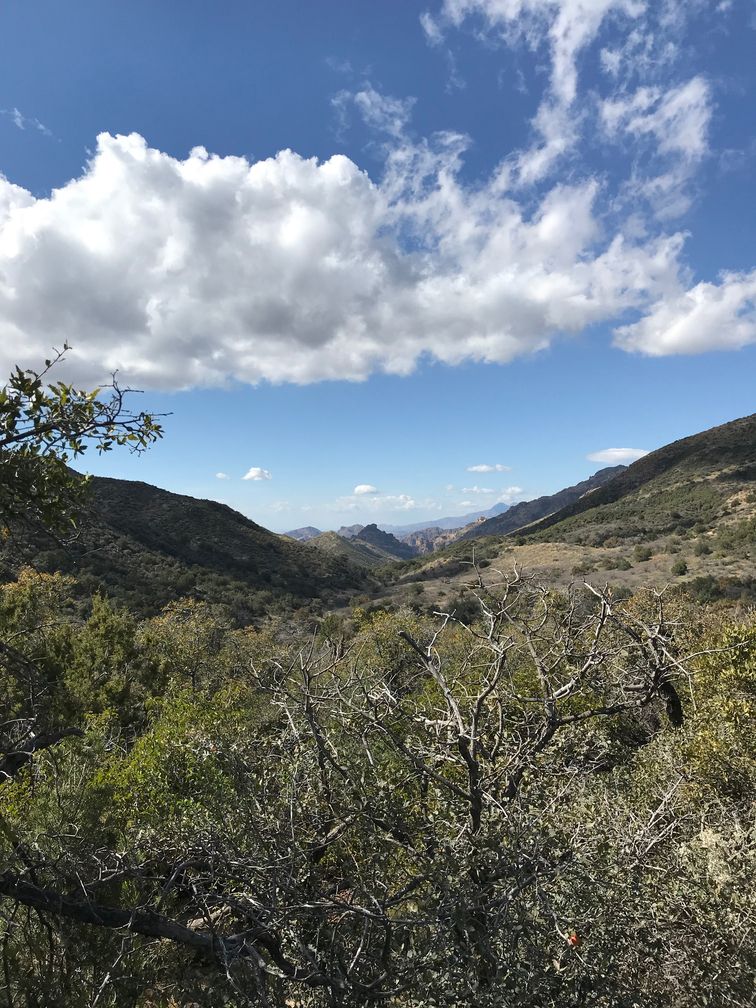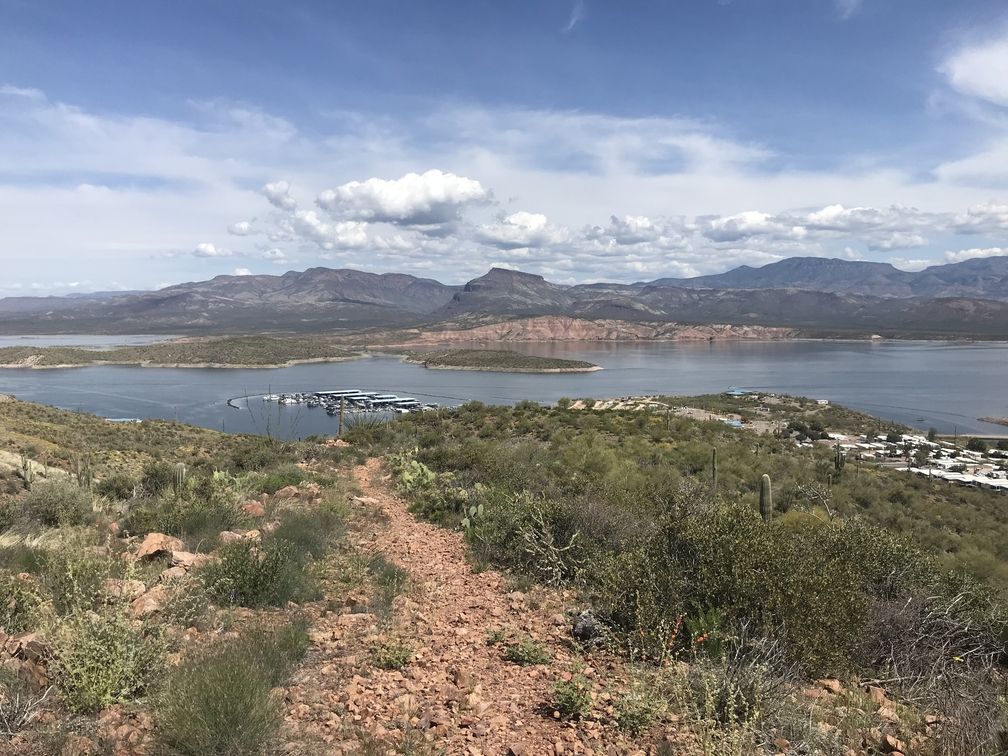 I go grab a burger and sweet potato fries for $16USD. Eventually Seabiscuit, Horse Cake and Vertigo all catch up for lunch as well. As we kill some time charging electronics I have a good time trying to satisfying my hunger. I buy Reese's cups, AriZona Tea, a bag of Fritos and a ice cream while waiting. Just before leaving I sneak in a few more snack from the convenience store: another AriZona Tea, a Musketeers bar and a strawberry ice cream lolly. Star Fox was telling me to take the road to avoid some climbs out of town but full of calories and sugar I disregarded that advice and went straight back to trail to tackle the elevation.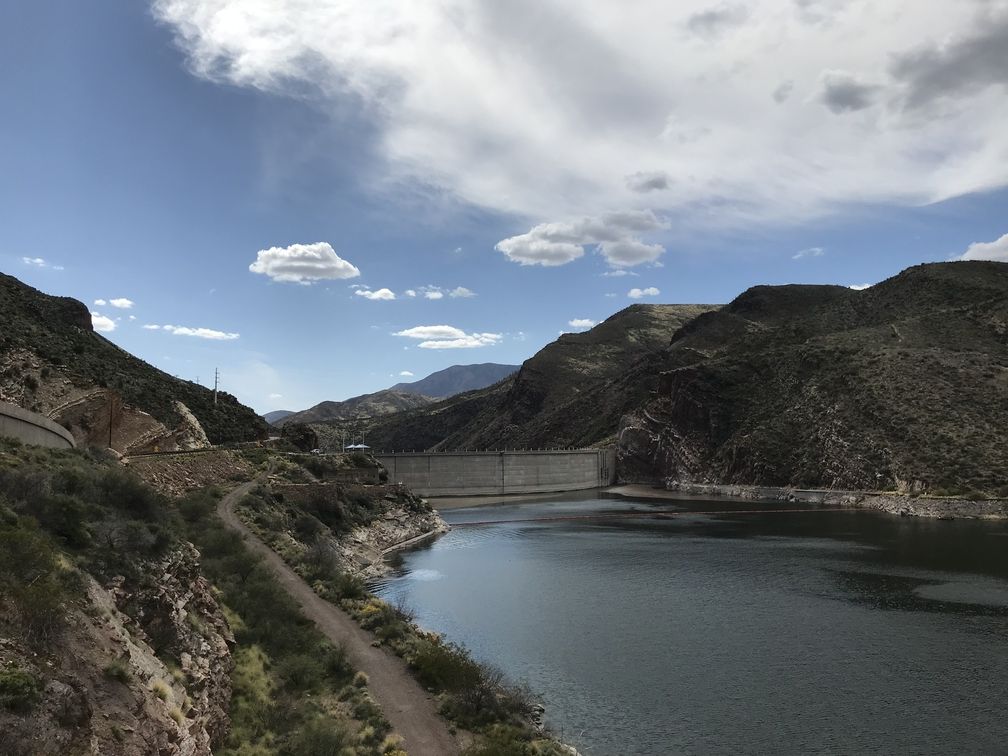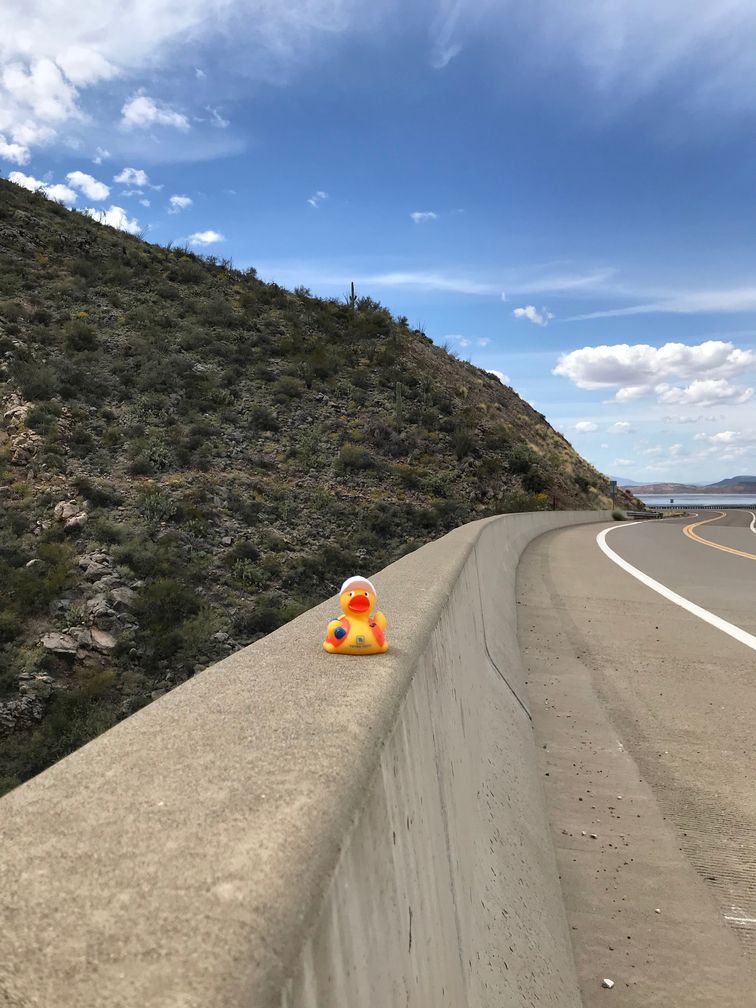 The views from the marina were gorgeous with the large lake to my right and a huge dam to my left. The trail had only one idea in mind as I entered the Four Peaks Wilderness Area, big elevation gain. The rest of the evening was spent climbing some ~3000ft(915m), losing ~1000ft(300m) then climbing another ~2000ft(610m). I pass several groups of hikers along the way, not stopping and hoping to get ahead of them for the coming days and town stop. I keep hiking and the trail winds along the top of a fire burnt ridge line. As the sun sets I begin to worry if I'll be able to find any spots to lay down for the night. Eventually I find a spot next to another hiker, Funny Bones, and after making sure he's cool with me being there I cowboy camp and pass out for the night.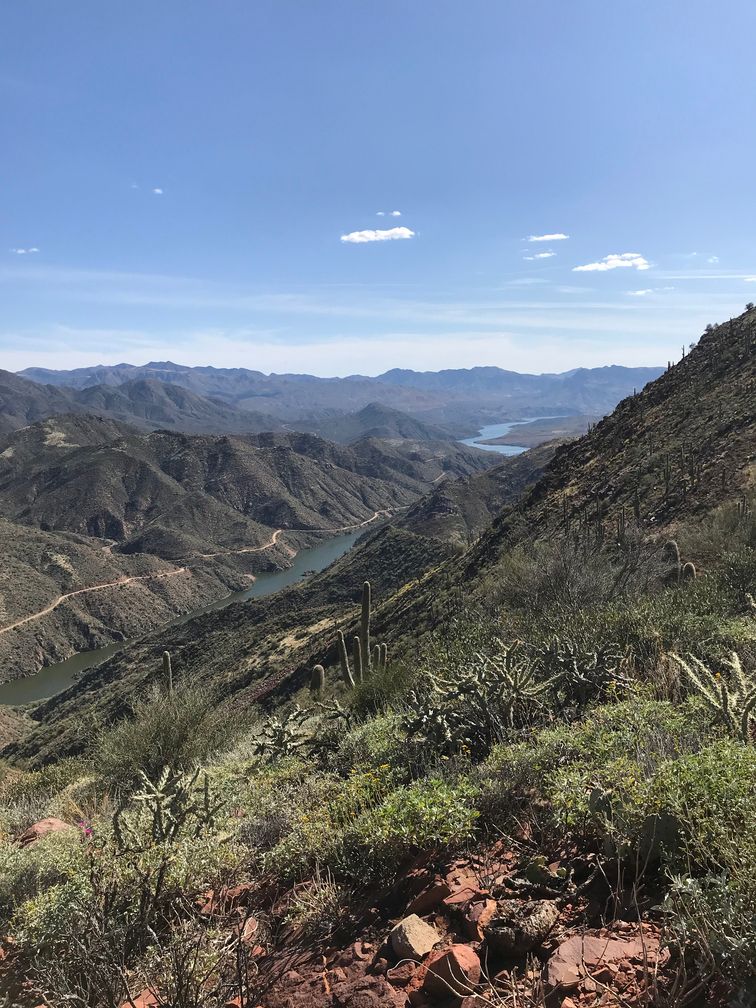 A few hours into my sleep a hiker passes and shouts something unintelligible and I would later find out it was Seabiscuit. I leave early in the morning trying to be quiet so as to not disturb Funny Bones too much and am I little disappointed to find my sleeping bag covered in condensation. Just like the prior day I pass a bunch of others hikers in the early morning, still in their tents or just waking up.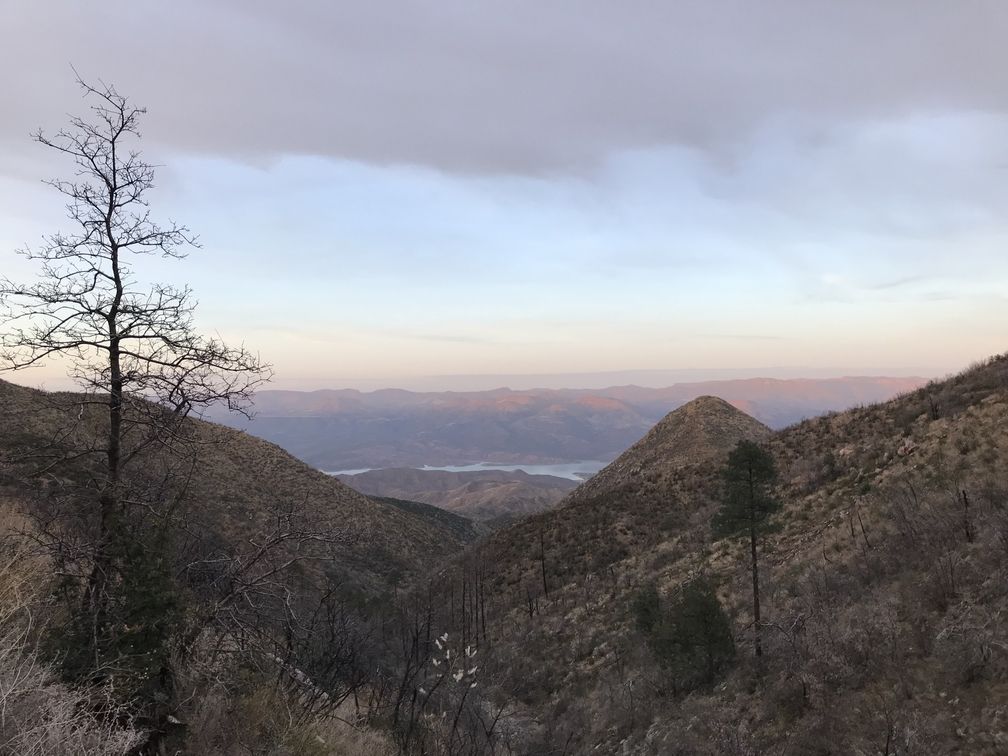 The trail ever since Superior had gotten extremely and consistently rocky. I end up breaking off the tip of my right trekking pole and getting bruises on the tip of pretty much every toe. After a few morning miles the trail spits me out onto a long dirt road walk which I end up taking a small spill on and scraping up my right knee. After a few climbs and descents the trail mellows out on it's approach south of Payson. I pass an Australian hiker Ben who I had seen at the trailhead to Superior when Ricky Bobby and I were picked up. I pass another pair of hikers, the female who was decidedly pissing just a foot off the trail and didn't bother to check behind her to see that someone else would have the crazy idea of being on trail that day...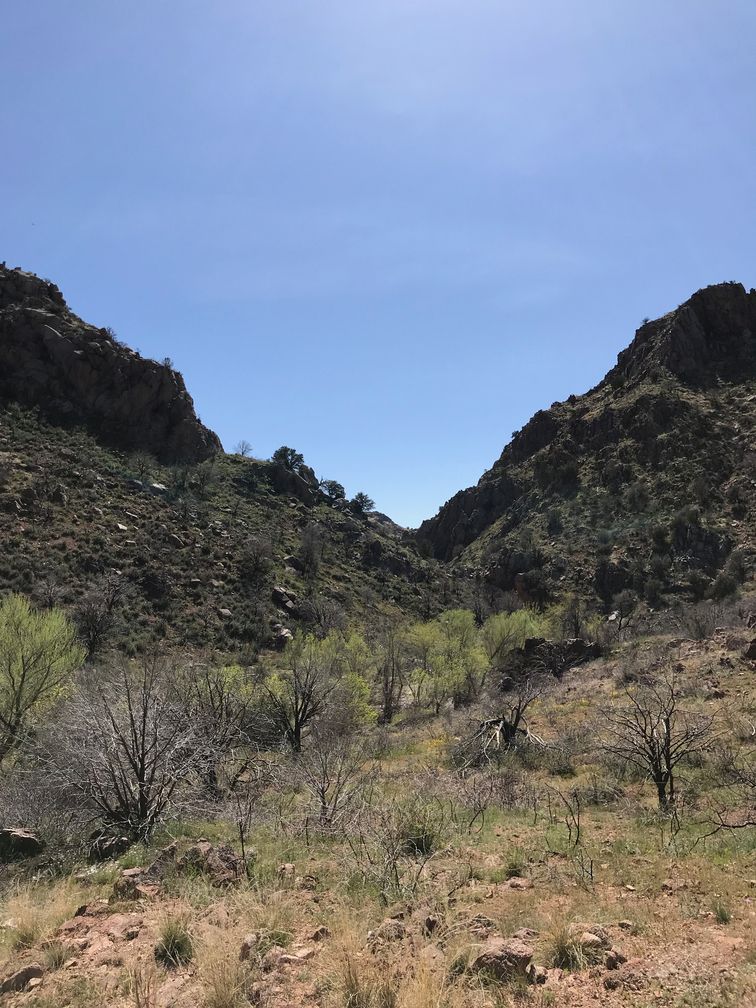 The trail frustratingly kept returning to wash for brief moments in what seemed like spite just to slow my progress down. Eventually I got to Hwy 87 which is where AZT hikers who wanted to go into Payson for resupply would hitch or get a ride. I took a well deserved half an hour break in the tunnel under the highway before making my way to the Mazatzal Wilderness Area. After completely my 30mi(48km) for the day and passing the halfway point of the trail I setup my bug net beside a small creek and dozed off around 6:30pm.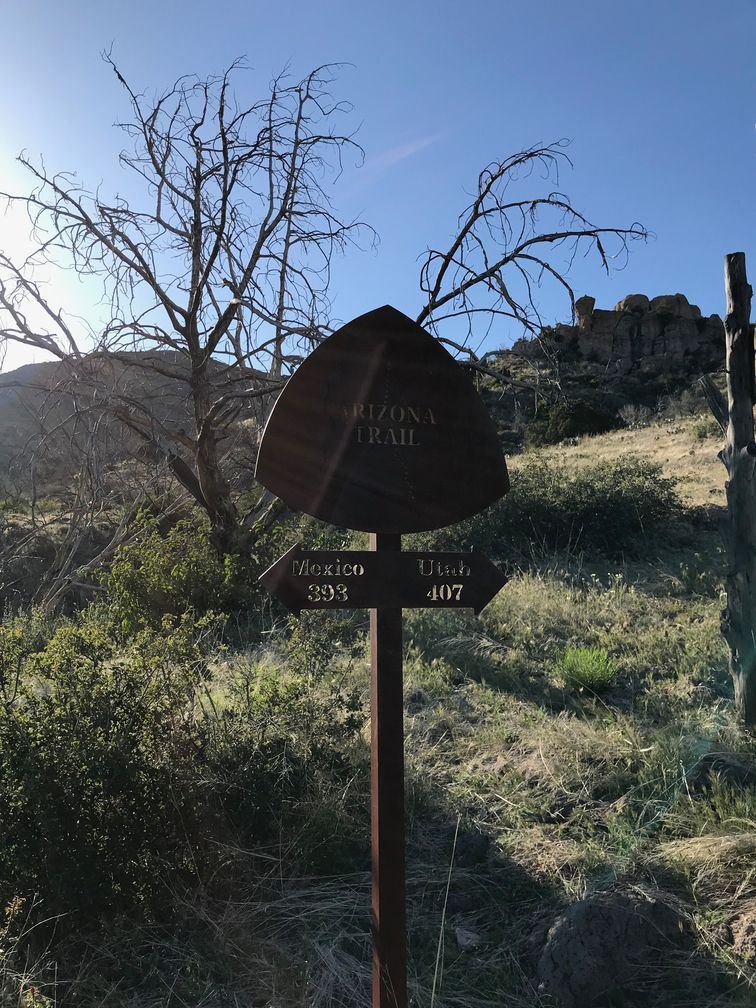 Waking early to try to catch Seabiscuit I jump the gun and pass him early in the morning once again. After about forty minutes as the sun rises over the mountain range and I go to put on my hat I realize I don't have it... Flustered I turn around and start hiking backwards along the trail hoping that it fell somewhere in plain sight. Thankfully on the way back I run into Seabiscuit who was kind enough to pick it up for me. We continue hiking towards Utah and meet two hikers before a big climb: Ungerwhere and Blaze On. I say a few words and then leave everyone behind to begin the big ascent.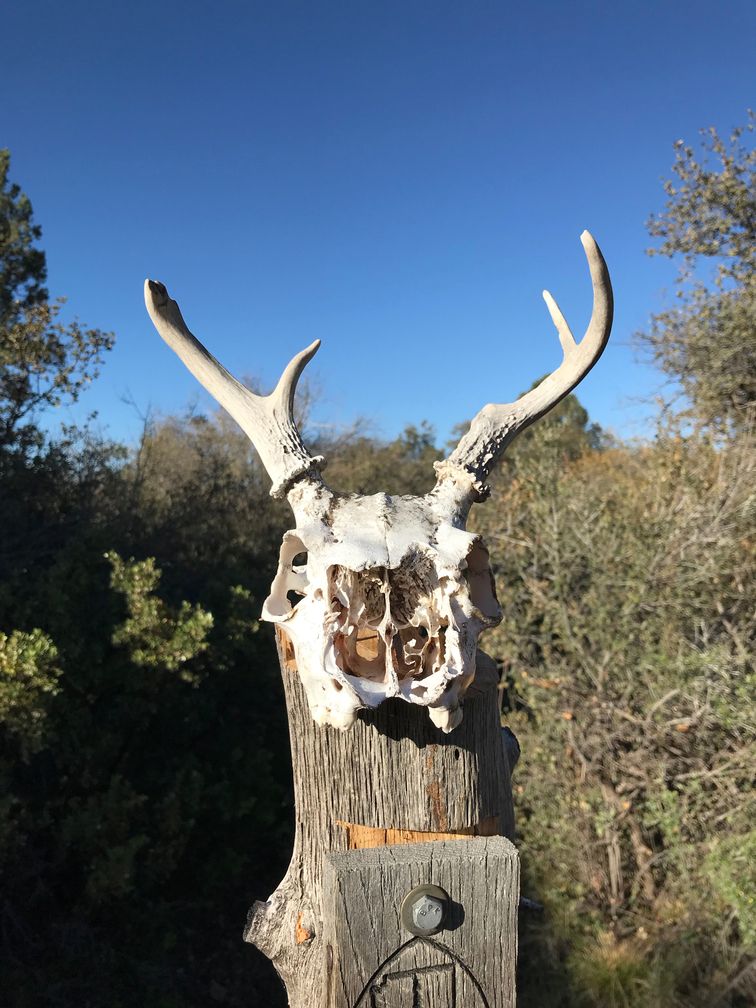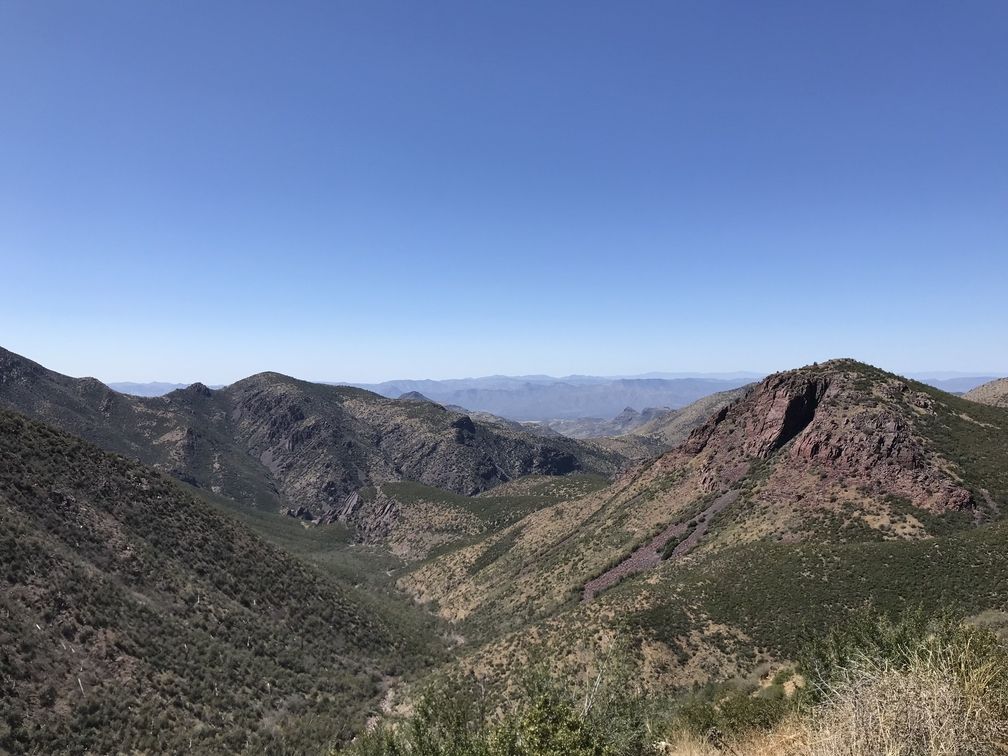 The day is just one big climb. It's not very exciting but the views are worth the effort. I pass a Belgium couple, a pair of day hikers and a thru-hiker named Travis. This section is normally a little tough with water but since the recent storm there are a lot of seasonal flows coming down from the mountain and even a huge waterfall at one point.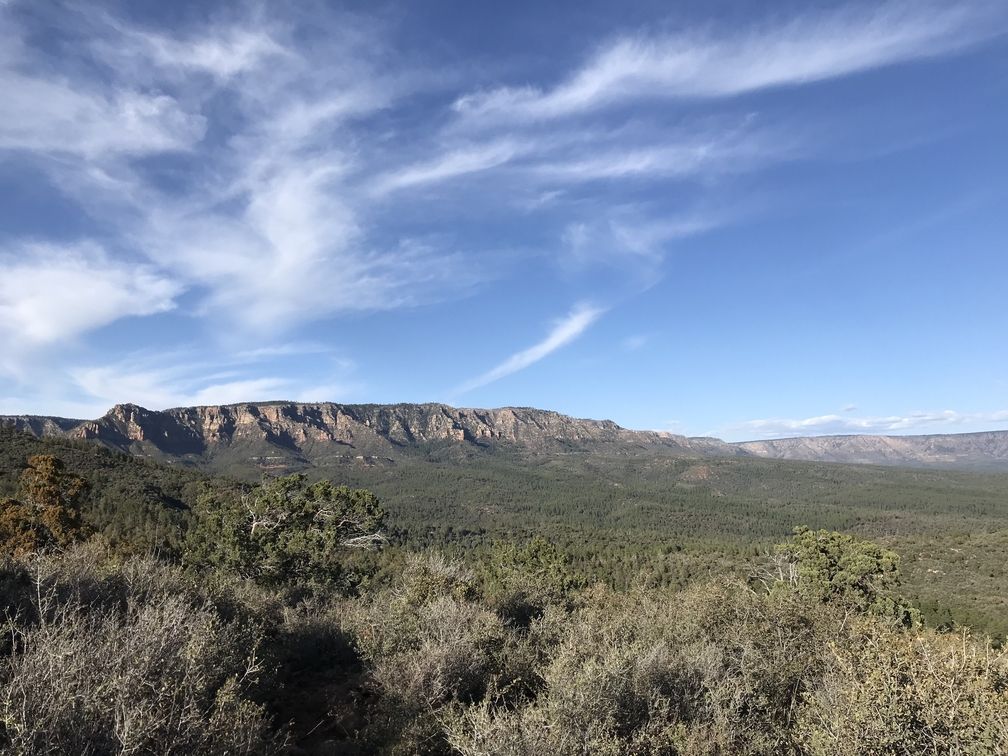 With the artificial goal in my mind to catch up to Ricky Bobby, I try to contact a trail angel in the next town of Pine to organize a room. She gets back to me very quickly so I adjust my plan to do a few more miles to make it to town at a reasonable time. My goal was a 38mi(61km) day but as the sun sets I came across another hiker already setup in a seemingly decent area so I decide to stop, only having done 35mi(56km). I chat a bit with Bud and confirmed Ricky Bobby was only a bit farther up ahead and then I setup my cowboy camp for the night.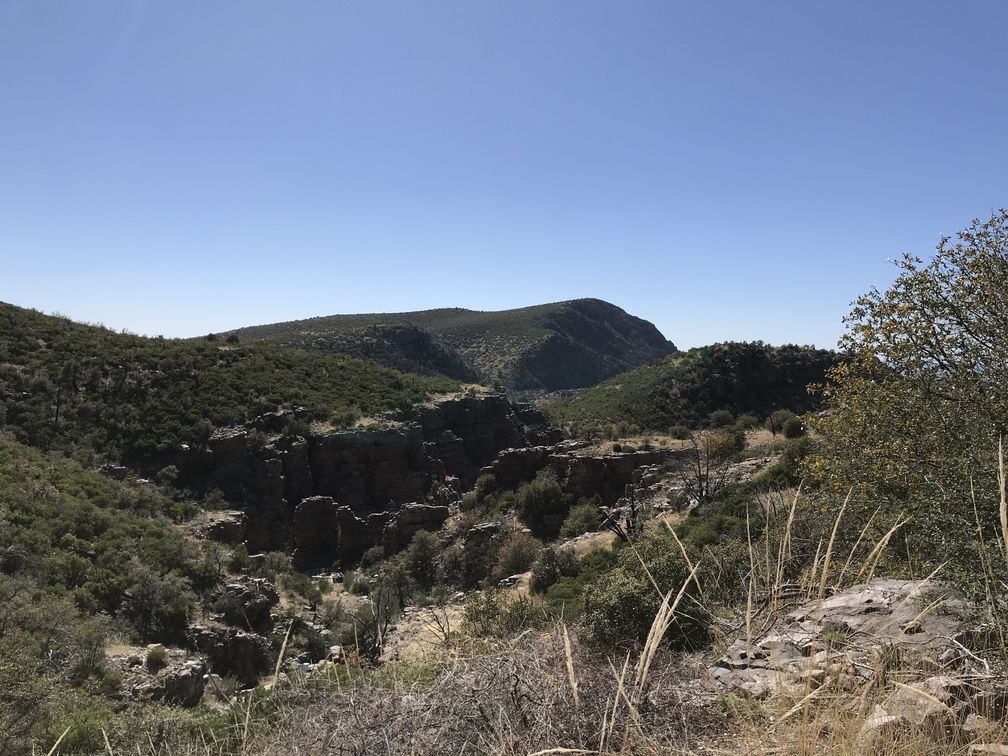 I had a fairly restless night as once again my sleeping bag was covered in condensation. This time though it was a little worried at the amount of wetness I was collecting. Even though I was still warm I could not shake the thought out of my head and so I awoke at 4:40am to start hiking. In the dewy and dark morning I ended up taking a wrong turn and hiked twenty minutes the wrong way.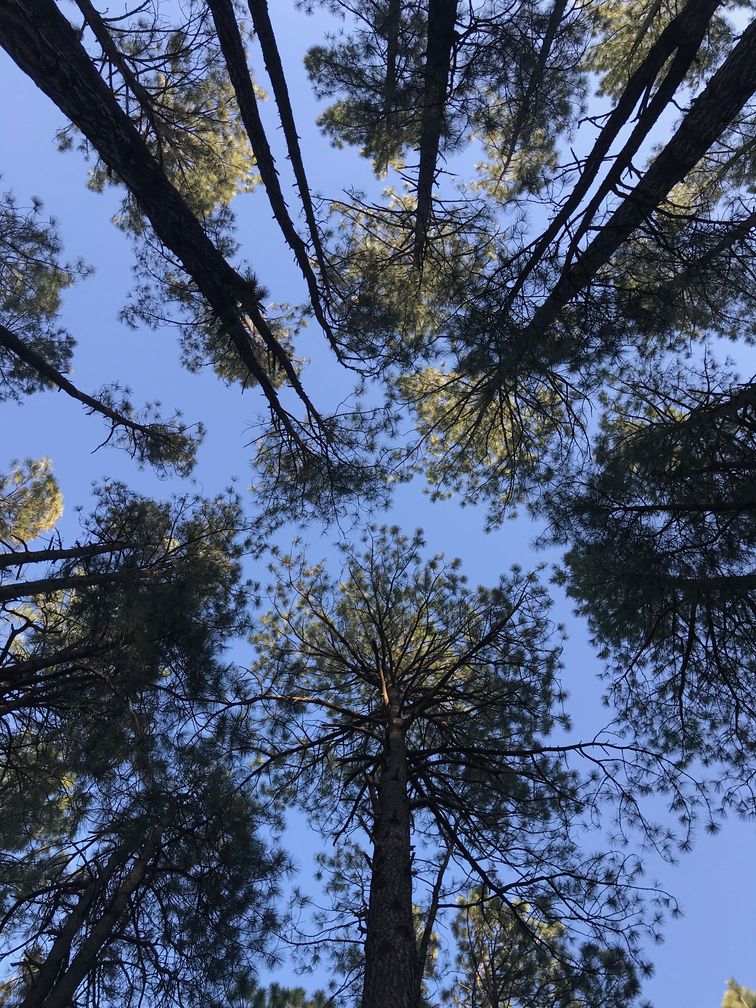 The first hour was a fairly steep descent and the rest of the day was a steady but gradual climb. Before midday I came across a pack of five or six javelina which nearly scared the shit out of me but soon they were the ones running in absolute fright once they got a smell of me. Further on I passed a girl who looked like she was out for a walk on the beach, named Bailey, and then an eccentric hiker by the name of Cheez-it.
Thankfully the sun wasn't fully revealed for the long climb in the morning. The downside was that I wasn't able to dry my gear out until midday. Pushing hard, music on and chugging forward I manage to catch Ricky Bobby right at the trailhead into Pine. We both plan to spend a night recuperating but at different spots nearby. We grab pizza in town and do our resupply at the very expensive local grocer. I meet a French-Canadian hiker named Long Legs and bombard him with questions about his Great Divide thru-hike.
Eventually I get picked up by a local named Shannon. She lives a few minutes from the centre of town in a nice modern cabin house. She is very easy to talk to and I am able to get a shower and do laundry before passing out in a room of my own for the night.
Despite Shannon's hope that I'd stay another night I try to exfiltrate myself out and back to town for breakfast. It is delayed slightly and instead of $5.99USD breakfast I have to settle for $11.99USD breakfast. Once I convinced Shannon to drive me to the breakfast joint I was surprised to find Seabiscuit in there. I get a pancake, two eggs, hash browns, sausage, two biscuits and gravy and a slice of pie with vanilla ice cream. The plan is to hang out until ~2pm in town and then head out.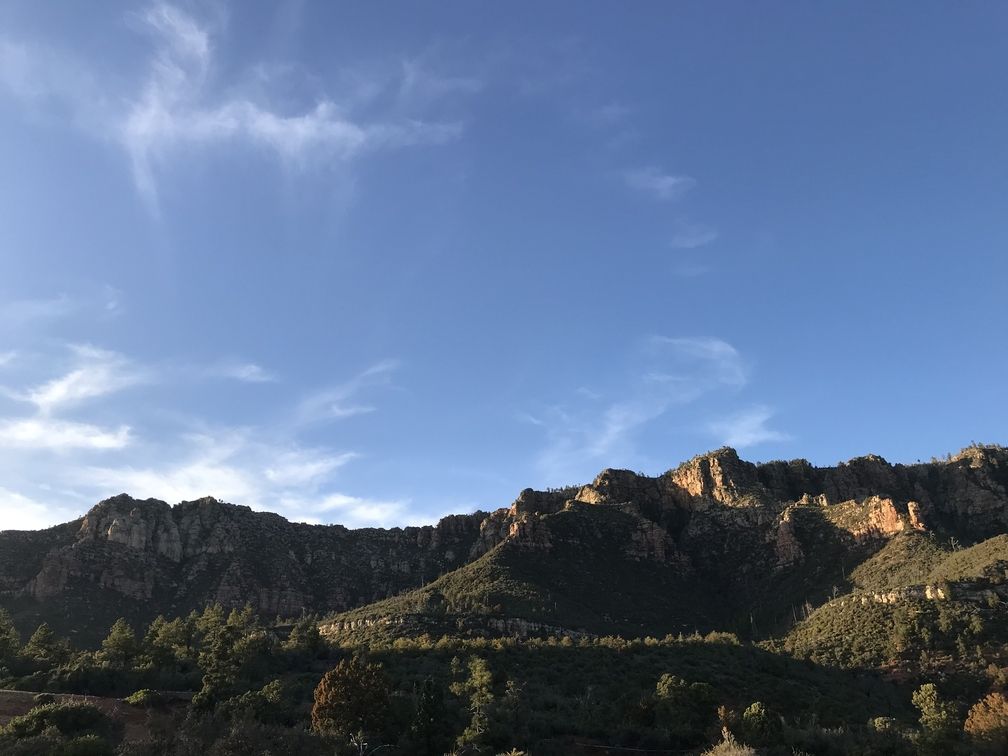 A bunch of other hikers are hanging around town and some familiar faces like Ungerwhere and Bailey show up. Bailey is sporting a pretty deep tan line from her sun hat and gets the trail name Chinstrap! Most of the hikers head over to the local brewery to chill out for the rest of the day. I get a burger, a small salad and an AZT beer! Ricky Bobby eventually shows up to join the rest of us. Around 3pm we finally break free from comfort and head back to trail. The trail was beautifully exposed red dirt which slowly and surely transformed into familiar pine forest. We were just below a rim which we would climb the following morning and ended up camping near a flowing spring after about ~12mi(19km) from town.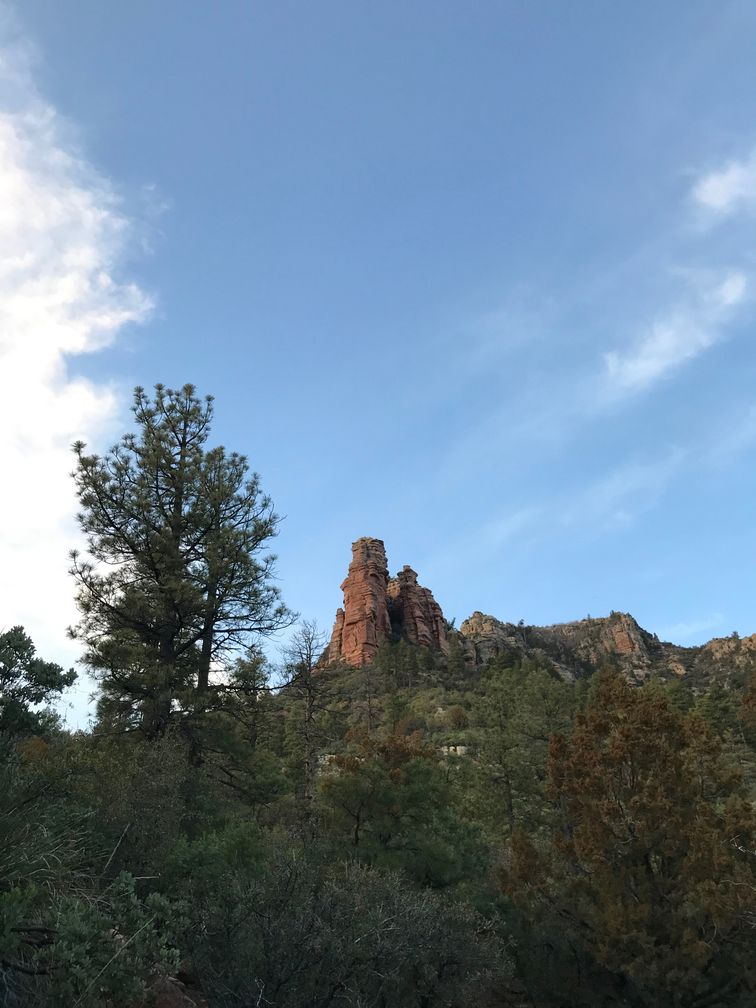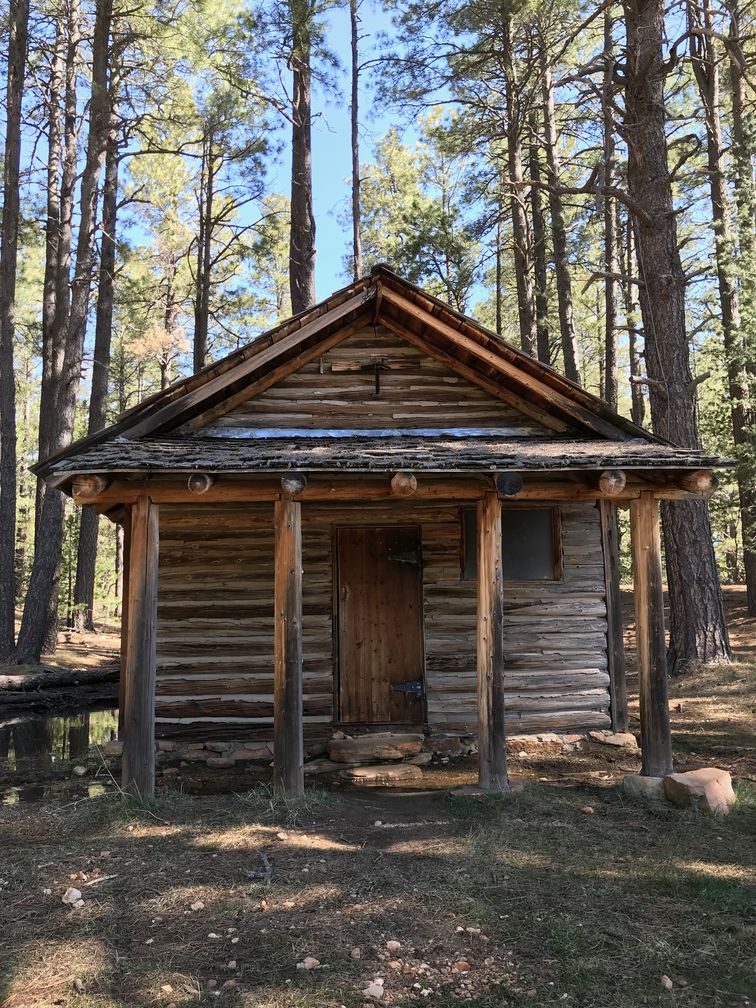 I wake at 6:30am so I don't completely blow off Ricky Bobby and Seabiscuit but they end up taking a long time to pack up so I hike on ahead. The day is very pleasant elevation wise with only the short punchy climb up onto the Mogollon Rim. I pass a hiker named Night Crawler and spend midday hiking with a couple, Babushka and Piker. The day is a cruise with some muddy patches and some snow as well. I camp early around 5pm. Ricky Bobby and Seabiscuit pass mentioning that tomorrow they are doing a big day.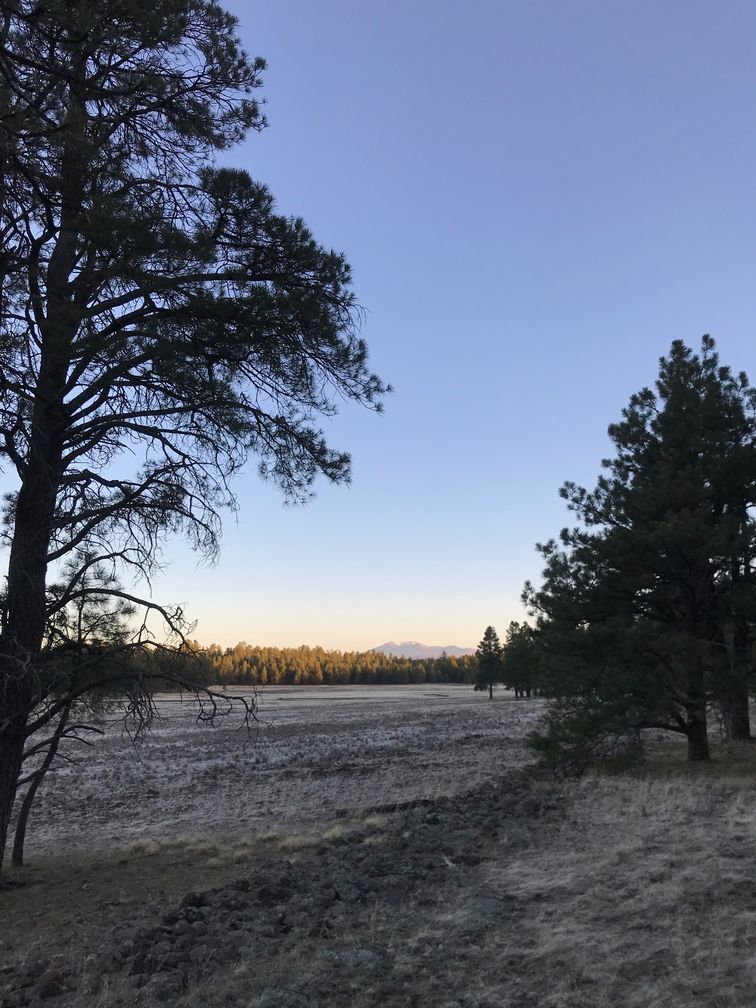 I wake early hoping to catch the guys ahead of me on their big day. The trail at this point becomes very boring compared to the last few weeks. It is nearly flat and meanders through pine forest which provides no grand views. To make matters even more frustrating the trail begins to deteriorate with large swathes of mud and snow spread throughout the day. As the sun is setting I finally catch Ricky Bobby and Seabiscuit and question them why they are doing such a big push. Ricky Bobby didn't get enough food in Pine and they are hoping to be in Flagstaff tomorrow. They completed a 41mi(66km) day and I completed a 44mi(71km) day as we hike the last mile together as a trio. We all camp together that night but I step away a little to spare them from my possible snoring.
As expected, waking in the morning my body is not happy with me. Usually doing over 35-38mi(56km-61km) results in severe muscle fatigue that I cannot recover from over night. We have something like 25mi(40km) to get into Flagstaff and it's a real struggle. The hiking is slow coming, the trail remains uninteresting but the bright side is that I stick beside the guys so I have a bit of a distraction via conversation.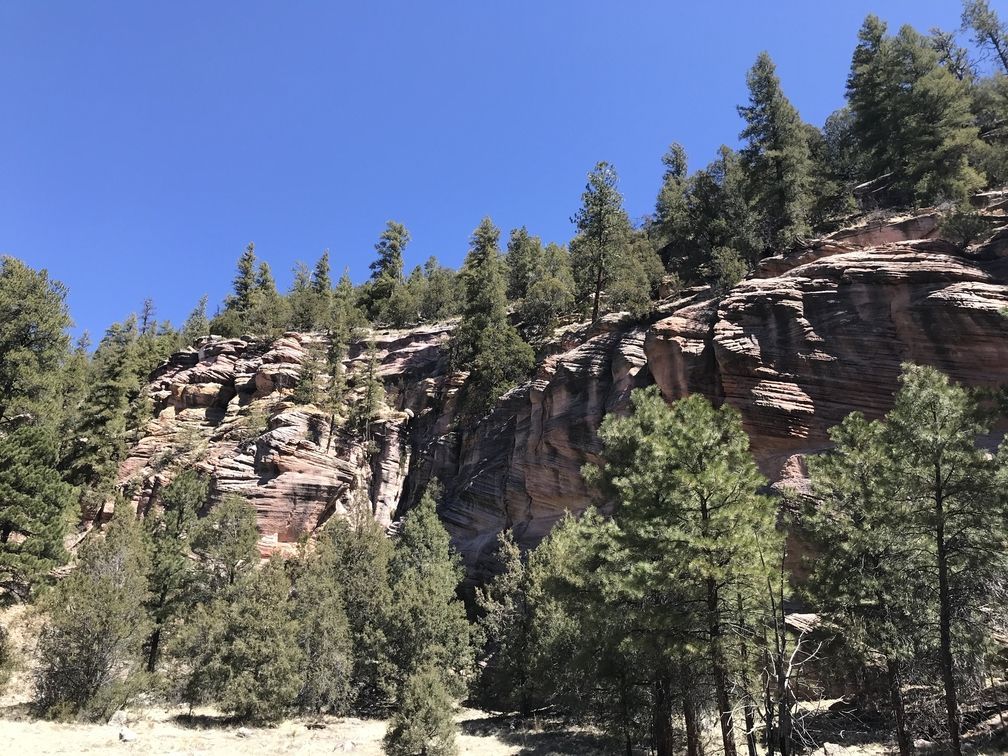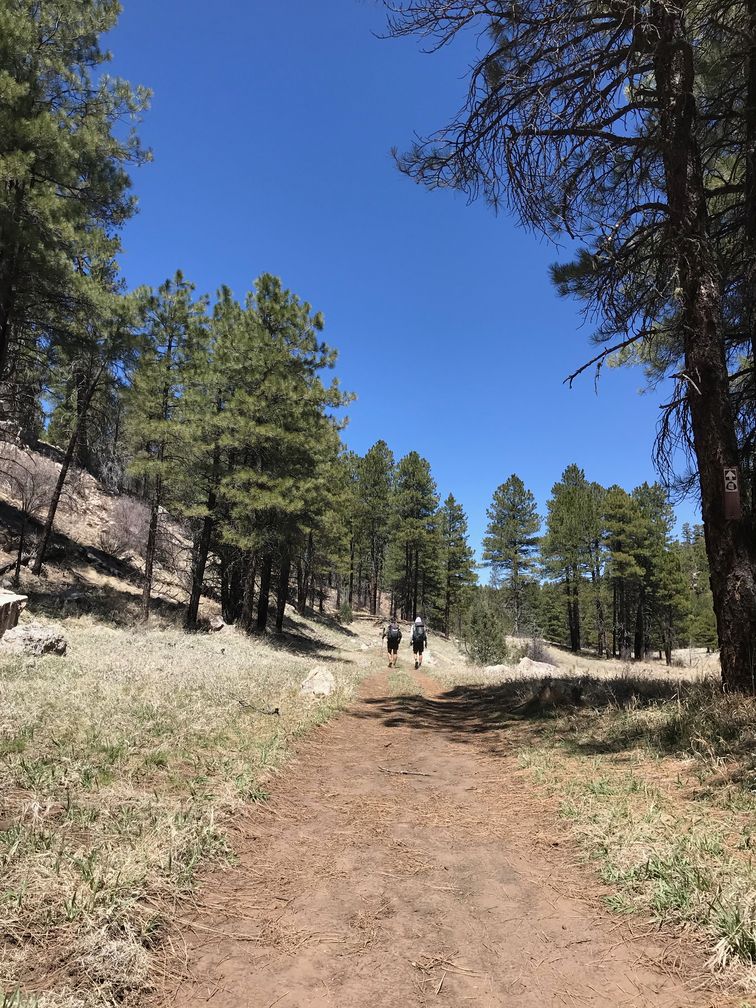 As the day progresses they are some moments where the views open up and you can see Humpreys Peak in the distance, the tallest point in the state of Arizona. Unfortunately the AZT doesn't go up the mountain and either way it is covered in a ton of snow at the moment. The hours pass and we see a handful of other hikers on their way to Flagstaff. Around 2pm we finally walk into the outskirts of Flagstaff and head for a Taco Bell.
We split a Motel 6 room three ways but Seabiscuit reveals that he is quitting trail tomorrow. His roommate back home just informed him he will be leaving so Seabiscuit has to go back to oversee the moving out process. A friend of Ricky Bobby picks us up to run some errands. We visit a brewery, I go to REI to grab new shoes, a new pole, a shirt, and some long johns and then we all head to Walmart for resupply.
Back at the Motel 6 we are given a room with no working air conditioning. Our solution is to leave the door open but we have a surprise visit from a local lady of the night. She comes to chat Ricky Bobby and I up while mentioning she just recently got out of jail and used to run strippers. We are too polite to tell her to scram and for the most part she is harmless. She makes a comment that Ricky Bobby looks like "white Bin Laden" and that I look like "Keanu Reeves but he stinks" while finishing off saying that she thinks she looks like "Jennifer Aniston" , yikes! Eventually Ricky Bobby tells her we are going to sleep and closes the door on her. We suffer the rest of the night with the door closed to avoid another encounter.
Today is my second zero day. I slept like a baby but the guys had a rough time. They couldn't handle the heat and woke up at midnight to go stand outside for a bit and apparently there were also dogs next door making noise. That's why I slept in my skivvies and always bring ear plugs on these trips. We head over to Denny's for breakfast, then to Culver's for lunch and say goodbye to Seabiscuit. Ricky Bobby and I head to Walmart for another snack run and the day is rounded out with a trip to McDonald's for dinner.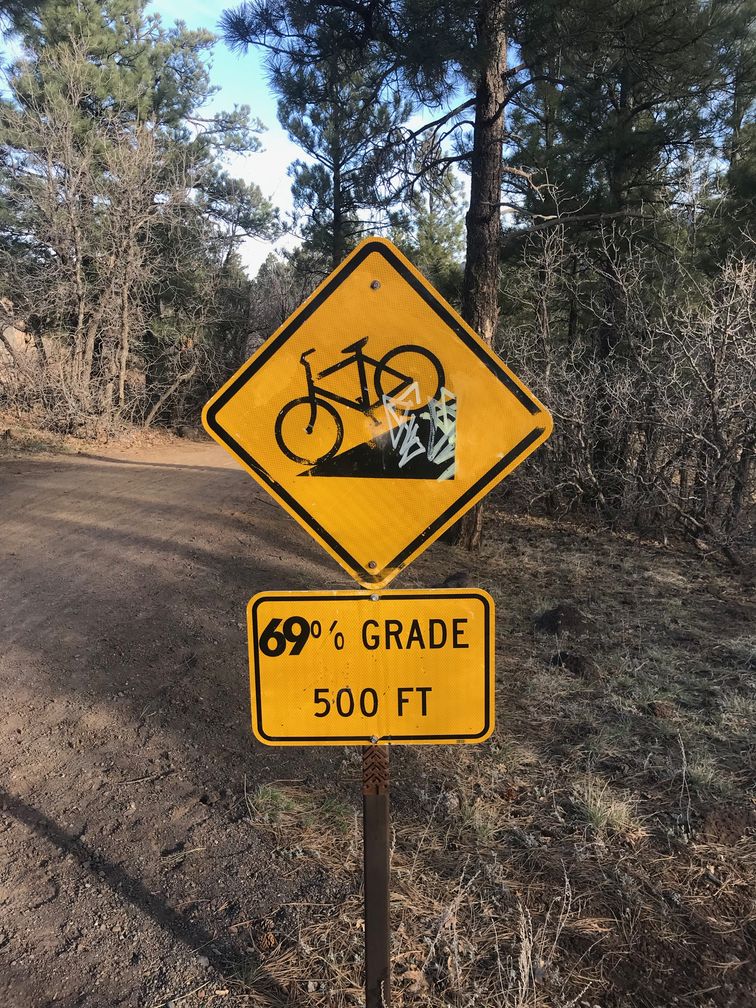 Ricky Bobby and I leave at 7:45am a hike out of Flagstaff along the FUTS. We spot a coyote slinking around 50ft(15m) off trail as we begin a shallow climb away from the city. The day is cold, cloudy and windy which is a sign of worse weather to come in the following days. As we reach elevation there are periodic mounds of snow along the trail and we do a lot of side stepping and switchback cutting to maintain a reasonable pace. On the other side of the climb we are spit out onto dirt roads and we catch some hikers at a water cache: Disco, Van Gogh and Wizard. The wind continues to rip all day and we setup along the flat landscape behind some juniper trees.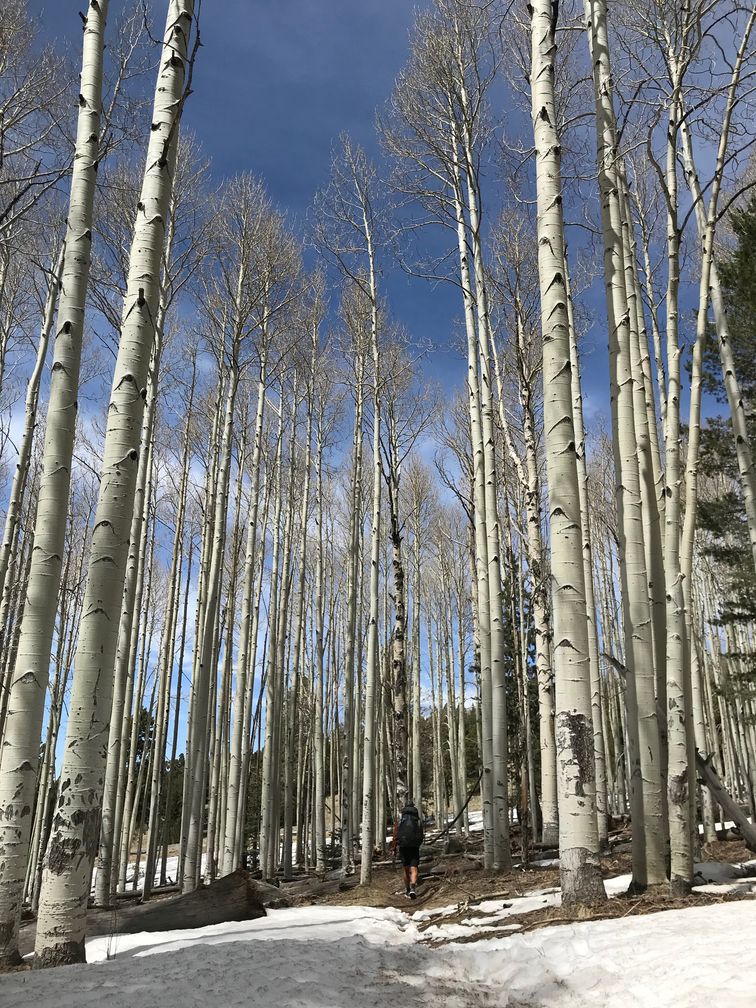 The journal continues here for day 25-31
---
---
Need professional help planning a trip or want a guide? Click here!
---
If you would like to signup to get a notification when the next article is out enter your email below: