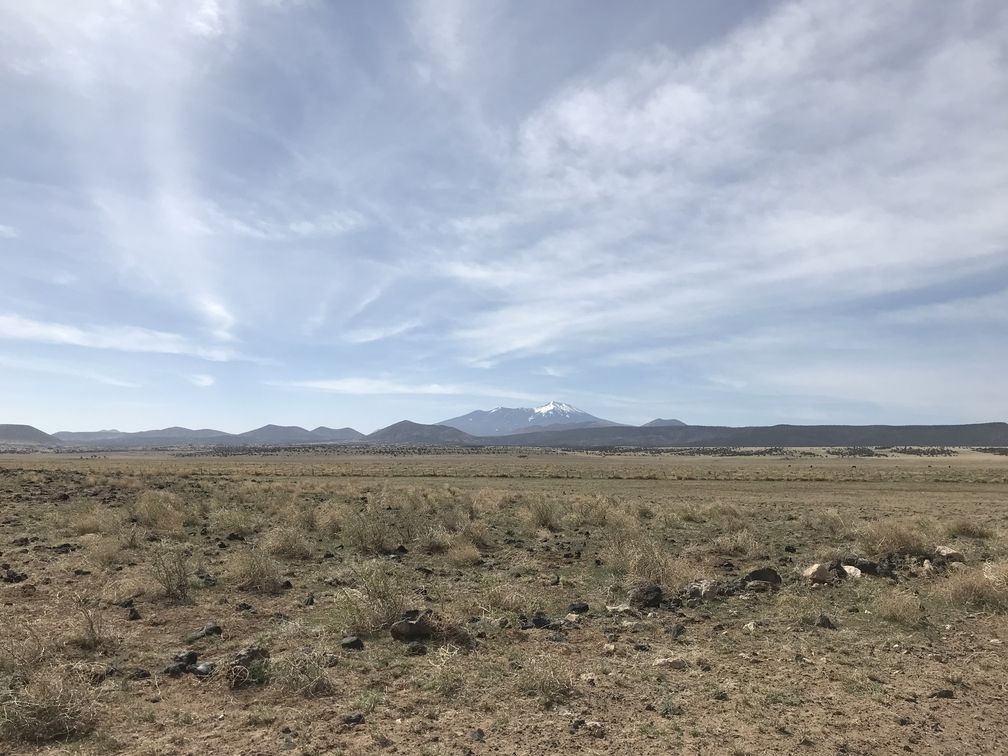 The wind continues to blow over our campsite all night and Ricky Bobby's tent collapses halfway through the night. I'm lucky and only have my bug net setup so the wind mostly blows right over me without issue. We get up and leave to start hiking around 6:15am. There is a small detour to climb Missouri Bill Hill that we decide to do, because how could you not with that name. The rest of the day is boring, flat, expansive and along dirt tracks. We cut some trail miles by taking some jeep roads and we catch up to Disco in the late afternoon as he is doing the same. The day ends uneventfully and the night is calm.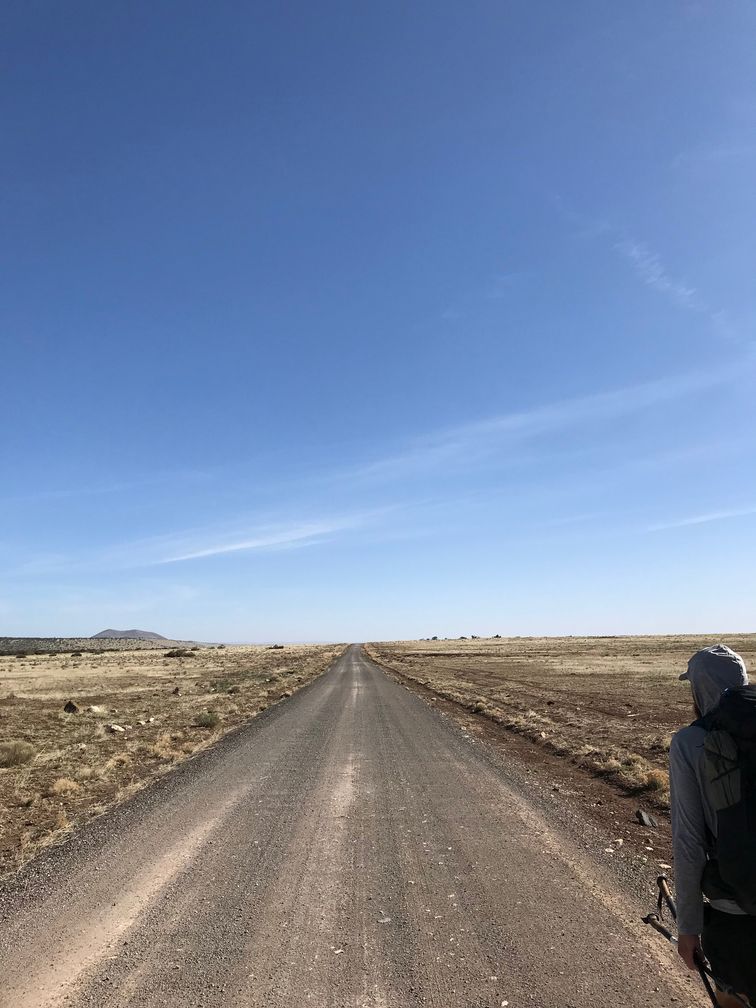 We getting moving around 6am in anticipation of reaching the south rim of the Grand Canyon. Speeding off towards the town of Tusayan, which promises to have some fast food joints, we once again enter pine forests. There is a old abandoned fire tower that you can climb up on to get a sneak peak of the canyons way off in the distance. Later I manage to sneak up on and accidentally scare an elk in the morning while cutting through a switchback and we cut some winding trail by taking in a dirt road to town.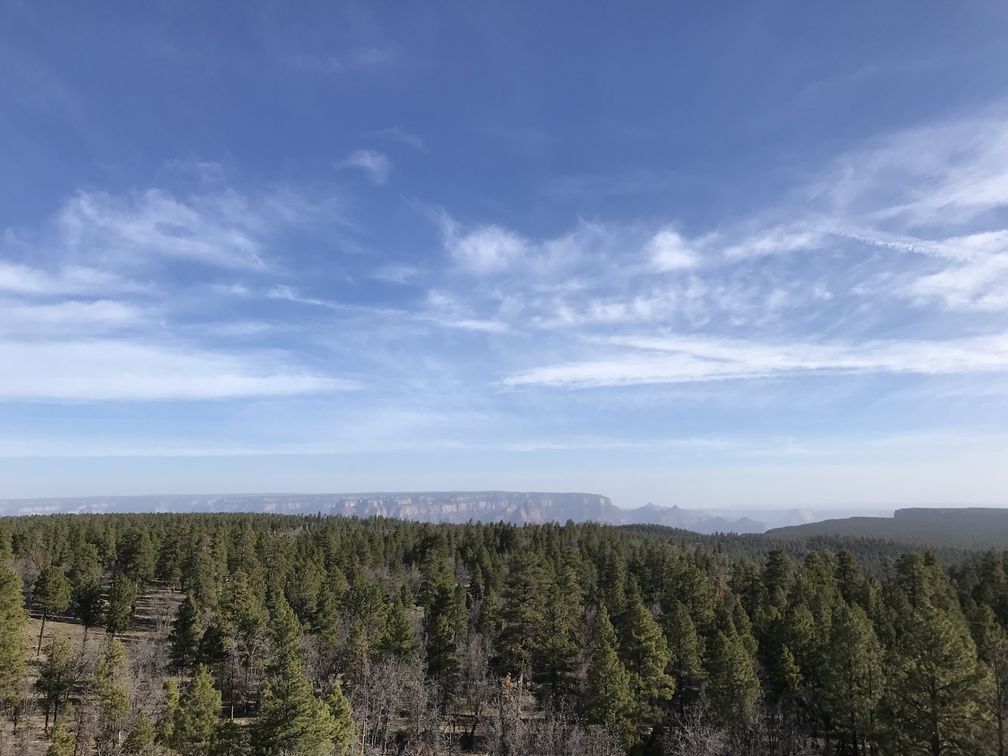 Once in Tusayan we stop at the Wendy's which has inflated prices. From Tusayan the trail is paved to Grand Canyon Village and we meet another hiker, Hyde, along the way. Taking the free shuttles within the park we go to the an office to grab two backcountry permits. We are going to spend one night at the bottom of the canyon in Bright Angel Campground and another night on the North Rim Campground. The north rim is currently closed to all visitors unless your are an AZT thru-hiker! Next we head to the hiker/biker campsite in town to setup. The wind is roaring and massive storm clouds are building on the northern edge of the canyon. Ricky Bobby says that there are 45mp/h(72km/h) wind gusts and snow to be expected before midday tomorrow.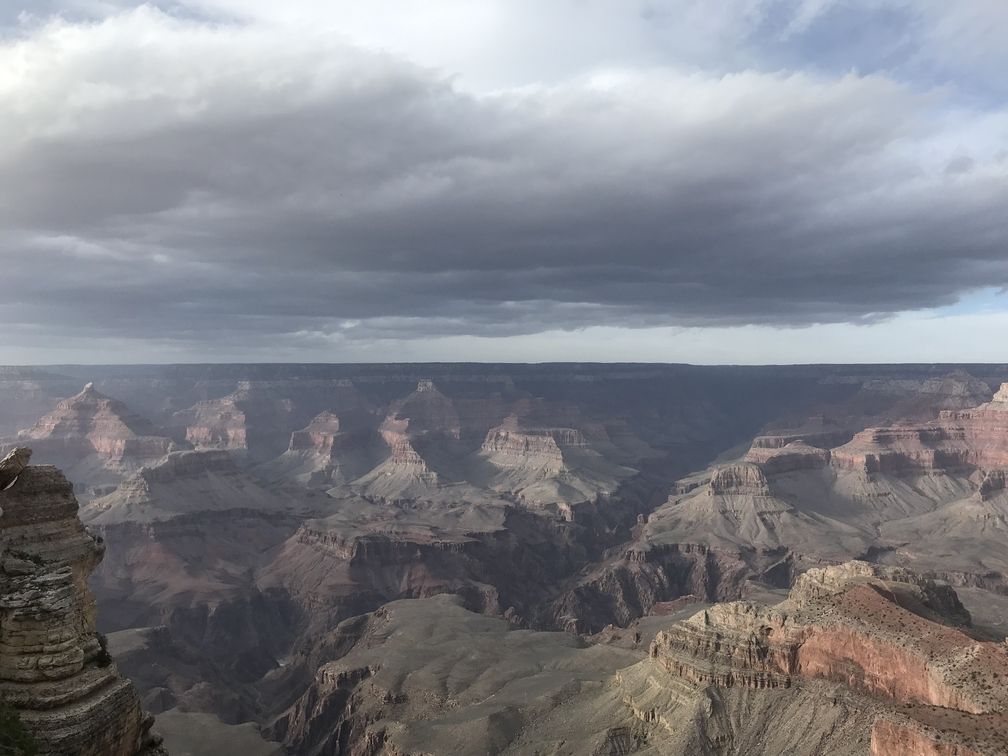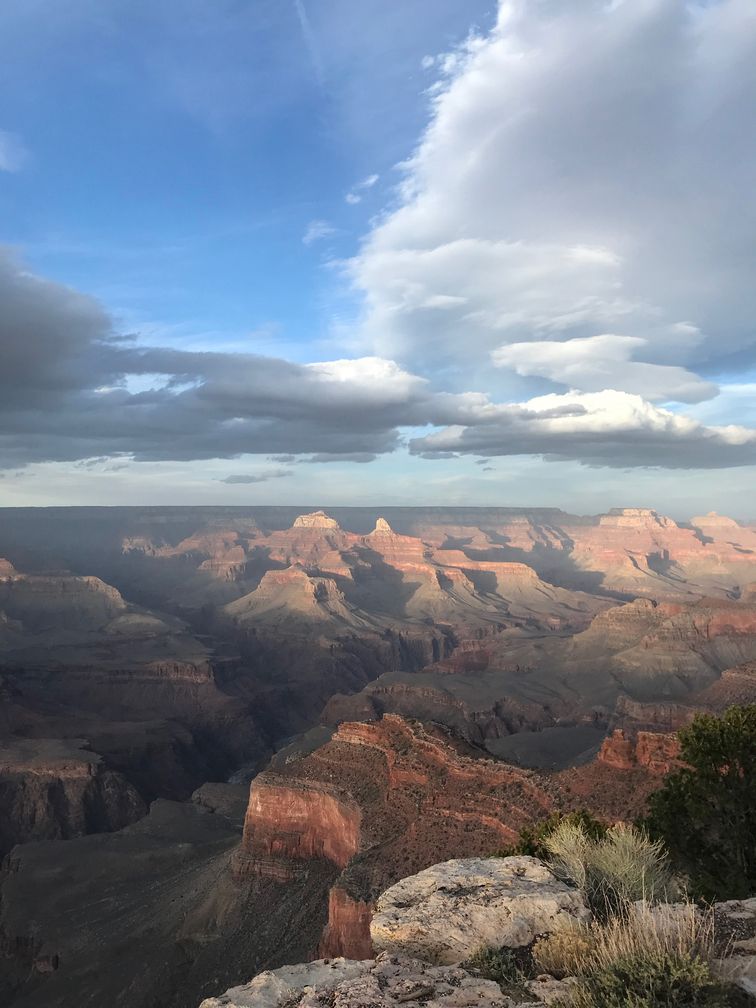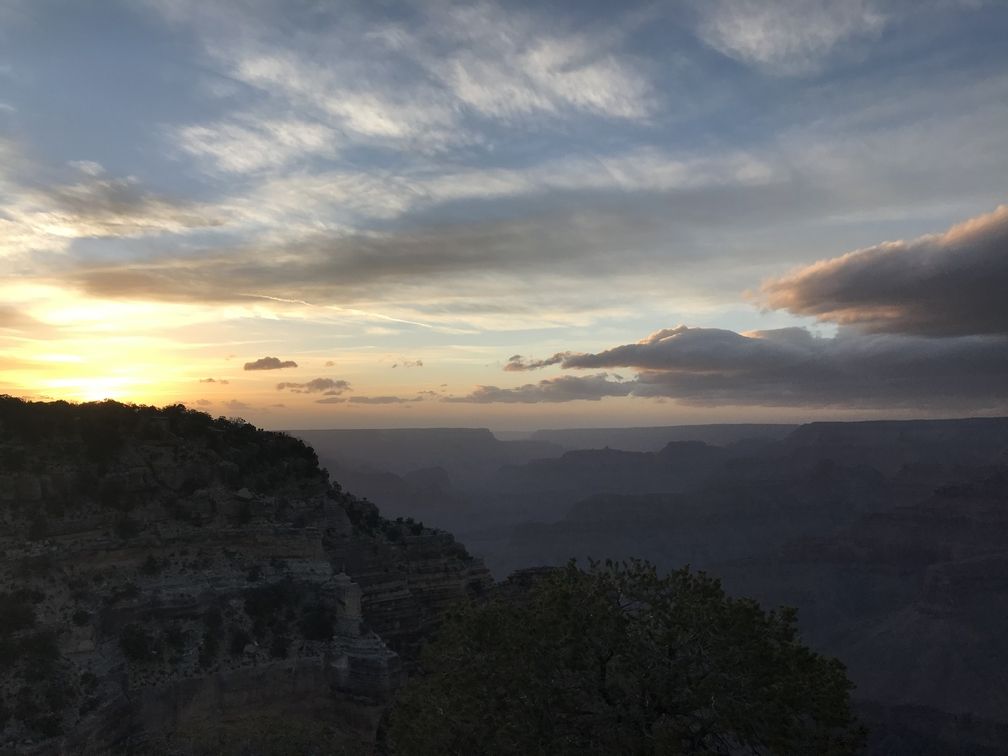 After diligently resupplying at the local general store and avoiding all the marked up and expensive snacks we decide to get a proper look at the Grand Canyon from the south rim. My vocabulary shrinks in the face of such sights and I'm just repeatedly muttering "Holy shit", "Wow" and "Jesus Christ" as we go from Mather Point to Hopi Point with the setting sun. It barely registers with me that I will be traversing the entire canyon over the next two days and fulfilling a decade long dream to touch the Colorado River.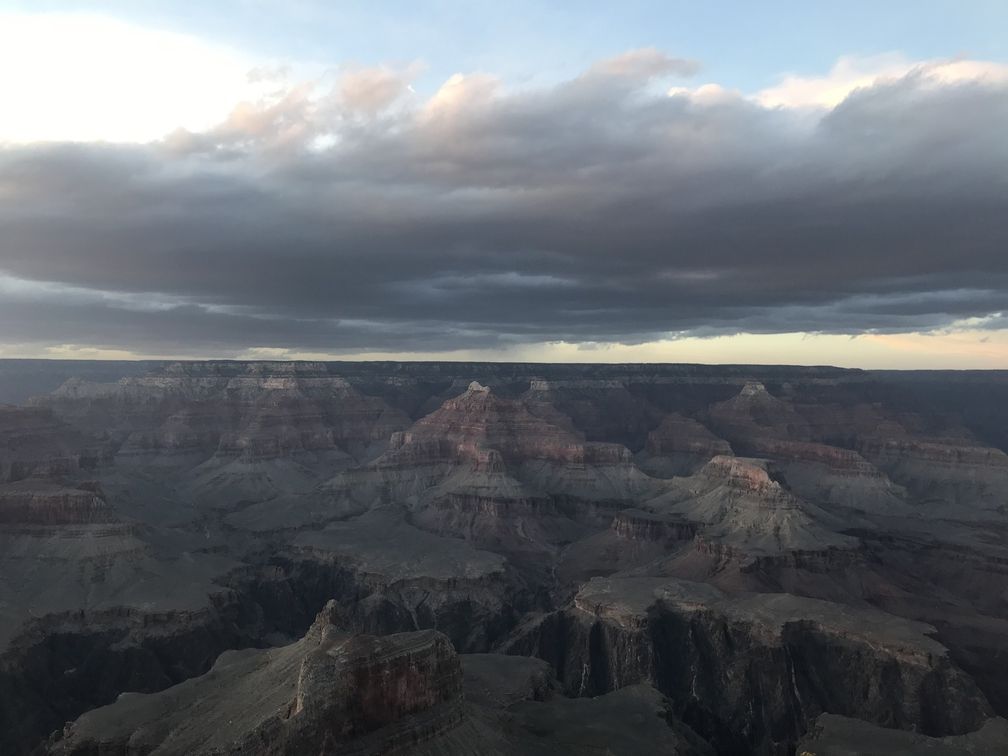 We finish the day off eating dinner at the Yavapai Lodge with Hyde. Walking back to camp at night it is already frigid and we all quickly jump into our respective shelters.
As predicted the wind howls all night long and I am covered in a fine dusting of dirt and sand. Thankfully I manage to stay warm all night without any adjustment and my shelter stays pitched. In the early hours of the morning it begins to rain lightly and then it starts to snow. Around 7am we get up and out of our warm bedding to grab breakfast. It stops snowing around 10am and quickly begins melting as we pack up and hike out.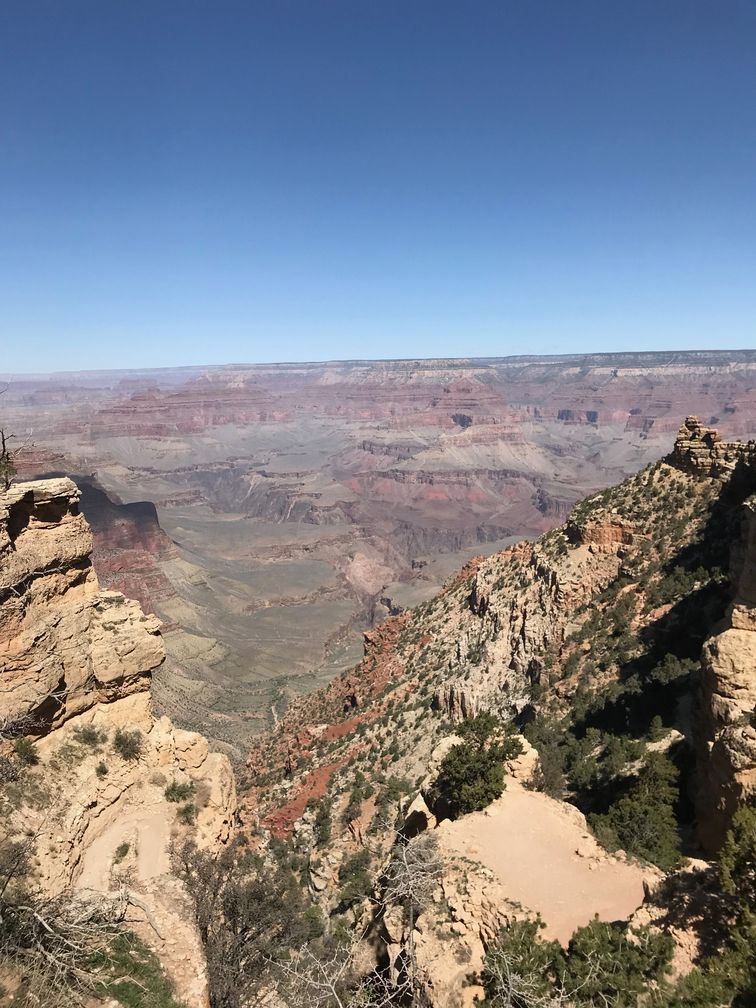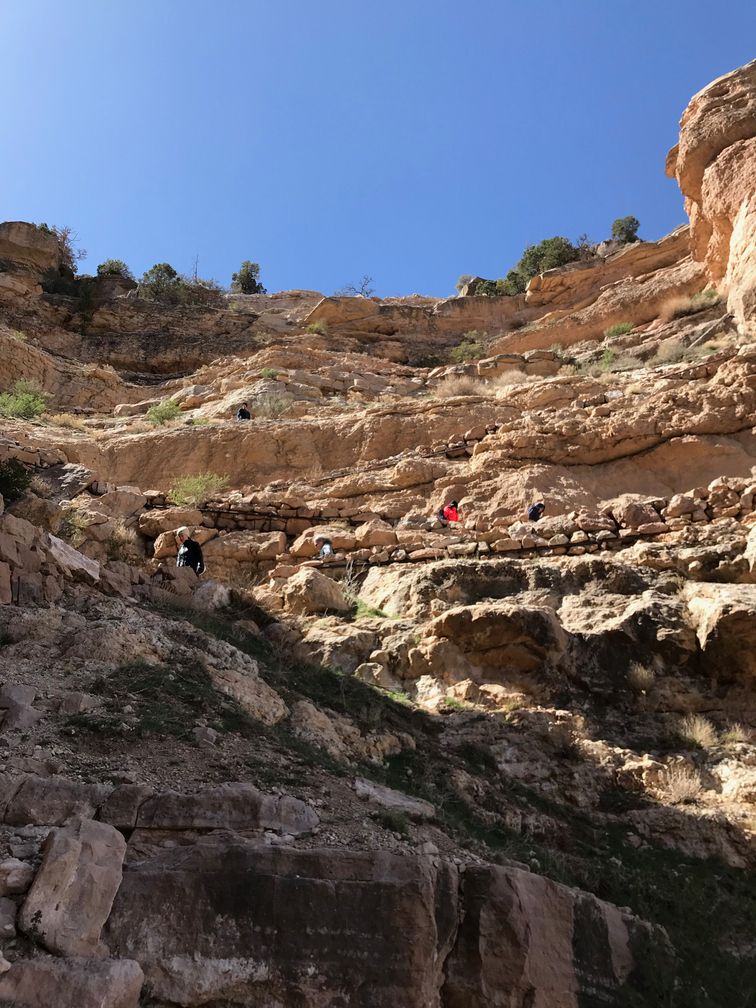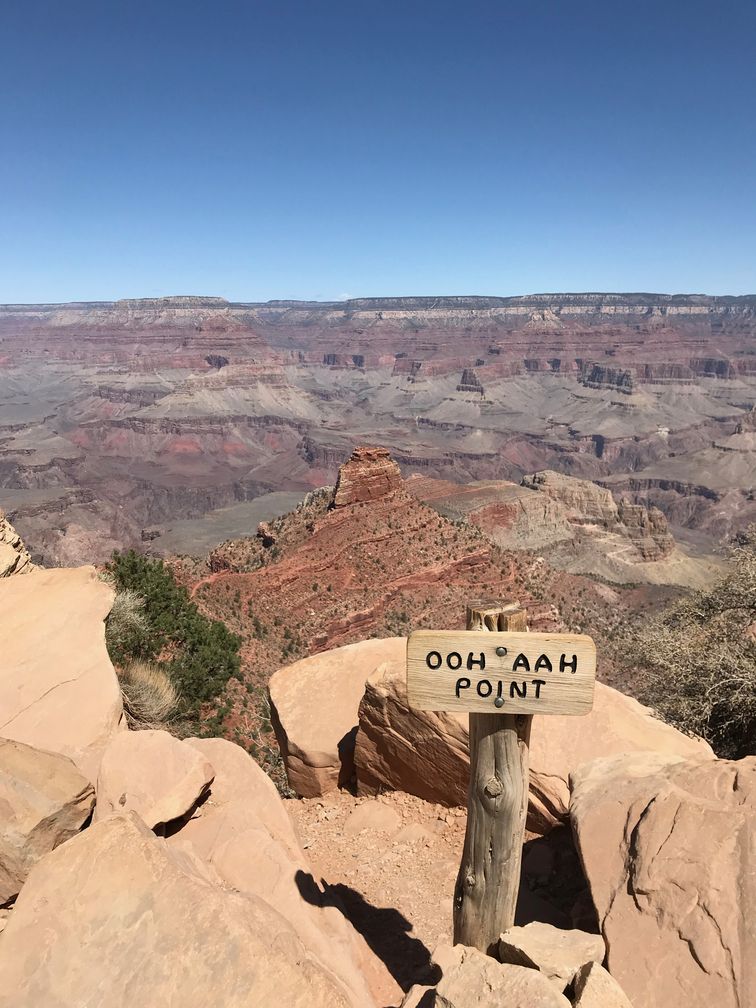 The next hour as we first begin to climb down from the South Kaibab Trailhead is stunning. There are a number of tourists all around us as we go but that can't take away from the raw sights beyond. Eventually but surely the tourists fade as many don't venture more than a few miles down and we have the rest of the descent to ourselves. Unlike the morning, the weather now is perfect, mild and covering us with a clear blue sky.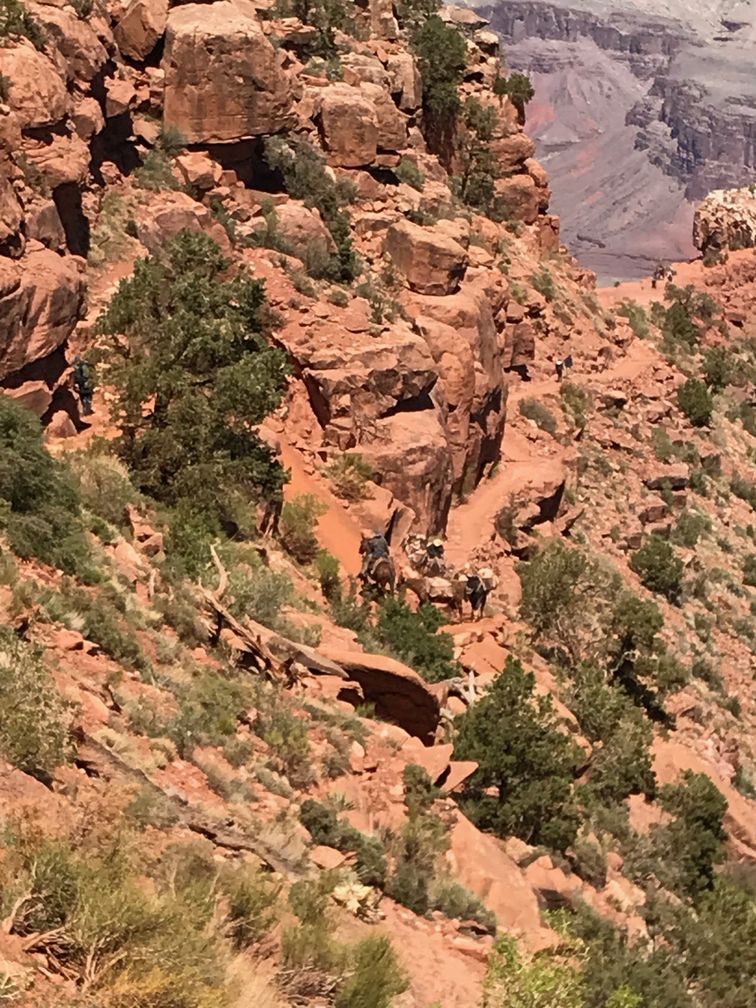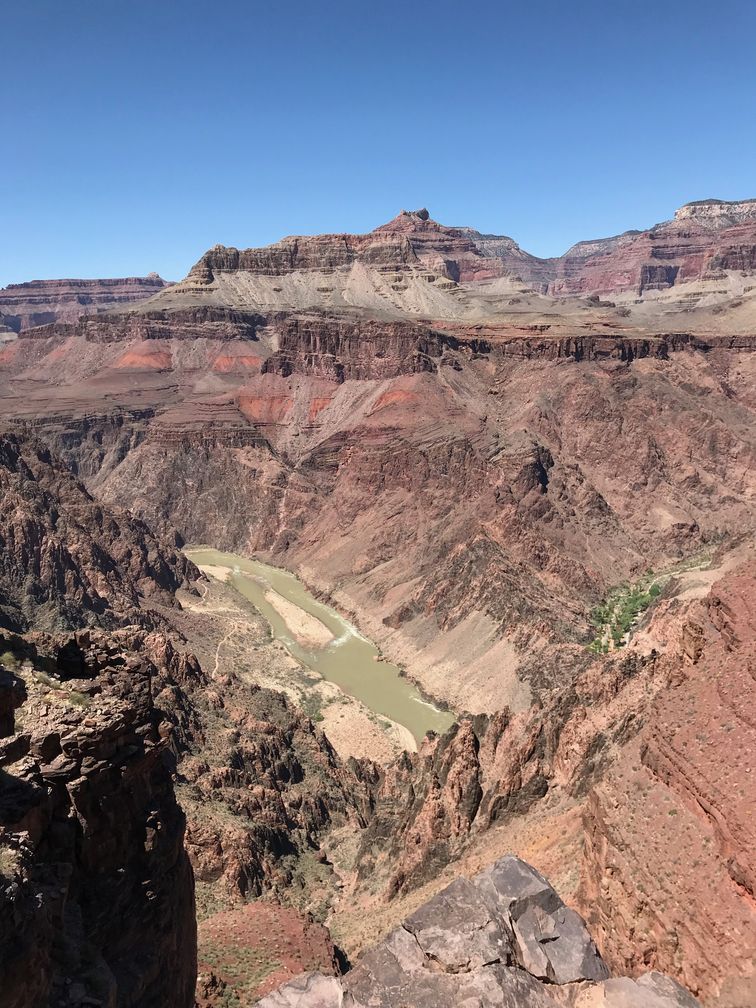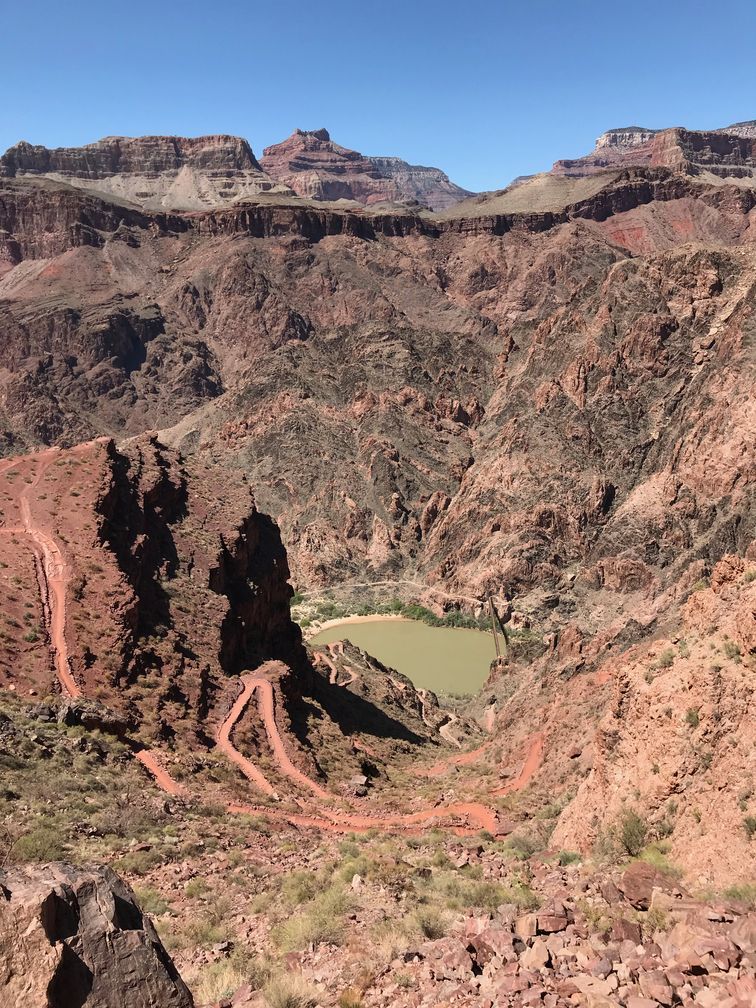 The Colorado River creeps ever nearer and we eventually reach Bright Angel Creek. We check out the area around Phantom Ranch and then do a short hike out towards Zoroaster Temple. Eventually returning to our campsite a bunch of other hikers catch up to us: Disco, Mush, Star Lord and Albatross. We chat into the fading light of the day and then fall asleep under a lean-to placed against the canyon walls.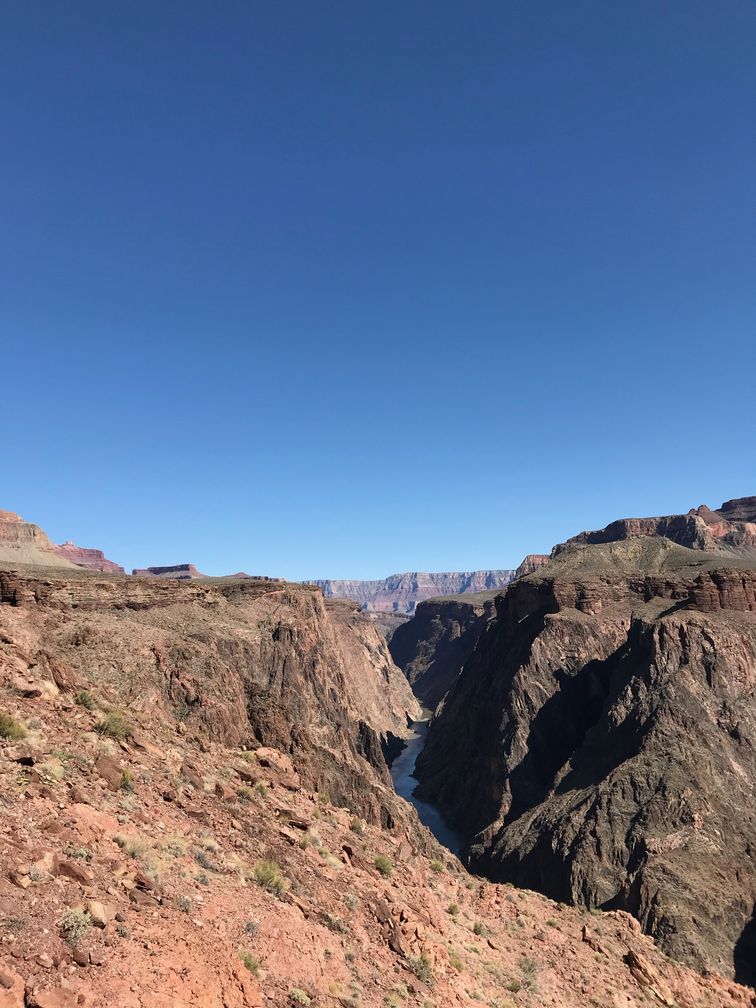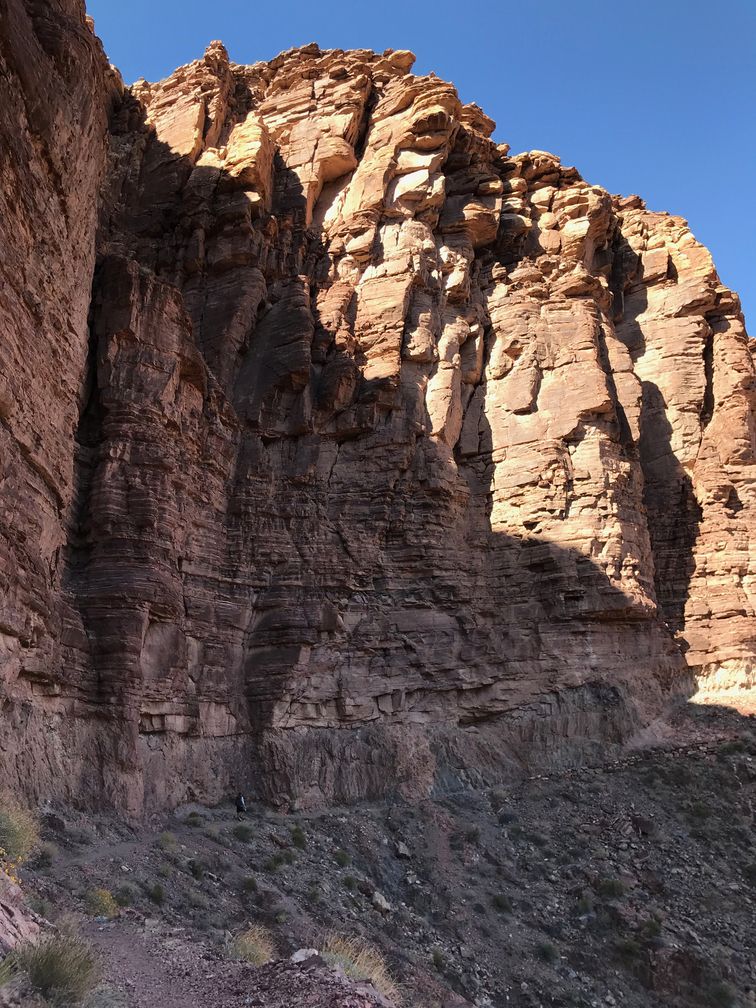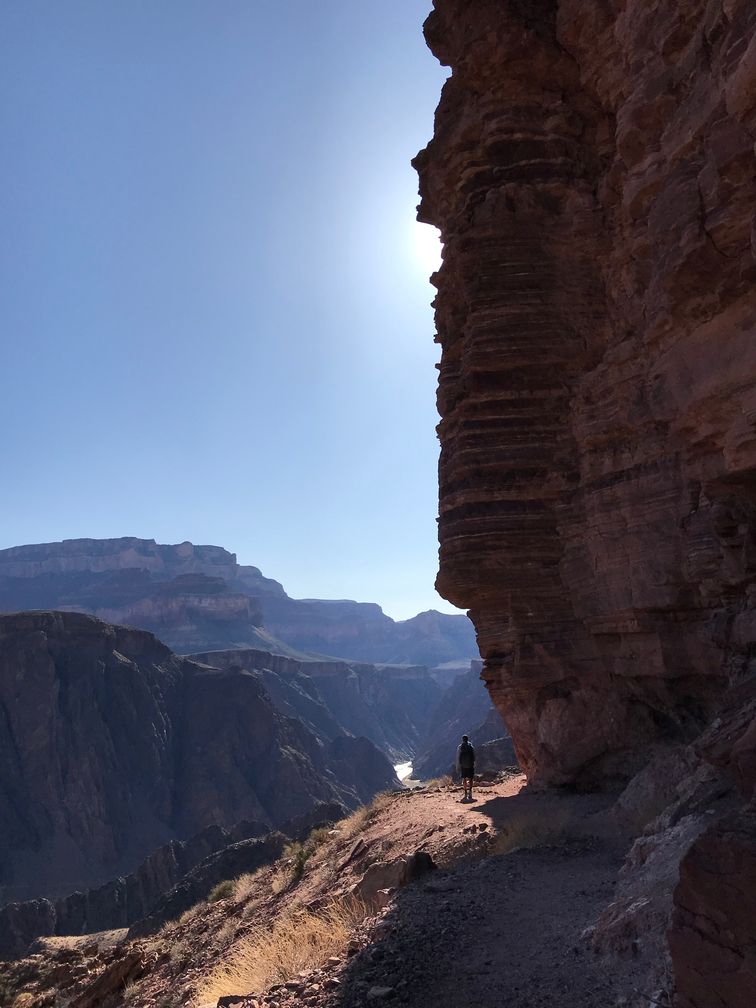 Awaking a little later then usual there is no real rush as I only have to do something like 15mi(24km) to climb out of the canyon and get to the north rim campsite. I have a little visitor bothering me though, a small squirrel had found someone's ramen packet during the night and had been throwing pieces of dry ramen over me as I slept.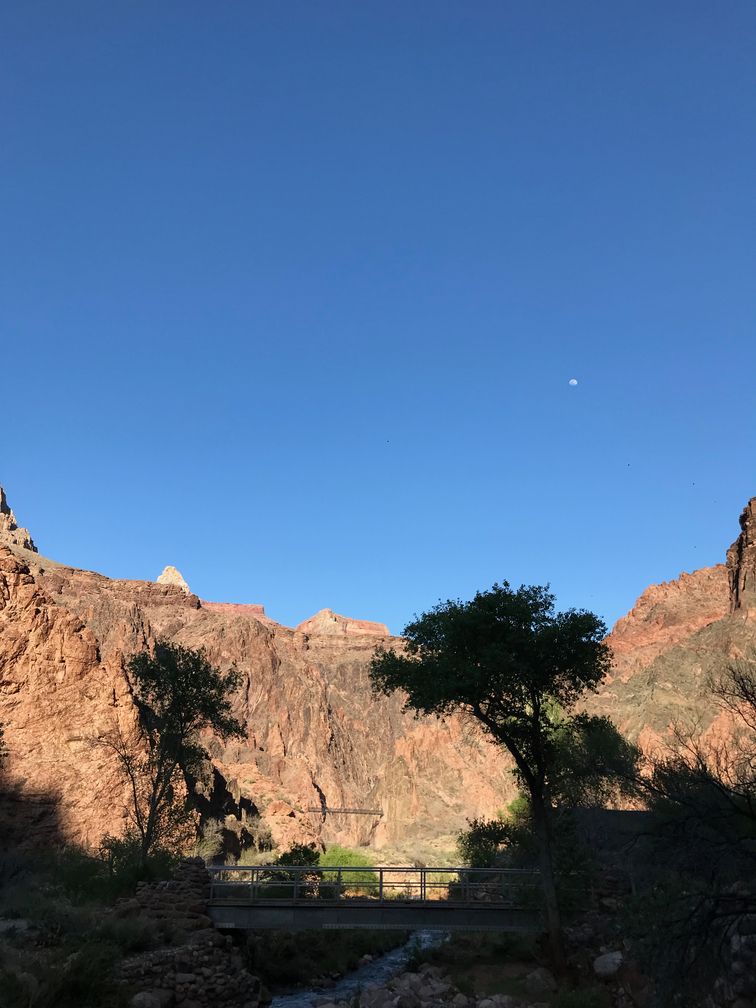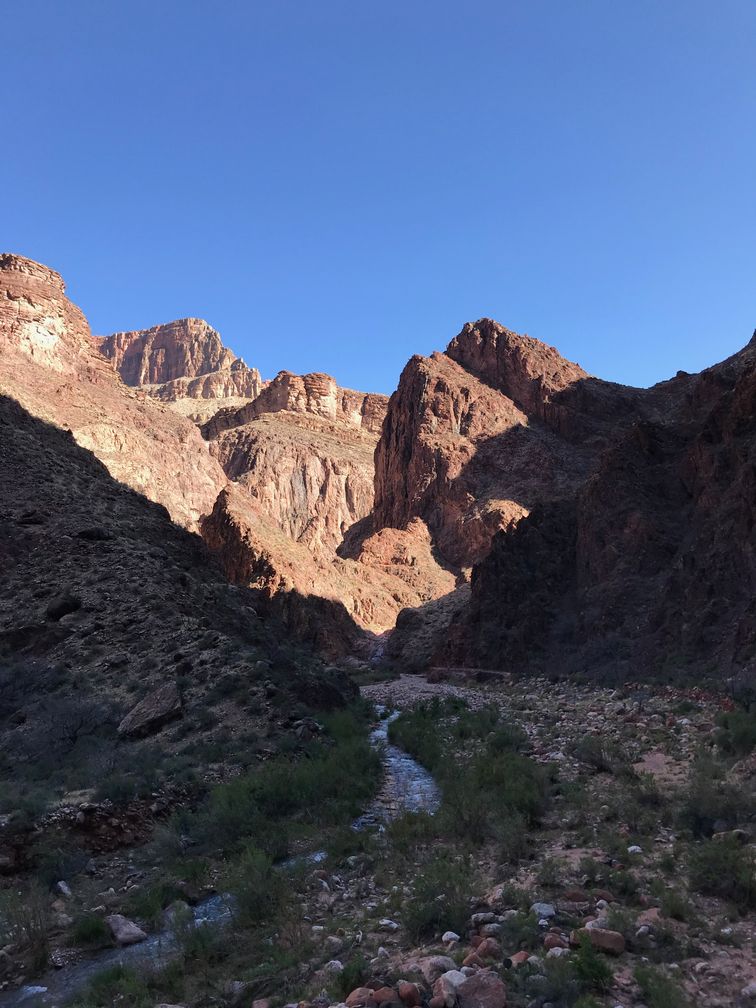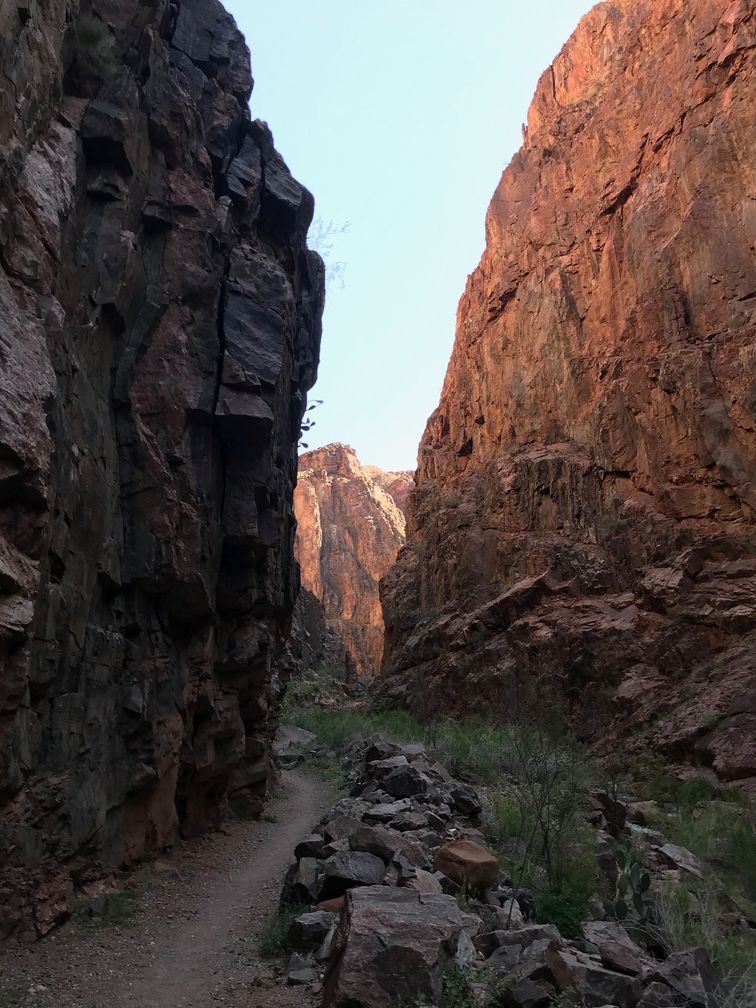 Eventually heading out with Ricky Bobby the sights continue to stun. The morning is spent winding through a narrow valley at the bottom of the canyon which gradually opens up. We take a side trip to Ribbon Falls, getting our feet wet to ford a river. After some time we reach the other side of the canyon and there is nothing to do but to go up. The cliffs loom over head in silence as we wind back and forth on switchbacks to scale the sheer walls.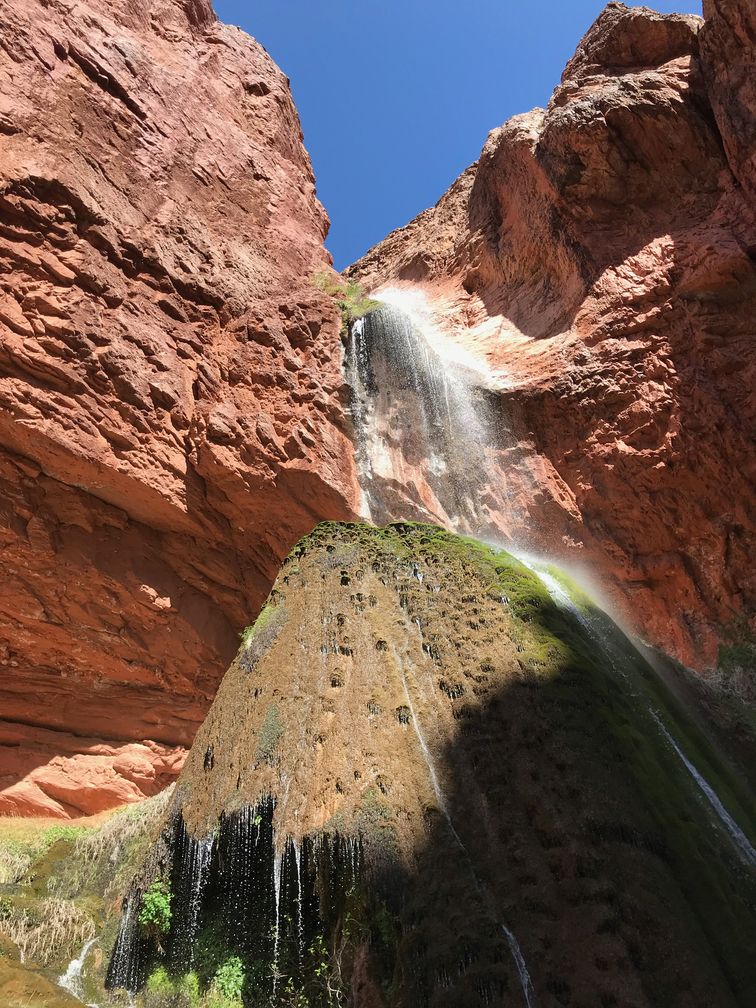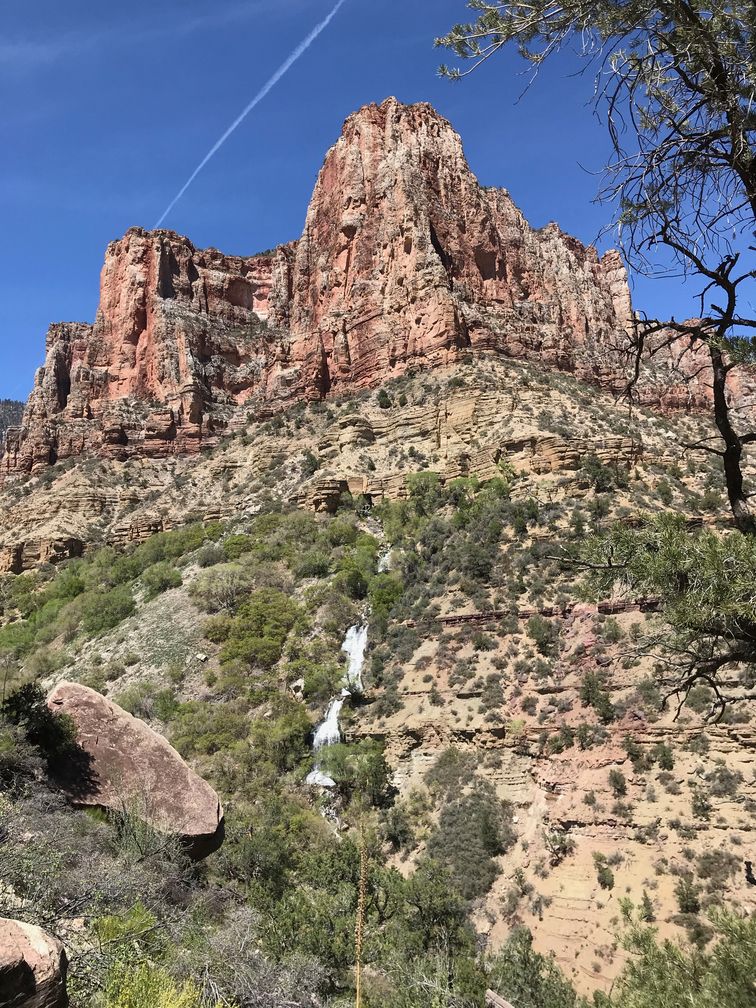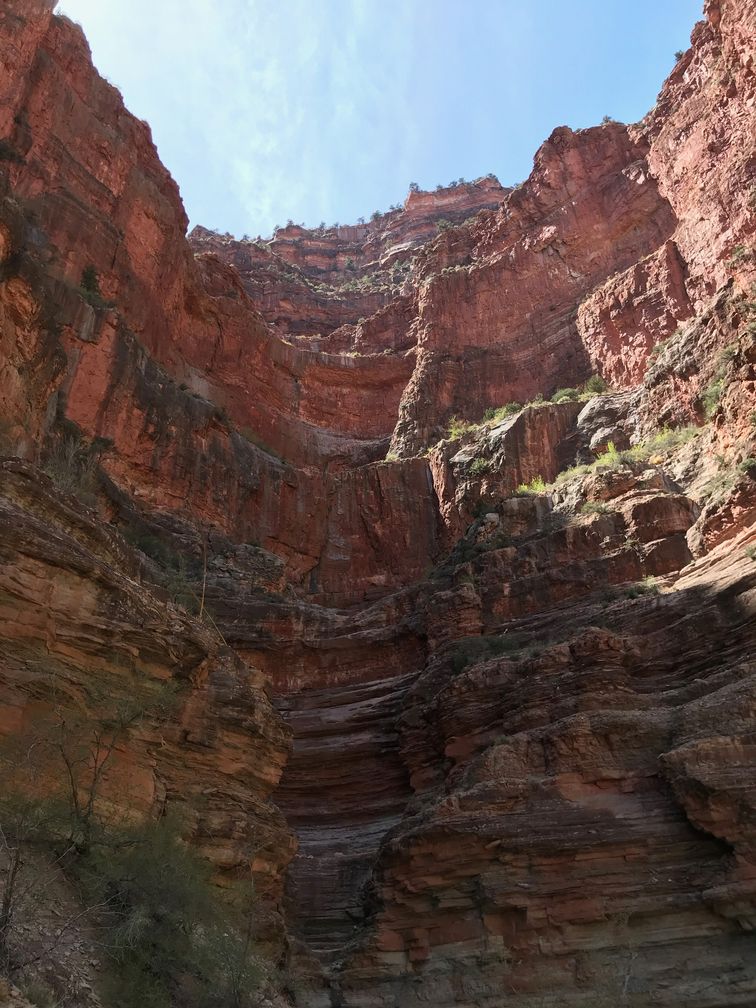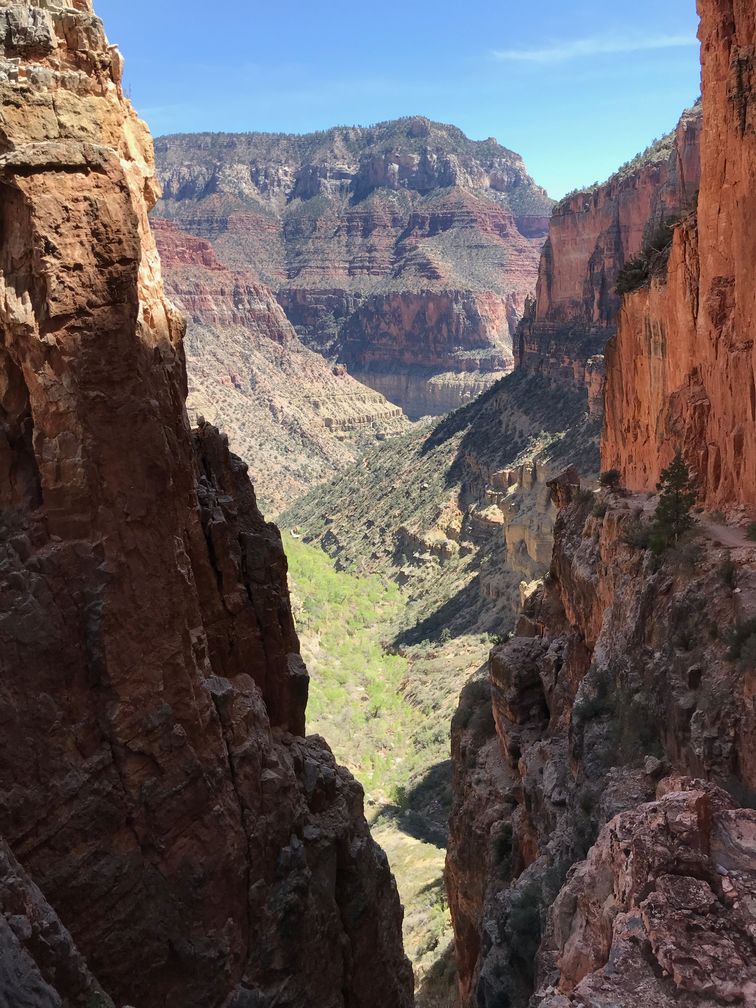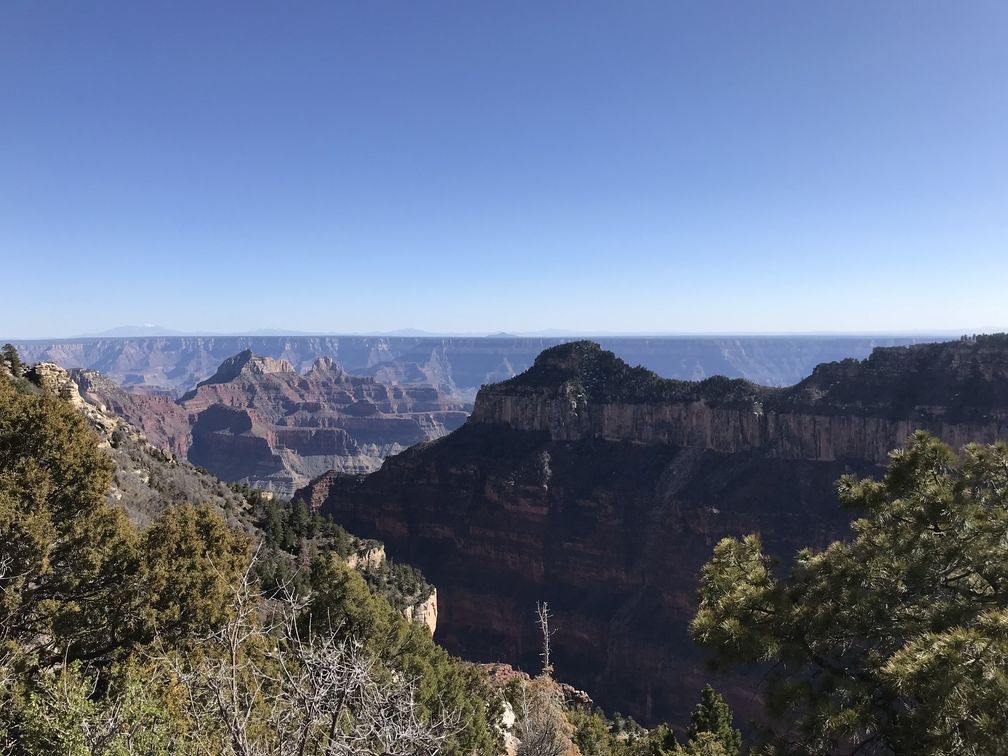 We summit and reach the campground in the late afternoon to setup our shelters in the now familiar gusting winds. We walk around the empty grounds of the north rim lodge and cabins and take a moment to follow the tourist path out onto the bright angel plateau. There was not a soul there besides Ricky Bobby and I, one can only imagine how packed this would be on a normal day. Back at camp Disco and Albatross catch up and everyone settles in for the night.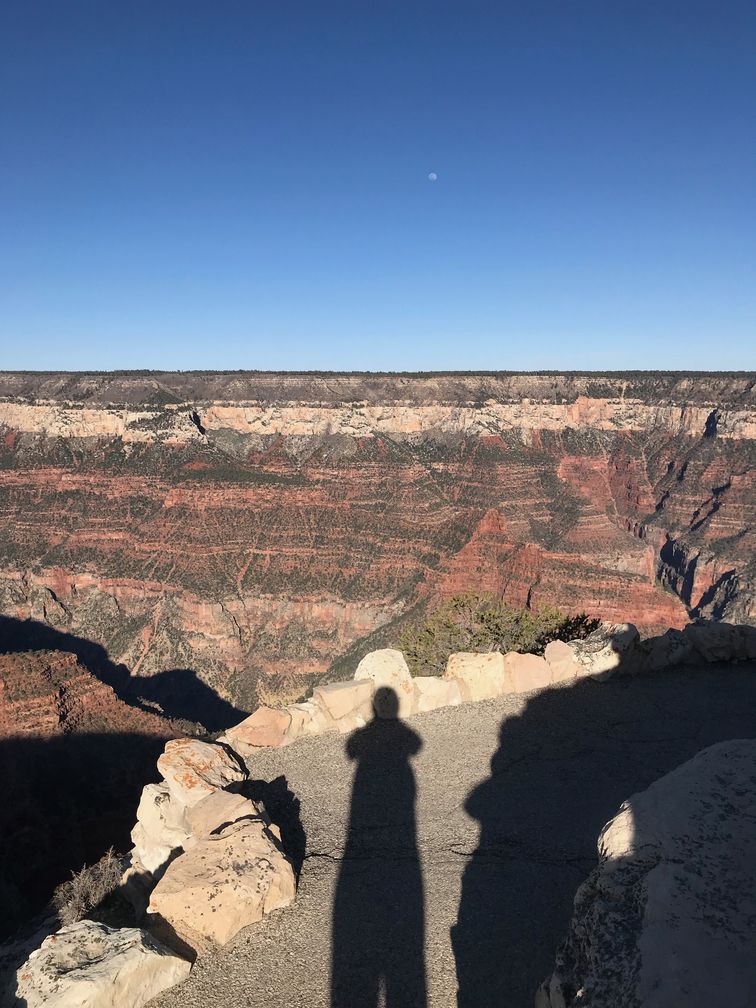 Ricky Bobby and I leave at 6am, saying our goodbyes to the canyon and now directly focused on the Utah border. The north Kaibab Plateau is fairly cold and there is still a lot of snow everywhere. The trail is still roughly 80% covered in snow which is manageable in the morning when it is hard but as the sun rises it quickly becomes soft and untenable. After checking out a watch tower we decide to bushwhack back to the paved highway to skip walking slowly on snow all day.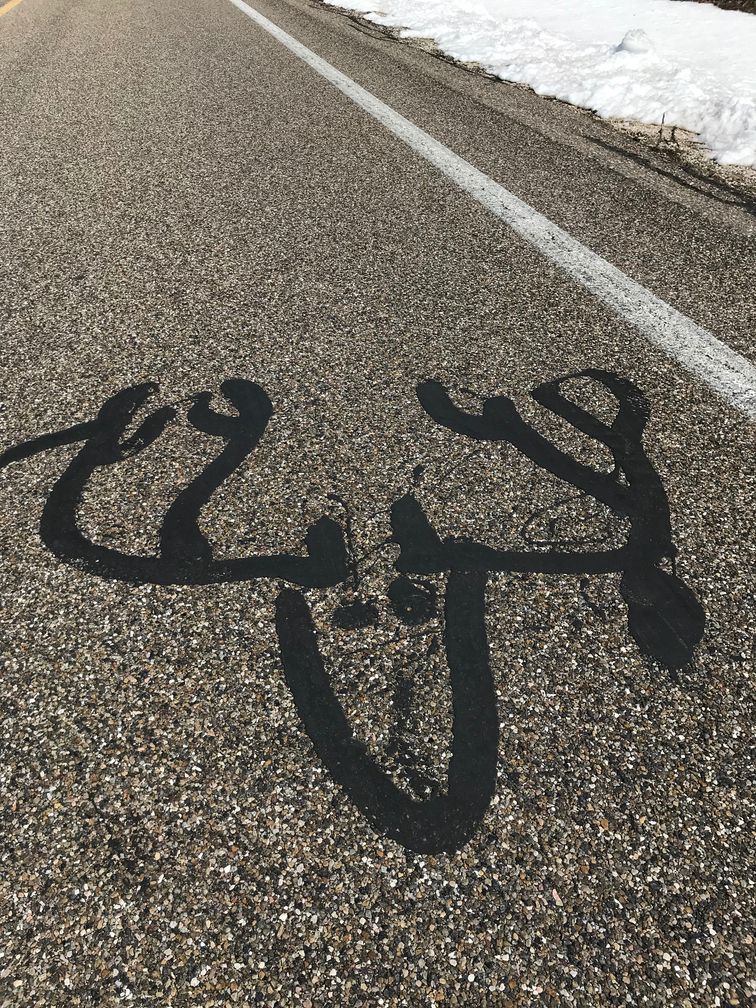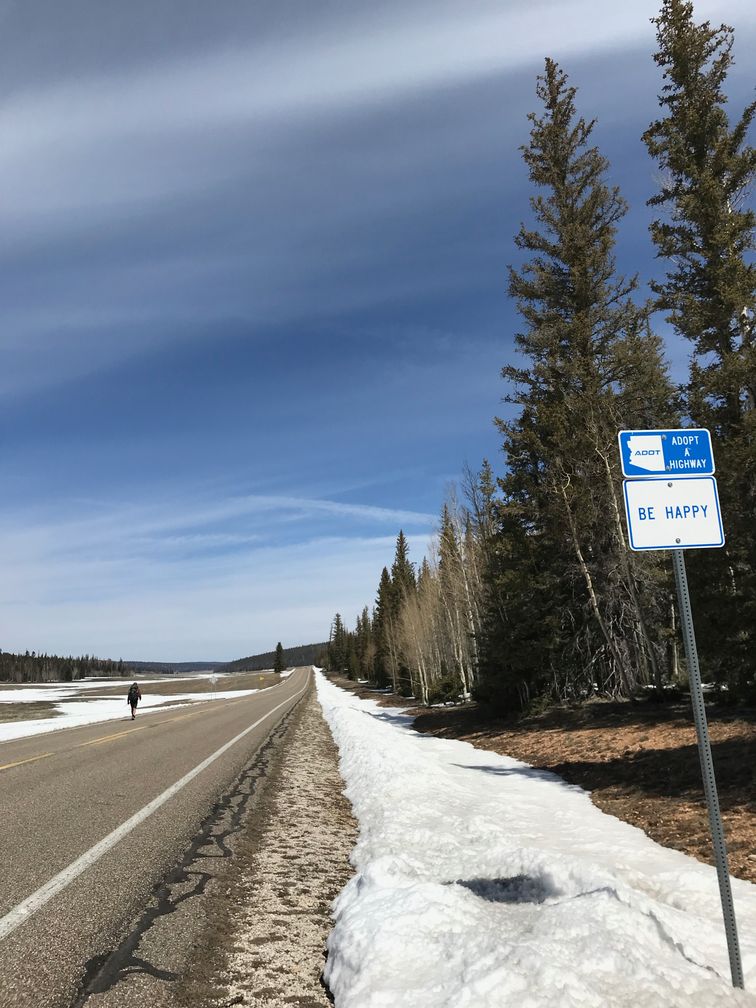 After the jaw-dropping variation of the canyon, the trail and road before us are droll in comparison. No elevation and just pine forest stretching off to the horizon quickly all meld into the same view. To pass the time we played Animal, Vegetable, Mineral? for a few hours and magically the miles melted away. After spending most of the day walking on pavement we rejoined the trail for a handful of miles to camp 10mi(16km) from Jacob Lake. Ricky Bobby chases down a gopher that was scurrying around camp and then we go to sleep.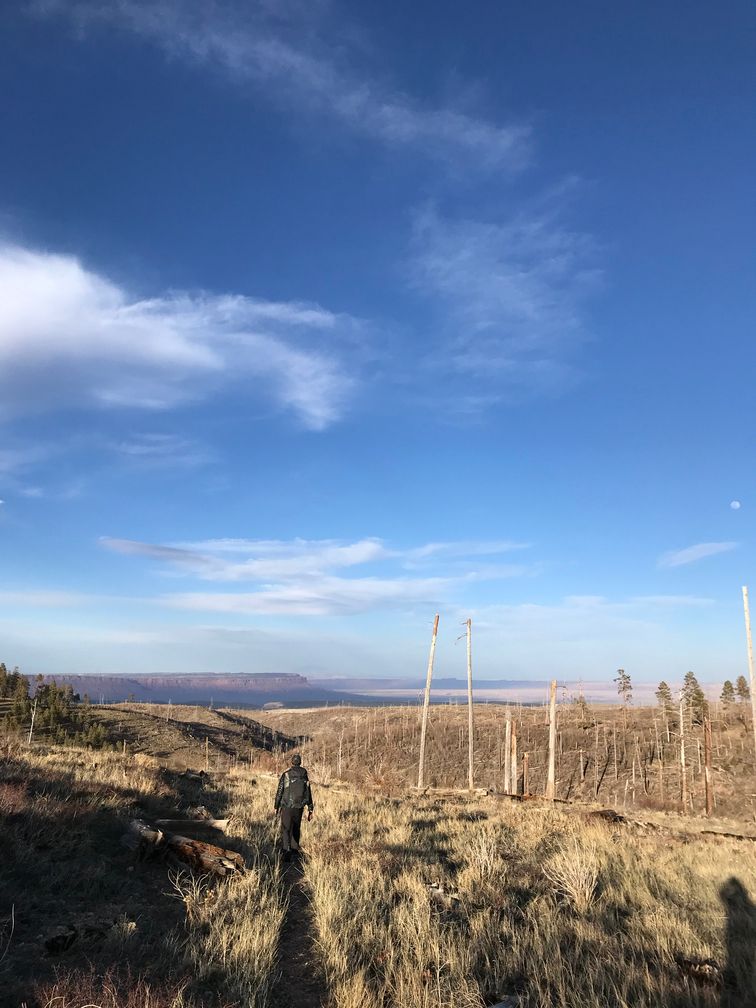 It is quite cold as we wake up and start to hike. We branch off the trail to take the highway straight into Jacob Lake where we meet up again with Mush. He tells us Star Lord finished yesterday night by doing a 57mi(91km) day! We spend the morning eating at the lodge's restaurant. I order a breakfast burrito, two pancakes, two eggs, hash browns and sausage. I begin to chug a bunch of water and buy twelve cookies from the local shop and instantly eating four. As expected I suddenly feel extremely ill in the stomach. After feeling some acute pain I head over to the bathroom to purge and I immediately feel better again enough to order a small sandwich for lunch since they don't serve salad in the off-season.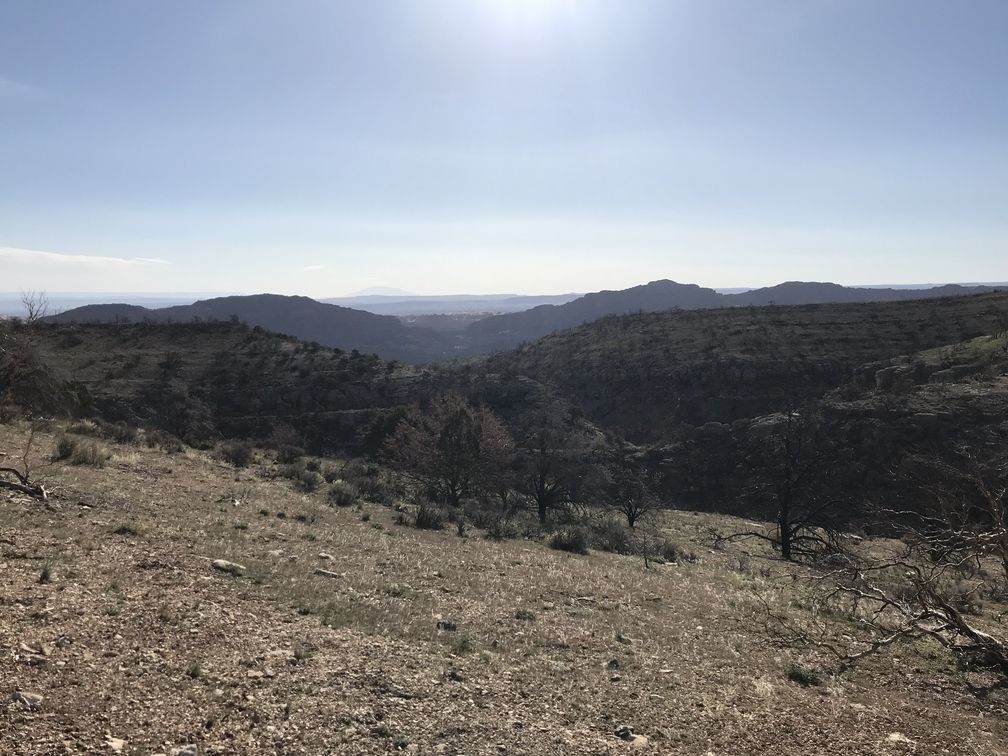 After buying two days of snacks we head out just before 1pm. Back onto trail this time we are surrounded by burnt landscapes and blackened trees. We take a custom detour around a closed section of trail and we pass Mush again. Not only is the landscape flat but now there aren't even trees to look at. The day passes slowly as we occupy the time by chatting. The day ends 10mi(16km) from the finish line.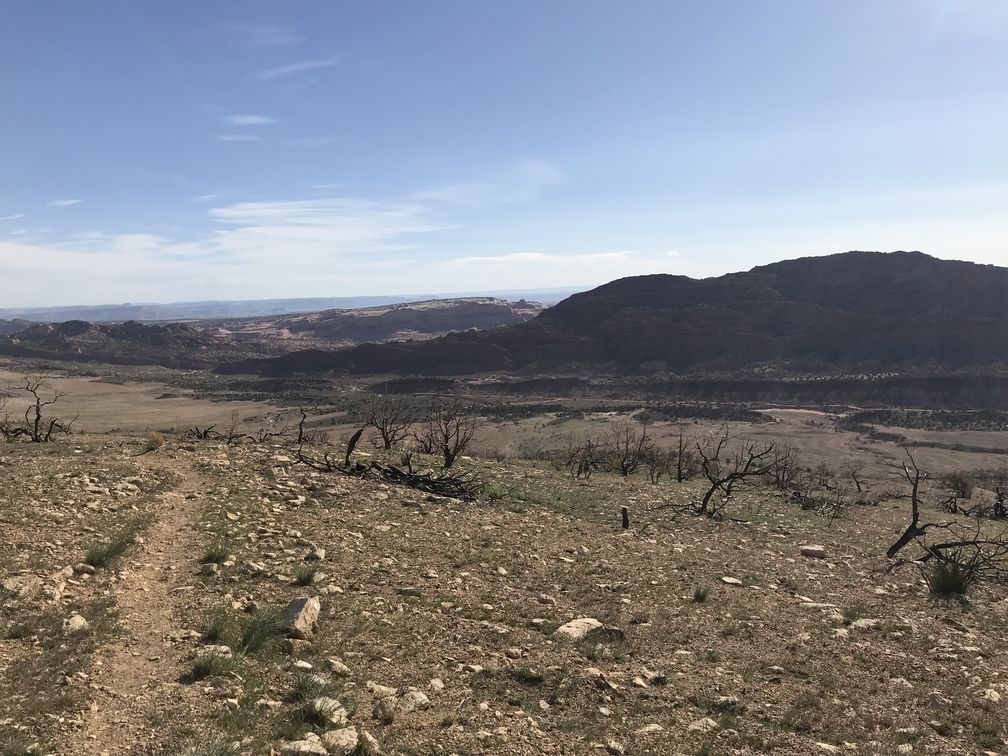 I wake early and blast to the end. I leave Ricky Bobby behind but I stop to wait for him a few miles before the end. We had been hiking together now for almost half the trip so I figured it'd be nice to finish at the same time. Sure enough we get there and take our completion photos with the northern terminus!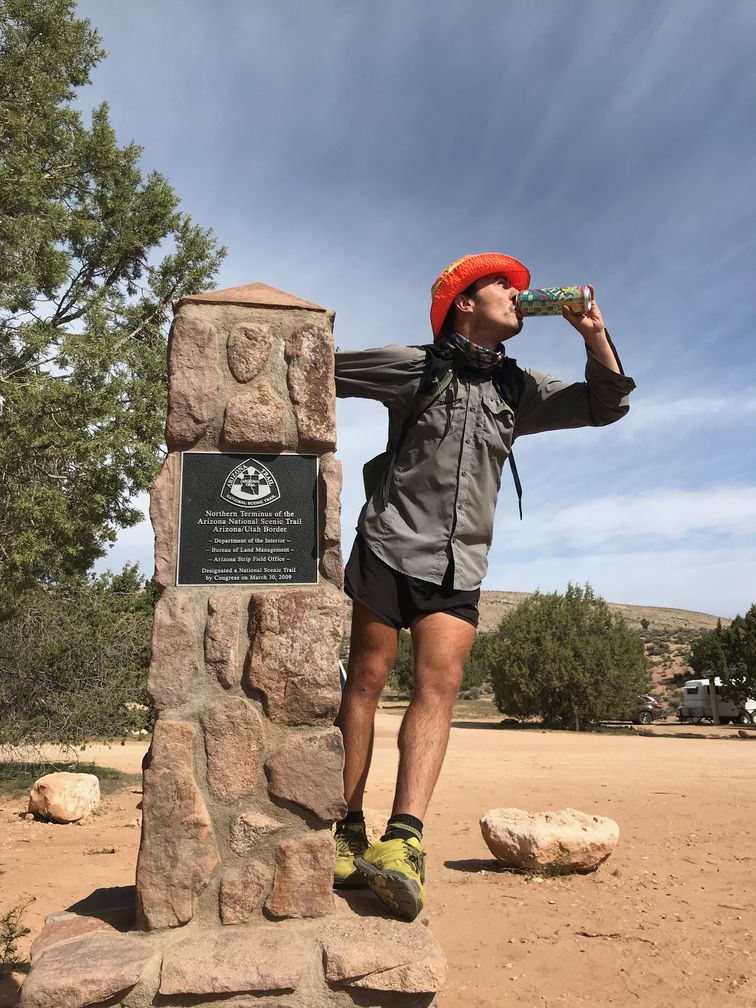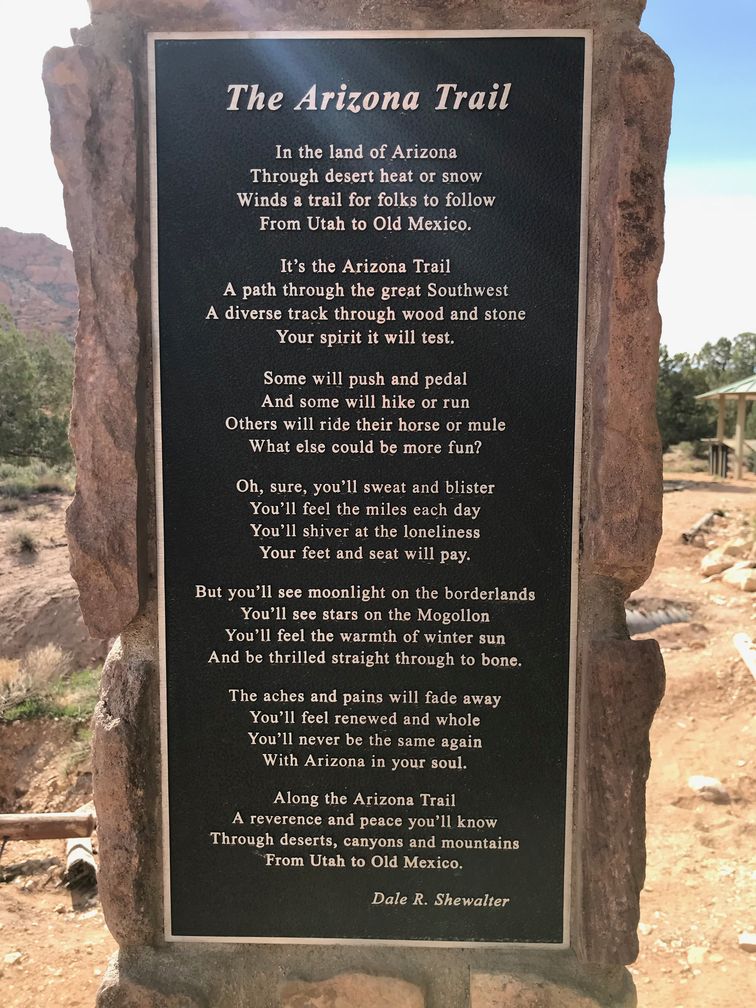 It feels a bit anti-climatic due to the scenery but the views into Utah look absolutely stunning. We are peppered by huge gusts of wind and sand as we hike to a near by trailhead to find a hitch. Under Ricky Bobby's advice we spend the day hiking into Buckskin Gulch (photos) which is spectacular before hitching to Kanab and then to St. George. After a night in a motel I begin to fly out back to Canada and Ricky Bobby heads to Las Vegas to meet his girlfriend. The end of an era and another thru-hike for the year!
If you are interested in my post trip retrospective of what went well and what went wrong the click down below to read the next story.
---
---
Need professional help planning a trip or want a guide? Click here!
---
If you would like to signup to get a notification when the next article is out enter your email below: