The night before I had convinced Goose to do a 40mi(64km) day so we woke up early at 5am and began hiking. The path was muddy in spots so the bottom of our feet got soggy but otherwise we were happy to be on trail. A few hours in there we pass someone running down the trail the opposite way and it's Steps out for a morning run! He's carrying a hand saw incase he comes across any bit of trail that needs maintenance. Steps lets us know that he just past Shortcut and another hiker, Soares. He says we'll catch up to them by the end of the day for sure.
Goose and I continue blasting forward, entering the Eglin Air Force Base. We tried calling the number listed on the entrance signs in order to procure a permit but no one was answering. We decide just to go on through anyhow and wing it. The hiking trail through Eglin was impeccable. The tracks were wide, maintained and every creek or little bit of soggy ground had some sort of boardwalk spanning it to keep your feet dry. For a while we could hear the noise of the highway as we walked on through but eventually it began to lead us west into the heart of the forest via winding paths covered in deer moss. All the water flowing through the area was crystal clear, flowing well onto river beds of white sand. The sun was shining and the day was perfect.
Around lunch time we managed to catch up to Shortcut and Soares. We chatted and figured out what had happened since we last parted ways. Reminiscing about the cheesy chicken Shortcut's mom had made for us at the beginning of trail, we asked Shortcut what her plan was to finish the FT. It just so happened that Shorty was going to finish the same day we were and that her mom would totally let us stay over at their house for a few days! Amazing!
We double confirmed with Shorty that we had a ride out at the end before Goose and I went off ahead to complete our day. By 3pm we had done 30mi(48km) passing the high point of the FT(272ft(83m)) as well as the 1000mi(1610km) NOBO marker. It was finally sinking in that this trip was almost finished and I that I could say that I've walked the length of the state of Florida. By 6:20pm we had completed our 40mi(64km) day and passed out in camp.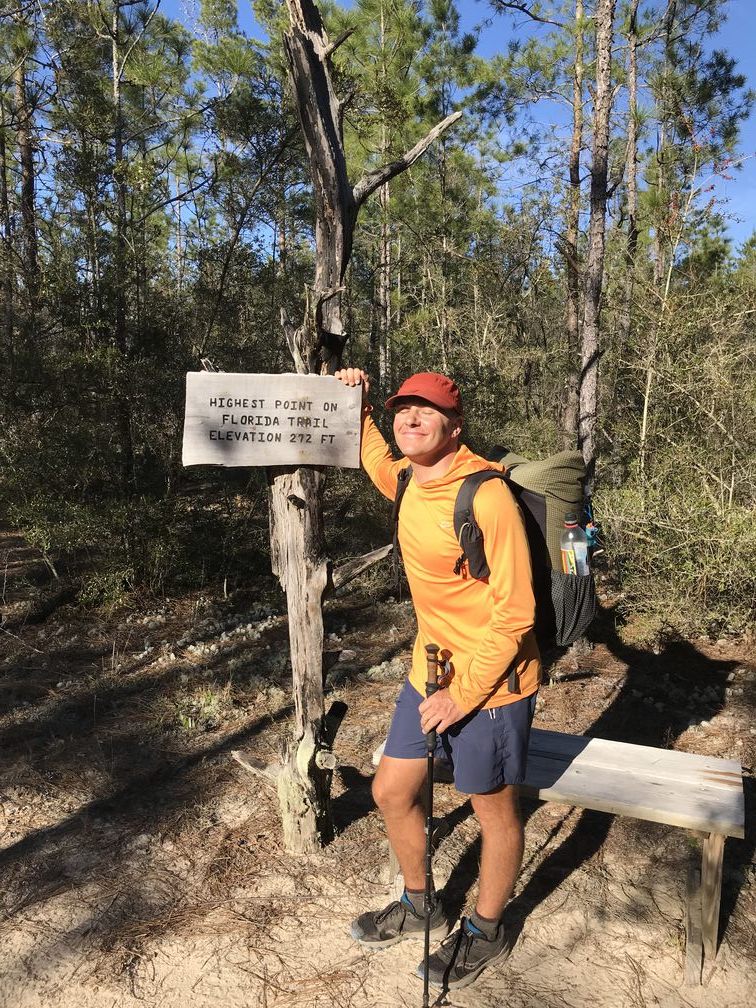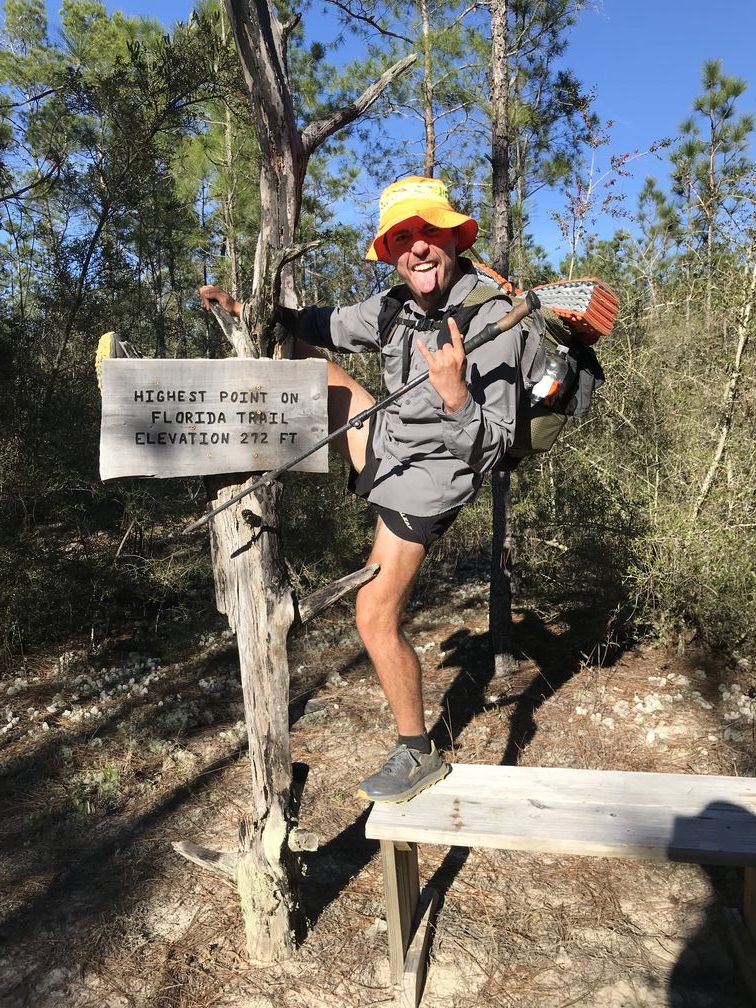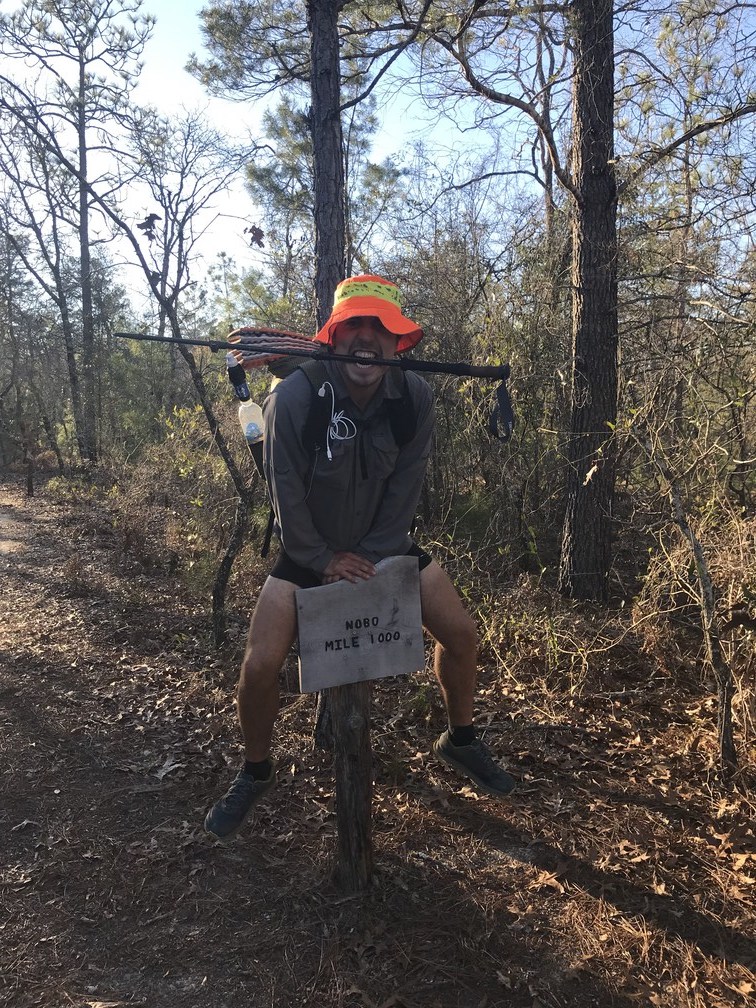 Overnight the temperature dropped and we awoke cold to hike out at 5:30am. The morning was quiet as we continued through the Eglin Air Force Base. A few large doe deer galloped alongside and in front of me on trail. Leaving the gorgeous section behind now we had a relatively short road walk along a highway into the town of Crestview. Thankfully a friend of Steps, Flat Top, was going to pick us today and let us sleep in their house for the night.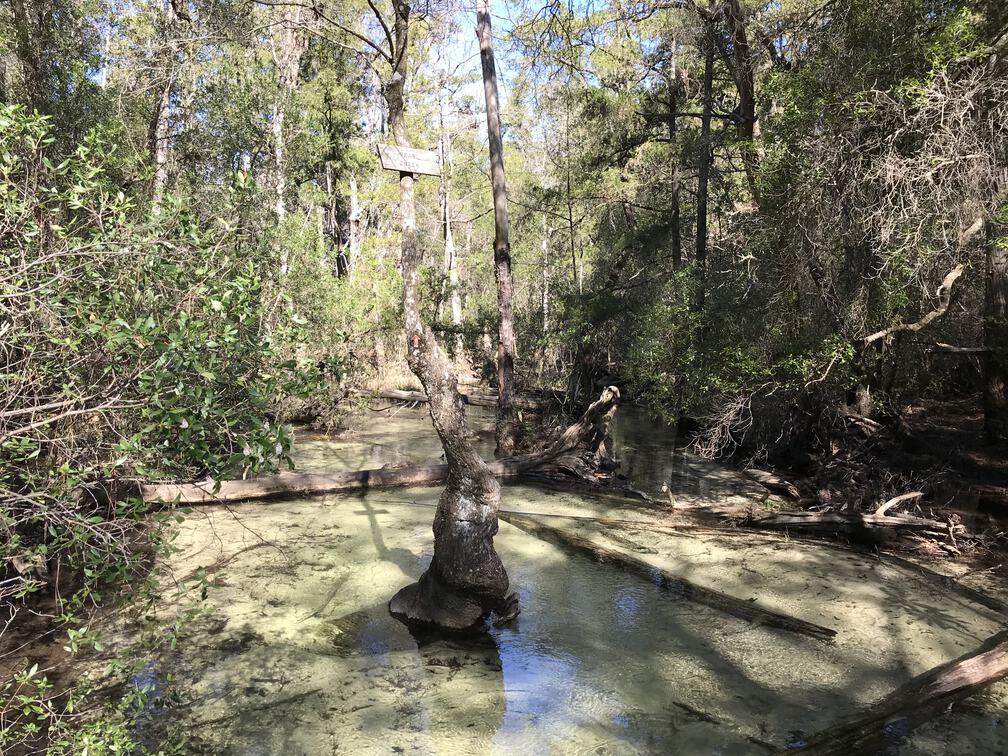 Walking along the highway we began to melt under the full force of the sun. Crestview seemed to be a mecca of fast food joints as Goose and I debated where to stop for lunch. Many things we closed since it was Sunday so we eventually decided to stop at Whataburger, a place neither of us had ever been to. It was very delicious, with each of us ordering two spicy chicken sandwiches and Dr Pepper milkshakes. A little further past all the food offerings we went to a Dollar General to resupply our hiking food and then walked a mile more to a gas station to await pick-up.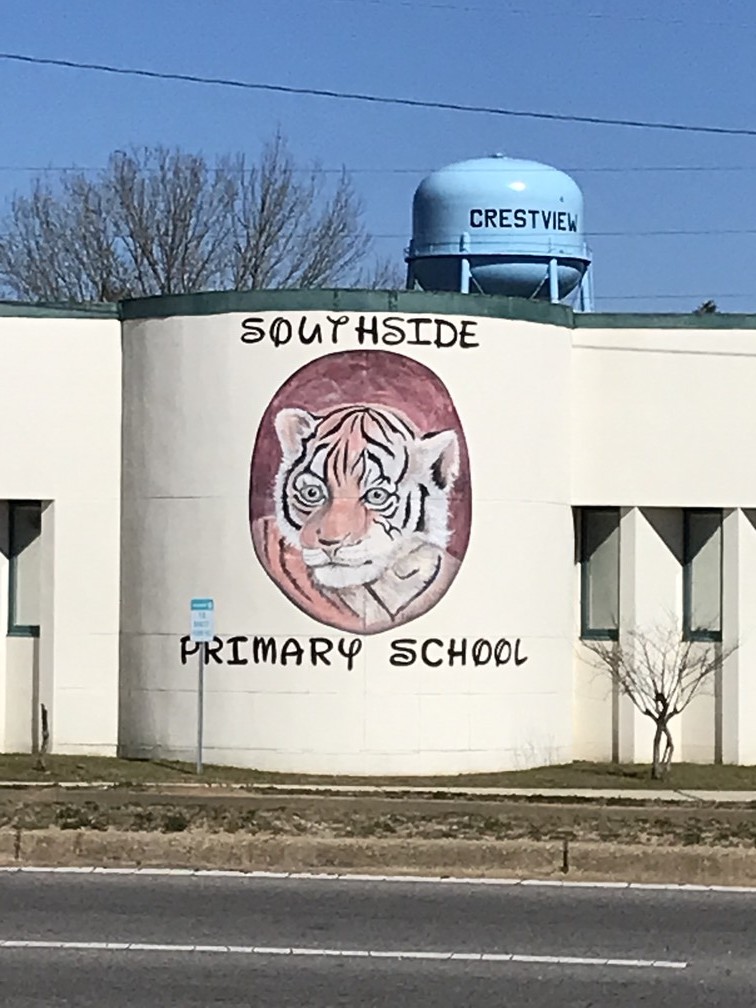 Flat Top was very punctual and grabbed us quickly, whisking us away to his homestead. After laundry and a shower we sat down to chat. Sparkles, his wife, made us a small fried rice meal and fresh chocolate chip cookies while Flat Top relayed interesting tidbits about the history of Crestview and Eglin. After a while the talk shifted to being about hiking gear. Flat Top, Goose and I were all hikers in the ultralight fashion, also known as gear nerds. It seemed that Flat Top owned every piece of ultralight gear either Goose or I had heard of. If there were three popular ultralight hoodies, he'd have each one. It was super fun and we all geeked out for hours. At some point I was convinced to cut down my own sleeping pad to shave weight. After much encouragement and a strong pair of scissors I managed to shave off 5.4oz(153g). It was a great time and we talked until almost midnight before we all went to sleep.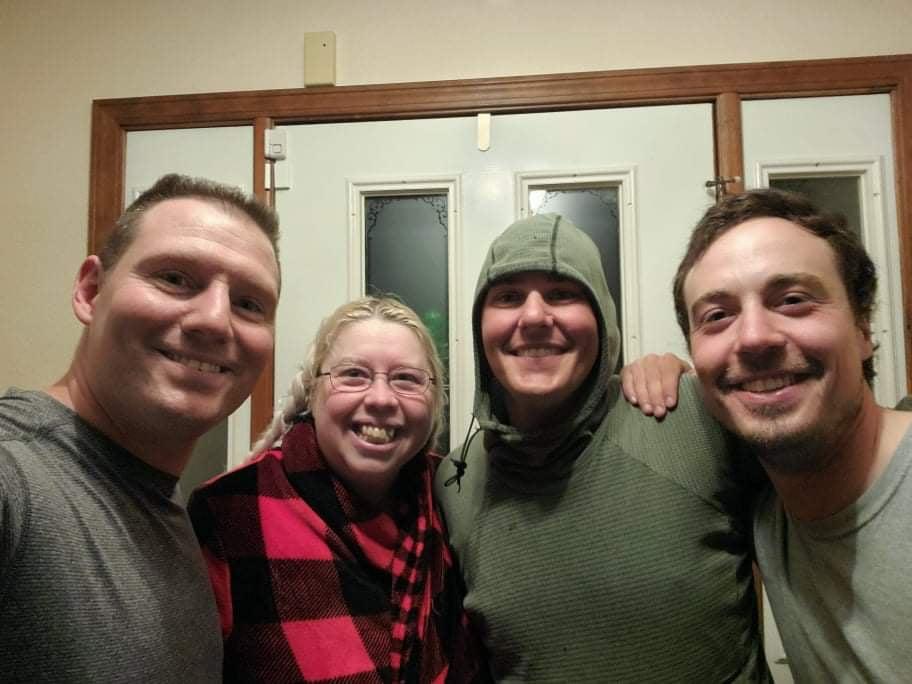 Leaving at 6am, Flat Top drove us out to a Waffle House to have breakfast. Unfortunately he could not stick around so it was just Goose and I eating. This breakfast detour put us backwards on trail roughly 1.3mi(2.1km) so after we were full we headed out to continue road walking out of Crestview.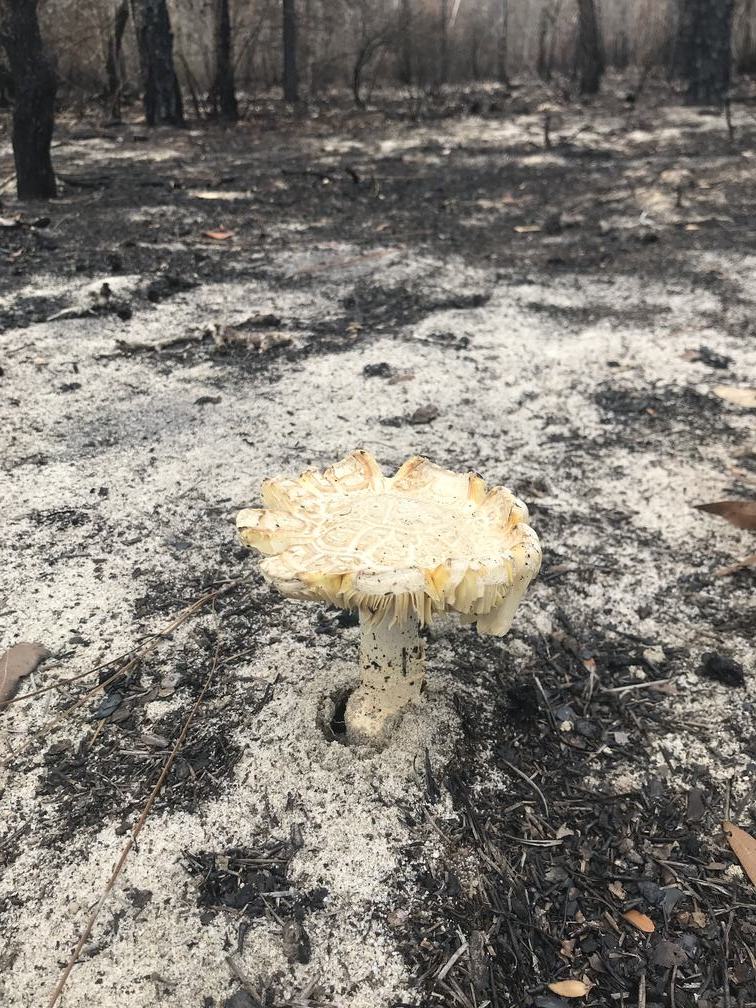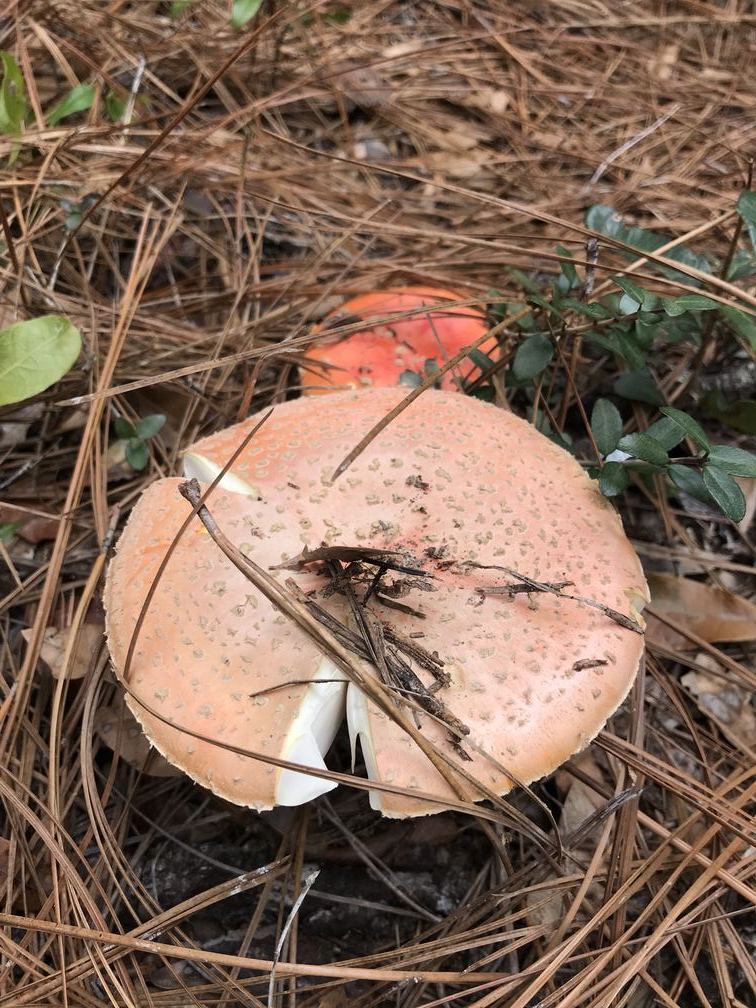 The day passed fairly uneventfully as dull grey clouds hung over the sky and the humidity began to sky rocket. We made great time getting to camp fairly early and setting up. This was lucky since, after weeks of not worrying about the mosquitoes they were back. Sleep was uncomfortable as the humidity kept rising, making it feel like it actually got hotter over the night.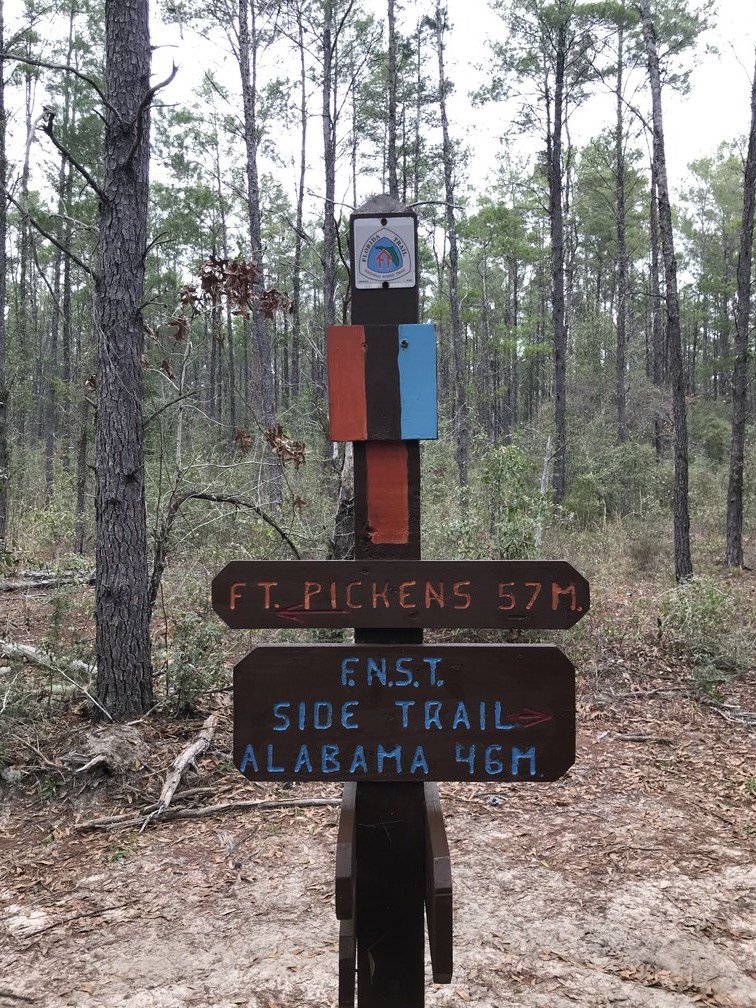 Awaking to stale humid air, we felt gross and sticky. There was a bit of hiking trail that we passed over before being unceremoniously ejected back onto road. Approaching and going through the city of Navarre we finally arrive at the water's edge! We walked across a large bridge to reach the gulf and built up waterfront of Pensacola Beach. The sun comes out to melt us and it almost feels hard to breathe with the humidity. The trail finally leads us onto the beach as some clouds roll in with a breeze. We spend hours walking on the white sand beaches along the ebb and flow of the water's tide. We pass tons of shells and sand dollars buried in the sand, small pipers and plovers feasting along the shore and the occasional dead jellyfish washed up in the sand. With every step you take on the dry sand you can hear it squeak under your feet.
Eventually the route leads us off of the beach to the other side of the peninsula which is covered in sparse vegetation and rolling sand dunes. As dusk falls we follow an invisible trail meandering through the dunes. I am constantly checking my GPS and waiting for Goose to catch up so we don't get lost. At the campsite we meet another hiker, Dr.Jon. Goose setups right next to him and I walk ahead to set my tarp facing the bay and Navarre. There are tons of tiny biting flies here, so I jump into my tent and look forward to another blistering hot and sticky night.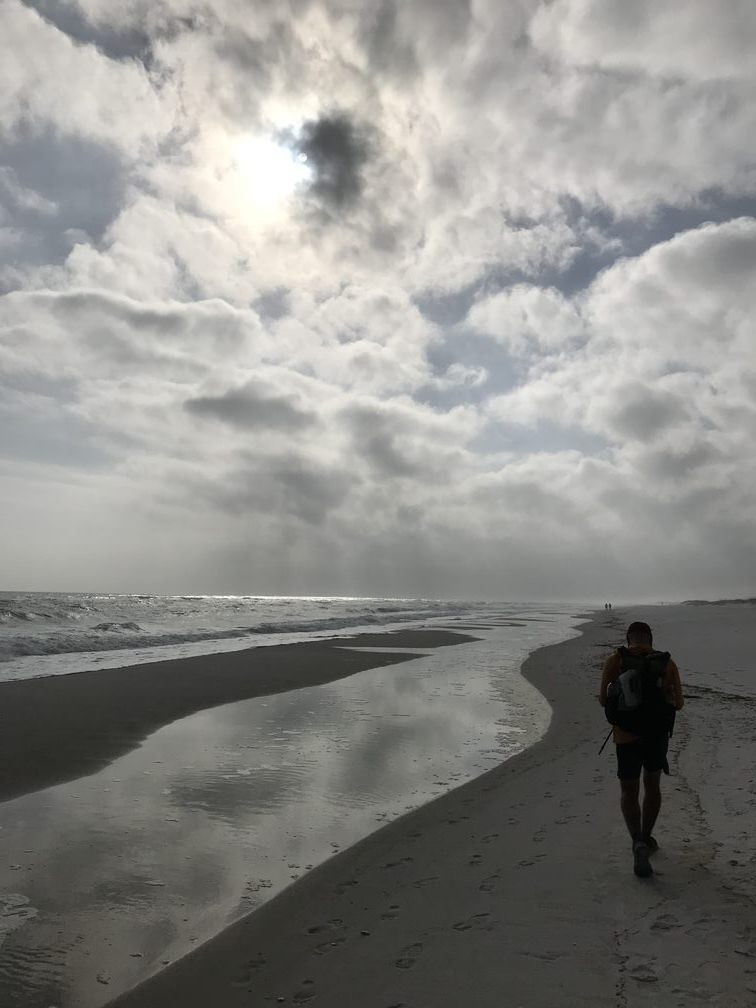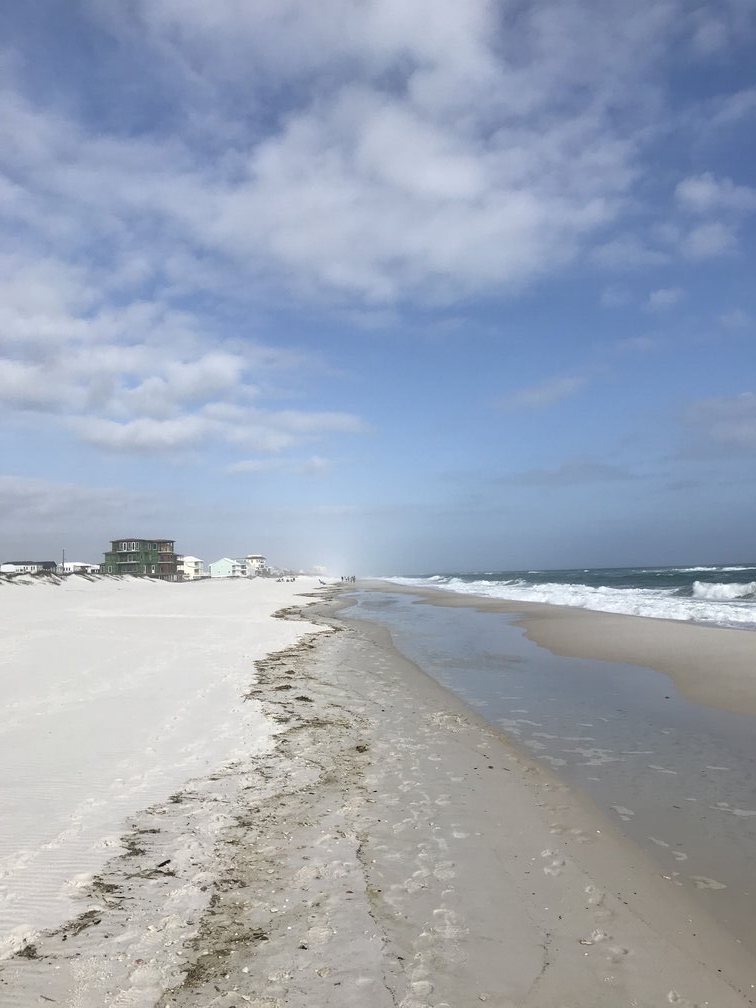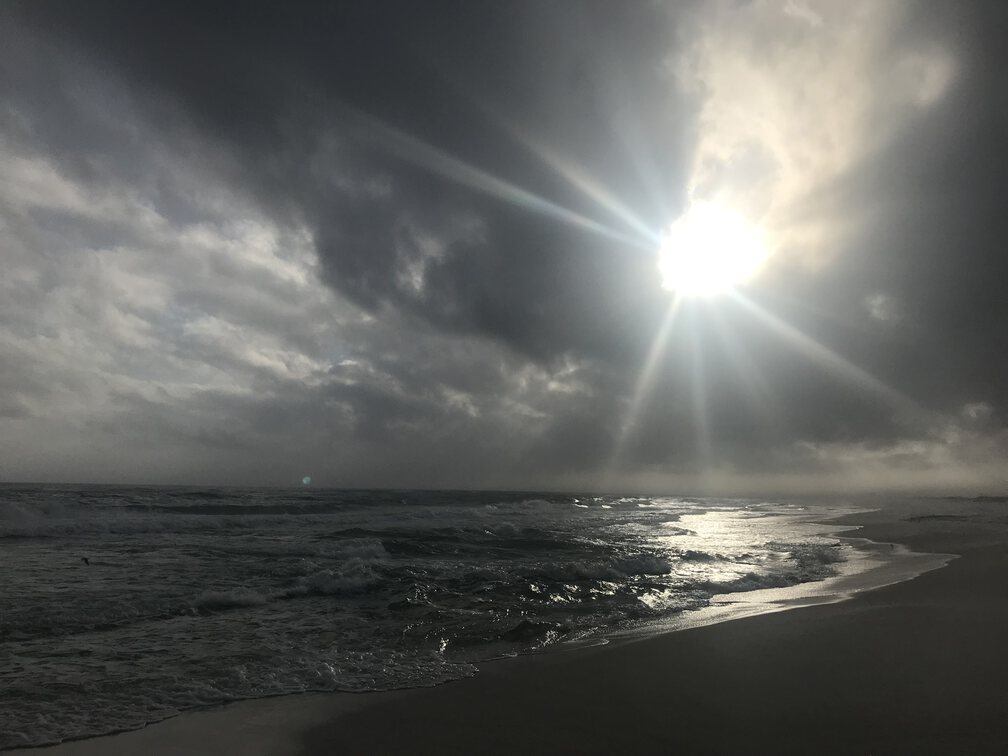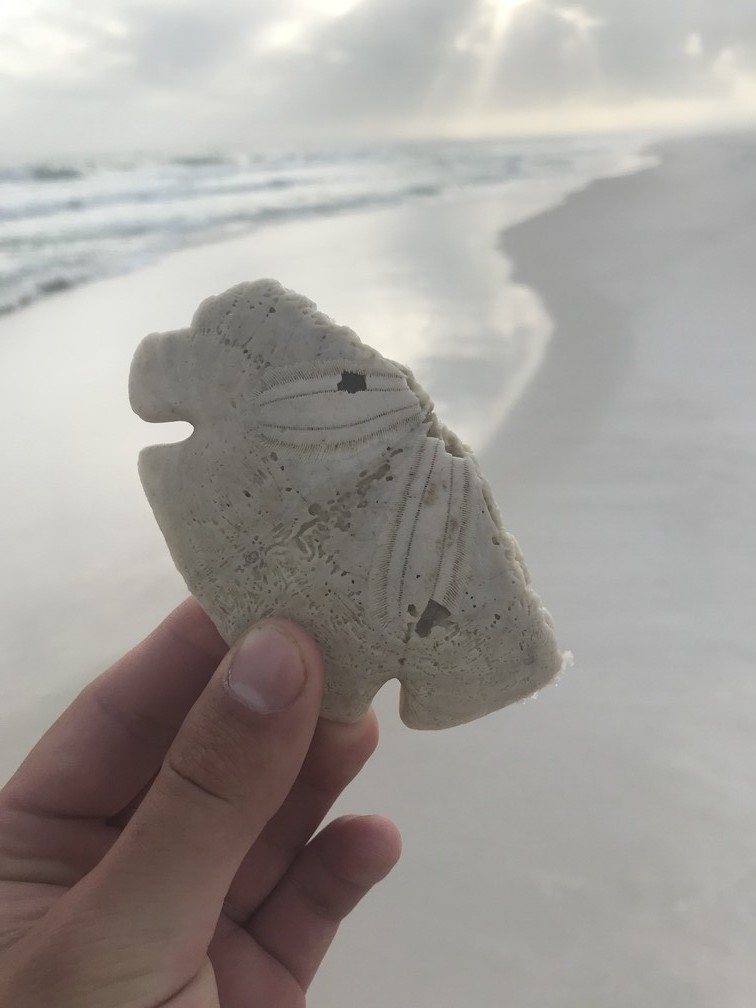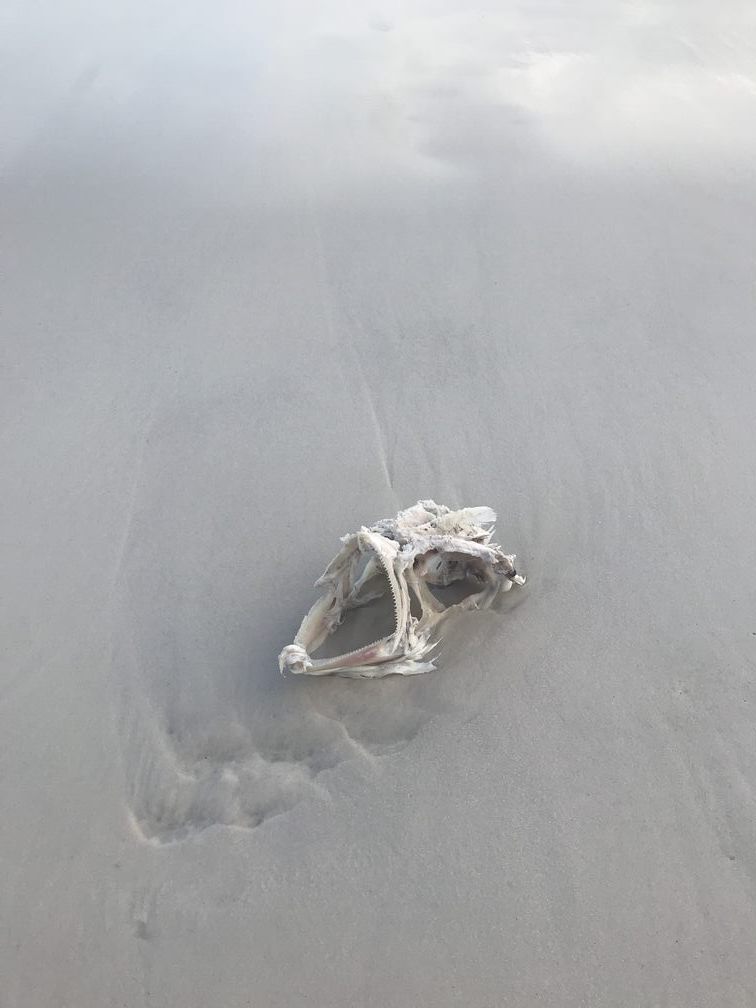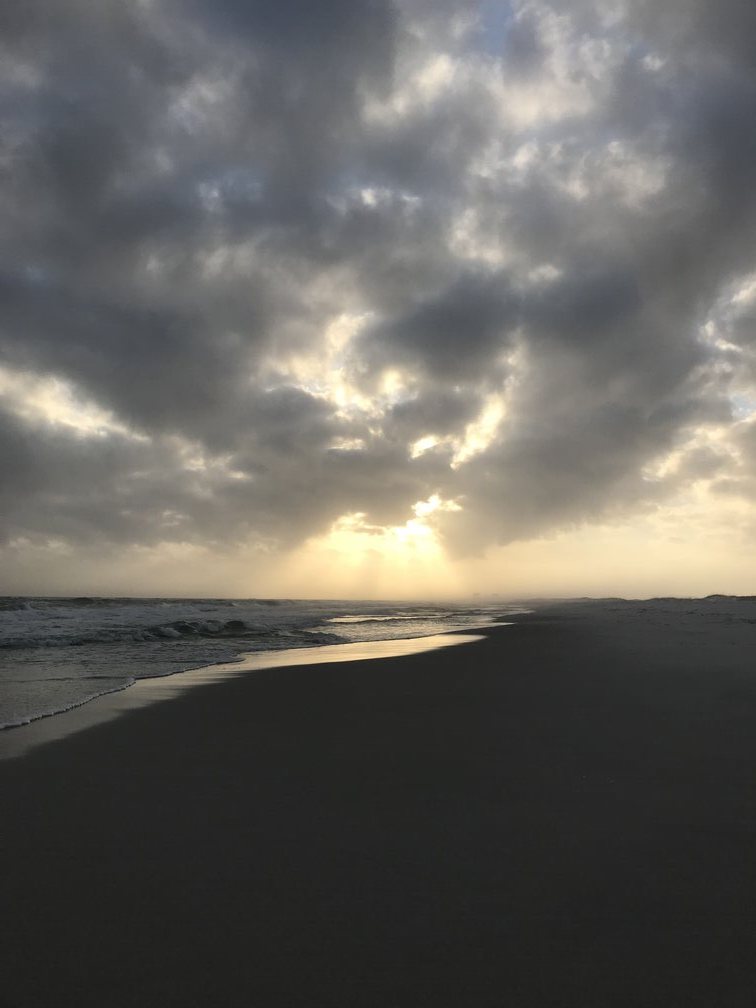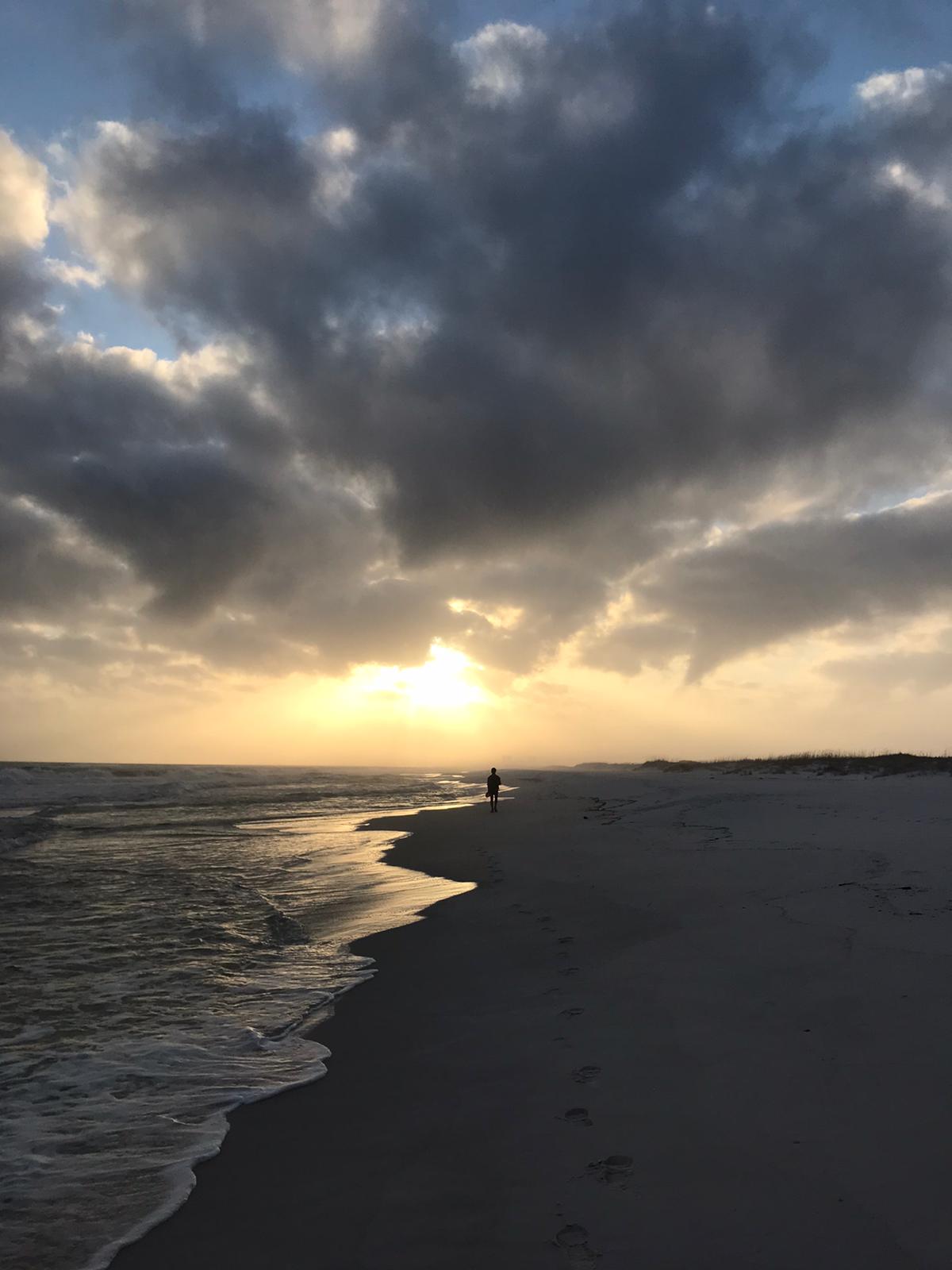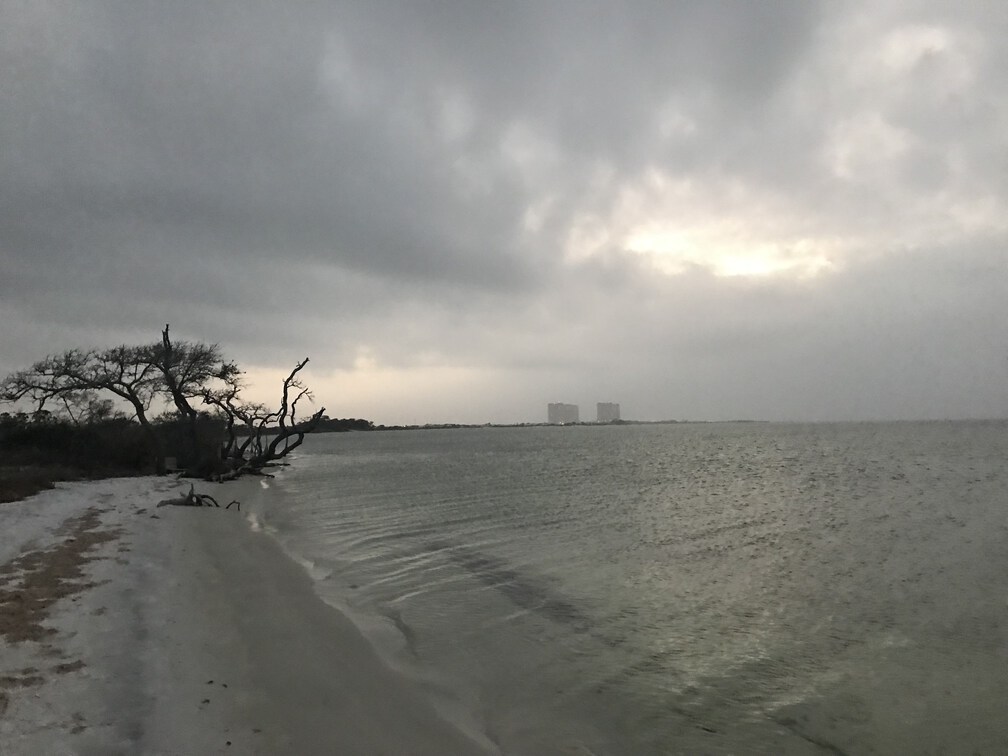 I woke up facing a wall of fog. The coastline from the other side of the bay was no where to be seen and my headlamp would only illuminate about 10m(33ft) in front of me. Everything was wet and I grumpily packed everything away. Goose was late to getting going this morning so I ended up being bit by hundred of small flies as I waited. We do a bit a dune walking before going back to the road. We pass massive condos and gated communities on our way to a breakfast that Goose has chosen. After breakfast, that was worse than Waffle House and yet more expensive, we continued along the road and then back along the beach for 5mi(8km).
The dense fog was still rolling over the area and visibility was poor. It felt like we were walking on a different planet. After three hours of the beach walk we came to a trailhead pavilion and sat down to take a break. We only had 2mi(3.2km) left to go! For whatever reason we could not muster the energy to finish it out. Instead we lay claim to the entire pavilion and hung our gear everywhere to dry out. After two hours of idling, I was getting restless so I rallied Goose and we went to finish the hike off.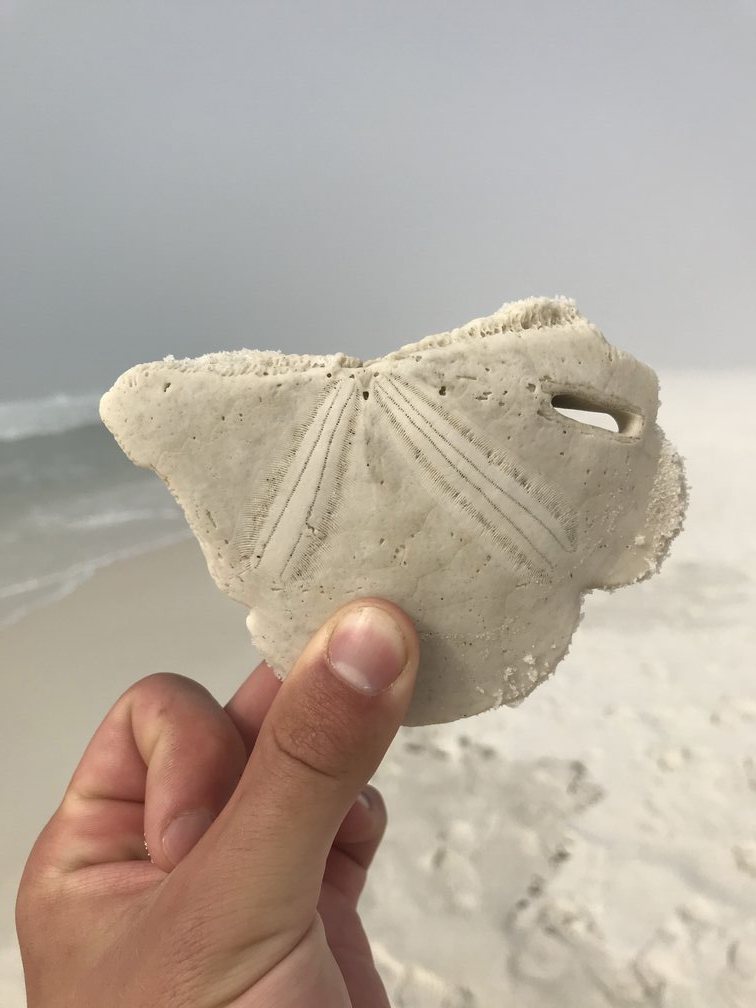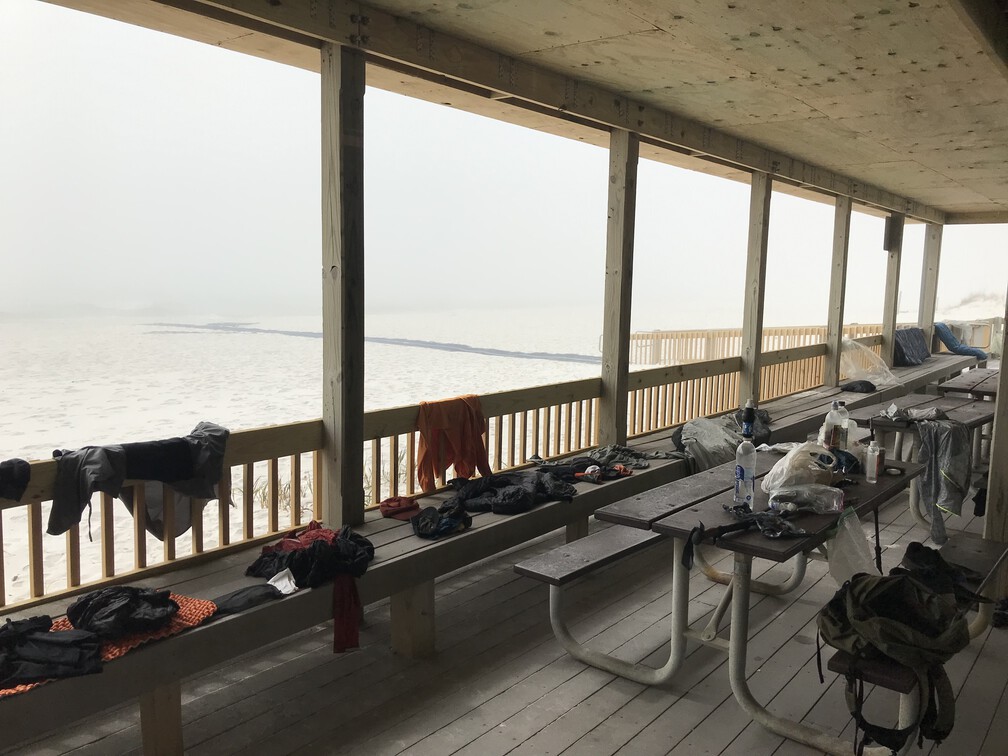 It was bitter sweet as we approached ever closer and closer. First along dirt roads, then a nice crushed gravel trail, then a campground parking lot and then back on gravel trail. Crossing a small pedestrian bridge a passerby points up to the sky and let's us know a bald eagle is flying over head. At the same moment we pass a little placard telling us that we have reached the northern terminus. Woah. We take a few pictures and continue hiking until we reach Fort Pickens. We sit down against the crumbling walls of the old fort and relax for the next four hours until Shortcut catches up and we get a ride out.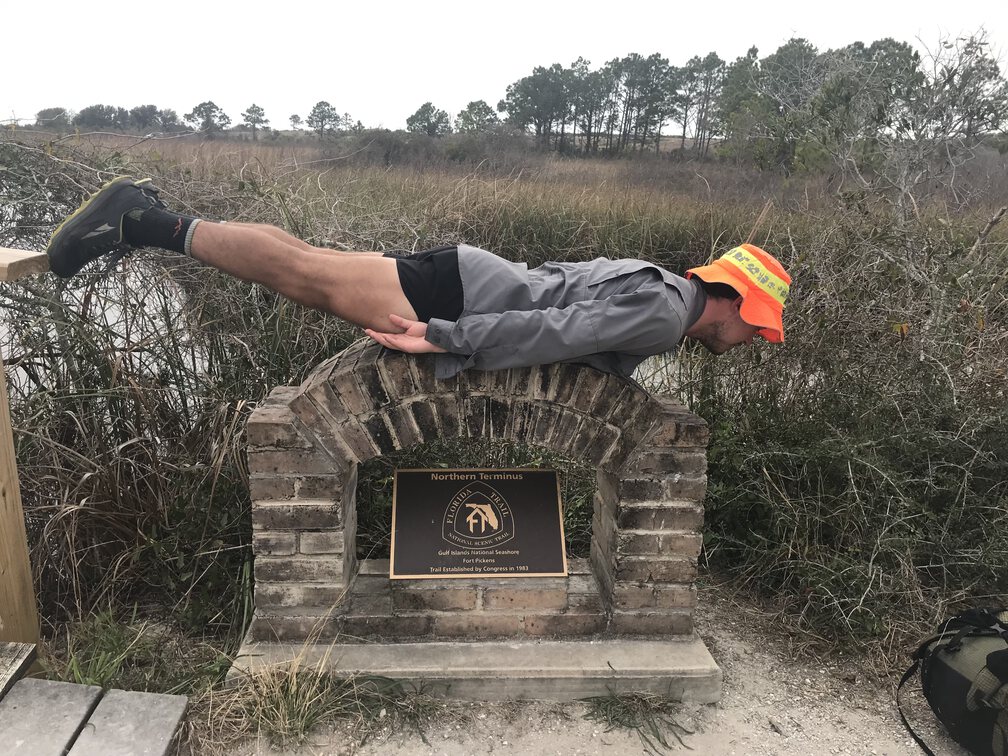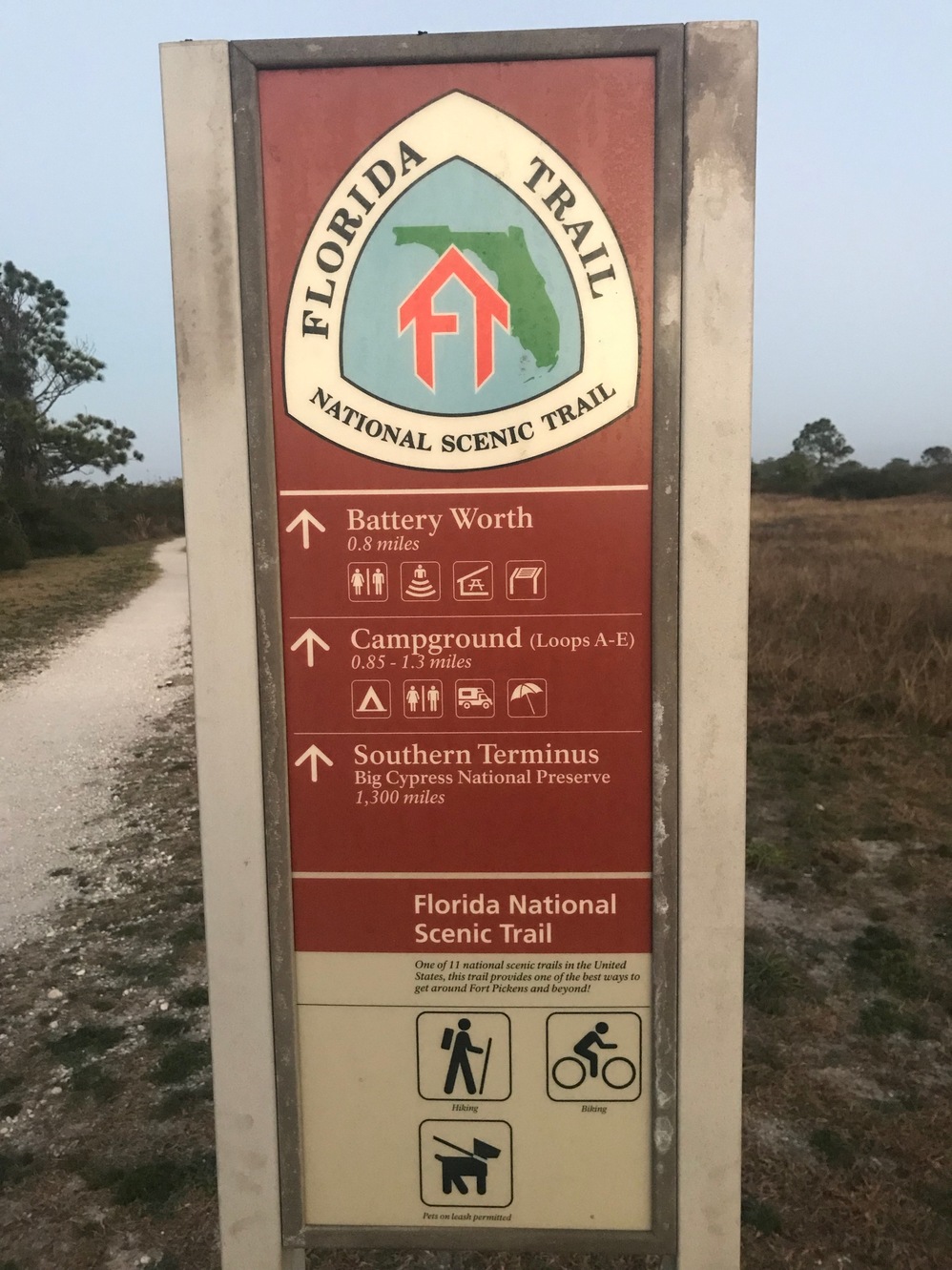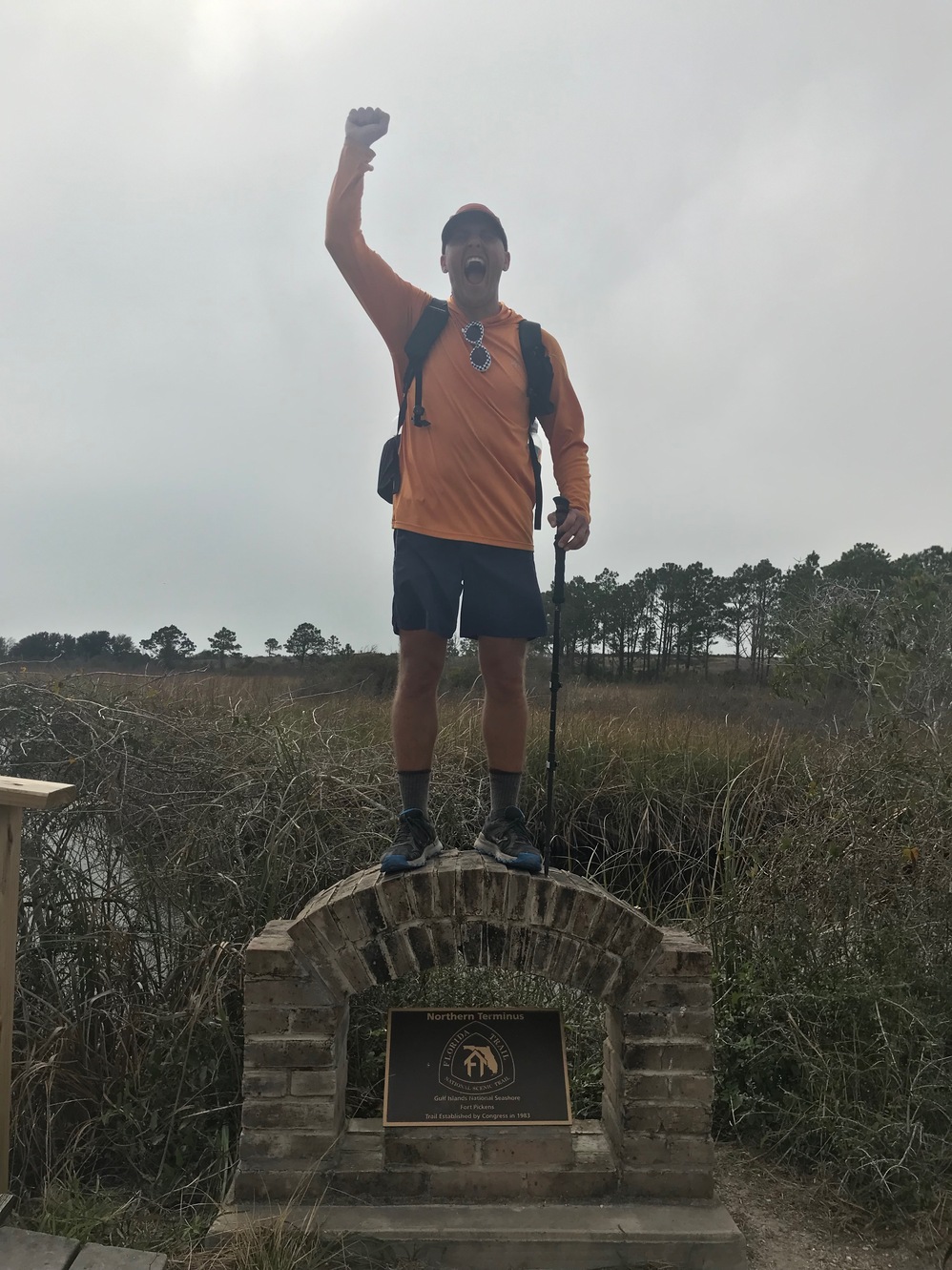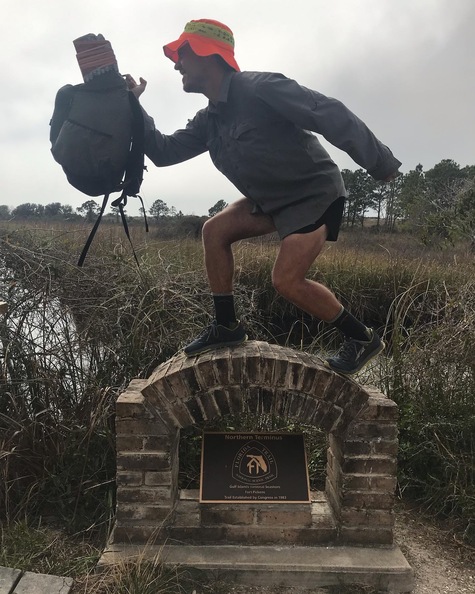 We can barely believe the trail is behind us and also how much road walking there was for a supposed scenic trail. Either way we were happy to have done it and were already looking forward to what our next trips will be! The next few days would be spent in Pensacola with Shorty and Margaret until we organize flights out of Florida.
---
---
Need professional help planning a trip or want a guide? Click here!
---
If you would like to signup to get a notification when the next article is out enter your email below: