Waking early, as planned, I take a peek outside my door before packing up. Goose is up and quickly says he doesn't want to hike. Within a minute I'm back in bed and we are on our way to taking our third zero day of the trip. I sleep a few extra hours before rallying the crew to go eat breakfast at Fat Belly's.
The day passes quietly. I spend time chatting with Yazzie and playing with the dogs. In the afternoon it starts pouring rain as we go to the Dollar General to get our resupply. Walkabout and Skipper caught us as we left the store and we told them to go the B&B but they insisted on camping out in the rain.
I take the time shave off all the facial hair I had been growing for the last month and we finished out the day by eating dinner once more at Fat Belly's.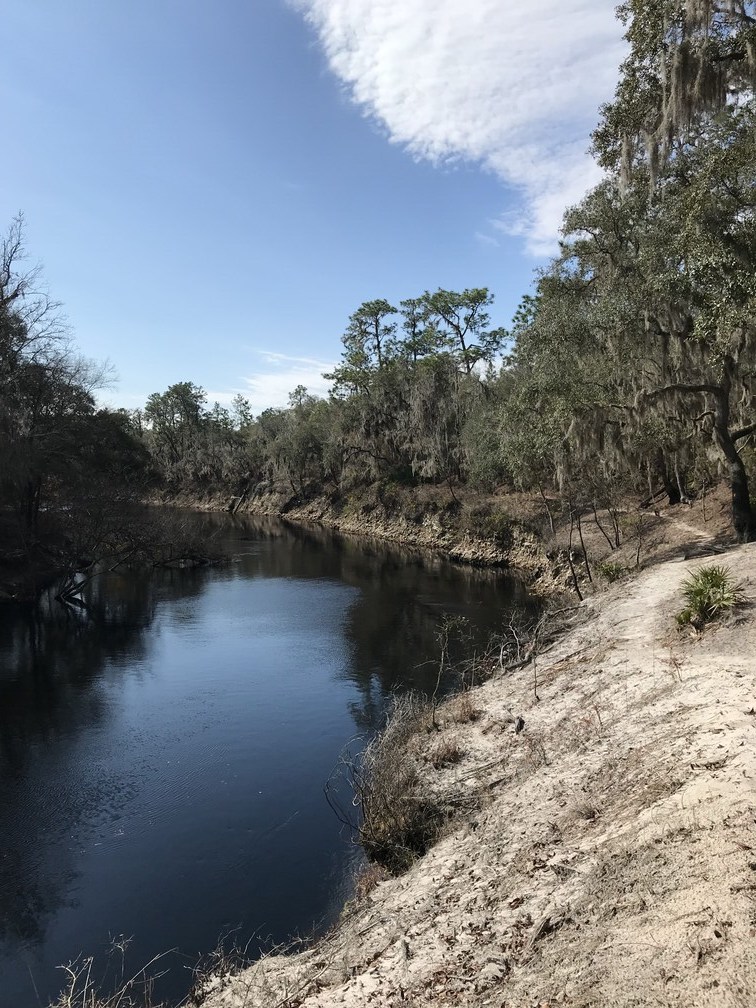 Today we both are eager to get back to the trail and leave the house well before sunrise. The day is cloudy and we again continue alongside the Suwannee. It's a big hiking day clocking in at 37.7mi(60.3km) and again the pain begins to flare up in the same spot of my foot. We arrive just as the sun is setting at this gorgeous camping spot that is a little finger of land reaching out onto the Suwannee river.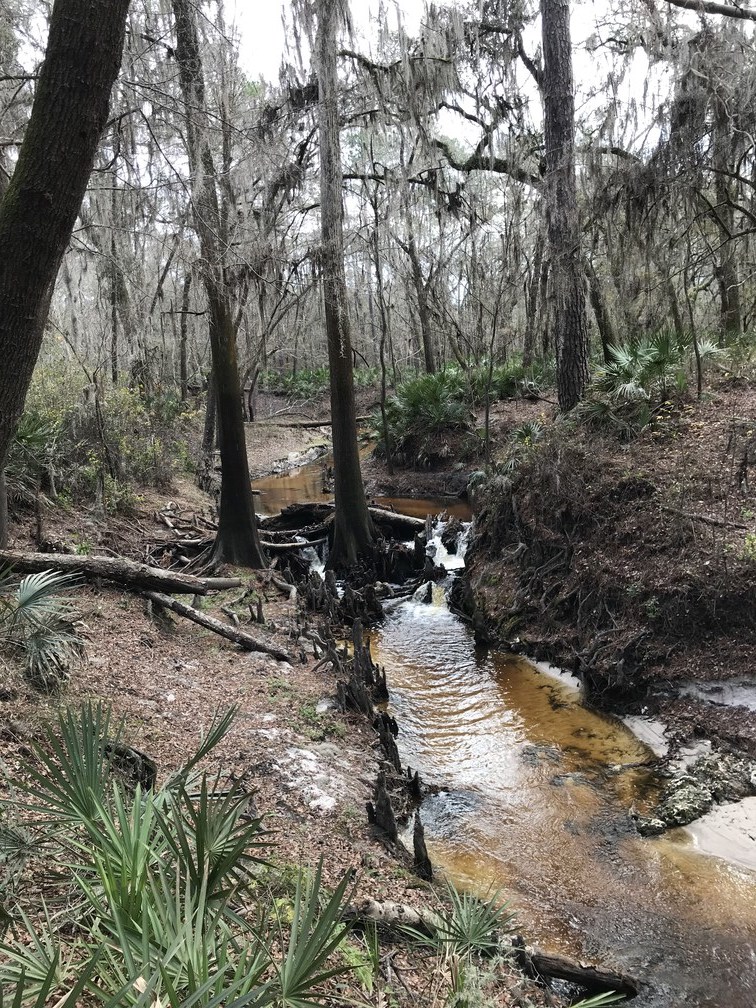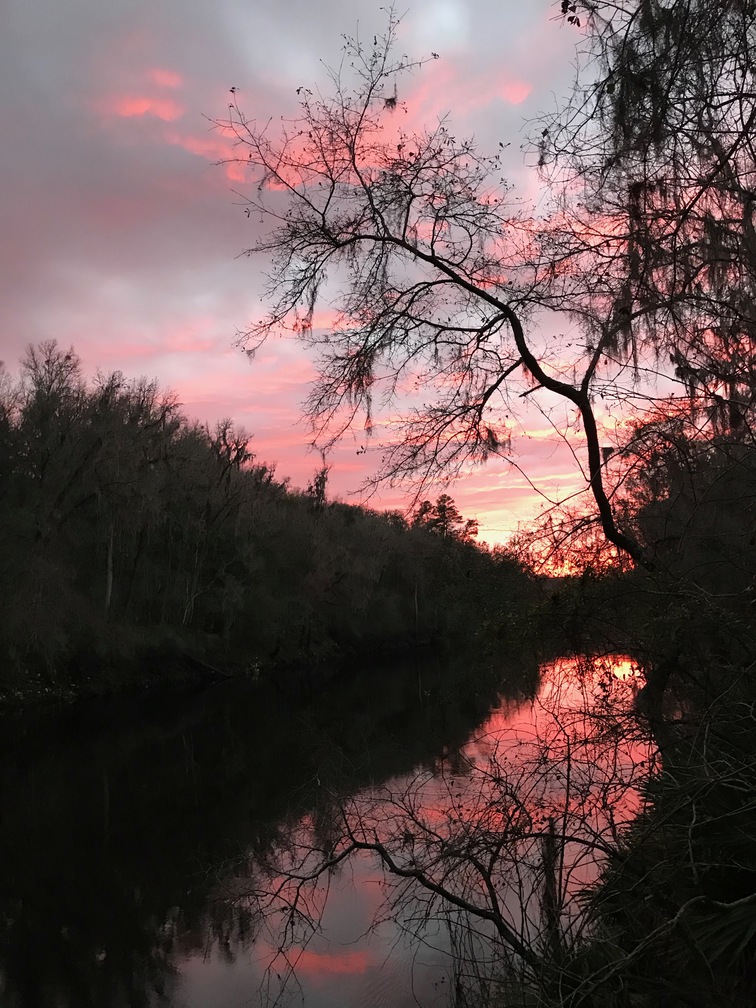 From the moment we start hiking I am managing pain in my left foot. Even though I carry ibuprofen I hold off from taking any. We take a short stop at a gas station called Jay Veer to grab breakfast. There is a hiker there named Ed who is hiking with a tiny beagle dog. He buys many tins of food and plenty of smokes and alcohol.
The rest of the day is on road as per usual and all I can focus on is the pain in my leg. Goose ends up hiking ahead of me as I begin to slow down. To make matters worse the temperature begins to drop and it starts to rain as we walk past large cattle operations. Our destination for tonight is a church that supposedly lets hikers stay on their property and may even offer a meal.
By the time we approach the church we are completely soaked and near shivering. We walk in and there is an evening service that had just started. We quietly take off our rain gear and sit at the back to take the opporunity to warm ourselves up. As the service finished up the pastor, Matt Thompson, came over to introduce himself. There is another hiker already there, Forest, and Matt offers us the use of the community centre to sleep in. He mentioned that his wife would also be making us some dinner! We thanked him and setup up in the large community centre hall.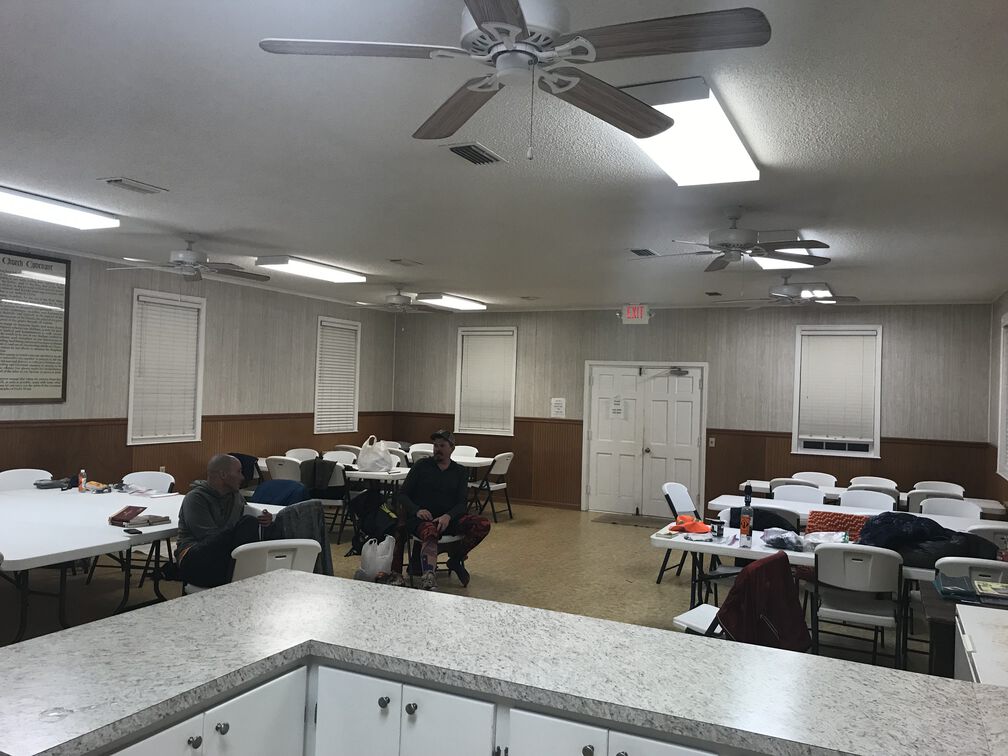 After setting up, Matt's wife came with servings of shrimp and grits. I had never had grits before but it tasted amazing. She used chicken stock and cream cheese to add this wonderful creamy texture. We were so thankful for the warm meal after the tough day we had. An hour later another hiker showed, Rover, who was hiking SOBO. We exchanged notes on what to expect on the coming trail and Rover helped me address the leg/foot pain I was having by lending me a bunch of KT tape.
The following morning we don't exactly leave on time and the sky greets us with another cloudy day. With my leg bandaged up I feel much better and almost all the pain spots are under control. We head out and rush to a highway rest area where we can resupply at a gas station. There just happened to be a Waffle House there as well so we stop in for breakfast.
There is nothing to look forward to today expect endless road walking. Another friend of Goose's is in the area and is willing to pick us up to stay a night with them. We rush through the road walk as fast as we can until Bill comes to grab us just as it begins to pour again.
Bill and his wife Kitt are staying at an AirBnb cabin maybe forty minutes away from the trail. The large property is an old plantation ground but has been converted to something like a ranch. There are horses, goats, and pigs roaming around. In an enclosure right next to the cabin there are also two ringed-tail lemurs and two kangaroos! Bill orders us pizza which we pig out on and we spend the night chatting and then watching Flashdance before I pass out on a couch.
With such great hospitality laid before us we decide to take our fourth zero day. I wake up and quickly discover that I have a tick on my upper right thigh. Kitt helps with a pair of tweezers and manages to get it all in one fell swoop. Bill drives us out to eat breakfast and the owner occupies our time by showing us all of her TikToks. We go around town to pick up a dozen massive donuts, some thick slices of ham, lettuce, and boiled peanuts.
Arriving back at the cabin, Goose and I spend a few hours taking advantage of the jacuzzi. We play around with a large pot-belly pig, feed the lemurs some bananas, watch Looney Tunes, The League of Gentlemen, an episode of Mystery Science Theatre 3000 and wrap up the day by watching The Godfather.
Waking a little earlier this time Bill takes us out for a goodbye breakfast in town at Grumpy's. I get my first taste of buttermilk pie and love it. We get back to trail at 8:30am and enter the Aucilla sinks. A fairly short section of trail but very unique with massive holes and water flowing above and under ground into the sinks.
This morning we wake up early as we have another big day ahead of us. Goose has yet another friend who lives up ahead and will take us in for the night. In order to get there though we have to arrive at the St. Marks marina early enough to hitchhike across the river!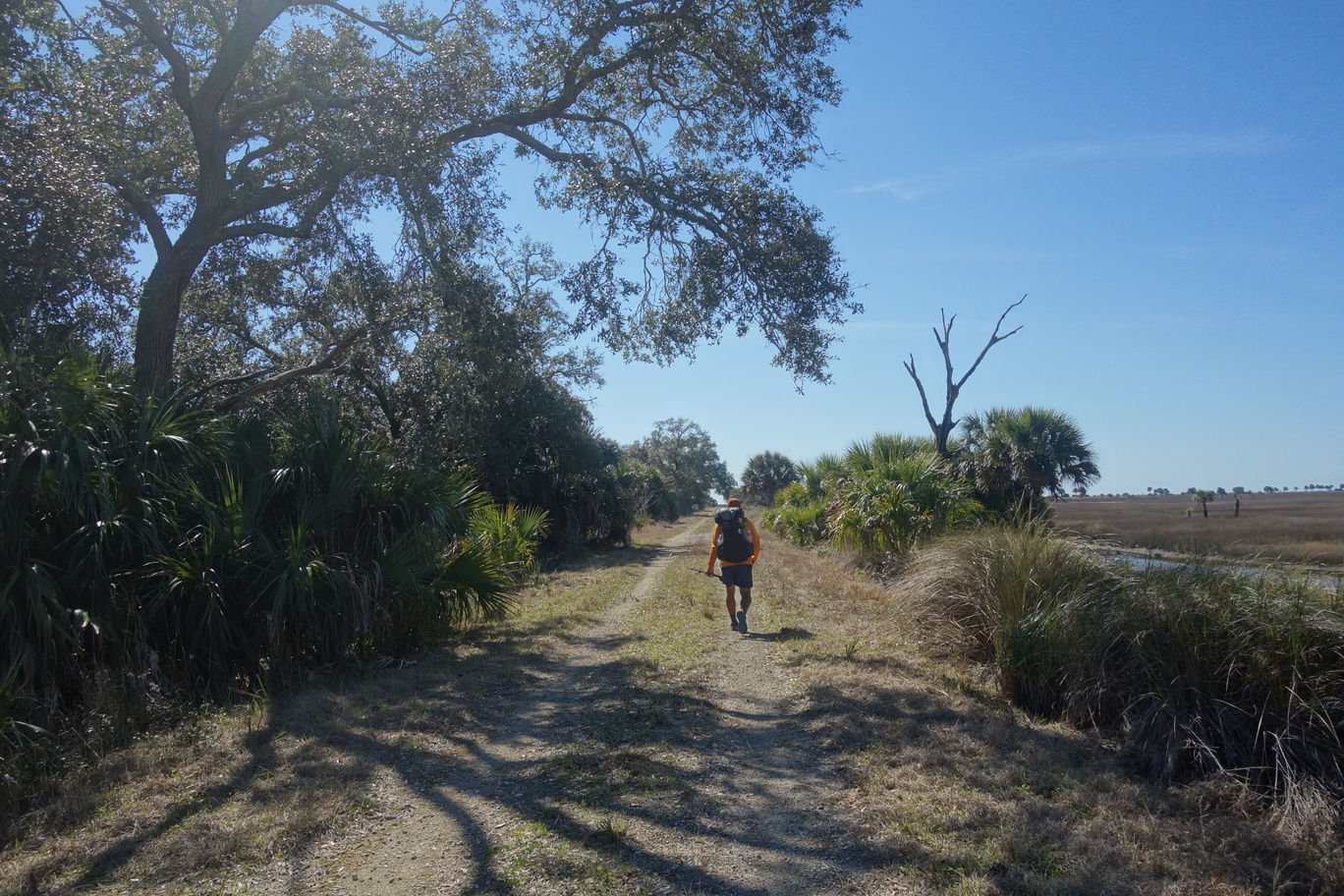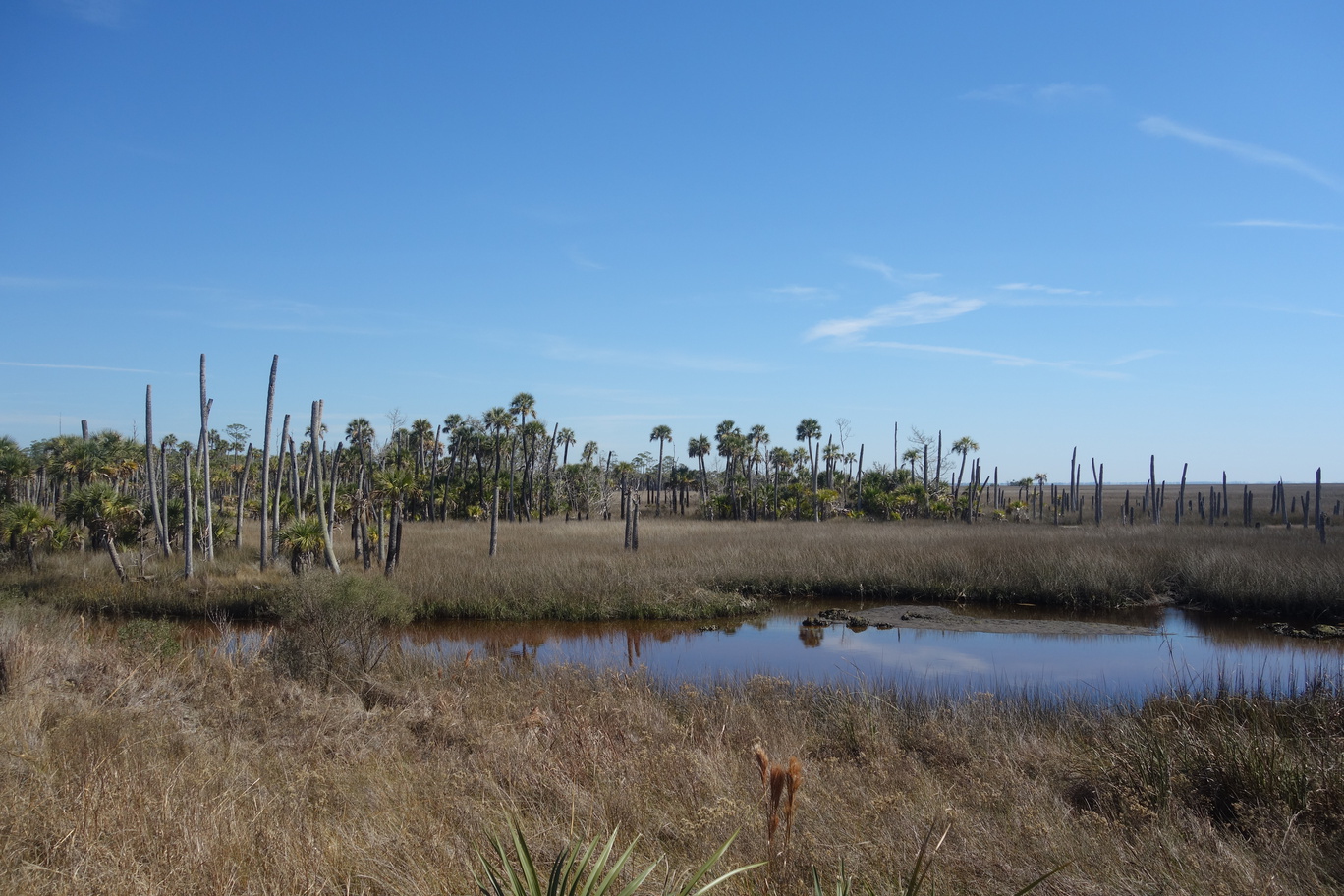 The day starts with a road walk up to JR Aucilla gas station. We get really greasy and yummy breakfast sandwiches and meet up with Forest and Grits. Grits is an old timer who has done the trail eleven times and does not use any form of navigation! After eating we ditch Forest and then start hiking on levees. The sun comes out in full force and a wind starts to blow from the south as we just start to catch a glimpse of the gulf. The outflow is wonderful and we see many huge gators relaxing in the shallows, soaking up the sun.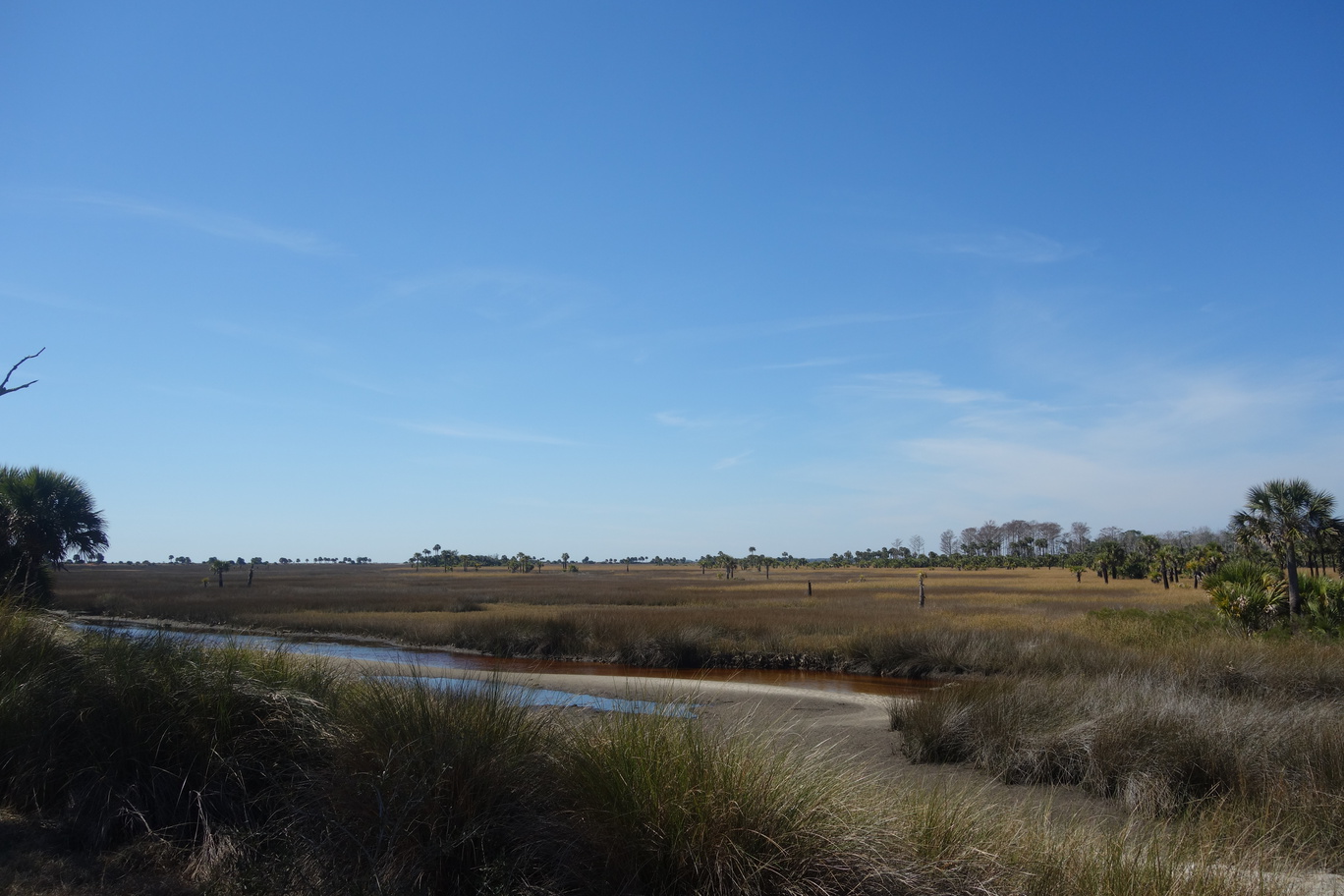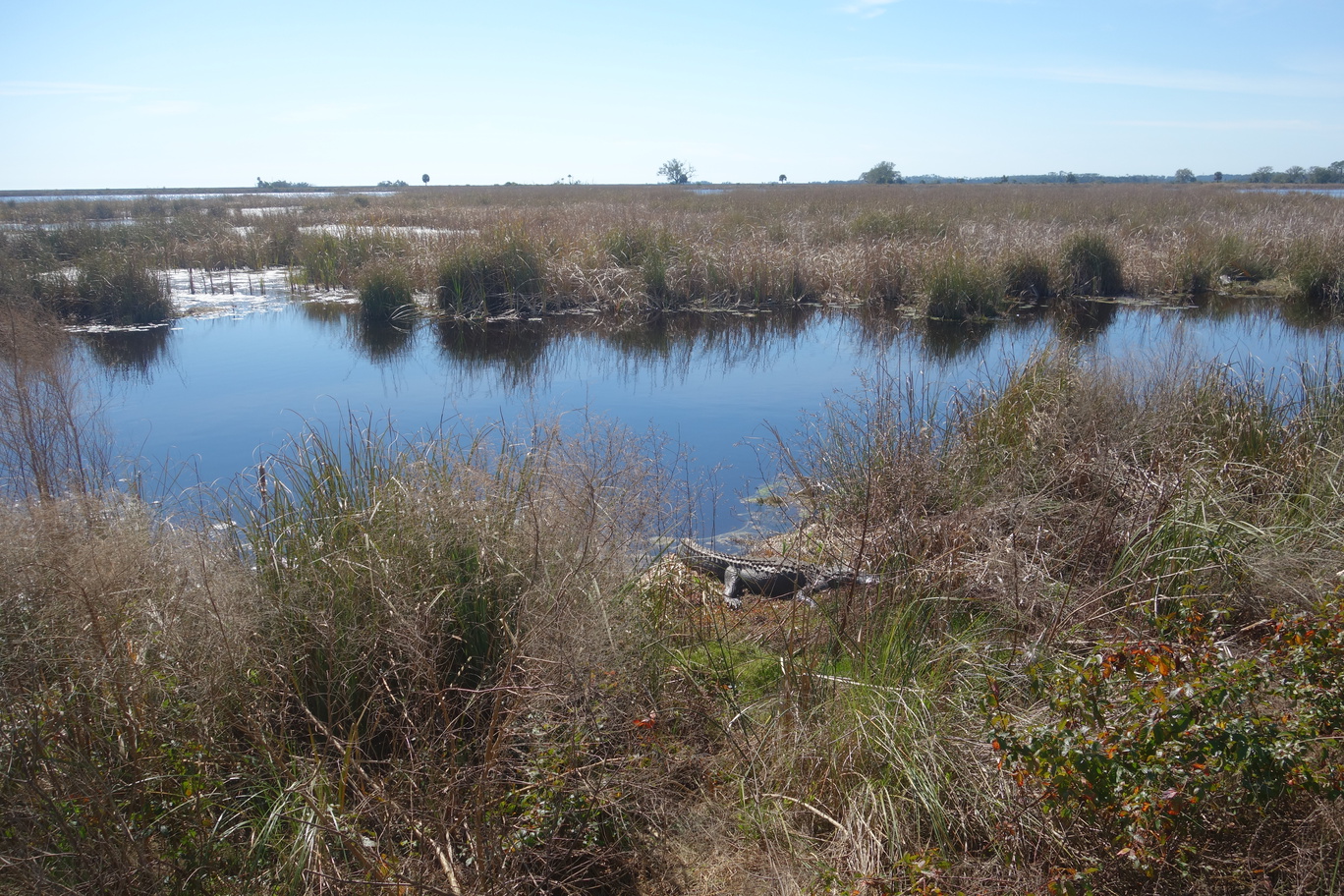 As we near the river crossing we miss a turn and end up walking an extra ~2mi(3.2km). We get to the river's edge and Goose's friend Karolyn is waving from the other side. There doesn't seem to be any boats on the water at the moment so we are out of luck. I check Far Out and there are two numbers available. We call the first one and get immediately hung up on. The second number tells us to call the marina which was the first number we tried. We try again and they say they'll send a boat out to get us! A teenager comes puttering across from the marina and we hop on, thank him for the ride and walk about over to Karolyn and her husband Lee.
First on the agenda is buying pizza for us hikers. Second we go to their massive house and meet all their children, take showers and do laundry. There is a bible study that is planned for the night. Six or seven people come over to the house and we spend half an hour reading the first few verses from the book of John as Karolyn asks questions to provoke critical analysis. It is very interesting as a non-practitioner to be part of the discussion which was very friendly. After the study everyone went to make root beer floats and just hang out.
After the crowd left Karolyn let Goose and I take her car so we could drive and get a resupply from Walmart. How trusting of them to lend the car to complete strangers! After coming back we settled into our assigned beds and fell asleep.
In the morning, Karolyn, the self proclaimed Queen of Biscuits, and Lee prepared us a huge breakfast. Biscuits and gravy, grits, eggs, toast, pancakes and sausage until we were stuffed. I spent a moment to tape up my left leg a little more as my the outside upper thigh had begun to start hurting in the IT band region. After we packed up and said our goodbyes, Lee drove back to the marina so that we could continue along our way.
The start of our hike was once again on paved bike path and then it got exciting. As the sun began to peak out it turned into a sweltering day as we ventured through canopy's in the palm cathedral. The trail was fairly wet and muddy every few miles and so our feet were soggy. It didn't last very long until we were back onto highway. We stopped at a BBQ restaurant called Hamaknockers where I got a brisket sandwich. After resupplying at a gas station we got back onto hiking trails and entered into the Bradwell Bay Wilderness area.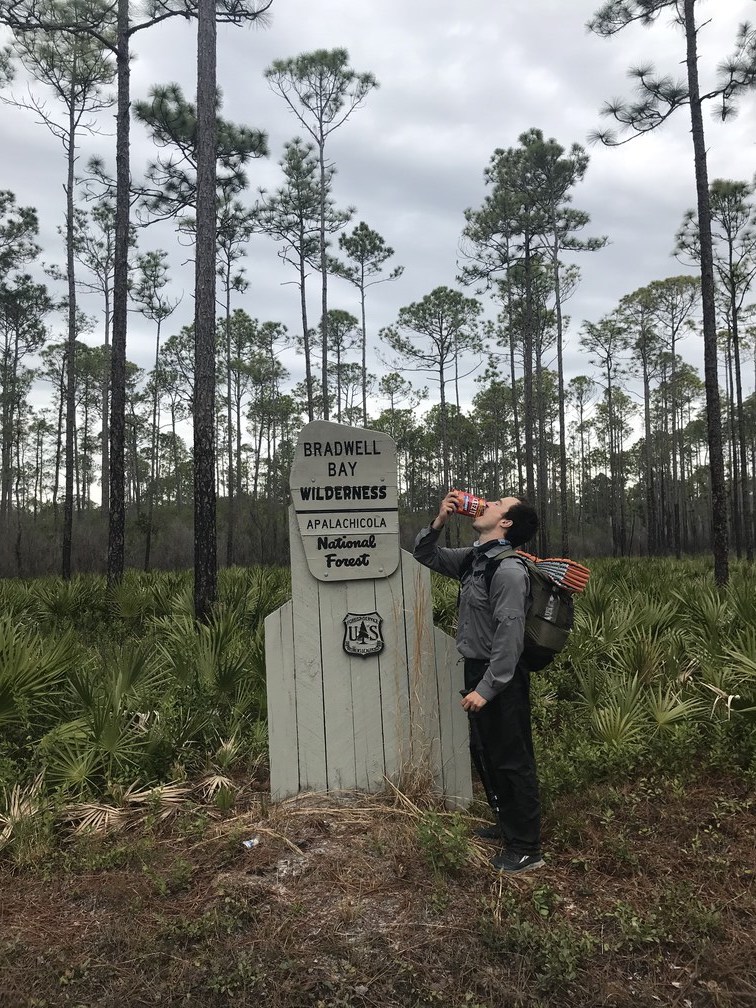 Today we have the last remaining wet sections of trail. Bradwell Bay is ~5mi(8km) swamp walk that is a little more technical that Big Cypress due to all the fallen trees and exposed roots that one may trip on. According to reports from the southbound hikers we came across, we could expect potentially waist-high water in some spots. Before reaching the swamp the trail is continually mud and we decide to skip a small section of trail to ensure that we can go through the swamp today with the weather being relatively warm versus tomorrow as temperatures are supposed to dip to 0C(32F) at night.
Just as Big Cypress was truly unique experience, walking through the Bradwell Bay swamp almost leaves one without words. A lot more wild than Big Cypress, we chased blazes back and forth, zig zagging past looming and silent trees. There was a pervasive silence with only the sound of water sloshing as we pushed through. It began to rain ever so slightly about halfway through the swamp. The water temperature was cold but bearable as we got acclimated as the hours rolled by. Goose ended up slipping on a submerged branch and twenty minutes later I succumbed to the same fate. After three hours of deliberate walking we had cleared the swamp and felt elated. The cost to for me was only knee deep water while Goose was not so lucky and had submerged to his groin.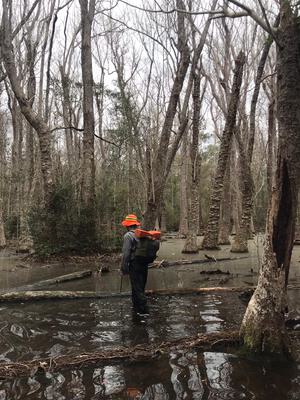 Despite leaving the swamp, the adventure was not over yet. We became intimately acquainted with titi swamps that dotted the trail every 1-2mi(1.6-3.2km). These would be miniature version of swamps ranging from 10-100m(16-160m) long. If you are lucky you could hop from one dry spot to the next but usually it was not worth the effort and we just trudged through since everything was already wet. We eventually had a brief respite as the trail went back on to road and took us through a small car campground. We setup our tents in time for the rain that began to fall and we fell asleep.
The rain was periodic and we got a good deluge just as we were waking up. That soured our mood so instead of packing up we stayed under our tents for an hour or so more. Once we got moving, the day was much like the latter half of yesterday. Our feet remain tender and wet as we traverse titi swamp after titi swamp. Thankfully there are a few sections with boardwalks over the water and we even come across a lengthy boardwalk that cover roughly 0.4mi(0.7km) of swamp!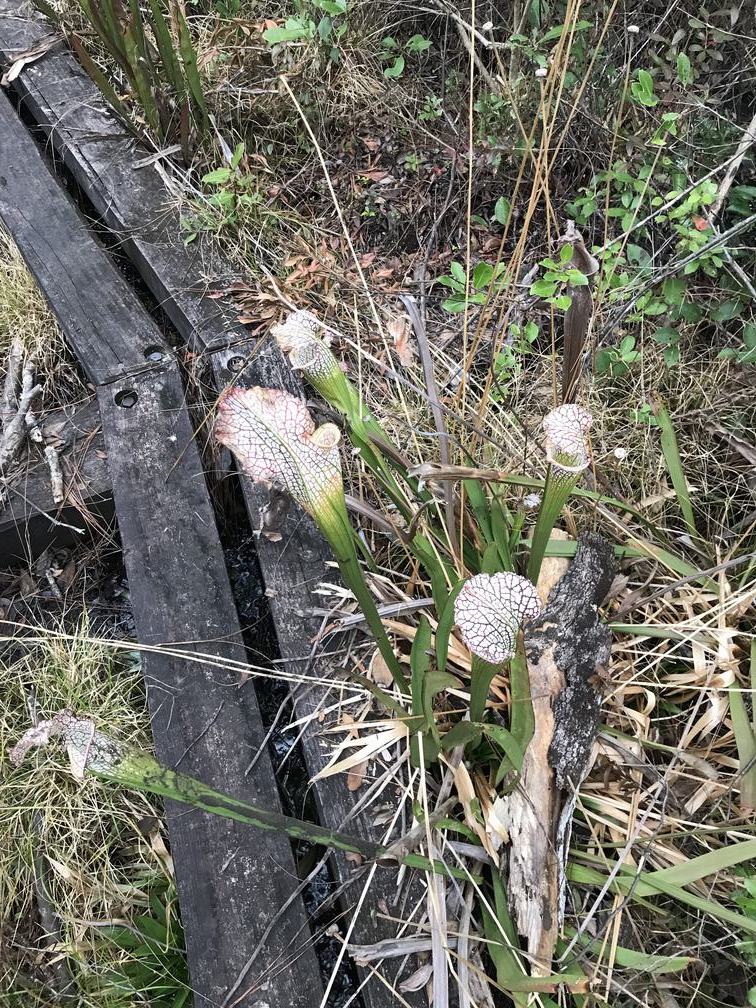 We have a +40mi(64km) day ahead of us but upon reaching a campground we decide to call it quits early. We walk down a road a bit and camp is a flat spot. Overall we still complete ~39mi(62.4km). Goose looses a stake while setting up, an armadillo scares us as it makes a lot of noise stumbling through bushes and we hunker down for the night as the temperature is expected to go below 32F(0C)
Similar to Billy Goat Day, our shelters are covered in frost in the morning and wet on the inside due to condensation. There's not much to do than fumble with cold fingers to pack everything away. We decide to skip the last few miles of Apalachicola and begin our road walk immediately from the campground. The sun rises excruciatingly slowly as we try to keep warm and walk towards Bristol. After about 14mi(22.4km) we come to the single traffic light in the town and head over to book a room in the local motel.
The room is not available to us yet so we head over to the other attraction in town, Apalachee restaurant. Though we arrive a bit early we wait for the legendary all you can eat lunch buffet for only $9.99USD. It's good that we were early because soon the huge hall is filled with patrons. Goose eats three or four plates of food while I only manage two. You have your pick of fried chicken, boiled chicken, chicken wings, pork chops, potatoes wedges, greens, biscuits, cornbread, creamed corn and more. There is even a full salad bar and pudding deserts! What a treat and killer price!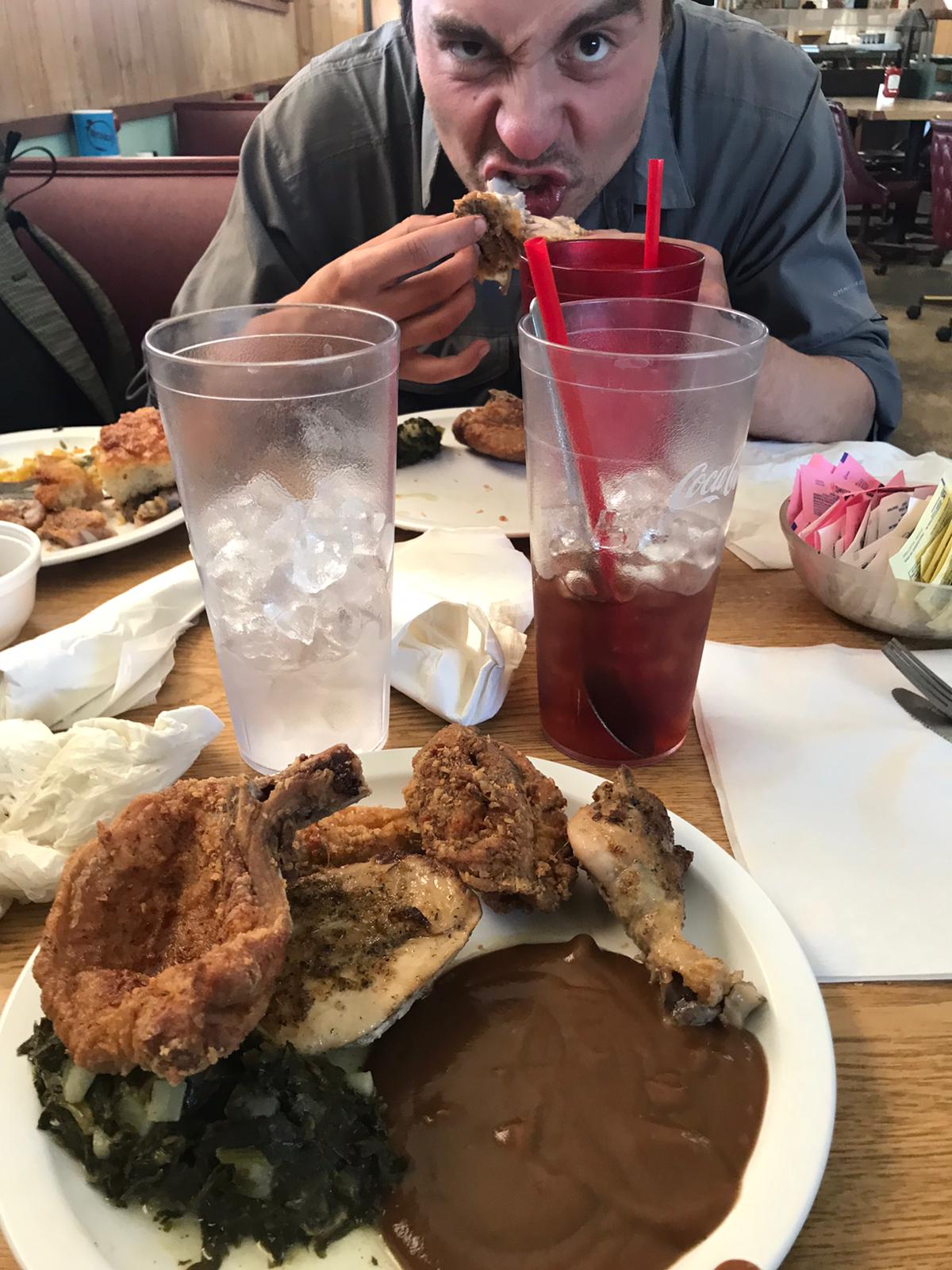 After that massive meal we waddled back to the motel room to shower and dry out our gear, followed by a midday nap. After going down the street to Dollar General to resupply we passed out comfortably in our room.
It seemed like were getting a lot of R&R as the next stop was not too far away, just a short road walk down the trail. Wilton Hilton was the next destination and as we approached we began to notice something different. Everyone on this small county highway would give us a full lane berth while passing us. A few miles out from the Hilton a car pulls over and it's Will himself driving around Orange Blaze. A giant of a man with a cuddly demeanor, he offers Goose and I Mountain Dew's and waters. We mention the behaviours of the drivers being surprising to us and Orange Blaze puts the reason squarely on Will. Will has been doing outreach through his church to let the community know that hikers walk down these roads and so everyone is aware of us coming through and making sure we are safe. Way to go Will!
They leave us as Will is taking Orange Blaze down to trail and we just head by ourselves to the Hilton. The Hilton is not much to look at if you were to drive by but to a hiker it's a paradise. There are two small structures 50ft(15m) away from the main church were we can lay claim to. One structure is flanked by two private rooms and beds, while the center of the room is common area with snack foods sprinkled high and low. There is a couch in one corner with a recently bought TV. In the other building there are four or five bed cots strewn about, washer and dryer machines, a toilet and shower and a small kitchenette. The fridge is full of food that you can consume as you wish.
We take showers, do laundry and pick which room each of us will take. Before long Will returns to make sure we figured out everything okay. We chat for an hour or two as he smokes his pipe. After Will goes home and lets us have free reign again I try to setup the TV to watch some movies. Unfortunately the internet is not good enough so Goose and I retire early to our rooms to relax alone through the night.
We get up to hike out at 5:30am since we have just crossed a time zone, losing an hour of sunlight in the evenings. Leaving the Hilton behind in the morning we get a fairly mild morning. Ahead of us is a large road walk with a dozen or so miles of trail followed by road walk once again.
After suffering through the road section we enter the Econfina Creek Water Management Area. It is a beautiful section that was unfortunately devastated a few years prior by hurricane Michael. Despite the numerous trees fallen across the river you can still glimpse it's former glory. Due to the amount of damage to the area, logging operations have come in to clear cut huge swathes of the forest where the trail previously went through. The day is filled with boring detours. After midday we come to a large 8mi(12.8km) detour due to supposed flooding caused by the logging operations. Neither Goose or I carry enough water during this sandy road walk and we feel uncomfortable the whole time. We manage to ration water for the section and are thankful that there is a fresh spring once we reconnect with trail.
After an hour or two more of walking through recently logged areas we are back onto a highway. Hours pass and we take a break a Chevron gas station. Goose is feeling beat up so he asks the attendant if we can camp out back and they say it's no problem. We setup and prepare for night time as the temperature stay at a toasty 50F(10C) and the humidity rises.
Sweating through most of the night, we get going slightly late at 6am with the sun already up and shining. The road walk continues for most of the day and we get a few hours at the end of with actual forest trail. We have a trail angel, Steps, who we met at Billy Goat Day coming to pick us for night so we can avoid potential rain and tornado weather. While waiting for Steps at a campground we run into the barefoot hikers we crossed on the second day of this hike. Bullfrog and Devin, with Devin looking like she was not having a good time. Turns out her feet gave out and she was wearing boots, but even still they had been skipping huge sections of trail to try and finish on time. Bullfrog seemed overly optimistic about about the fact that he was still hiking barefoot seemingly unaware that his girlfriend was a clear counter-example. Hike your own hike I suppose.
Eventually Steps and his little dog Olive came to pick us up, and I pull out my second tick. We made a pit stop at a Publix to grab subs and parfaits before heading home. While eating we recounted stories and Steps shared his story of hiking the FT back in 2020 with another trail angel Flat Top. After awhile we met Steps wife and once again we were given free reign to take one of their cars to go do our resupply. Goose and I drove to the closest Dollar General to get our food and then doubled back to the Publix. This time I bought three chicken tenders, a side of macaroni and cheese and potatoes wedges. Goose bought half a pound of freshly cooked and sautéed shrimp. We ate in the car before going back to a spaghetti dinner!
We each got out own rooms and I slept soundly despite the heavy rain falling outside.
I woke up early because my brain was in hiking mode and so I killed a few early hours playing with Olive. Once everyone awoke, Steps cooked us eggs and Conecuh Sausage from Alabama for breakfast. Easily the best sausage I've ever tasted in my life, it had a great bite to it. After breakfast Steps and his wife drove us around for a little sight seeing. We got a glimpse of the white beaches that we'd be walking on at the end of the trail and we passed through the town where they filmed the movie The Truman Show. After a little more ceremony we were dropped back off at the campground and resumed our hike at noon.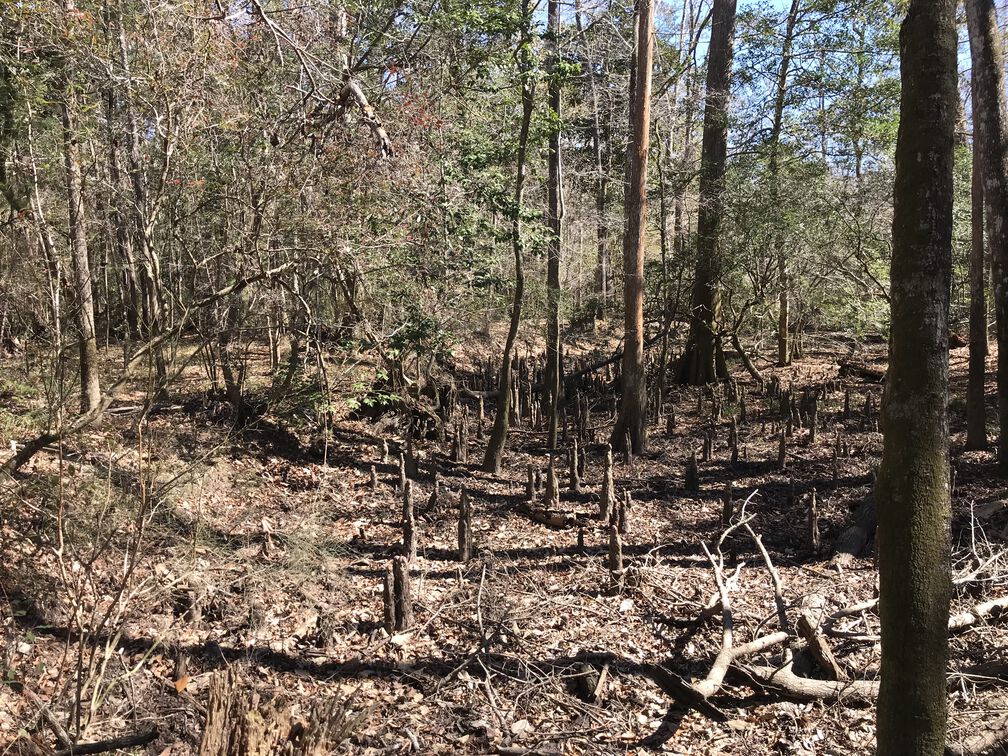 I was worried about a potential swampy section that would get our recently laundered socks wet and smelly again. Thankfully it seems like someone had rerouted the trail around the swamp and so we remained relatively dry all day. At one point there was swamp to my left and I heard the massive splash of a gator slipping away into the depths which gave me a good scare. Further ahead we were approaching an area that looked like a hurricane had come through but we saw smoke rising. There were three guys standing around the smouldering fire and we asked what was going on. Apparently there was a prescribed burn in effect but they gave no helpful information about a detour or if we could go through. Goose and I decided to test our luck and run through since the burn had only just started. Two-stepping it we cleared the ~2mi(3.2km) or so in record time with no issue or smoke inhalation.
We reached camp at roughly 6pm after having done something like 19mi(30km). On the way there we passed a south bound hiker named Hard Hat and we also saw that Shortcut had been signing her name in the last few trail registers. Could it be? Had Shortcut caught up to us after all this time!
The journal continues here for day 46-50
---
---
Need professional help planning a trip or want a guide? Click here!
---
If you would like to signup to get a notification when the next article is out enter your email below: