This first truly massive road walk sits before us today. Something like 30mi(48km) along country roads and a major highway. It is monotonous and very hot. We catch up to Stink Pickles along the way who is peering over barbed wire fences into farm fields looking for psychedelic mushrooms that may be growing out of cow patties. Goose and I take a number of long breaks under the occasional tree on the side of the road. We are making great time but the cost is felt in our feet. I spot several boar and bobcats petrified and rotting along side of the major highway section.
Just as the sun sets we complete the road walk section and are in a flooded grass plain. I begin to speed up even more worried that if I setup in the dark I will be eaten alive by mosquitoes. The trail becomes extremely narrow and claustrophobic, winding through palmettos. At this point it is pitch black and I am almost unable to find the designated campsite. I have no idea where Goose is but I setup and wait for him to arrive. I wait a few hours and he never shows up.
I wake up early, still concerned that I lost Goose. The next stop, Christmas, is just some 10mi(16km) away so I race towards it. After trying to contact him incessantly via text he finally responds and says that he is at the small grocer in town. I arrive and we both order biscuits and gravy from the kitchen. Not only was this my first time ever eating biscuits and gravy but they were absolutely amazing, and would be the best I would have all trail.
We drag our feet to leave the grocer since the weather forecast is predicting a few days of rain. After some back and forth we both agree to take another zero day and hide out in a motel. We grab an Uber to get to an eastern Orlando suburb and find a room. We go to the nearby Publix, each grab a whole roast chicken, a parfait and a bag of salad and pig out for the afternoon while watching Rush Hour 1, 2 and 3.
Our second zero day on trail. We eat a bunch of McDonald's for breakfast and Goose discovers his love for McGriddles. For dinner we go back to Publix, this time buying a frozen dinner of fried rice and again grabbing a bag of salad and a parfait. Tonight's movie on tv is the Gladiator.
Despite it still being overcast, Goose and I are stir crazy from being inside too long and can't wait to get back to trail. We grab an Uber back to Christmas at 7:30am. Goose forgets his pole in the trunk of the car and instead of calling the driver back I just lend him my pole. I had been carrying two the whole time but only using one anyhow.
We get onto nice damp and muddy hiking trail almost immediately and run across a small flock of wild turkeys. This section seems to be popular as we pass groups of day/weekend hikers. One group points me to some wild tangerines growing just off trail. It is quite bitter but still refreshing. Eventually in the latter half the day the sun final shows itself which is only a momentary respite as the projected night temperatures are near freezing.
Sleeping fairly well in my 4C(40F) sleeping bag, the temperature we wake up to is 1C(34F). My entire tarp is wet due to the condensation buildup from my own body heat. It's hard to get moving but we put on our layers and get at it. There is a heavy fog that hangs over the trail and we get turned around at some point trying to follow the blazes, all the while we can see the condensation from every breathe we take.
Eventually we get onto a bike path which we stay on for the rest of the day going through some suburbs of Orlando. There is a post office that Goose and I need to get to today to pick up new gear. I pickup my new pair of shoes and Goose gets some socks. At this point the sun has made it's return so we have a hot dry walk through the city on pavement. We spend lunch debating what to do since once again rain is projected for the next few days and we also need to plan where we will be to get picked up for Billy Goat Day.
I insist that I don't want to take another zero day so quickly after the one we just had, so we plan to hike and deal with the rain as it comes. After a long road walk along a highway out of the suburbs we are thrown onto some hiking trail and spend the night in a wooden shelter. With three walls, a roof and two wooden elevated cots it was luxurious.
It was great to wake up in the morning and not have to pack away my shelter. The structure we slept under worked perfectly and we didn't have any condensation on our gear. Leaving early as usual we quickly found ourselves hiking through rain. The saving grace was that the trail itself was fairly dry and not muddy. We made excellent time towards the town of Paisley. Entering the limits of the Clearwater Lake Campground we chatted with the kiosk attendants and managed to get a hitch into the town. By their recommendation we went to a pizza restaurant that was absolutely amazing.
After piddling about eating and charging electronics we continued out once again into the rain. The goal was Alexander Springs, our first paid camping. We arrived without much fuss and setup in the rain after paying for the site. While leaving the privy another person turned around and said 'Hey, you look familiar'. It was Punisher, a hiker I had met at the kickoff. He let me know that Bopit(his partner) and himself were coming back to the utility closet to eat dinner. I said that sounds great and went to fetch Goose. The four of us cramped into this tiny room and spent half an hour eating our various hikers meals and laughing at each other stories. It was a great moral boost. Bopit and Pun had lucked out and someone had paid for their site. We were invited to join them in the morning for coffee.
Despite the rain all night we awoke fairly well rested. The rain itself began to peeter out as we joined Bopit and Pun at the trail angel's campsite. His name was Sweep and we all warmed up by the fire while drinking some hot chocolate and chatting away. At 10:30am the four of us said our goodbyes to Sweep and headed out.
The trail began to start rolling over hills as we got our first 100ft(30.5m) of elevation gain. Bopit shared some interesting tidbits with us about the local flora. We spotted wild rosemary, she related that spanish moss belongs to the pineapple family and that deer moss was a symbiotic relationship between a lichen and fungi. It was really fun being around more hikers.
We headed to Juniper Springs and planned to camp together to split the costs. Unfortunately the kiosk ranger would only allow two tents per site... Bopit and Pun decided to pay for a site as Goose and I hiked 0.01mi(0.02km) down the trail and found an area large enough to setup in. The night was very agreeable being warm and dry.
We wake up a little later than usual and head out by 7am. By 2:30pm we have done 25mi(40km) and reach the 88 store. We buy some snacks and lounge outside on the porch for an hour before continuing on. At this point we are halfway through the Ocala National Forest and reconnect with the FT westbound loop around Orlando.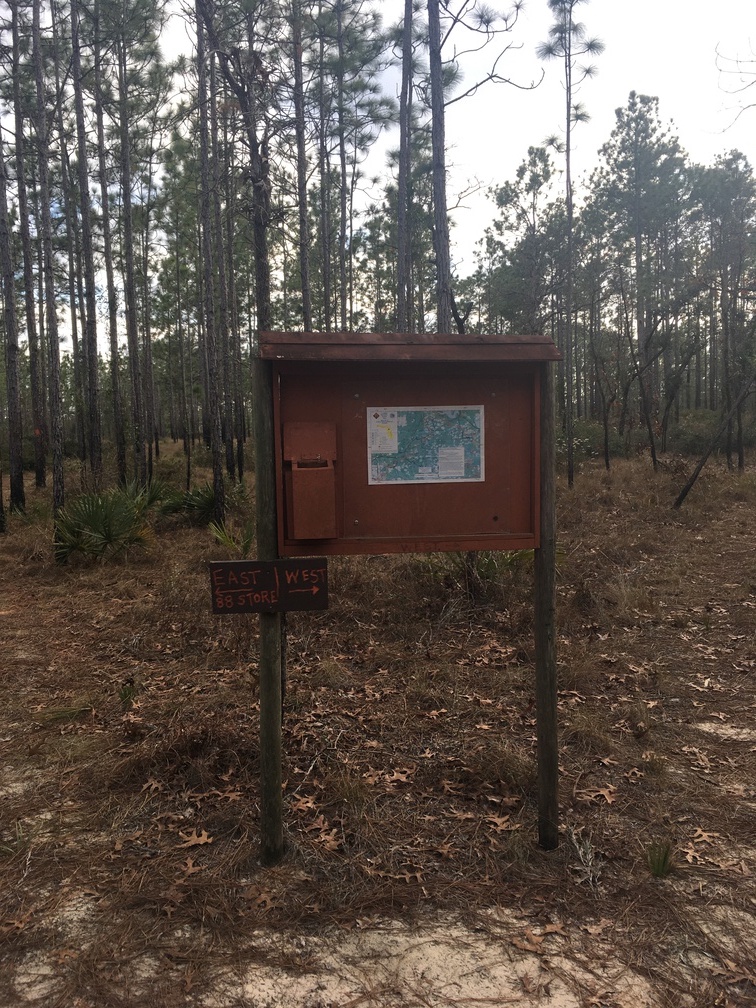 As we stop to take a picture of the connector for the east and west bound loops Goose realized he left his phone at the 88 store... I wait as he runs back and thankfully finds it just sitting outside on a table. We do another 2mi(3.2km) without issue to reach camp for the day.
Today we have a short day. I had been in contact with Shep from the beginning and he was going to pick us up and bring us to Billy Goat Day. We had 13mi(20.8km) to reach Rodman's Campground where Shep would grab us. We hiked fast and arrived at 11am. Shep then messaged us that he'd be around to pick us up around 2pm. In the meantime we lay out all our gear to dry and I went into the campground to sneak in and get a shower without paying.
Eventually Shep arrived, we went to pick up Scav and then headed to a Publix for subs and a parfait. Eventually coming to the campground where Billy Goat Day would take place, we had a big reunion with a bunch of hikers. Model, Mega Man, Moondog, Orange Blaze, Tin Man, Bopit and Punisher had all arrived and we went out together to a bar at night.
Today was Billy Goat Day. Billy Goat is a legendary hiker with over 50,000mi(80,000km) hiked! His birthday just so happens to be in January which is also when most people are hiking the FT. A small army of volunteers will go out and pick up any hiker that wants to attend and bring them to the celebration. It's one day full of camaraderie and food. After the volunteers will drive you back to where you left off on the trail. Sounds amazing right? Well it is!
Waking up some, trail angels had a huge fire going and had bought boxes of Dunkin' Donuts coffee and donuts. It has been years since I had coffee but it was freezing and I ended drinking maybe three cups along with four or so donuts. Eventually the sun came out and other hikers began to pour in. Jessica, Nugs, Flush, Jason, Rainbow, Farmboy, Machine, Rascal, Bear Magnet, Soares, Justin, Rambler, Festival and even Noel showed up. It was so fun stuffing my face and getting to see how everyone was getting long. I had a chance to talk with Billy Goat as well, a frail looking man with a large white beard. He had mustard dripping from his mouth but once I got him talking you could see the reservoir of energy he had within him and there was no doubting that he was still going out and enjoying huge hikes.
The trail angels and volunteers from the kickoff were all there too and it was nice to talk again with Ari, Ann, Poet, and Chuck Norris. Midday we went with Noel to do resupply and laundry. Coming back the party had dissipated and things were being packed away. Most of the hikers were planning on getting back to trail that night as the purported temperatures at the current location were going to dip into the 20F(-6C) range. Thankfully Sweep was there and through our previous conversation I had mentioned my predicament with my sleeping bag not being warm enough. He brought and let me hold onto a 45F(5C) mummy bag so that I wouldn't die tonight.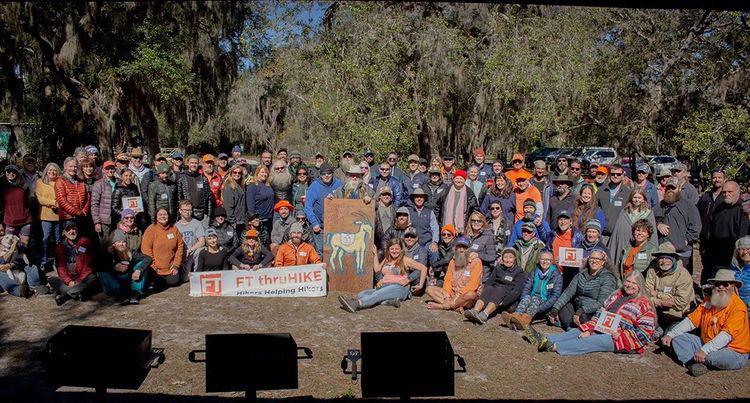 As the sun set and the cold creeped in and who ever was left congregated around two fire pits. I gravitated to a camp by Bryon(the guy who originally drove me from Miami) where I was offered steak! For a handful of hours Honeybuns, Shep, Scav, Bear Magnet, Bopit, Pun, Byron, his wife and myself sat around the fit pit chatting while making smores. At 11:30pm or so I decided to crawl into bed and prepare my body for the freezing night.
To my great surprise I had one of the best nights on trail that night. I slept like a baby and in the morning while getting hot chocolate, Ari told me that his thermometer read that the low at night was 24.6F(-4.1C). Goose had a 20F(-6C) sleeping bag but unfortunately it didn't live up to the rating. Shaking off the ice from my tarp and hanging it up to dry in the slivers of morning sunlight we said goodbye to the remaining trail angels and the few hikers that braved the freezing night.
We headed out with Noel and Honeybuns to have breakfast at a Waffle House. From there Noel drove us back to Rodman's Campground where we eeked out 15mi(24km) over the truly outstanding Hoffman's Crossing boardwalk and ended up in this amazing two story shelter. It had ladders to get to the second floor and there were mats on the ground which you could sleep on!
Feeling well rested from the festivities I accidentally planned a huge day of hiking for us. Originally I though it was 38mi(60.8km) but it ended up being 42mi(67.2km), one of the largest days I've ever done. In true FT fashion it was dead flat and mostly road walking all day. We had some encounters with dogs but nothing serious and hiked past sunset.
Upon finding some spots to camp in the dark, I began to feel some serious pain above my ankle on the front side of my foot. Going to bed while doing some stretches I hoped it would solve itself by morning. Despite that, Goose and I were super pumped about doing such a big day.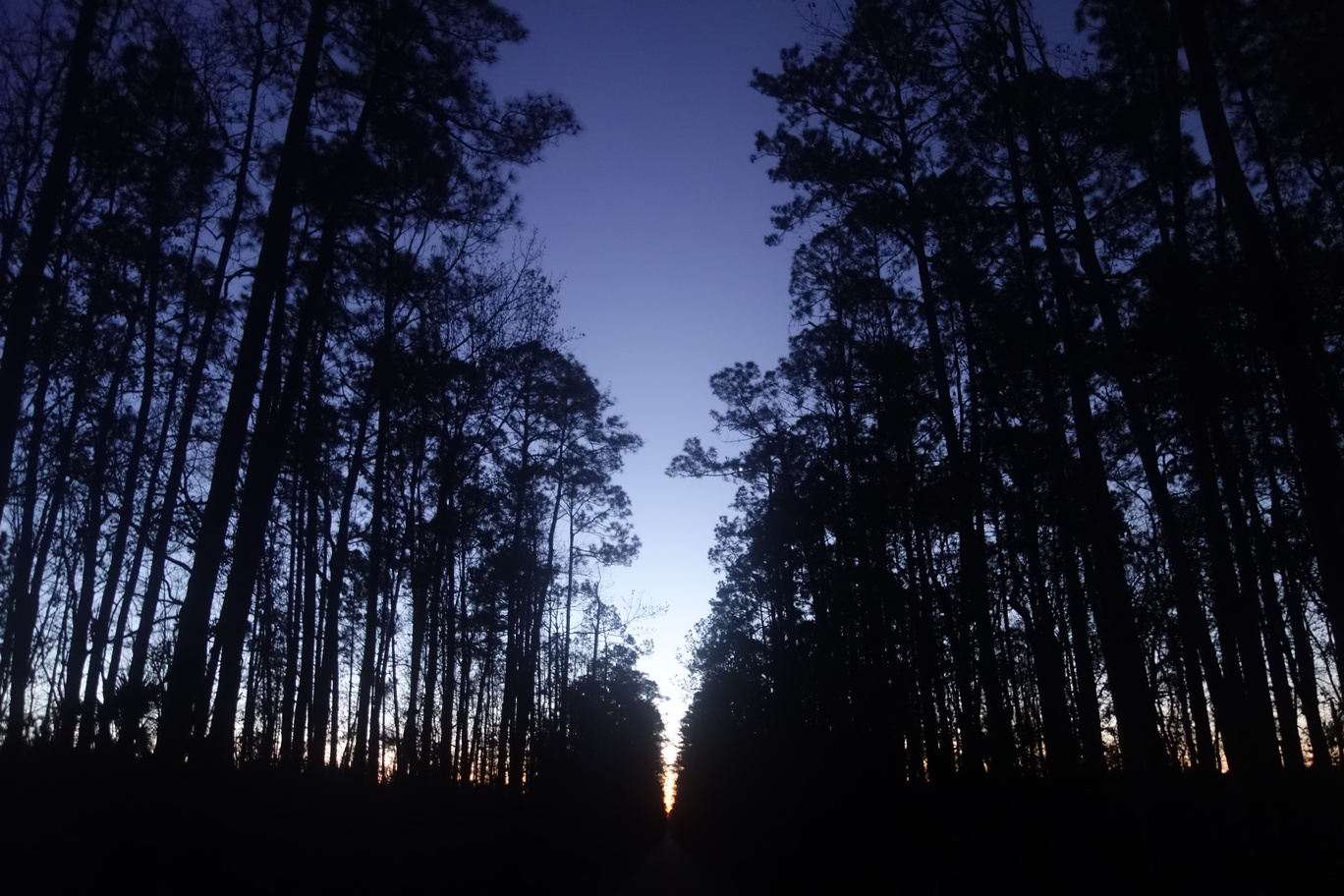 After a few hours of early morning hiking, the pain returned and settled in for the long haul. It didn't help that once again the trail(ie. roads) we were on today were very boring so my mind had no where to wander and instead settled on being overly attentive to the growing pain in my feet.
We reached Hampton in the early morning and had to wait since I needed to make use of the post office. Once open I was able to grab my new phone(the old one had dropped and shattered the screen) and a new sleeping bag(30F(-1C)). I also mailed Sweep back his mummy bag I had been carrying and then my old sleeping bag and a bunch of knick-knacks back home to my mom in Canada.
The majority of the day was on paved bike path as we headed to Lake Butler which was the midpoint of the FT. Along the way we met and chatted with two German hikers, Walkabout and Skipper. Arriving at an IGA we did our resupply and grabbed some hot food from the kitchens. Instead of hiking further as we had originally planned we decided to just camp in Lake Butler, which I greatly appreciated so I could have more rest time for my foot.
Starting early and on a road walk was a bit worrisome. We managed and soon spent the majority of the day walking along dirt roads through pine forests. At one point we exited to cross a highway and took a small detour to a shop called Roger's Sandwich. I had a pulled pork sandwich and drank maybe half a gallon of soda.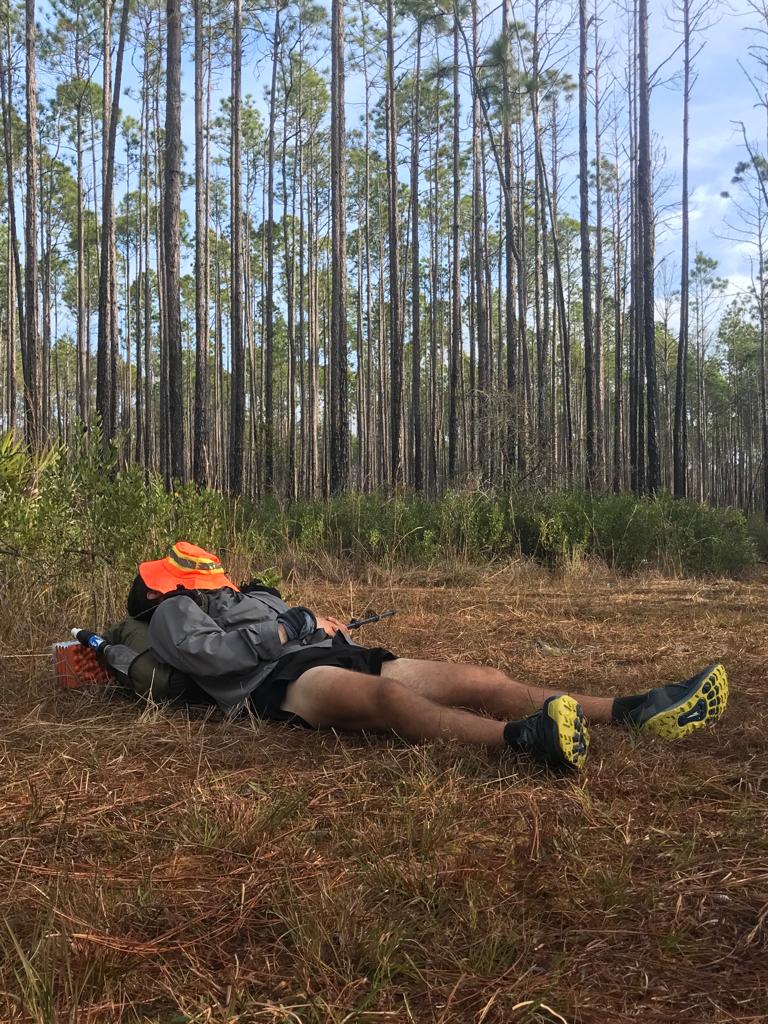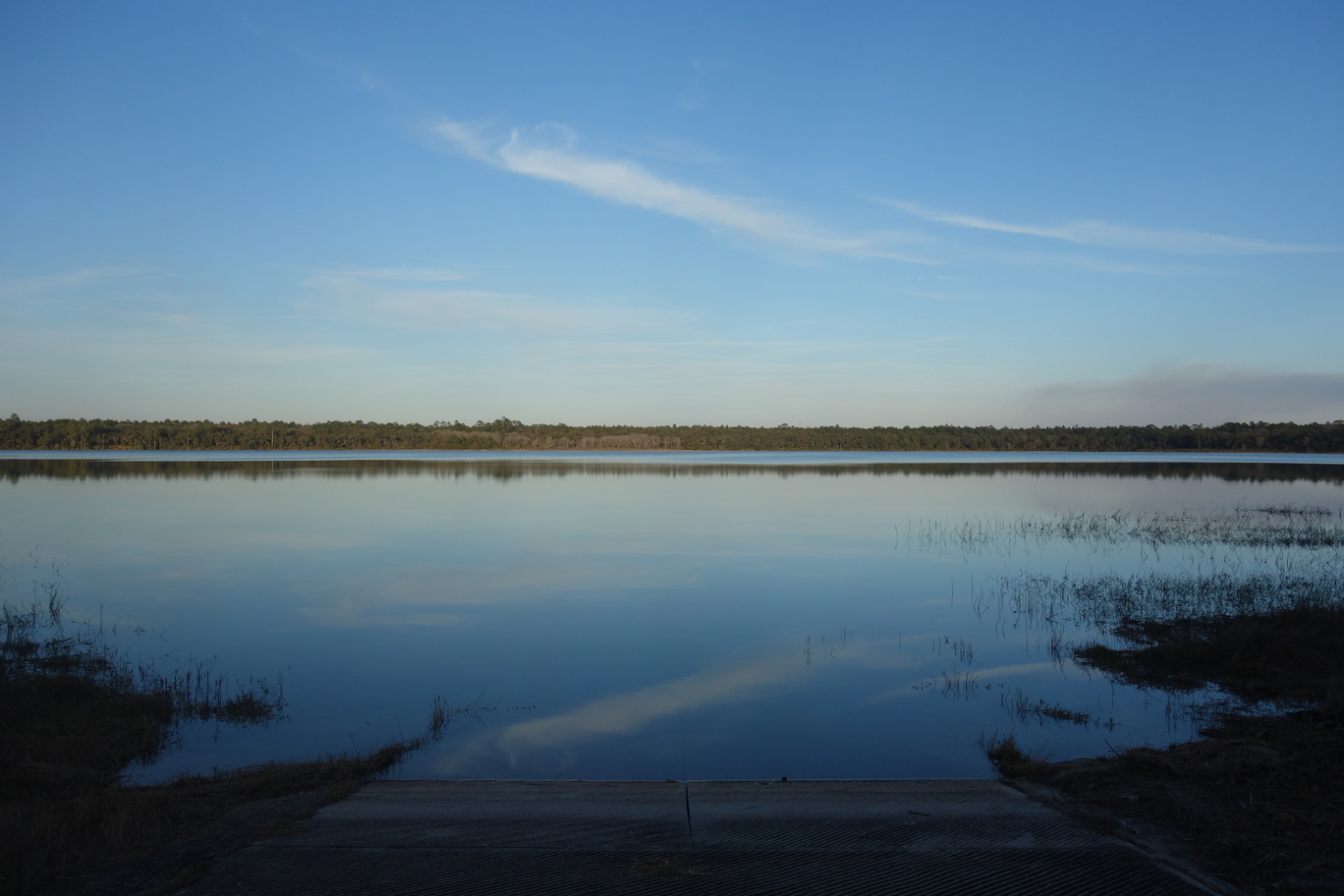 Continuing forward we had now entered Osceola National Forest. The sights continued to be the same with large shrub like palmettos and slash pine decorating the sides of the hiking trail. About an hour before reaching camp I saw a black bear. A large rustling in the distance caught my attention so I stopped and waited. Sure enough a medium sized black bear raised up on their hind legs, leaning on a tree, to survey the area as it suspected I was around as well. As soon as it spotted me it dropped to all four and bolted away.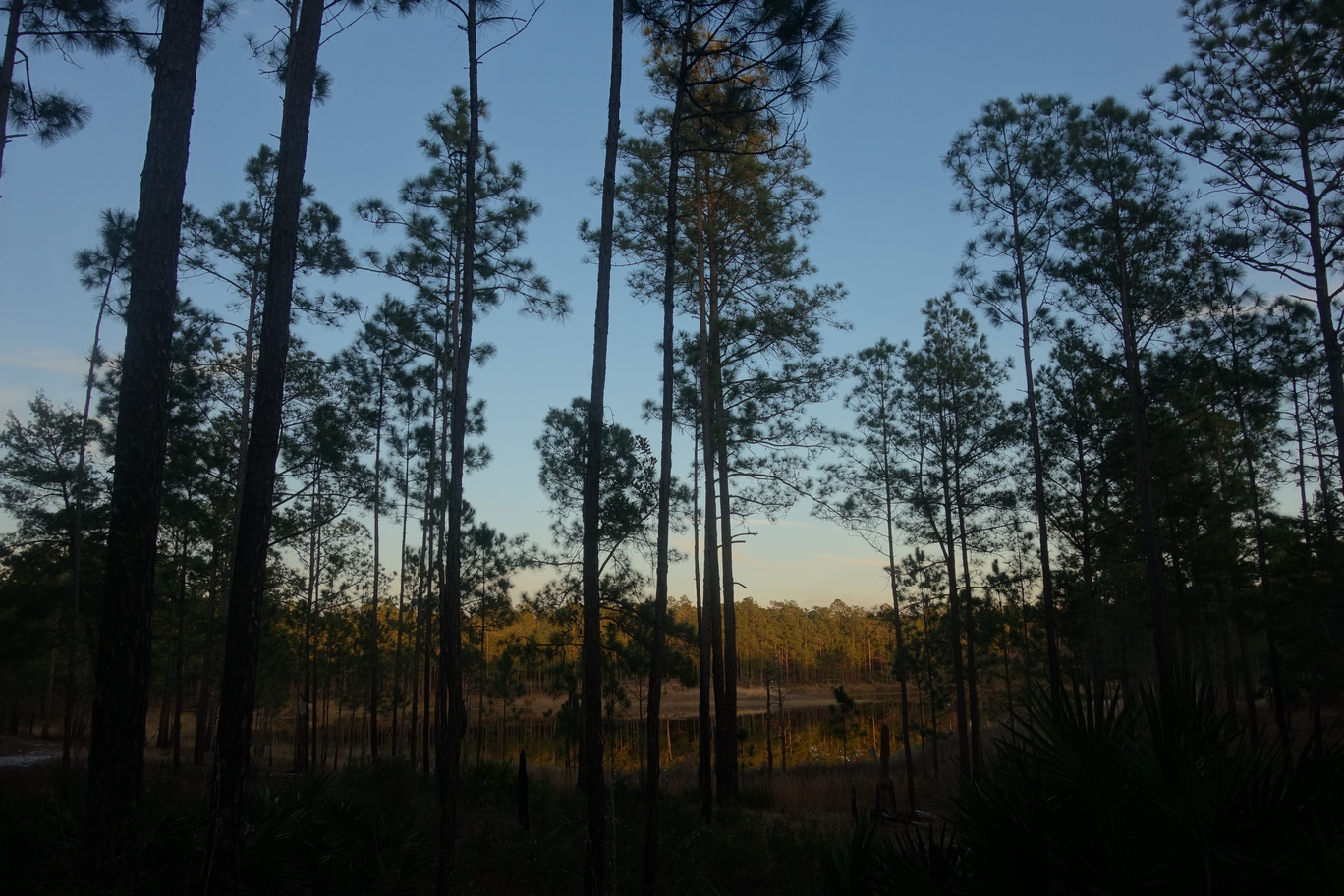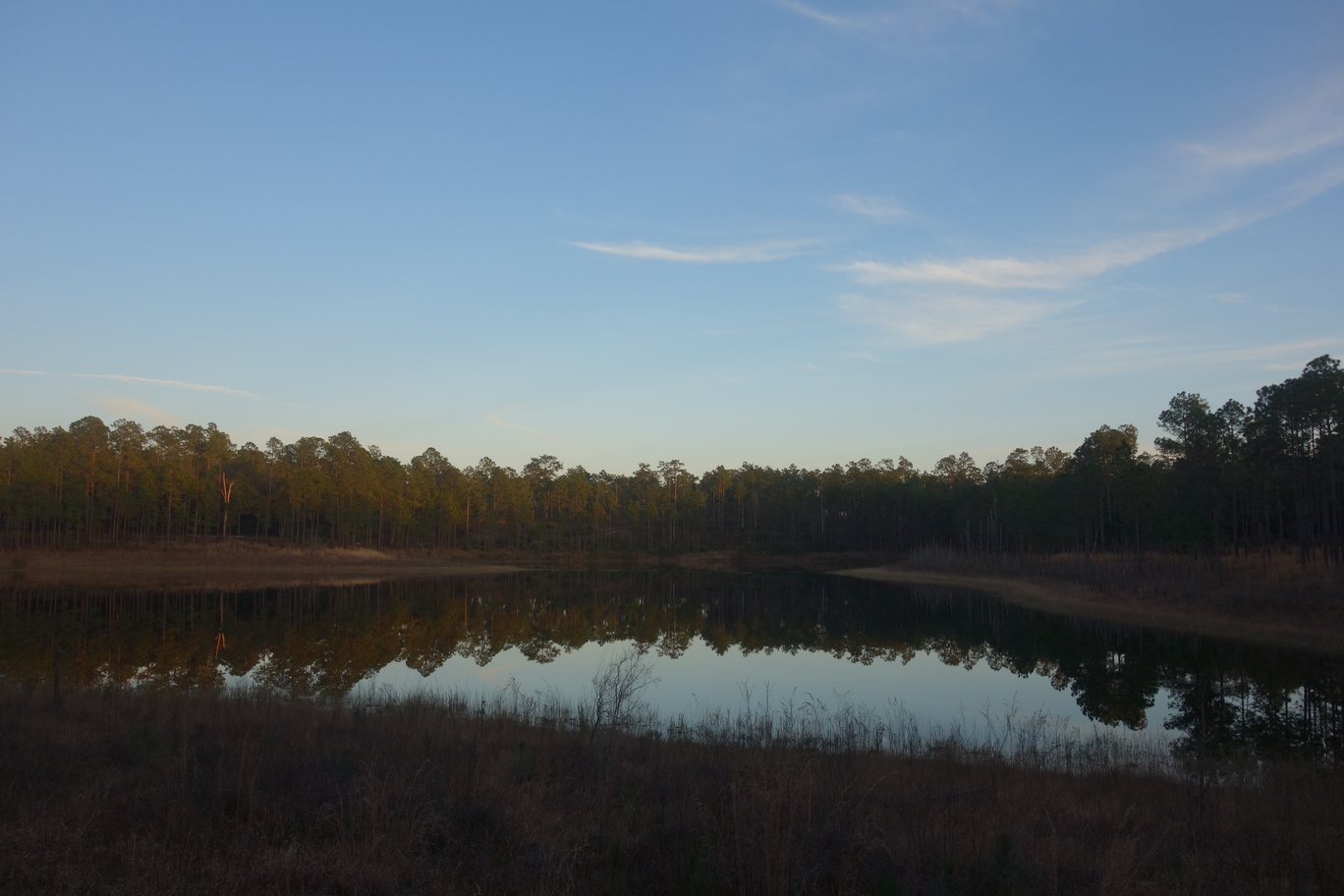 A few more miles are we arrived at a pavilion shelter where we camped for the night. I had at the point a very prominent shin pain starting to creep up my leg. We had done a great day with 32mi(51.2km) behind us but the stretching and rest at night were not staving off the damage I was doing.
Leaving Osceola behind us and taking a short detour around a prescribed burn notice we headed towards the Suwannee river. We had finally began turning west towards Pensacola and along the panhandle. It was almost too surreal to contemplate. The trail was fairly muddy and wet on the approach and we caught glimpse of a shy skink and armadillo.
Upon reaching the first series of rapids of the Suwannee I was star struck. It was absolutely gorgeous and the sun began to peak out as well so we took out lunch break right by the surging river. For lunch I had cold-soaked ramen. It was the first time I had "cooked" a meal on any backcountry trip. It was a religious experience almost.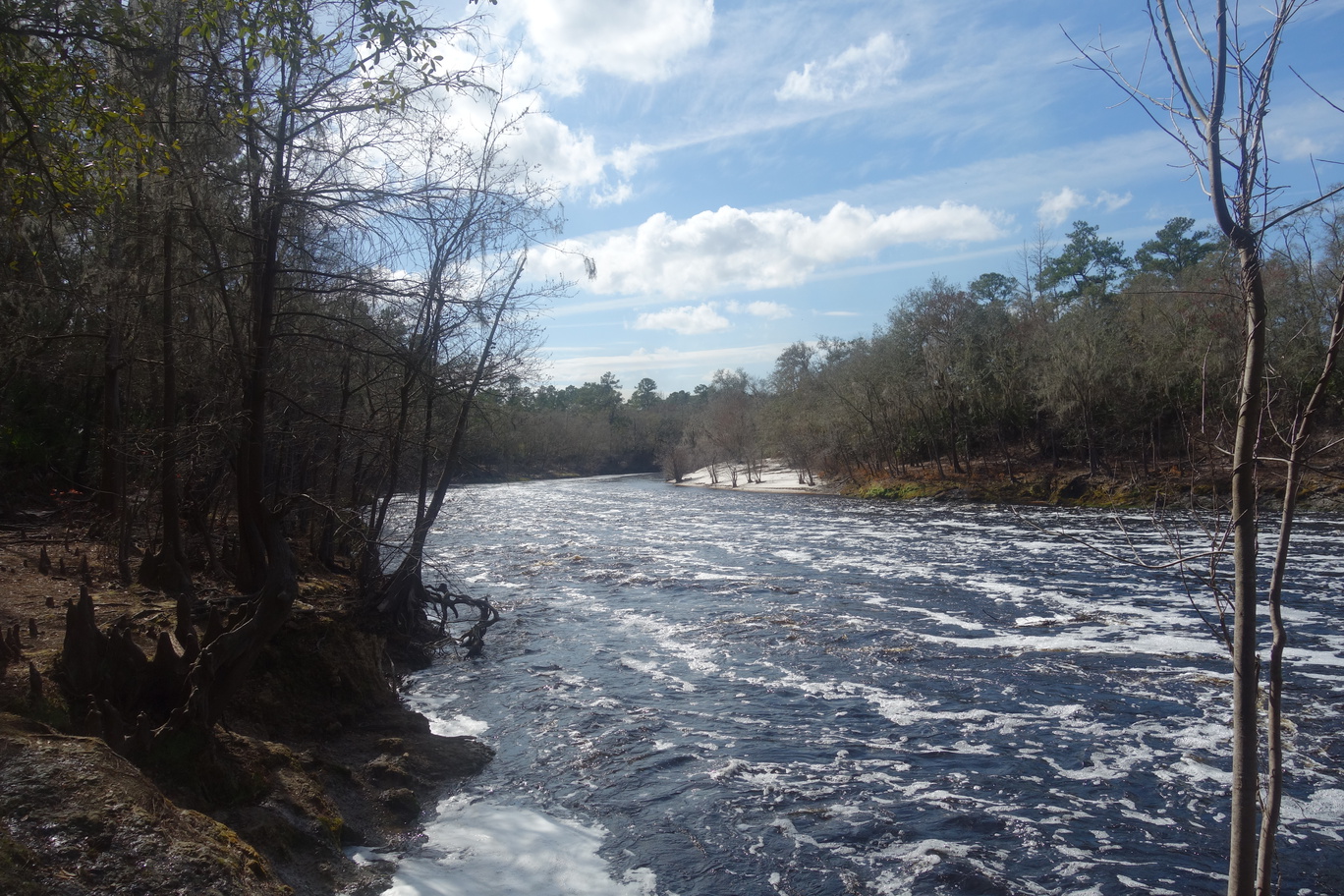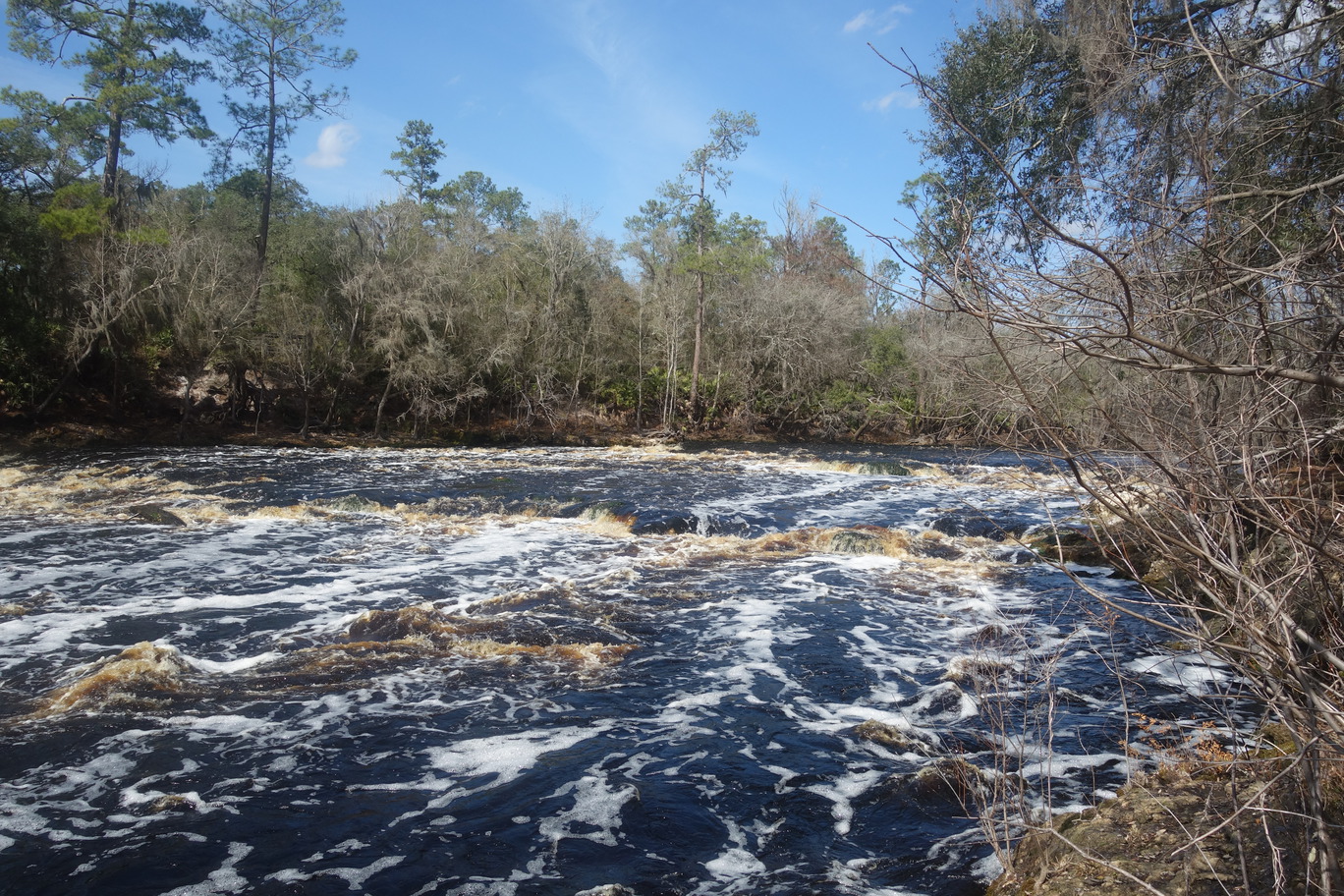 As we continued on the trail weaved up and down, left and right, with the river flowing westward alongside us. At one point we came into a small clearing that was just on fire. A local was burning down a field right next to trail with no regard. I asked him if it was okay to cross and he just shrugged at me. Goose and I kept our heads down and ran about 0.2mi(0.3km) along side this burning field. it was hard to keep my eyes open due to the smoke but we made it through coughing.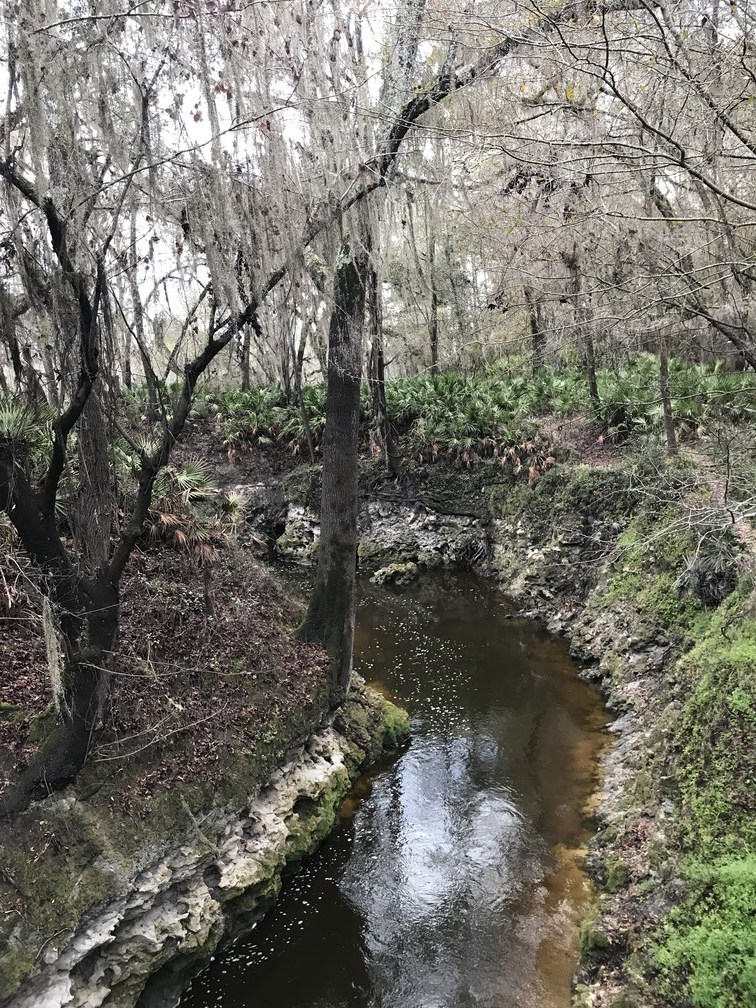 Eventually after the long beautiful section of river the FT freaks out and throw us back on the road for a good while. We walk into the town of White Springs and stop at this restaurant called Fat Belly's. AMAZING. The server was very cute and polite as we ordered almost everything on the menu. I got a whole plate of shredded pork and two slices of white toast, which the menu called a sandwich. I got hush puppies for the first time, yum. A large salad with boiled eggs, important. Waffle fries, more vegetables. And Goose and I split a bunch of dollar a wing, chicken wings. We were in heaven!
Receiving a tip from a trail angel at Billy Goat Day we knew there was a super cheap place to stay in town. A local was running a B&B and would charge only $25USD a night to stay in a private room. There was no way we could say no to that. We found the house, warmed up to the two little guard dogs and made ourselves at home. Showers and laundry were prioritized. There was another hiker already there, Yazzie. He had pushed a bike through the beginning swamp section before Big Cypress. He gave that bike to Byron, then he bought another bike and rode it through the hiking trails of Ocala. Crazy dude.
Goose discovers he has a tick on the back of right leg behind his knee. I try and help pull it out with his flimsy Swiss Army Knife tweezers. Unfortunately the head remained stuck under the skin. Goose went down to enlist the help of Yazzie who claims to be a doctor and proceeds to dig the tick dig out of Goose's leg with the small knife. After that ordeal I become super paranoid that I may have ticks on me but thankfully nothing comes of it.
We wind down for the night and plan to leave in the early morning.
The journal continues here for day 31-45
---
---
Need professional help planning a trip or want a guide? Click here!
---
If you would like to signup to get a notification when the next article is out enter your email below: