Prior to the actual hike I attended the kickoff event. I was driven from Miami by a trail angel named Byron and we had another passenger, Tom, who was planning on hiking the whole ECT! At kickoff there were roughly thirty or so people, half of them being actual hikers planning to do hike the full trail this year. I had arrived a day late and missed a group of another ten hikers that had started the day before.
I had a chance to talk with trail angels and past thru-hikers about the upcoming conditions as well as make new hiking friends. There was a large spread of food(including fresh paella) that we could pig out on and a large fire around which stories could be swapped. I spent most of my time chatting with two hikers: Shepard and Scavenger Princess. I worked out an early ride for the following day with Shep and would partner up with Scav through the swamp.
After a restless night anxiously dreaming about Big Cypress I awoke and the hike begin in proper.
Ann, one of the trail angels, was up at 5:30am making coffee and there was a small breakfast spread available. Our intended start time was immediately delayed as we hung around to eat food and say our final goodbyes. The rest of the hikers would be starting a handful of hours later and were just casually hanging out by the morning fire.
After Scav ate twice his fill we began the drive to the Big Cypress Oasis Visitor Center. The Oasis center has a boardwalk overhanging along a river where we got our first glimpse of massive alligators. Not necessarily the first thing we wanted to see going into the swamp.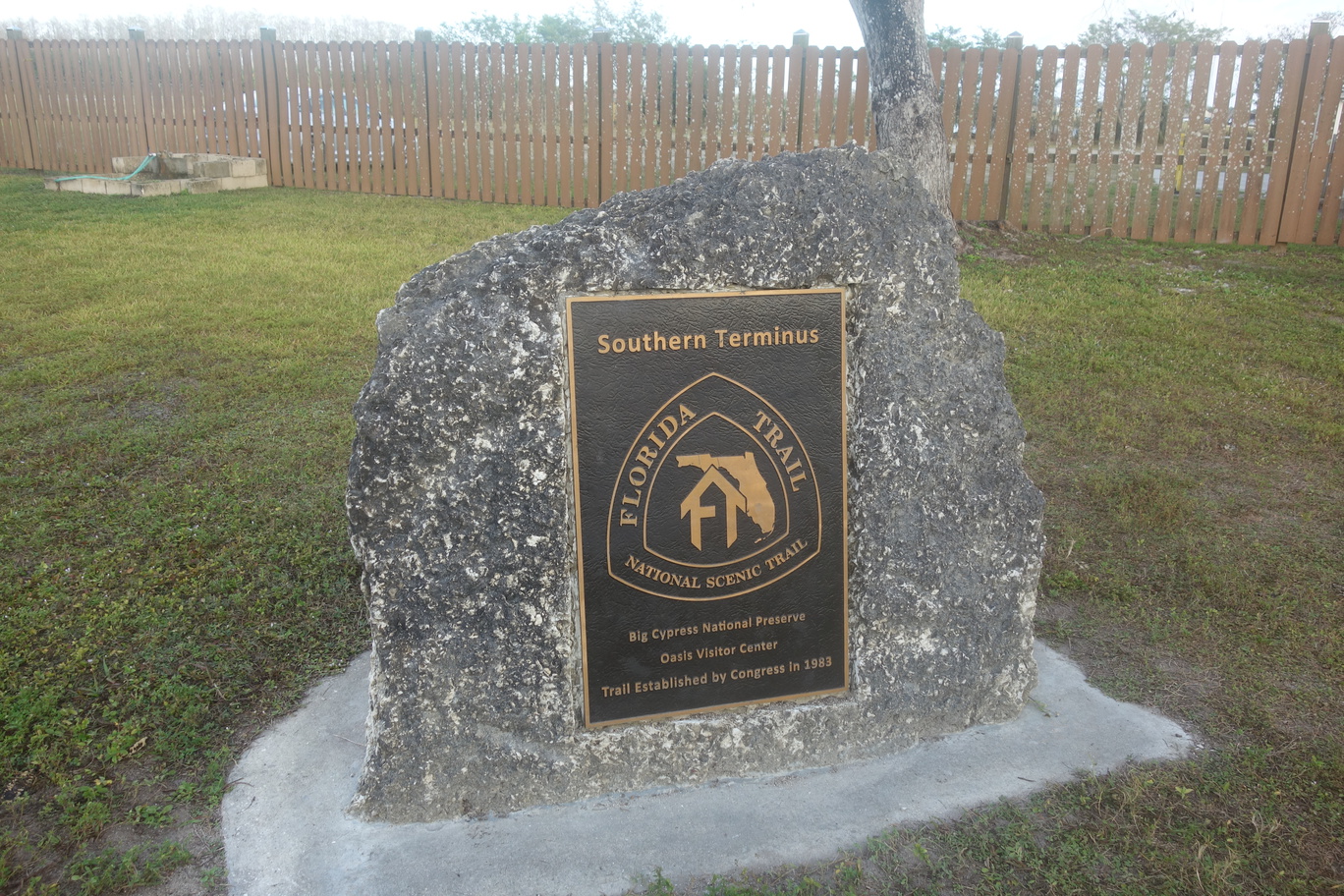 After plenty of pictures were taken with the southern terminus monument we entered the park and quite quickly began to slog through swamped sections of trail. The sky was clear and the sun was beating down hard as the mud creeped up. Water sloshed over our ankles.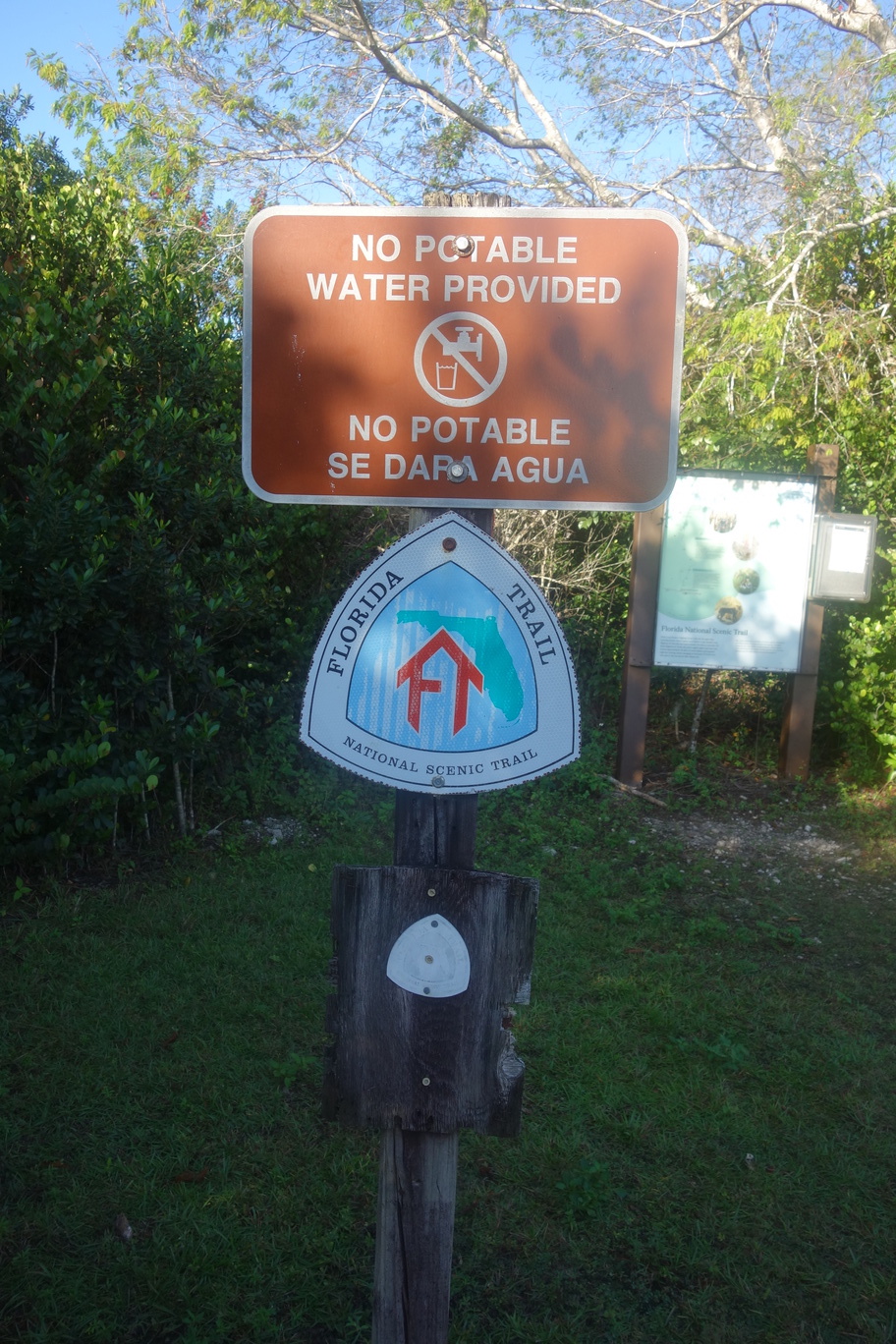 It was a beautiful sight to enter such a foreign seeming land. The tall bare cypress domes, the palms, and the dead silence of the swamp occasionally broken by the cry of cranes. Roughly halfway through the day I left Scav behind to hike at my regular pace. Along the way I caught to another hiker, Rambler. It was his third time hiking the Florida Trail(FT)!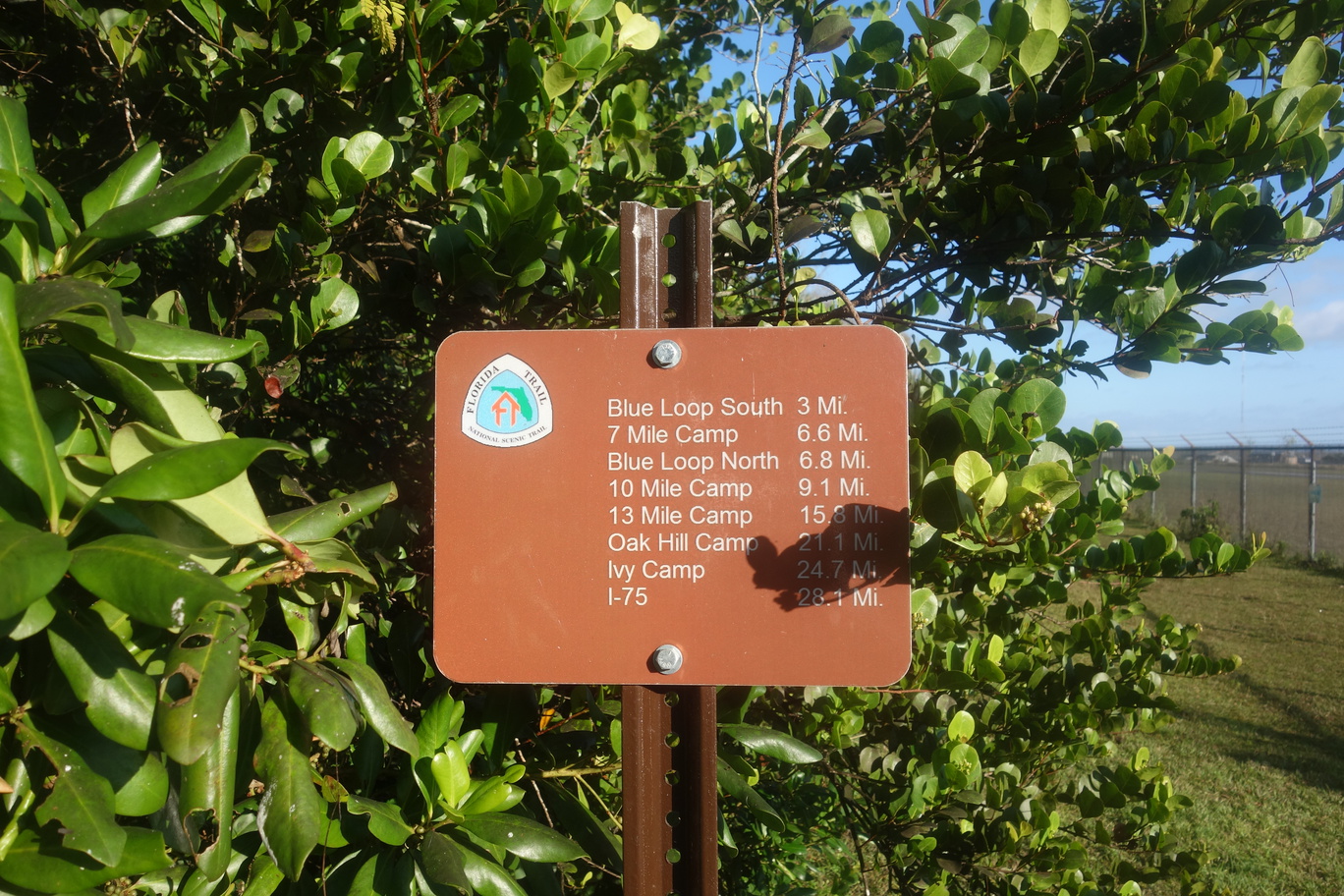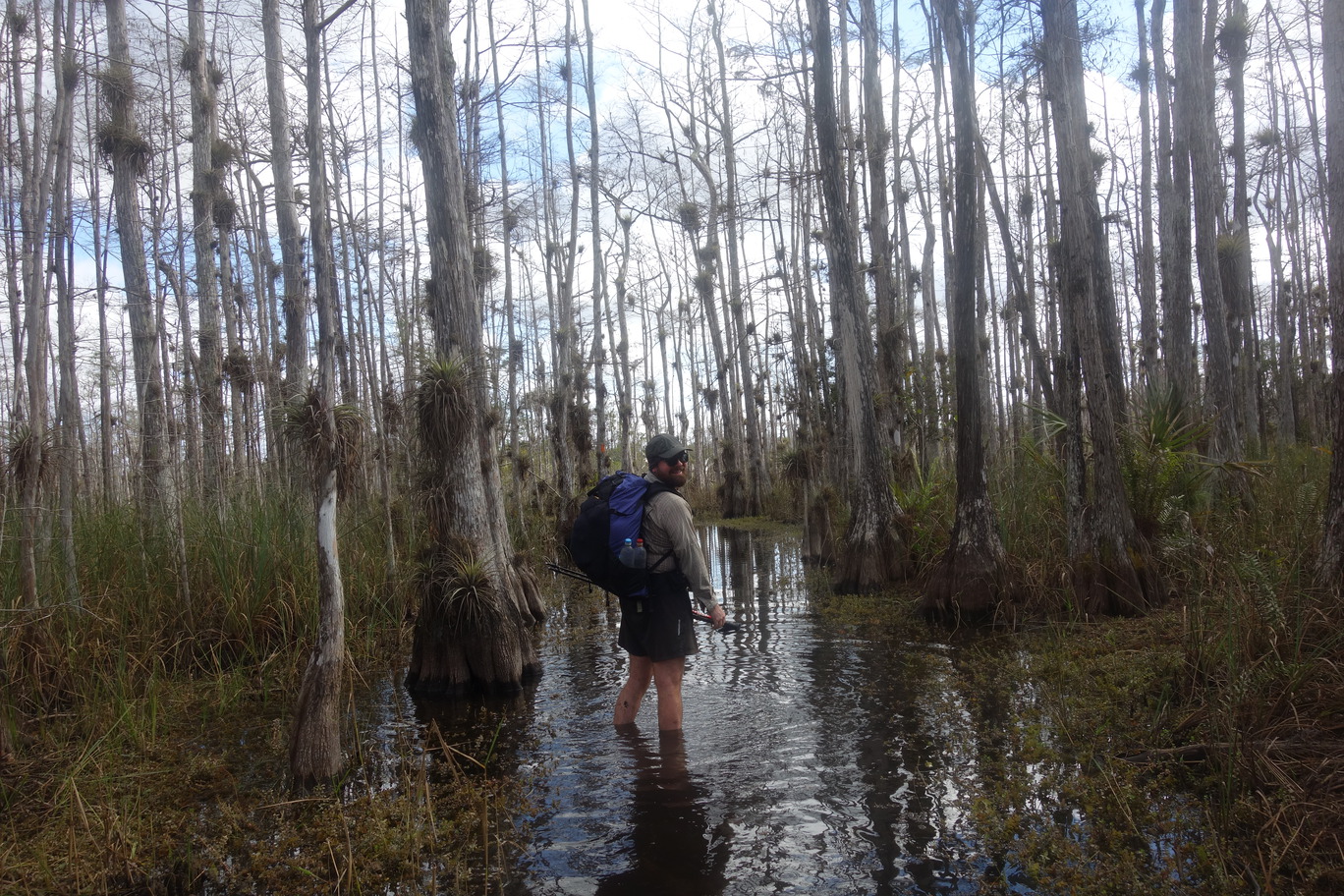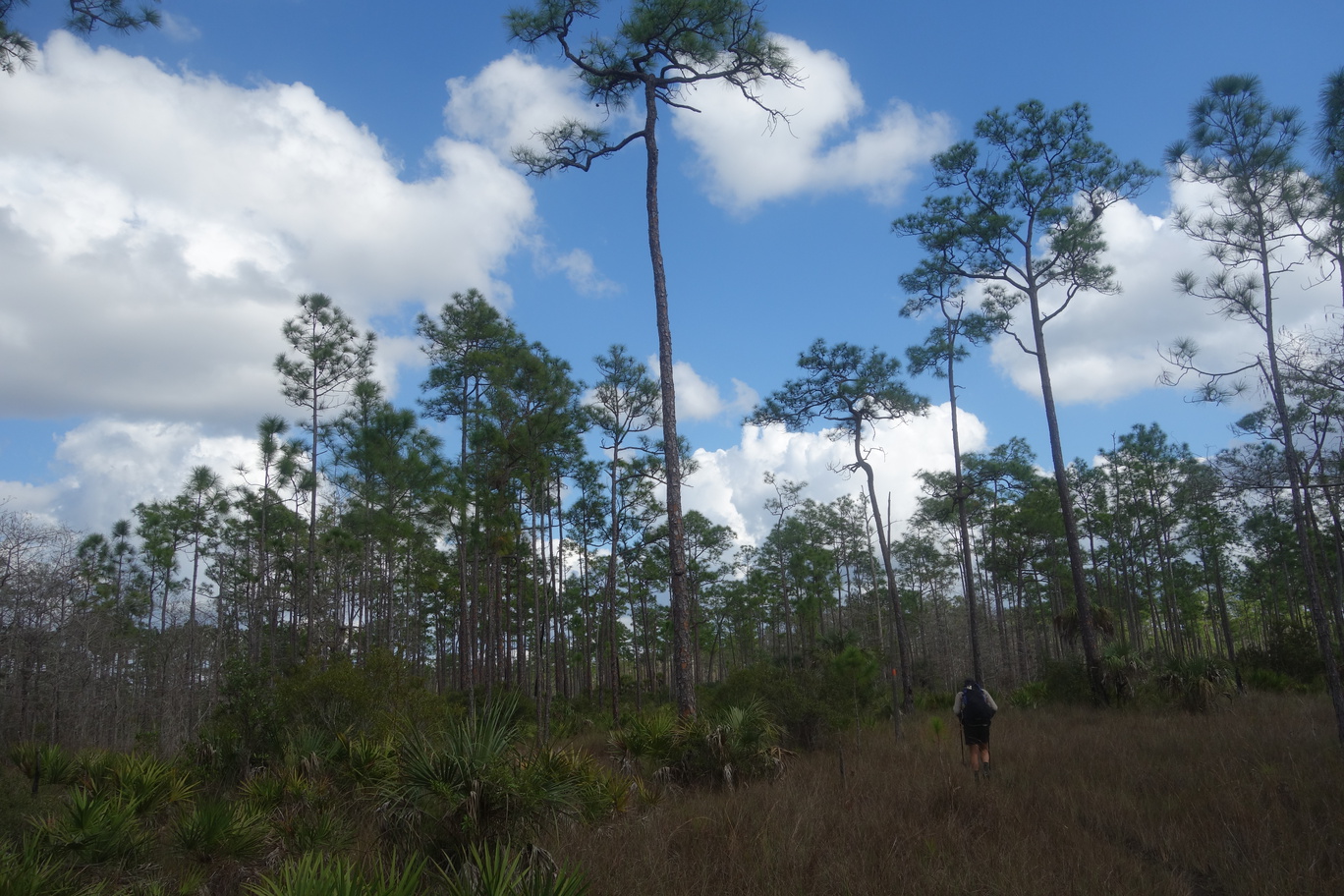 I reached 13 mile camp(which is actually like 10mi(16km) into the hike) around 3pm. The camp was already thriving with tents setup in almost every open dry spot between the palmettos. A hiker named Deluxe, who was only doing the swamp section, a girl from Chicago named Boots, another girl named Jessica and finally Jason who was using a hammock. There were two other older hikers but I did not catch their name.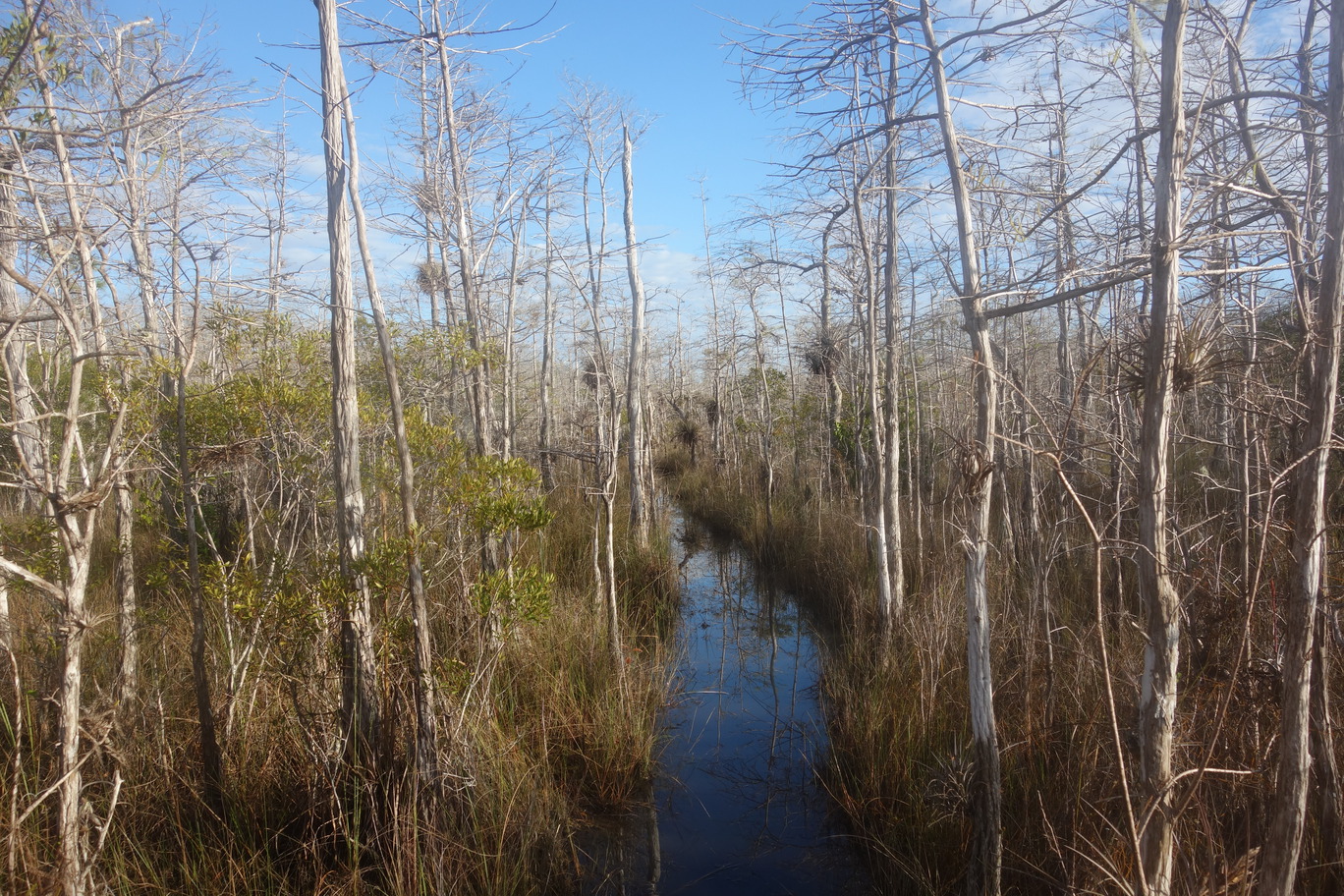 After an hour or so Scav finally caught up to reach camp. It turned out Deluxe and Scav knew each other from hiking the Appalachian Trail(AT). About a half hour after that Rambler and Goose came through. They were both at the kickoff the days prior. Talking with Goose it seemed that we'd be a better match for hiking together due to our similar gear setup and pace. As the sun went down at 6pm the hikers joked back and forth in the twilight and we all enjoyed an early nights rest.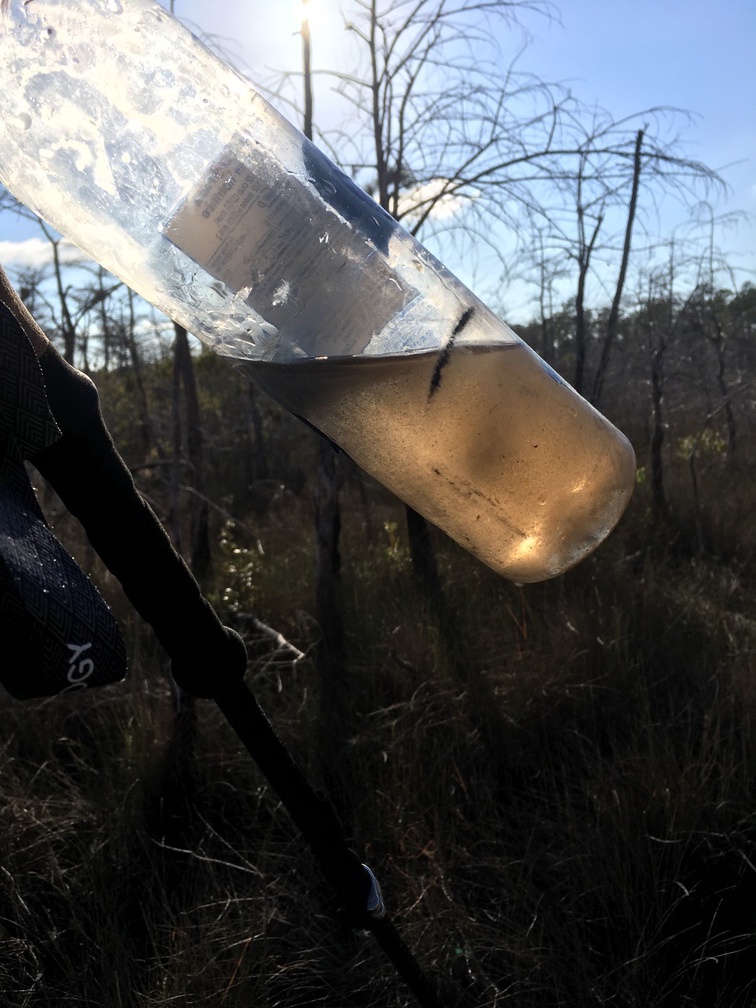 The following morning Goose and I packed up and left roughly around 6am while it was still dark. We were anticipating the huge swamp section ahead and wanted to finish it all by sunset. A few miles in we caught up to Jessica. She had previously thru-hiked the AT and got the trail name Eighteen Hundred. The reason being she hiked all 1800miles(2880km) of the AT without getting a trail name. She was not a fan of the name and insisted on just being called Jessica. We chatted briefly before Goose and I continued ahead at our pace.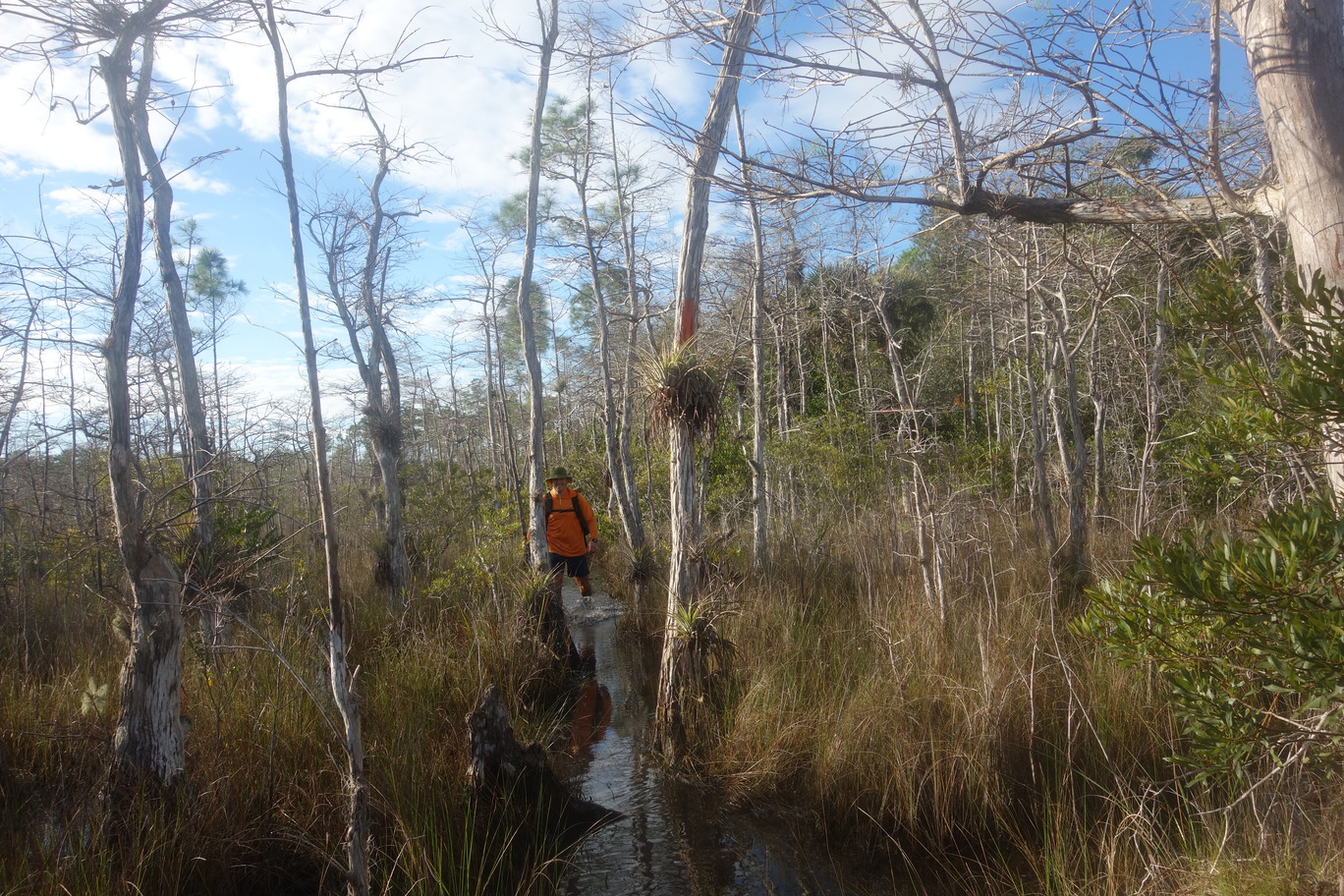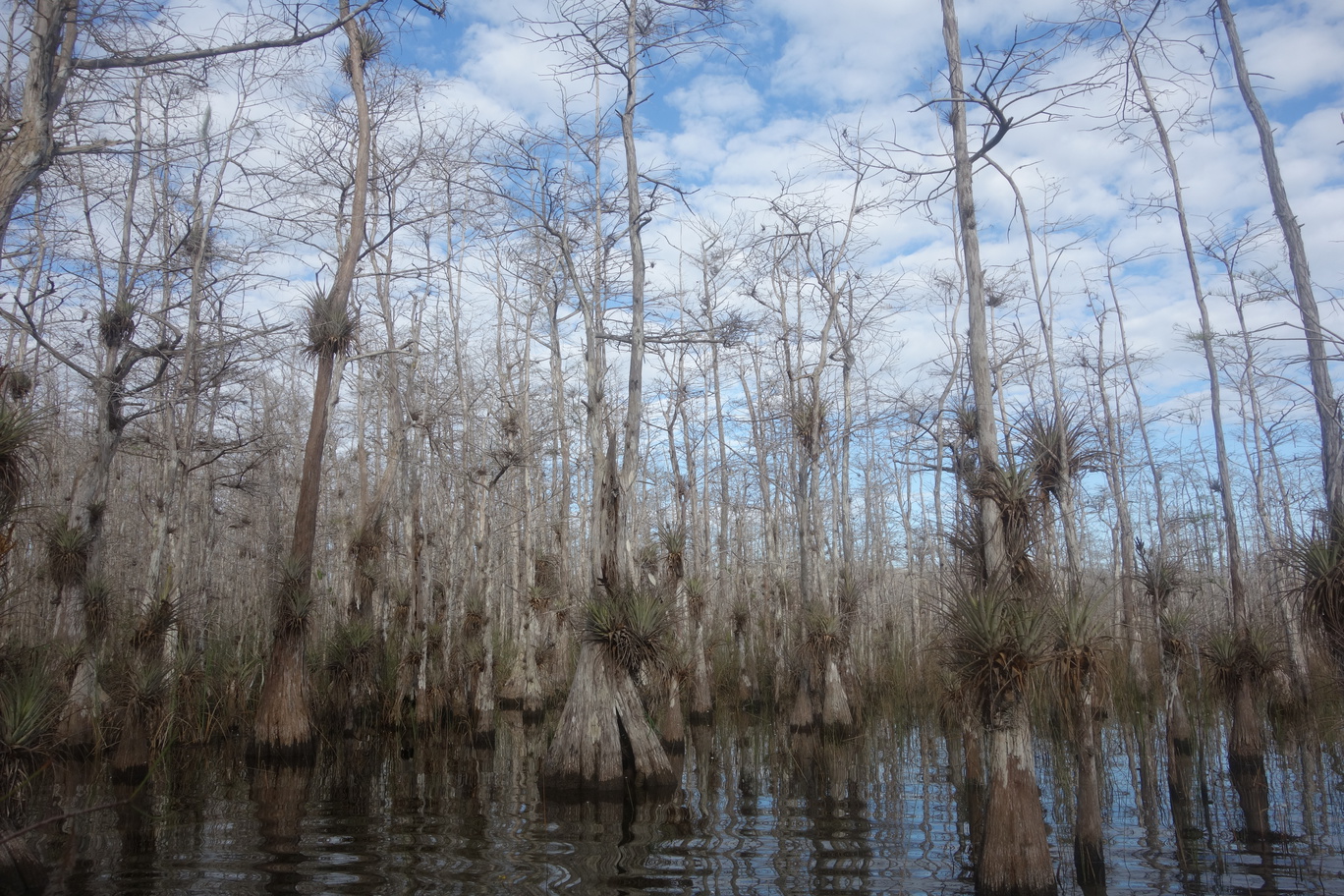 Before the sun was fully in the sky we had already entered the infamous swamp section. Every year is different but this year we had +10mi(16km) of continuous submerged trail to look forward to. From a 3mi/h(4.8km/h) pace to something like a 1.8mi/h(2.9km/h) pace, the submerged trail was very sandy and would often lightly pull at your shoes making progress considerably slower.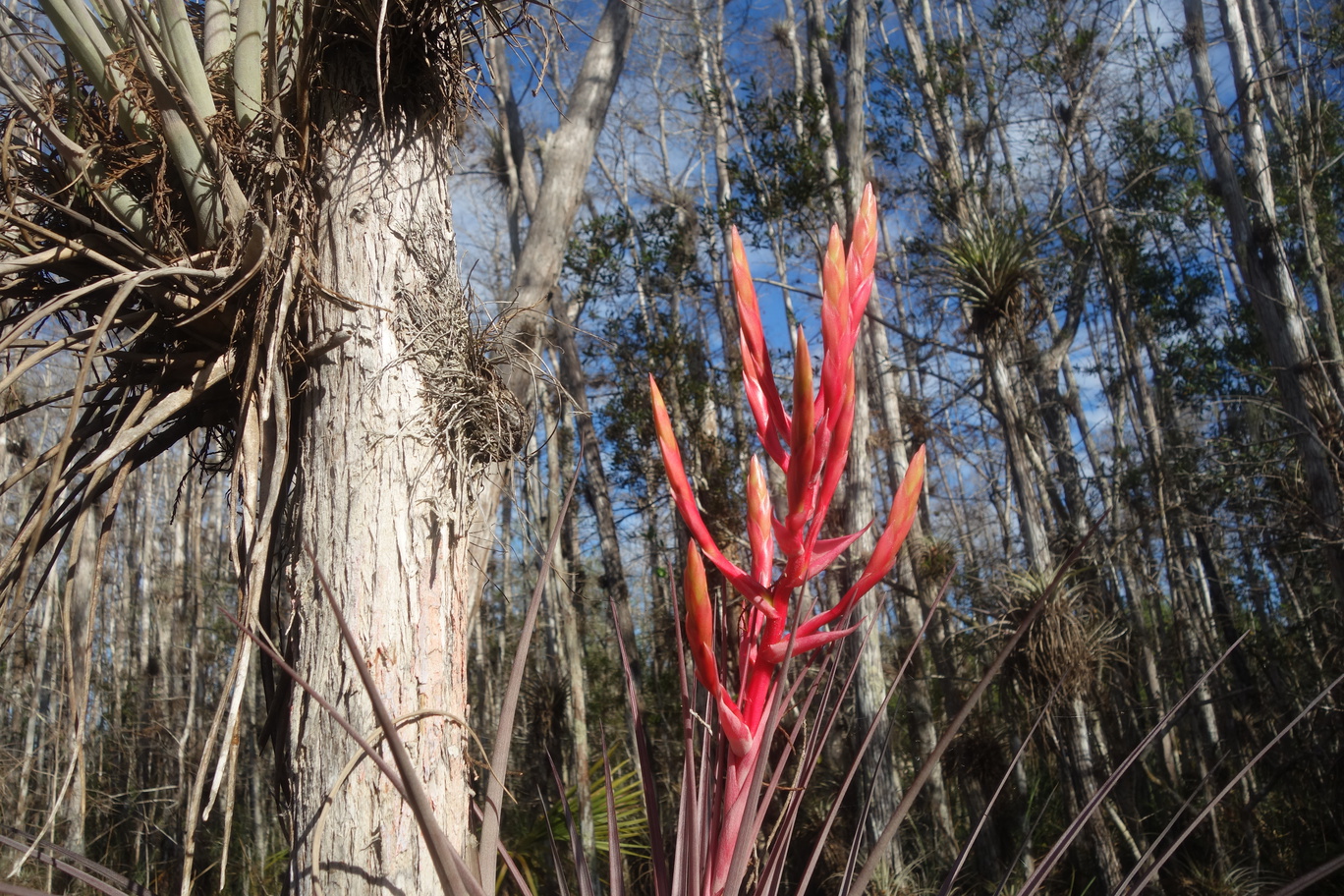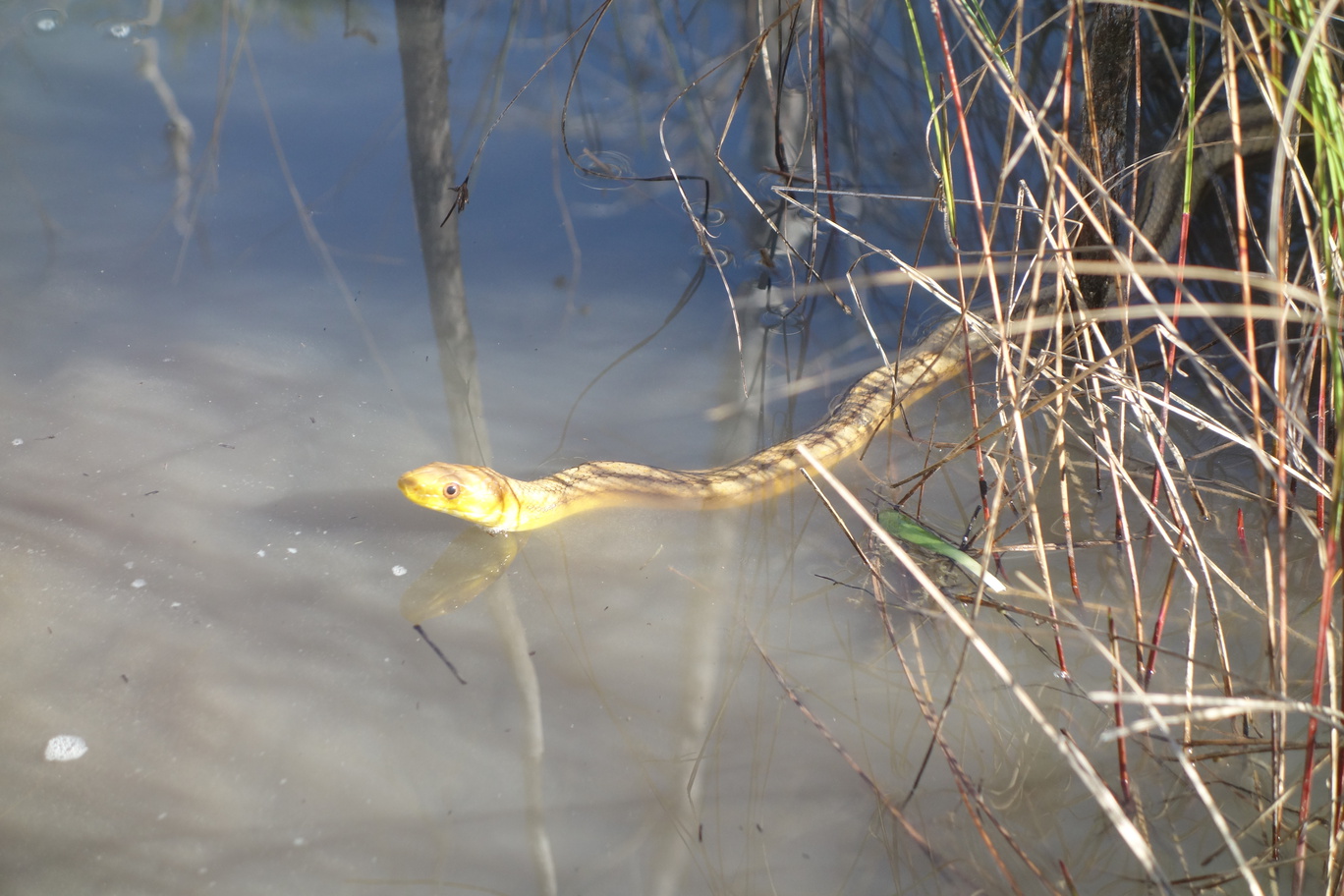 Another hot today revealed itself to us but it was more manageable than yesterday. The cool water lapping at our ankles to our upper thigh at times offset the scorching sun bleating down from above. The whole day was a magical experience. Constant wading through water, the dead stillness of the forest, and the little fish spawn in the water that would swim just ahead of you as you walked on through.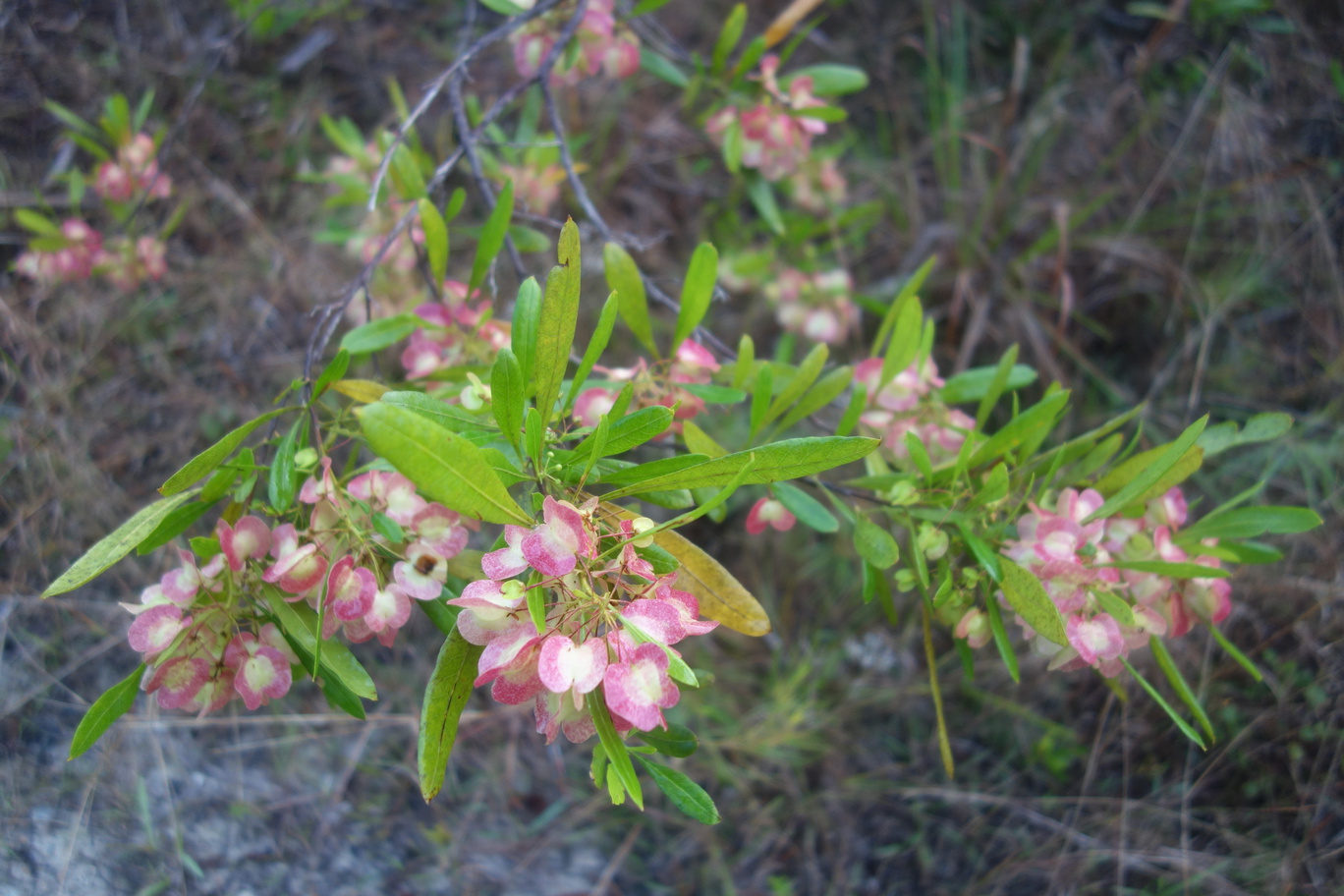 Constantly on the back of my mind was the thought of alligators and the countless poisonous snake of Florida. My luck prevailed as I didn't not see any life threatening fauna and only came across a harmless yellow snake in the water. Around midday the trail began to pass offshoots which would put you onto dry land if you wished to camp but my eyes were still set on the finish line. I caught up to Rambler and saw him take a spill stepping into a mud hole which caused him to break a trekking pole. I had at this point left Goose way behind as my pace was faster. I ran into an older couple and a group of three friends doing just the swamp section both of which seemed to be having a hard time. They did not anticipate how slow they would be going. And finally I met a girl by the name of Shortcut. We chatted briefly, about the flora, asked if either had seen gators and then off I went again. She seemed to be going pretty fast and also mentioned that her plan was to hike out of the swamp by end of day. I wished her luck and told her that I'd see her at the end.
Hours passed wading through water and I entered a kind of trance as the miles slipped by. Finally I found myself on a massive dirt jeep road and I realized I had successfully escaped Big Cypress. The road was still very water logged and continued to pile on muck onto my shoes. Right as I exited the gate for the northern edge of Big Cypress I saw a huge pavilion setup in the middle of a parking lot. Trail magic!
There were a handful of angels there offering fruits, drinks, chips and cookies. I proceeded to take off my socks that had ballooned in size due to all the mud that was caked on and in them. I grabbed a banana, some cookies and grabbed a seat. For the next couple hours I'd relax and chat with these wonderful people until Goose and Shortcut caught up with me.
The magic didn't end there. With Goose and Shortcut finally catching up, Shortcut let us know that her mom was in the area in a RV and invites us to spend the night. Goose and I immediately say yes and within an hour we have driven to a KOA in Naples. Margaret(Shortcut's mom) cooked us this amazing dish of cheesy chicken and a side of salad. I felt like I had been transported to heaven. After dinner we hopped into a hot tub and then back to the RV to sleep comfortably on beds for the night. What luck!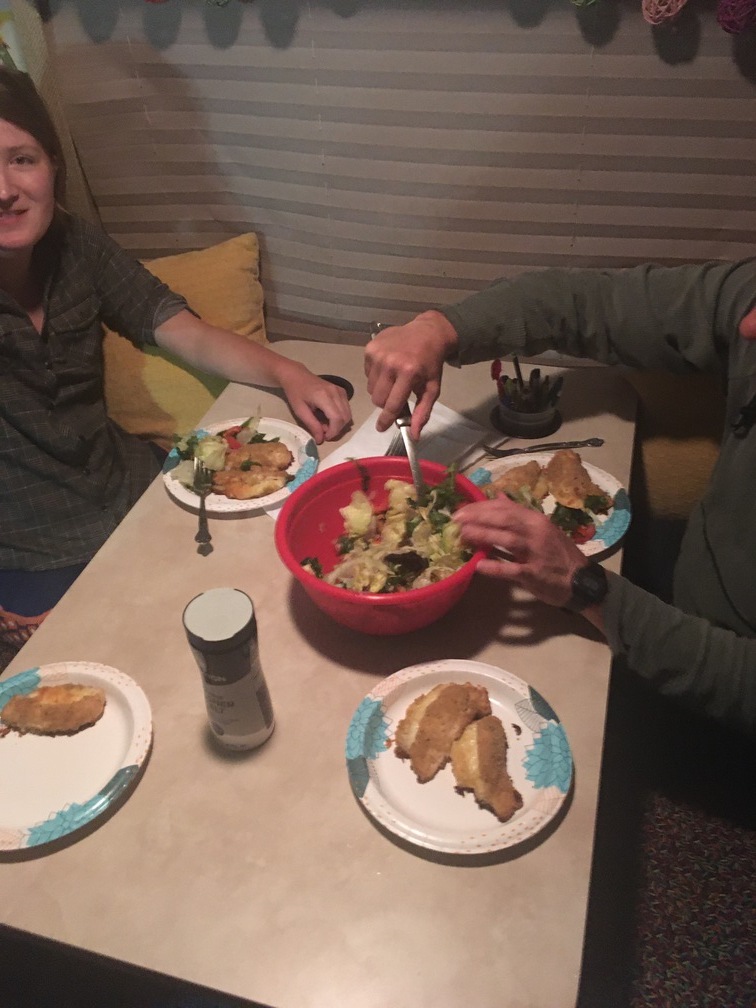 Margaret, being the sweetheart she is, woke up early and drove us all the way back to trail to start at 7am. Giving her hugs and saying bye to our new trail mom, the three of us set off for a big day. Immediately after the swamp, the trail leads us through the Seminole reservation. There is no camping allowed so hikers must get the whole reservation in a day. It is roughly a 19mi(30.4km) section of road, but from where we started and where the next camp spot is we have something like 27mi(43.2km) to do.
We are met with another day of relentless sun. From soft sand and submerged trail to plain asphalt pavement the foot suffering begins. Mile after mile everyone's feet begin to deteriorate. Shortcut has it the worst out of the group and we end up waiting for her to catch up every handful of hours. At one of these stops, as Goose and I are enjoying root beer floats from a cafe, Shortcut catches up and says she can't handle it anymore. She decides to hitch the rest of the way, so Goose and I jet off to finish the section as a duo.
The road walk through the reservation was fairly boring but went alongside water canals. We would often hear a loud splash as we approached which indicated an alligator had just jumped in scared by us. Floating in the water I managed to visually spot four gators and plenty of beautiful swans, cranes, and hawks. The day dragged on and we exited the other side of the reservation as the sun set. We got water from a cache in the dark and found ourselves on the beginning of a large levee section.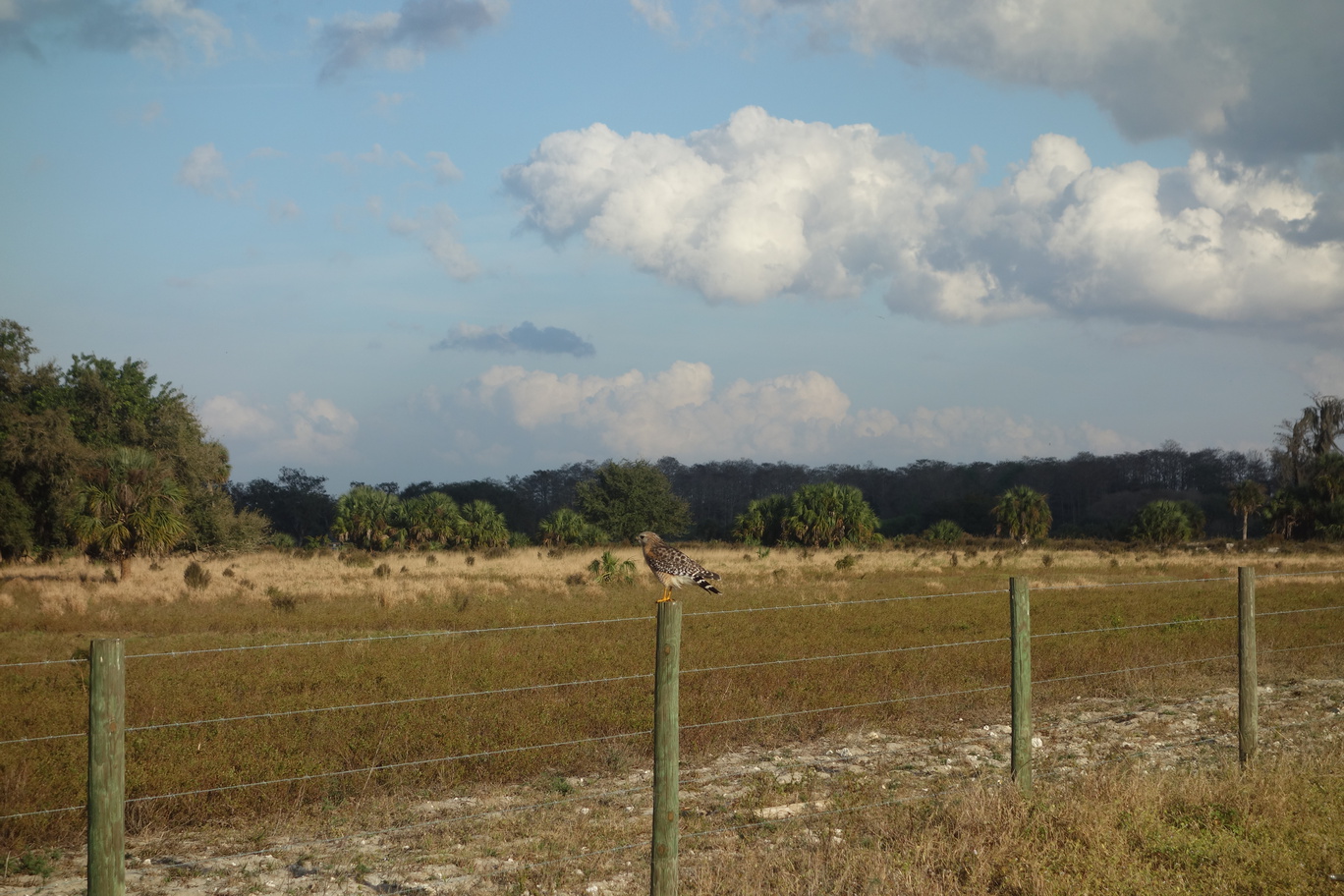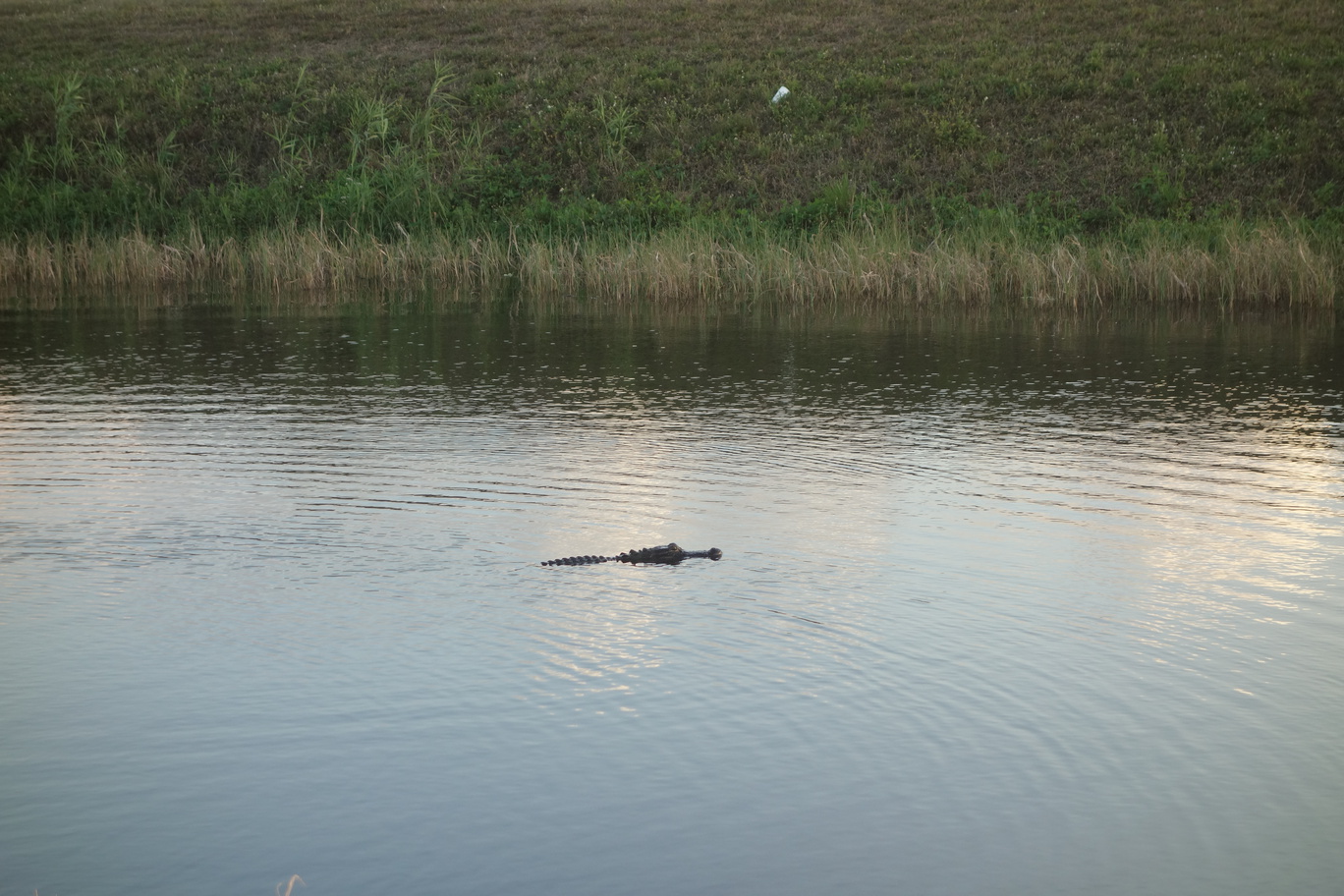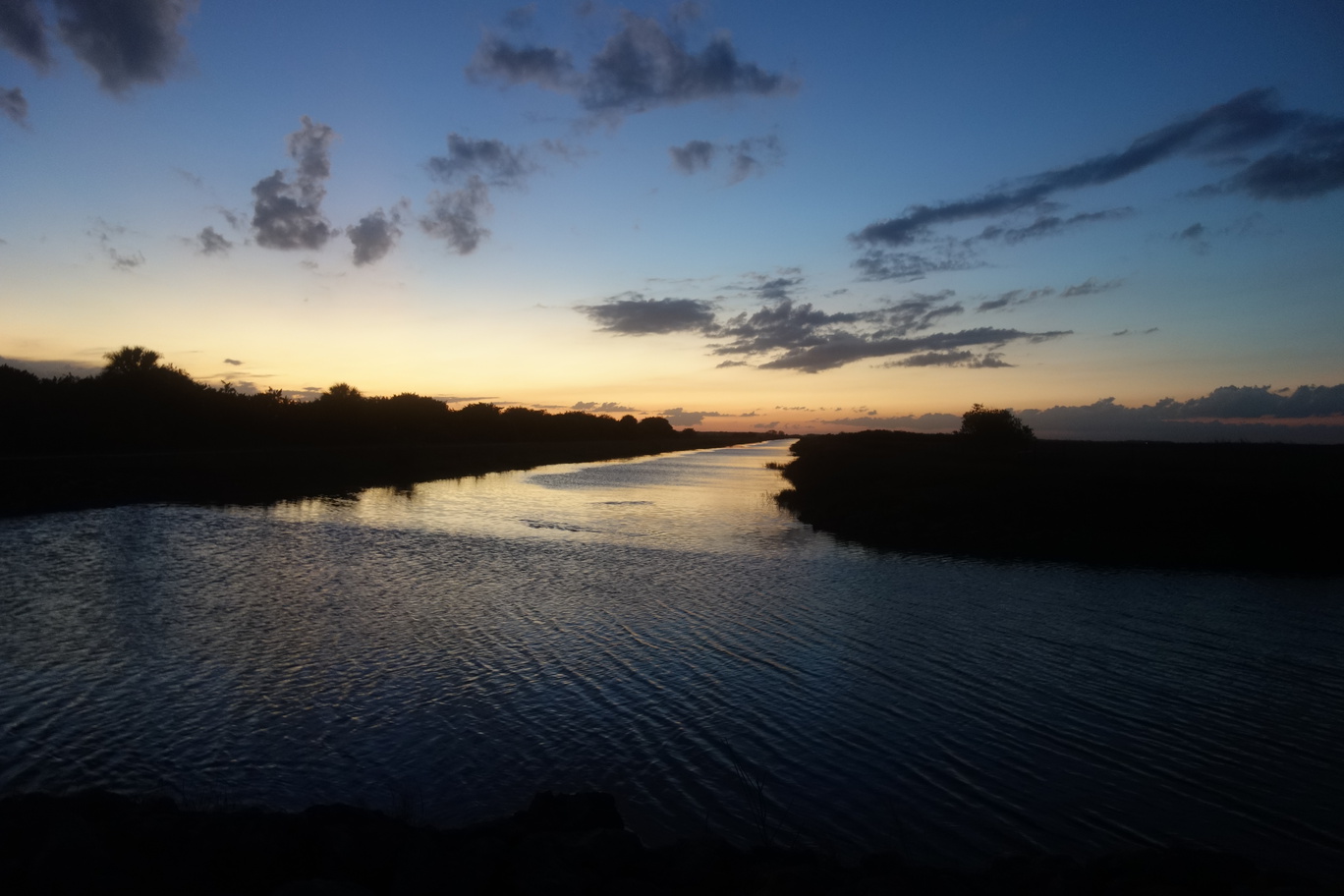 With the sun gone and the canal nearby we were instantly swarmed by hundreds of mosquitoes as we tried to setup camp. Goose was able to successfully get under his shelter but, no matter how much I tried, the bug net I had would not stop mosquitoes from entering. The grass was very rough and long so there was a good couple of inches of clearance where the bugs could just fly in. I put on all my layers of clothes and jumped into my sleeping bag hoping to stave them off. Sweating, getting bit constantly and being driven insane by the buzzing of hundreds of skeeters, I snapped. After roughly 25mins of trying to put up with the conditions, I got up and packed everything to begin night hiking.
Even though I had just completed +27mi(43.2kn), the suffering at the hands of the bugs was worse than me continuing to walk. The temperature was perfectly cool and with the moon and bright stars I did not need to use my headlamp to navigate the straight path along the top of the levee. As I walked I was bug free but every time I stopped, hoping to be able to setup my tarp and go to sleep, they would swarm me again.
I kept walking. The stillness of the night was only briefly interrupted by a shooting star off along the horizon and the dull hum of massive power lines passing at points near the levee. After a few hours I came across a construction site and several CAT machines. The first one that I saw that had an enclosed seat, I climbed up, opened the door and took shelter inside. Finally a place to sleep. The seat was extremely uncomfortable and the space cramped but at least I could stop walking and be free of insects.
After three or four hours of restless "sleep" I hopped out of the machine and began walking again. Hour after hour passed and the new day rolled on quietly. At one point around 10am I just lay down right in the middle of trail and slept for an hour. It was another hot day as I raced forward to reach a water cache. Next to the cache was a pavilion on the side of county highway so I made myself at home and slept a few more hours on a concrete bench. I was also hoping at this point Goose or Shortcut would catch up to me but they did not.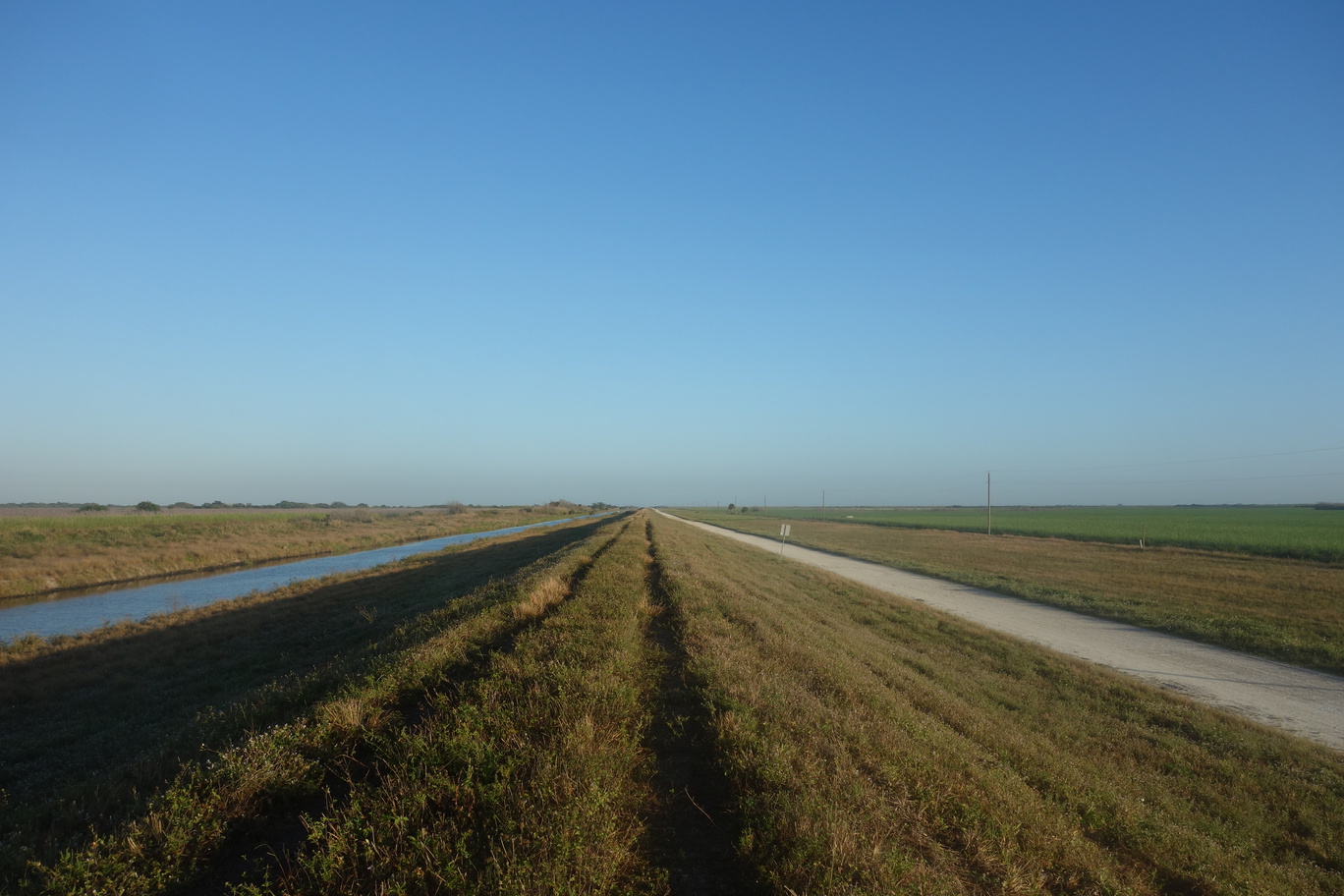 At around 2pm I left so that I could reach a camping spot early to setup my shelter properly and avoid a repeat of last night. To my dismay, still along the levee, there were no real good spots. The grass was not as high as the night prior but it still left about an inch of clearance on the ground. Rambler and Goose ended up passing me as they planned to camp ahead since there was no other good spot near where I was setup.
As the sun began to set I was anxious to see if I would be free of bugs tonight. Once again right on schedule around 6pm the net was being swarmed. For the most part I was in the clear but every twenty minutes or so a skeeter or two would find it's way under and into my enclosure. I was in and out of sleep until roughly 2:30am where once again the toll of constant buzzing and occasional bites forced me back to hiking.
So once again I find myself hiking in the early morning hours. I end up passing Goose who is set up on the side of a road and begin walking on overgrown levee structures and finally a road. At roughly 7am I reach the bottom of Lake Okeechobee, climb up on the levee and continue on the pavement. There had been construction on the east side for the last few years but thankfully it had all completed, avoiding a detour along a major highway down below.
My feet really started to feel sore due to the combination of not being able to get enough time resting and sleeping plus the never ending battering of my feet against hard pavement. The sun comes out in full force once again to burn down on me as I walk completely raised and exposed on the levee for mile after mile. The levee walk seems to never end and the scenery remain pretty consistent, the marshy lake to my left and either cane fields or trailer parks to my right.
I get to Pahokee early and resupply at a Dollar General at 8am. I buy extra food so that I can mail it forward to myself at River Ranch Resort. I also order a SMD Serenity Net, which is a bathtub bug net that I can use instead of my current setup. I jump back onto the levee and continue on the paved surface all day. In the early afternoon there is a day use park off to the right of the levee. I instantly spot an area of flat trimmed grass and decide to call it my campsite for the night.
There are families around picnicking so I wait to setup until later in the day and spend some hours napping on concrete benches. Setting up at 4:30pm, by 6pm once again thousands of mosquitoes are out and hundreds are resting on the outside of my net waiting for a chance to bite me. Thankfully my setup of the shelter this time is successful. I am able to sleep soundly for the first time in two days but my moral is low since I've been hiking and suffering alone.
I start hiking before sunrise and the day proceeds like those before it. Up on the levee walking in the hot sun, alone. The one bit of entertainment are all the different types of birds I see flying around. Once again I see many cranes and hawks about. I also run into an armadillo wandering around on the side of the levee. It doesn't realize I'm there at all and walks right into my foot as I'm taking pictures.
The day drags on and I take a break in the afternoon under a large bridge crossing. My feet are beginning to rub raw, I have some sun rash and I made a bad choice by popping one of the blisters that had formed on my right pinky toe. To my surprise Rambler caught up to me as I was lounging there for one hour. He tells me of his plan to hike 7mi(11.2km) to J&S Fish Camp so that he can grab a cab to Okeechobee. I'm in inspired by Rambler's idea and the thought of sleeping in a hotel for a night or two.
I start to head off at a blistering pace leaving Rambler well behind along the levee. I turn my music full blast and try to zone out. I want to make it to the highway before the sun sets to increase the chance of a cab or Uber willing to come out and grab me. Near the end I begin to jog in desperation as the hours slip by and my legs are now completely shot. Finally the fish camp comes into view after passing a lock. Checking the Uber app it seems like I can't find any drivers and the two local cab companies do not pick up their phones.
Completely beaten I walk around the fish camp. According to Far Out comments it is supposed to be closed today but I still head over to the bar. It is very much open with three locals in there, drinking and relating stories. I walk in to some strange looks and they ask me what I'm doing. I tell them that I hiked from Miami and that I was looking for some help either getting into town of finding a spot to sleep for the night. I get mostly empty looks but one patron turns around and offers to take me in his truck. He is completely drunk and I tell him I wouldn't feel comfortable with him driving. Instead he offers me a spot to sleep in his trailer. I immediate accept the offer, wait for him to finish his beer and head off with him to luxury.
The man's name is Lenny and he lives alone with his dog, Freckles, in a fairly small trailer. He lets me launder my clothes, take a shower, and eat anything I want. Walking around barefoot in his trailer he spots my feet. At this point they are swollen, covered in hundreds of mosquitoes bites, discoloured from sun rash and beaten by the little jog I'd done earlier. He begins to tell what a sad state I'm in and insists on treating my feet. The next three hours he has me doing foot soaks, applying O'keeffe's lotion to my feet and Jergen's lotion to my legs. Lenny continues to drink, smoke pot and take some nondescript pills all the while blabbing about USA conservative/Fox News talking points. Despite all the kindness he shows me he also reveals his deep inner rotten hatred stemming from his ideology. He plainly tells me at one point that I only am receiving this kindness since I'm a white man, while not knowing that I am also half hispanic. I keep my mouth shut and just accept the good grace given. At point in his stupor he forcefully offers to apply lotion to my feet himself. Laying on the ground, my foot in his lap, Lenny begins to expertly massage O'keeffe's lotion onto my withered feet. Unprompted he begins to assure me that he is not a homosexual and that he is really just worried about the condition of my feet. This process of foot care extends past midnight before he finally retires to his own bed and I fall asleep on a large lazy boy in the main room.
I wake early and book a motel in Okeechobee 10mi(16km) away for two nights so that I can take a zero day and further baby my feet. I make myself an egg breakfast and wait for Lenny to wake up so I can say a brief goodbye. He wakes around 9am and will not let me leave unless I take some medical supplies for my feet. To appease him and make my escape I take the remaining O'keeffe's, the large bottle of Jergen's, a tiny tube of Neosporin and a sandwich-sized bag of bandages.
Finally free and back on the paved levee, my feet feel almost brand new! After four hours I arrive at the motel and pass out in the room. I send a message to Goose since I figure he must be less than a day behind. Getting more people in the room would lower the overall cost. He is just a few hours behind me and is bringing another hiker, Peacock.
I take a shower and slather lotion all over my legs and feet. Peacock and Goose finally arrive and we catch up on everything that has happened over the last few days. Peacock was also there the night with all the mosquitoes and he had suffered a similar, but not as brutal, series of events as I did. He was planning on quitting the FT the following day but he was still unsure. Goose and I tried to encourage him to stick around.
For dinner we split a few large pizza between us and watched The Shining on TV. Well relaxed and knowing that we would not do any hiking the following day we stayed up late just chatting.
The first zero day on trail. This means no hiking for any of us. We hang our gear on the railings outside our room to dry, Goose spends time drawing, I spend time reading my tsumego book, and Peacock has a virtual session with his therapist. My package of the new bug net has arrived but the post office is quite far away. Unable to get an Uber or cab again I talk with the owner of the motel and he offers to drive me. He is a Polish immigrant living and operating the motel with his wife and kids. Previously he had worked at the motel under some visa scheme but then he was able to purchase it himself. Unfortunately the purchase coincided with he start of the COVID pandemic so he has been having some rough times. I grabbed my package and we drove back.
Everyone was still lounging around and Peacock let us know that he would be quitting the trail. We go to lunch to a local place called Ding A Ling Deli. Easily the worst food any of us have ever tasted. The day passes with more conversation and lotion application.
Grabbing some breakfast in the early morning from the nearby gas station, Goose and I planned to hike out at 7am. Goose did not charge his electronics the night before so we are held up for two hours before getting back to trail. Saying our goodbyes to Peacock, we finally get moving.
The trail eventually leads us off the paved levee, as we have now completed the east side of Lake Okeechobee, and onto gravel roads. I fill up on water near a lock but half a mile later there is a water cache which I use instead. We pass two other hikers, Pine Needle and Farmboy.
The day proceeds uneventfully until along a road walk a truck pulls over to us. The lady inside asks if we are hungry and we immediately answer in the affirmative. She has two large pieces of bread pudding for each of us! Shortly after that we pass a house and a dog comes bolting towards us barking murder. Goose spins around with his trekking pole and yells 'GET THE FUCK BACK', successfully confusing the dog for a few moments as his owner who was nearby calls it back.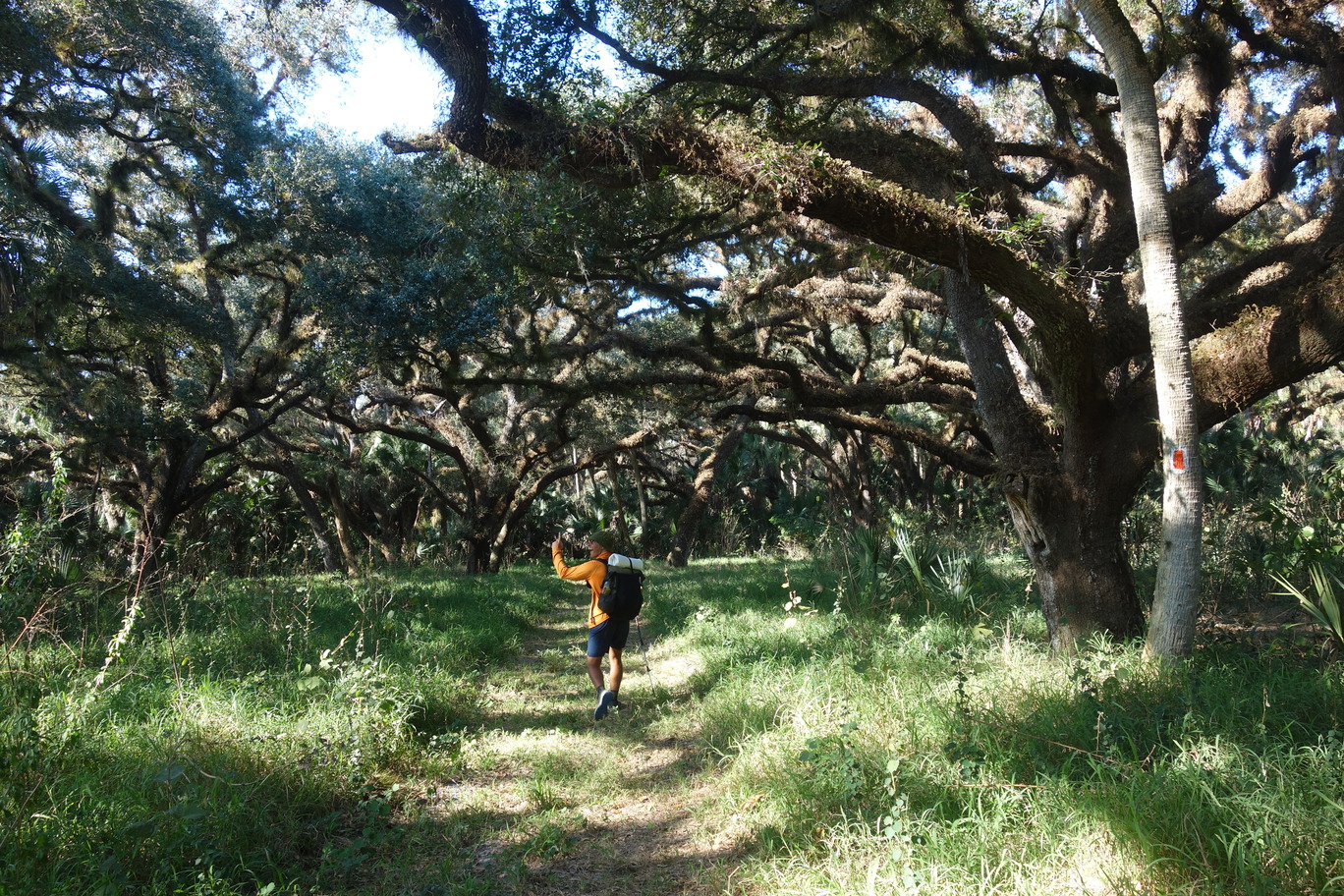 At the very end of the day we finally see the first bit of actual hiking trail since Big Cypress. The area is beautiful, covered is lush palms and live oaks. We camp under a pair of live oaks and my new bug net works perfectly to give me a good night's rest.
The hiking trail doesn't last very long as we are put back onto roads. Passing over a bridge I spot a massive alligator roughly 15ft(4.5m) long. Calling Goose over and trying to get my camera, it gets skittish and dives into the water. Goose gets a glance of it but neither of us were fast enough to snap a shot of it. The road walk continues and we pass multiple water caches throughout the day. We do enter a very short section of swampy trail that is quite fun and not well marked before being spit out again on the road.
We arrive at the Micco landing trailhead, Goose insists that we backtrack and get some food at a local shop. Walking back a mile or so along the road we arrive at this place called Cracker Trail Country Store. Essentially a gas station but they have a hot food section in the back. Here we find Pine Needle and Farmboy again with another hiker named Rainbow. I buy a cheeseburger, spaghetti and meat sauce, a banana and then a little bit of junk food for resupply. Rainbow had bought jalapeño poppers and couldn't finish them so Goose and I split the remaining bunch.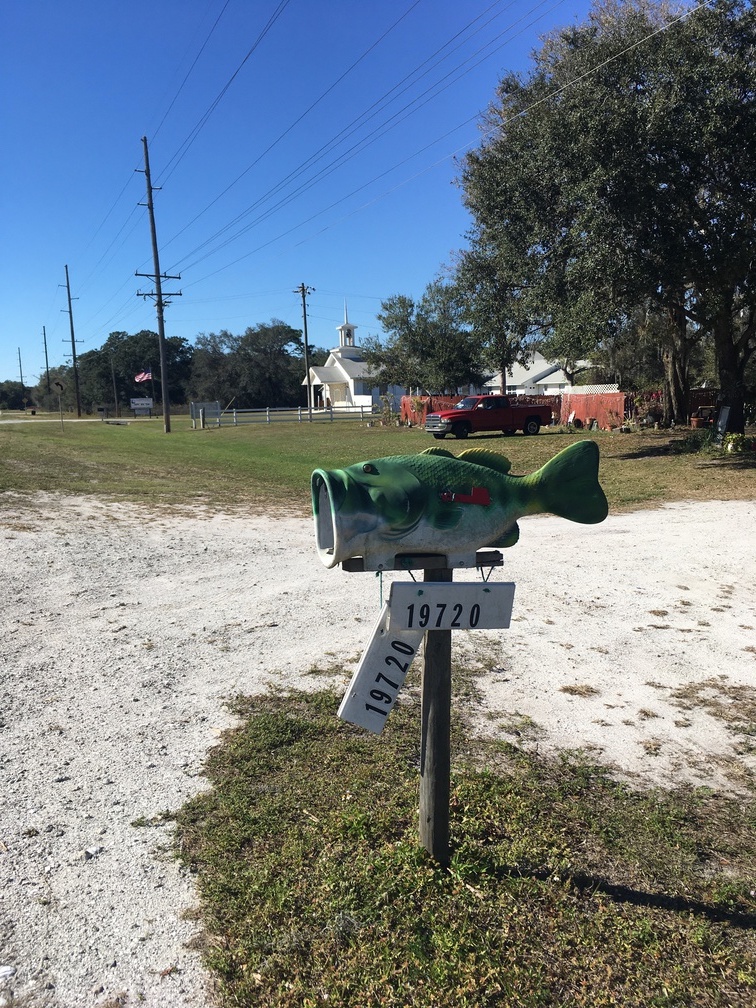 After being throughly fed I managed to convince Goose that we should just end the day early since there was a campsite just at Micco landing. He capitulated so we backtracked back to the trail to the camp. There was a camper already there with his dog and he was fine with us camping out. Rainbow caught to the camp and Boots was there too! Talking with Boots, I hadn't seen her since the second day of hiking. She was apparently having a really bad time due to feet issues and she was getting off trail for a week or so to recover. The man who was camped there offered Goose and I some cooked hamburger meat, which we graciously accepted.
Once again setting up my new bug net early before the swarms came in worked perfectly and I had another peaceful night.
Today was filled with a lot more trail than we've seen previously and that was great. Early in the morning we caught up to Rainbow who was stopped along the trail and warns us that there is a boar up ahead. We try to shoo it but it doesn't seem to care. Eventually we go closer to inspect what is going on and it turns out to be already hogtied up and left alone. Hopefully the hunter will come back to release or put it out it's misery.
While walking on a connector gravel road to the next section of trail a truck pulls over. They offer Goose and I us two fruit cups each and let us return the trash! Upon reaching the trailhead we see Pine Needle. He is flustered and tell us he is getting off the trail. Rambler had apparently tested positive for COVID, was still on trail and Pine Needle has a sore throat thinking he had been infected by a close encounter with Rambler. Yikes.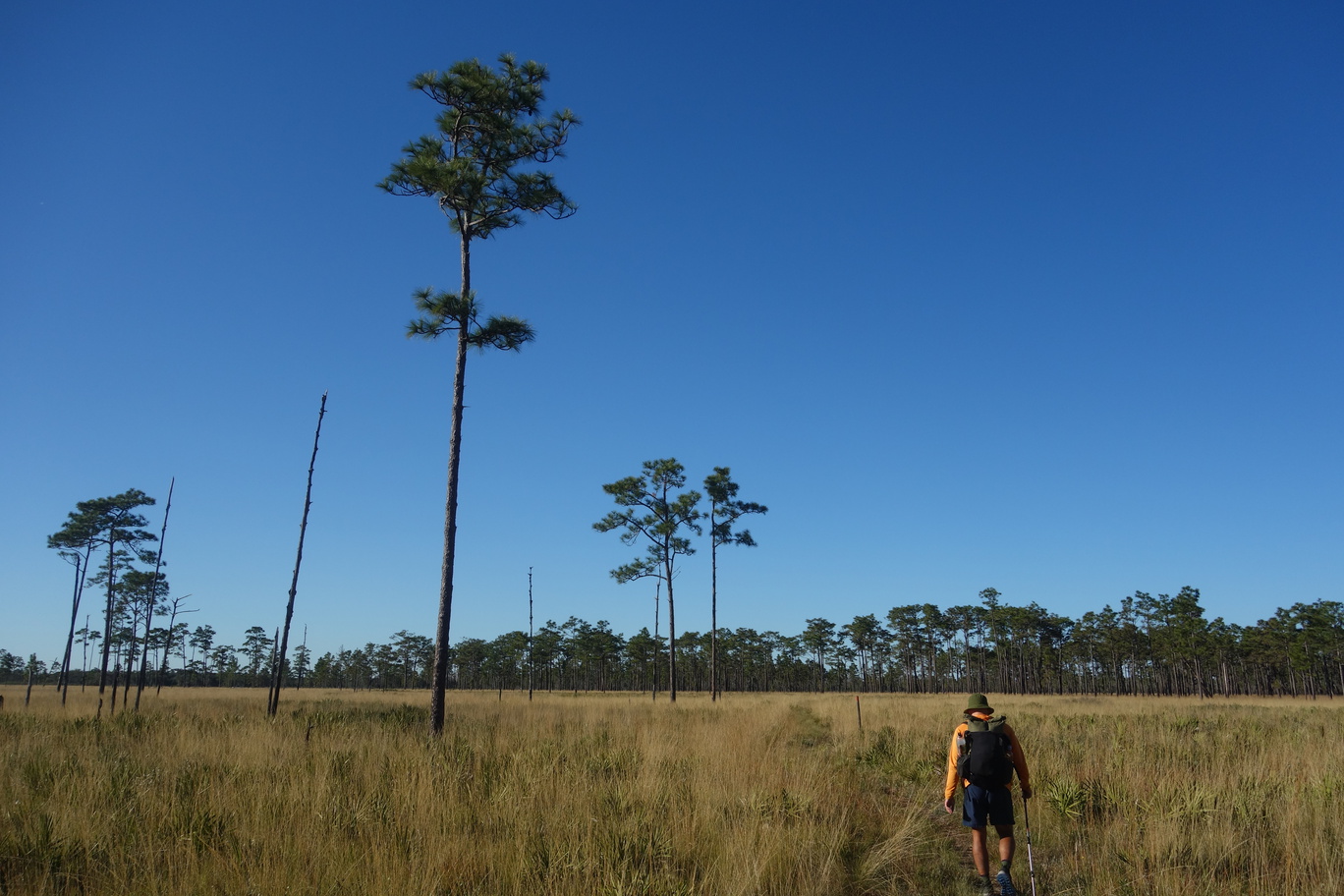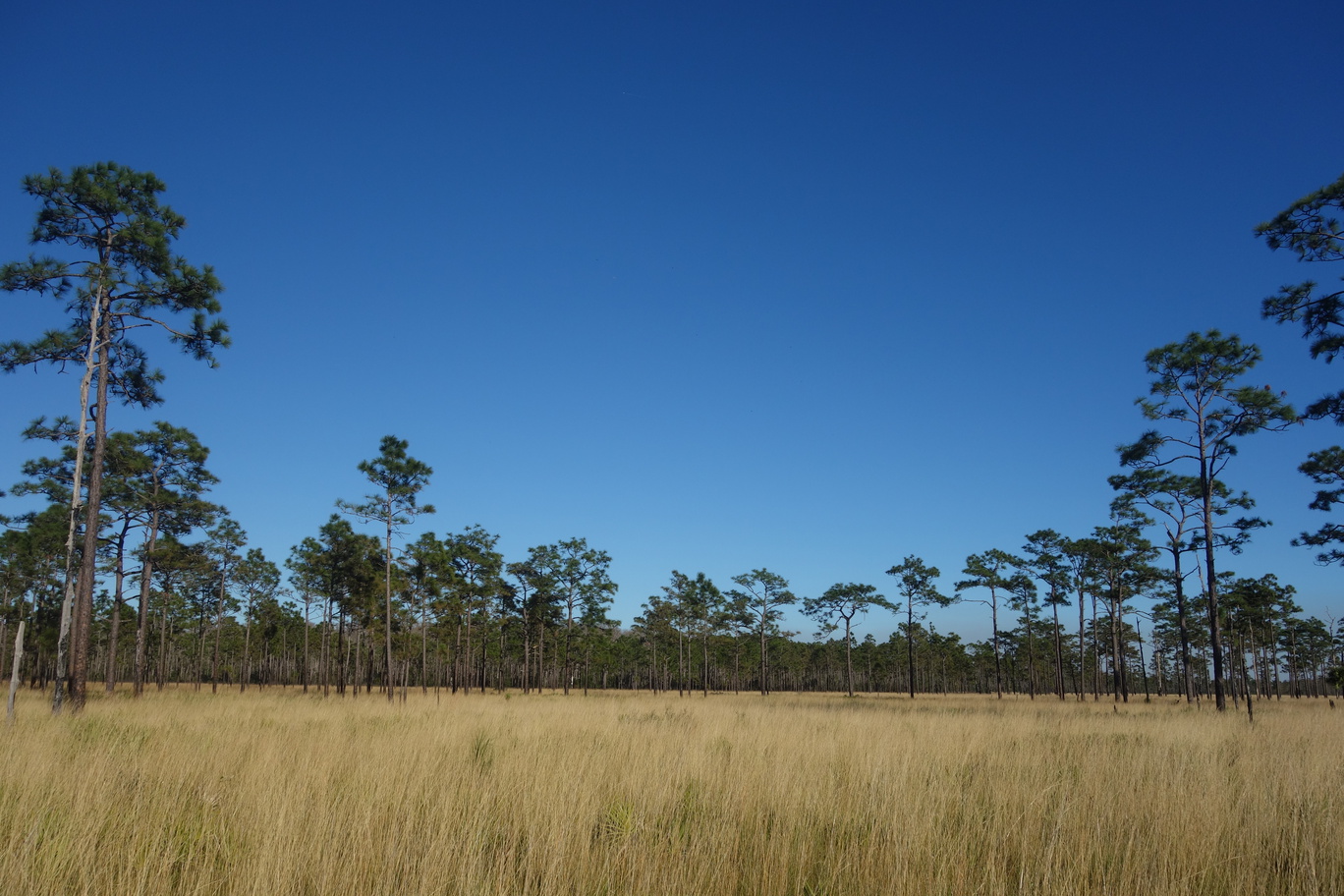 We finished the day by hiking to the edge of the Kissimmee park boundary and camping alongside Rainbow. There is rain scheduled for the following day.
Goose and I decide to start early to hopefully reach some shelter before the rain dumps on us. We make good progress and enter the beautiful fields of the Kissimmee Prairie Preserve State Park. Despite our wishes it begins to spittle for half an hour before pouring rain from the heavens. We manage to do 12mi(19.2km) before 10am and arrive at the Kissimmee campground. We hide inside a bathroom for a few minutes as we try to figure out what to do. Eventually we go over to the main office and we see hiker packs leaned up against the wall. Going in we find that Shortcut is here! The staff in the office are super kind, letting us stay inside the building to wait out the rain and allowing us to leave gear outside to dry.
In the meantime as it continues to rain Goose and I are able to launder our clothes and take showers using the facilities. Rainbow and Farmboy eventually catch up and all five of us sit indoors relating stories to pass time. Unfortunately for us it was a weekend so the office was closing earlier. The head ranger warned us that due to the rain we could expect chest-high water for the section of trail we would take to leave the preserve... At 2pm we were kindly forced back outside but with good luck the sun began to peek out, the rain stopped and the conditions were perfect.
Rainbow and Farmboy decided to stay behind and split a campsite, so Goose, Shortcut and I left together to reach a camp near the northern boundary of the park. Though the trail was flooded at points we came no where near chest-high water... The campsite was under some live oaks and had a pitcher pump that we could drawn sulphureous tasting water from. I set up my shelter well before dusk but Goose insisted that he'd be able to cowboy camp. Sure enough at 6pm the skeeters were out and Goose had to get up to quickly deploy his bug net.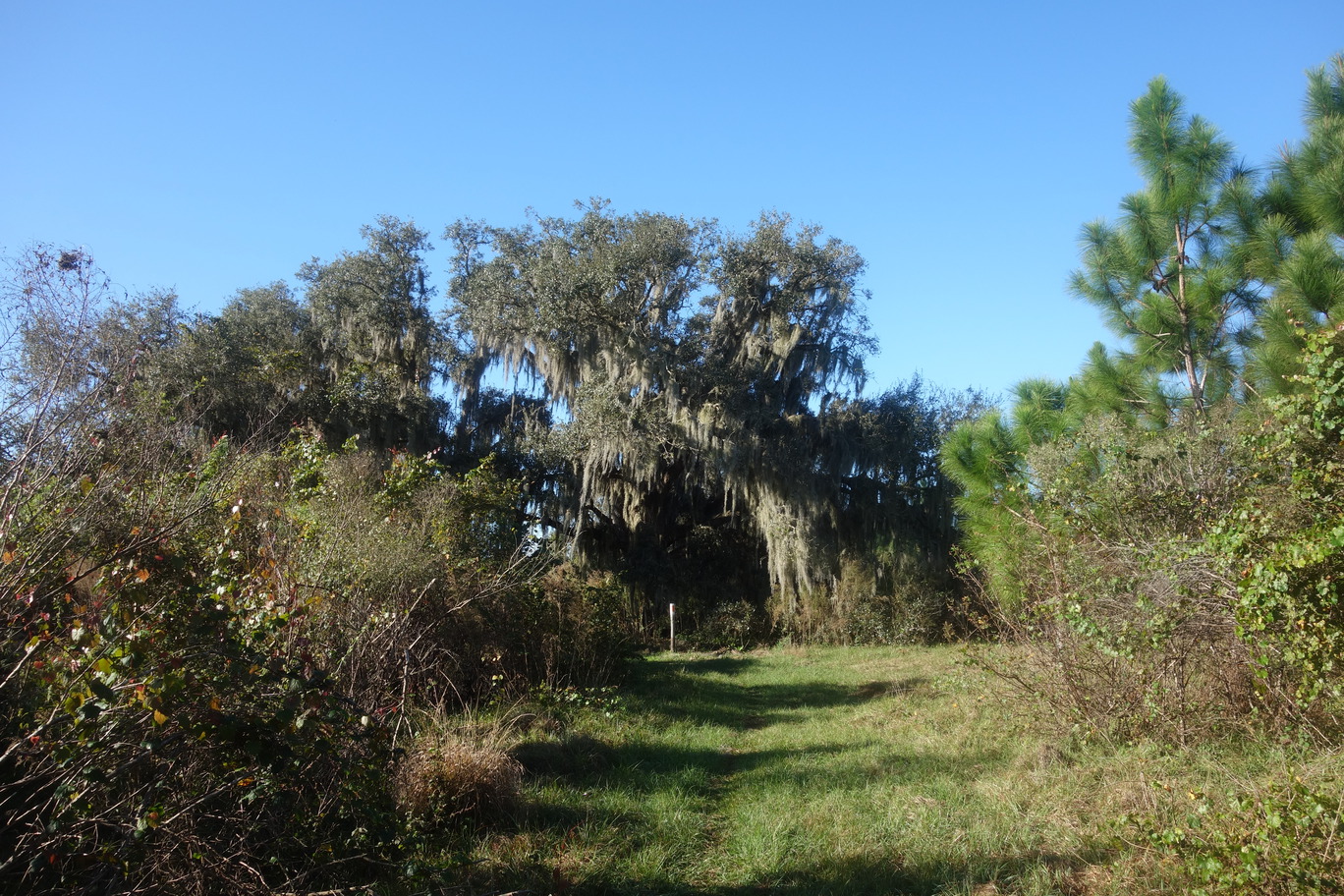 Waking up early again, Goose and I began to race towards our next stop which was River Ranch Resort. Along the way we crossed over a lock and chatted for a few minutes with the lock master who was living out there alone. Continuing on at fast pace we passed through fields of roaming cows and prairie landscapes. Eventually reaching River Ranch we were met with a very upscale resort with everyone driving around in golf carts to get around the huge complex.
Our first priority was to pick up the resupply boxes that we had shipped to ourselves here prior. Getting mine was no issue but Goose's was still in back room storage and it would be a few hours before it could be processed. To kill time we went over to the general store and each bought a large pizza. I ended up eating all of mine while Goose packed out 4+ slices. Eventually Shortcut caught up to us and we spent a few hours in a library so that we could charge our electronics. Goose and I played a game of chess which he won due to a blunder of mine. Reversing and playing from the blunder I was able to gain a false win to mend my ego a little.
A friend of Goose's, Noel, that lived in Florida drove to meet us, bringing us a bunch of fruit to eat which was very nice. As the day wound down, Noel offered to drive us back to the trail. We were followed out by security because I suppose a bunch of homeless looking hikers was not the usual clientele. Making it to trail, we hopped over a fence and just setup camp under some oaks. This time Goose set up his bug net from the get go and we had an excellent night with the full moon shinning bright.
Another big road walk ahead of us and the campsite ~31mi(49.6km) away, the day passed fairly slowly. The temperature was fairly cool all day which was a change from the sweltering heat we had been having every day since. We entered and camped within the Three Lakes Wildlife Management Area. My stomach wasn't feeling so good and we went to bed for the night. Shortcut catches up a few hours later.
Today was warmer as we headed out. We passed an exotic animal enclosure and caught a glimpse of a male lion. While walking through the tall grass we came across a cotton mouth and a pygmy rattlesnake, both too close for comfort. Today we did ~27.5mi(44km) and by 5pm we reached Three Lakes Campground which already had a few hikers setup. Stink Pickles, Frisbee and Weelo were all hanging out. This time Shortcut catches up just before everyone passes out for the night.
The journal continues here for day 16-30
---
---
Need professional help planning a trip or want a guide? Click here!
---
If you would like to signup to get a notification when the next article is out enter your email below: