Matt and I continue forward with Kennedy Meadows South in our sights. The entrance to the Sierra is so close we can taste it. We reach the general store around 11:30 and decide to take a nice long break.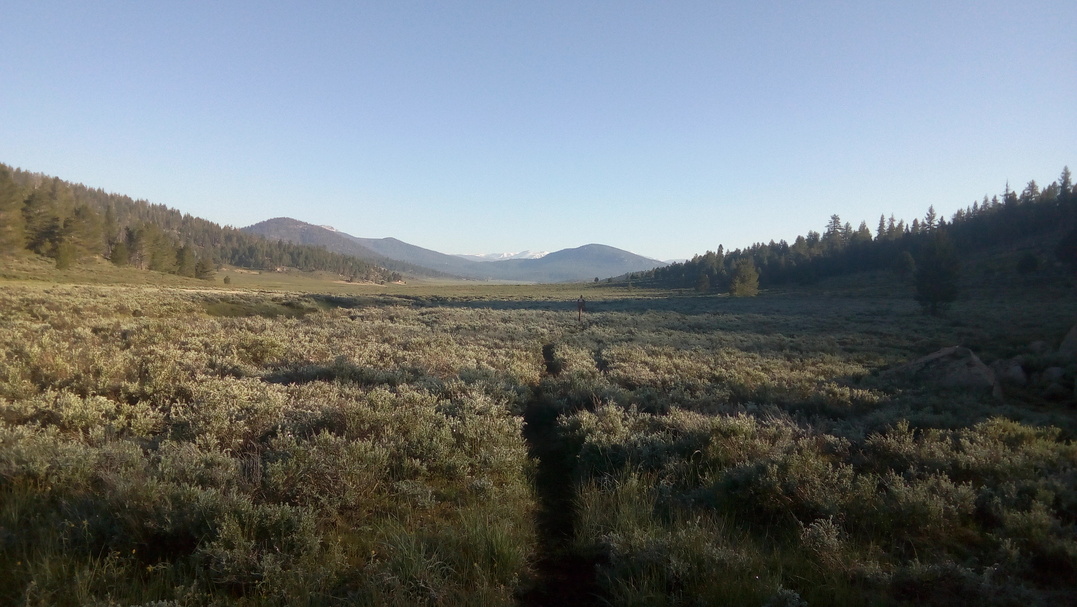 I collect all the gear I'd shipped from San Diego and try to pack it away. It's tricky but I manage to finesse my bear can and the rest of my gear snuggly into my pack. I manage to break the ice axe loop on my bag and end up just sliding into the back mesh pocket and holding it in place with some webbing straps. The general store has a large patio and about 25+ hikers lounging about. I eat two large burgers and split a six pack of beers with Matt. Matt gets a text from Ari saying that she turned back to Walker Pass to go town to seek medical attention!
At about 17:00 we decide to get off our butts and continue the hike. We do about 10 miles(16 km) to arrive at nice camp spot. As I am unpacking, my DEET bottle leaks everywhere. My passport, trail notes, battery bank, charger, swiss army knife, head net and sleeping pad all get coated in DEET. The sun sets as I frantically try to wipe everything down. During the night the DEET has a detrimental effect on my sleeping pad as it continuously deflates through a section of thinned out plastic.
Without much good sleep myself, Matt and I head off for a planned 33 mile(53 km) day. We do over 7000 feet(2133 m) of climbing and begin to run into large swathes of snow in the afternoon. Water becomes abundant and we no longer need to carry so much. In fact I'd left two water bottles behind at Kennedy and now only had 2L capacity.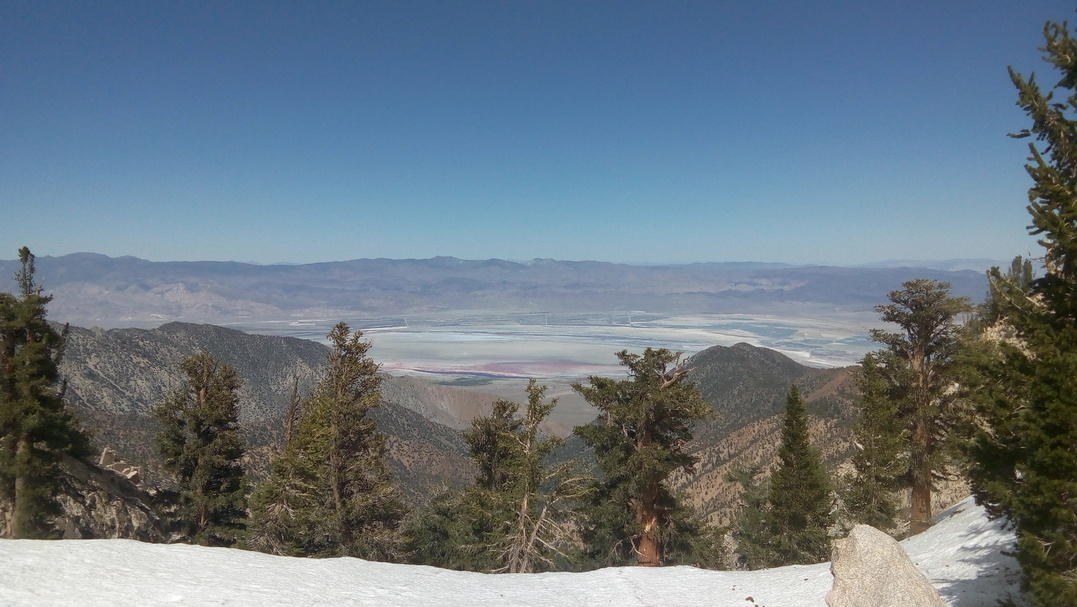 My pace slows down substantially near the end of the day but we reach our goal in the evening. I join another group of nearby hikers at a campfire to warm myself up. Before sleeping I try to patch my pad with some tape that Matt lends me. It barely works and I resort to waking up every hour to re-inflate the pad underneath me.
Today marks the last day with Matt. I plan on doing a side trip to climb Mount Whitney but Matt has already done it so he will just continue forward on the PCT. The snow starts becoming a constant obstacle and takes the energy out of our stride. We manage to do 24 miles(39 km) to the Whitney junction. After a short goodbye I jog off to catch up with two other hikers.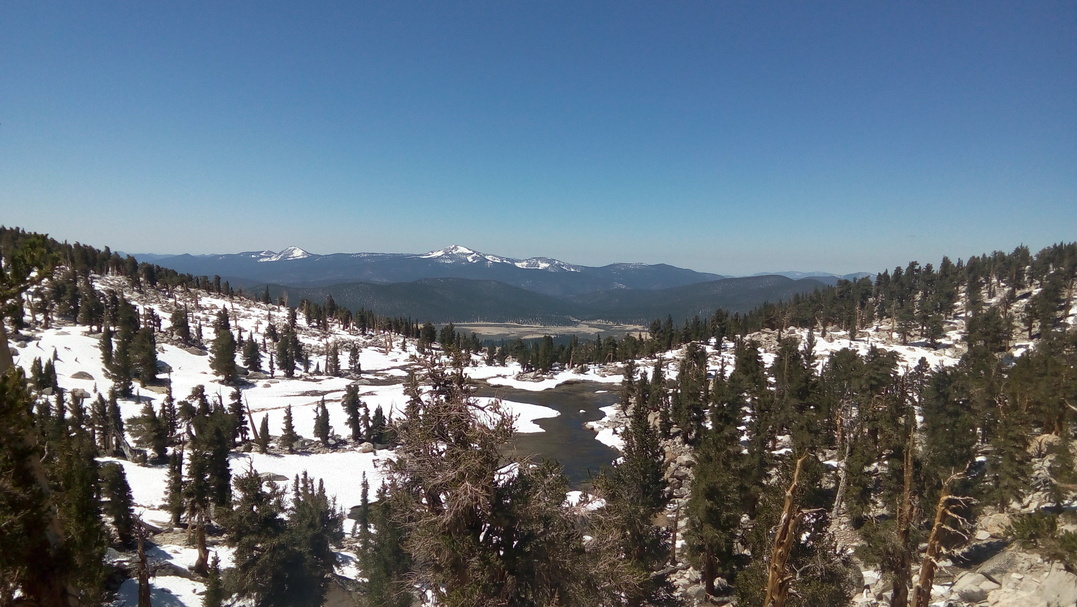 To reach the camp spot before Whitney I come across my first river crossing. There are about six other hikers and they try to find a good spot to cross. They take off their shoes to cross which is like breaking rule number one of river crossing. I cross behind them easily with water coming up to my knees.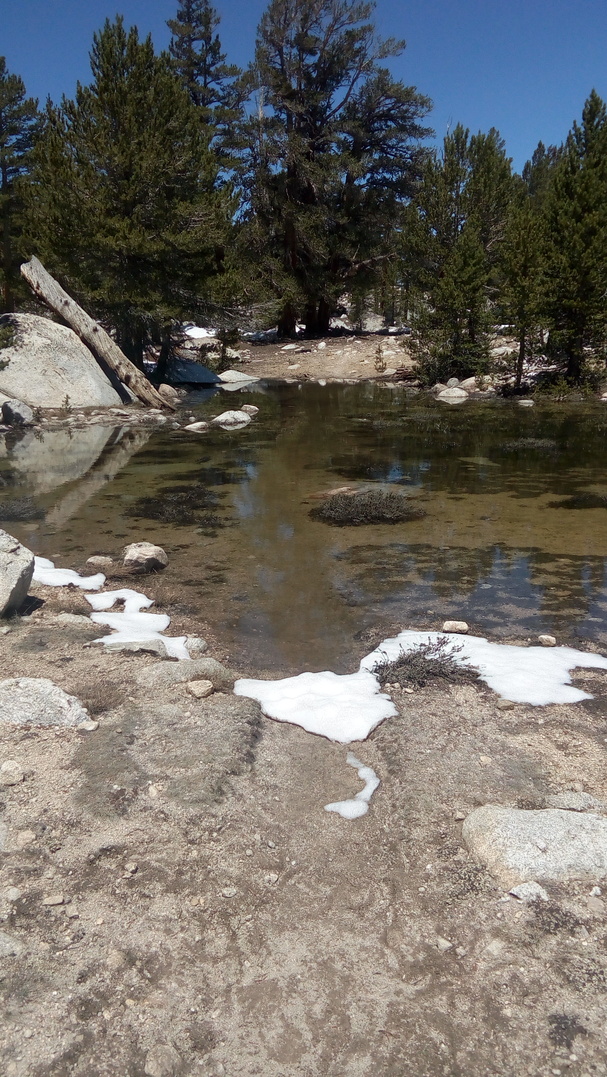 At camp I join Oliver from Seattle and The Kid from Texas. We decide to team up for the Mount Whitney ascent later that night.
With an alarm set, the three of us wake up at midnight. The goal is to be at the top of Whitney for the sunrise. Headlamps on, we head out and immediately have to cross a river ensuring our feet are freezing cold for the whole ascent.
In the pitch dark we make our way towards Guitar Lake, often seeing other hiker's headlamps off in the distance. We make the mistake of following another group to an impassable section. From that point I just take the lead and follow some boot-pack up a steep snow climb. We all made good use of our micro-spikes and ice axes. After what seemed to be ages of climbing up snow we began to hit some of the switchbacks on the mountain's face. I began to pick up speed and left my two companions behind which allowed me to be the first person to summit!
I arrived at 04:20 and was met with darkness plus a bone-biting wind. As other hikers began to arrive I realized my mistake of not bringing my sleeping bag to cuddle inside as I waited. I put on as many layers as I could and resorted to doing a small standing dance for the next hour to stay warm. At around 05:30 the sun rose and it was well worth it. This is the tallest mountain in the contiguous United States at 14505 feet(4421 m)!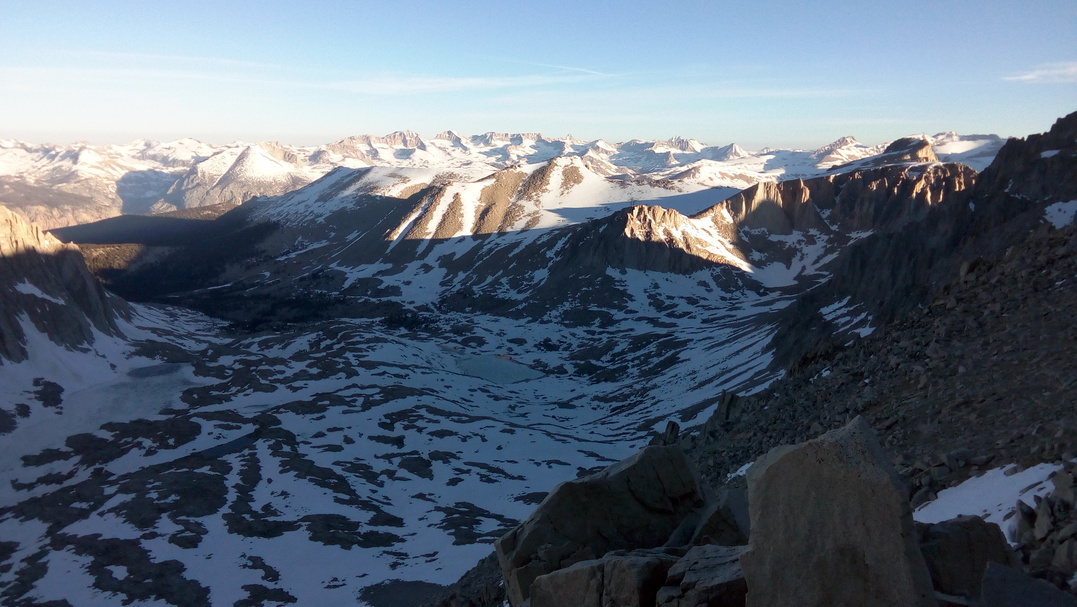 On the descent we realized what a silly route up we had taken in the dark. There were switchbacks and exposed trail sections we completely failed to see. Arriving back at the same camp spot as last night we take a midday siesta to recuperate. The local ranger comes over to chat to us and check our permits. He warns us of the swollen rivers that we will find as we continue to enter the high Sierra.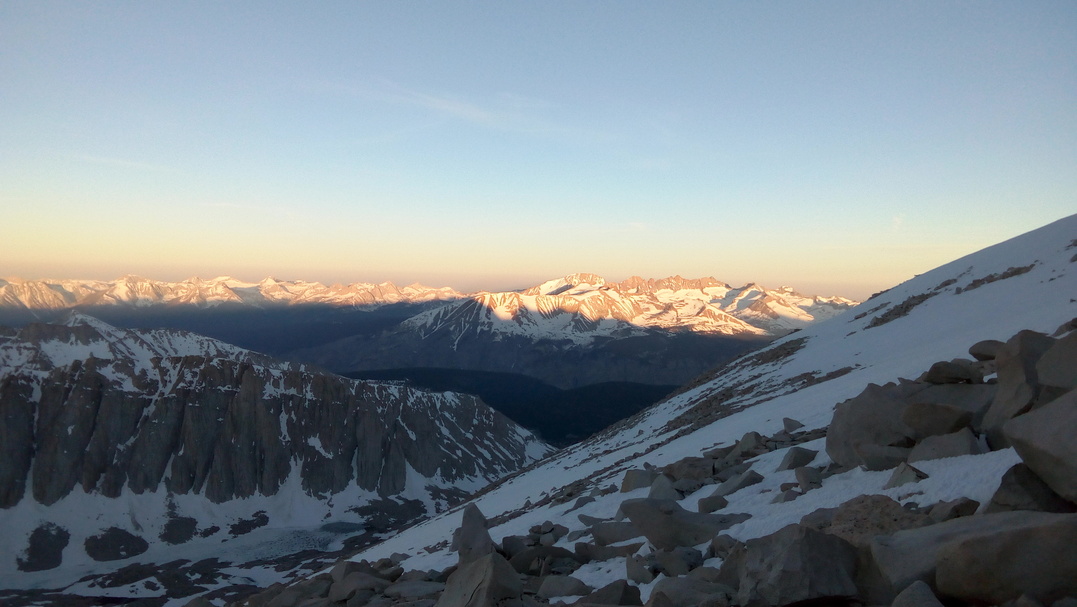 We continue back to the PCT and on for some miles in the early afternoon. We come face to face with three such rivers on our way to our camp spot. There is another hiker, Justin, at second river who is waiting for hikers so he can cross safely. I decide to cross by butt scooting across a wet log over the river. The others decide that's too risky and cross upstream while holding on to some vegetation. Justin asks us to wait for him at the next crossing.
Before the next river we pass a couple going the opposite way. They say the river was too hard for them so they were turning back and getting out. They had tried the day prior with no success and even camped at night to try in the early morning. Arriving at Tyndall Creek in the evening was a sight to behold. The waterway was swollen with snow melt and it was raging down. I took off my pack to test a crossing and it seemed okay. Pack on I tried again and almost was washed away near the end, the only part I'd not checked. On my tippy toes with water well above my waist and leaning forward I'd to make a short hop to the edge to grab onto some shrubs and pull myself to the shore. Justin and my two other companions watched with eyes wide open. They decided to follow and I provided an anchor point to yank them in as they came across. The other guys had a better go of it by walking up a few more steps in the middle of the river. Once we were all on the other side not much was said as we each processed the danger we had just over come.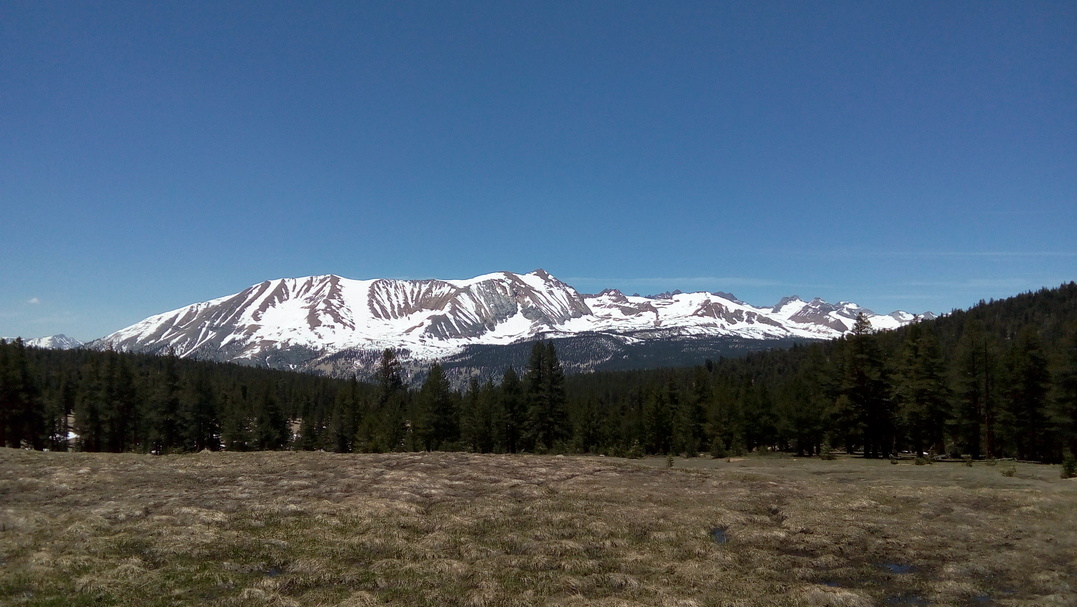 Thankfully the camp spot was just half a mile away from where we decide to cross. We didn't have much sun left in the day to dry ourselves out so I'd wet shoes and socks to look forward to in the morning. We were set up under 4 miles(6.4 km) to Forester Pass which would would try and climb before the sun peaked over the mountains.
When I woke my shoes were frozen solid and I couldn't open them to put my feet in! Waking up in the dark at 04:00 we packed our gear up and hit the trail at 04:30. Progress was slow and we continually lost the boot pack. The trail was completely covered by snow and the footprints of previous hikers were scattered at best. Eventually the sky became brighter and as we ditched our headlamps we began to approach the pass as a steadier pace.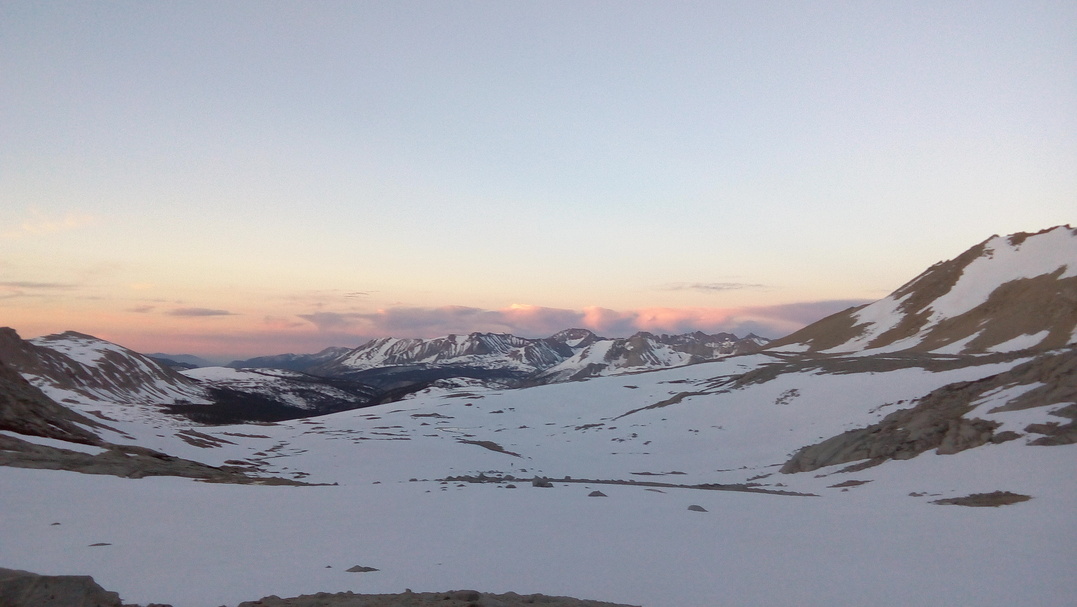 Coming up to Forester Pass was breathtaking. It was a shear dam of snow and rock blocking our forward progress. With ice axes out we followed boot-pack straight up a wall of snow and ice to join a little patch of exposed switchbacks near the top. Crossing the main chute with nice deep snowy footholds and then summiting was an amazing feeling of achievement. We had conquered the first mountain pass of the Sierra. Also worth mentioning is that this pass was the highest point on the entire PCT at 13153 feet (4009 m) providing an entrance barrier between between Sequoia National Park and Kings Canyon National Park.
We took a short snack break at the pass and then began the long snowy descent. We found some steep glissades and took them slowly with our ice axes out. Continuing to hike we eventually descended below the snow line and found a good camp spot. It was only the early afternoon but we settled in for the day. Once again we were set up up for the next pass tomorrow which would be Kearsarge.
Getting us on schedule, we awoke again at 04:00 to hit the trail at 04:30. Taking the Bullfrog Lake path we made our way to Kearsarge Pass. Everything was snow covered and we were beginning to become more confident getting across the endless sun cups. Coming to the top of pass we could see all the way down into the valley where the next resupply towns lay. It seemed like a different world, tan brown and flat. Hiking down the other side of the pass was beautiful as we weaved down through trees and past un-frozen lakes.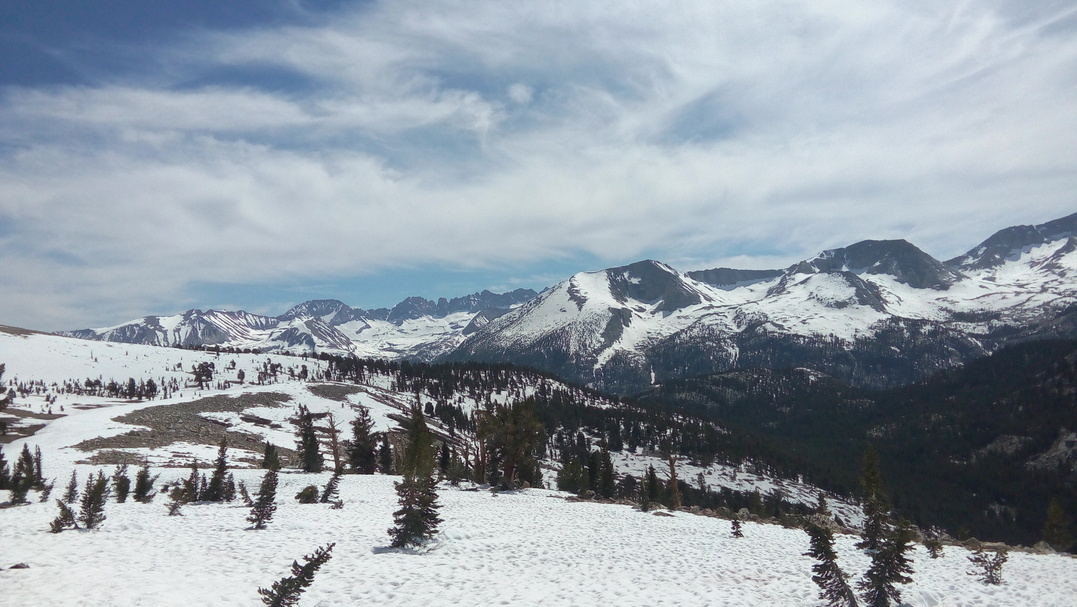 We exited at a campground but we were still over 15 miles(24 km) and 9200 feet(2804 m) away from the main highway that we would hitch from. While waiting with Oliver and The Kid another American hiker came down as well as a Polish couple. We sat and hoped for a ride when finally a man drove by with a huge converted van that could fit all of us inside. He drove us down to Independence and then we tried to hitch to Lone Pine. There was a supposed buffet-pizza place that we wanted to go to.
Eventually a local leaving a gas station gave us a ride in his pick-up truck. Upon arrival at Lone Pine and the subsequent access to WiFi, we discovered the buffet-pizza place no longer existed. We opted for McDonald's instead and I ate six McDoubles while we charged phones and debated our next move. Matt emailed saying that he had bailed from the Sierra. After crossing Tyndall Creek solo he decided instead to jump forward up to Sonora Pass. This caused the three of us to worry about whether or not we should risk continuing forward ourselves. After about an hour of discussing we all agreed to re-enter the Sierra to give it our best shot and to turn around the moment we felt in danger.
With renewed morale we started our town errands. I went to the gear store to buy patches for my sleeping pad as it was still deflating every thirty minutes during the night time. I also threw away my water filter and opted for a Sawyer Squeeze inline on my water bottle, being inspired by both Matt's and Ari's set up. The grocery store was next with slightly inflated prices but a good selection.
The hitch back out was tough. We waited along the single two-lane highway for about forty minutes until finally an older gentleman picked us up. He was actually a PCTA volunteer who worked at Red's Meadow which was to be our next resupply point six days from today. Back at Independence we had another tough time trying to get a hitch up the mountain. After about an hour of waiting, Oliver and The Kid managed to chat up a local taking his dog for a walk and convinced him to drive us up.
Upon arrival we hiked back up the mountain and camped right beside the lake. At camp I'd an unfortunate incident where my hand sanitizer bottle leaked over all my hygiene gear... The wind blew all night and I experienced my only cold night on trail.
From the lake we climbed back out and over Kearsarge Pass with only a few miles to get to Glen Pass. The approach was 100% snow covered and non-technical. It took us awhile but we reached the top without too much effort. The descent was another story...it was very steep and slick as it sat in the morning sun. There were many footprints dug into the snow to follow but almost all had been slid through, providing unstable footholds. I fell three different times with one of them prompting a semi-self-arrest with my ice axe.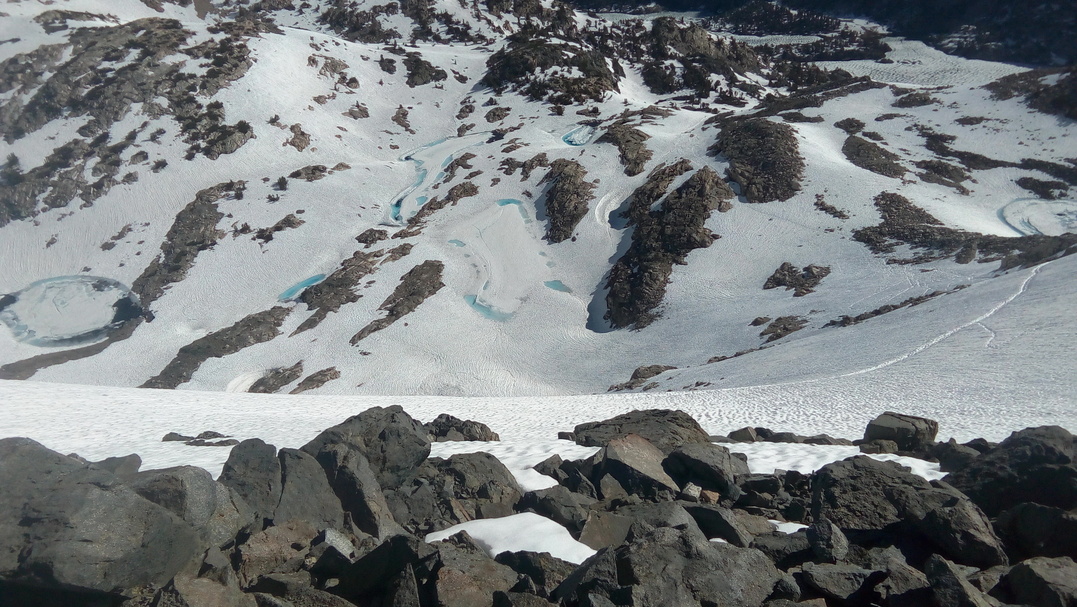 Once again we descended below the snow line and our pace picked up. There were a number of river crossing but none provide much resistance. Thankfully we were able to take advantage of some logs to cross and we reached all rivers early in the day. Once again we camped in the early afternoon, set up a few miles before tomorrow's Pinchot Pass.
Pinchot Pass was another easy pass, just a very long approach and sustained climb. During midday we took a detour to avoid a double crossing of dangerous river. Setting up camp around the early afternoon we planned to tackle Mather Pass tomorrow morning. I was a little nervous about Mather due to comments from other hikers mentioning avalanches and tough technical rock scrambles. Also Clax had warned us at Casa De Luna that Mather was the toughest pass last year on the PCT. I slept uneasy with night terrors of falling down the face of the mountain.
As we approached Mather at dawn it seemed very reminiscent of Forester Pass. Taking advice from some hikers camped near the base of the mountains, we decided to take a path along the left face despite the PCT going on the right. First there was a vertical climb on snow which had me using steps cut into the ice wall. Despite the verticality, it was quite easy with the ice axe handy. After climbing straight up we came to an exposed rock section which we traversed without any trouble. This was followed with another vertical snow scramble then a few exposed actual switchbacks. Finally it topped out with a shallow snow ascent to the top. All in all I never once felt scared and actually preferred the technical climb versus the boring and long climbs of Glen and Pinchot.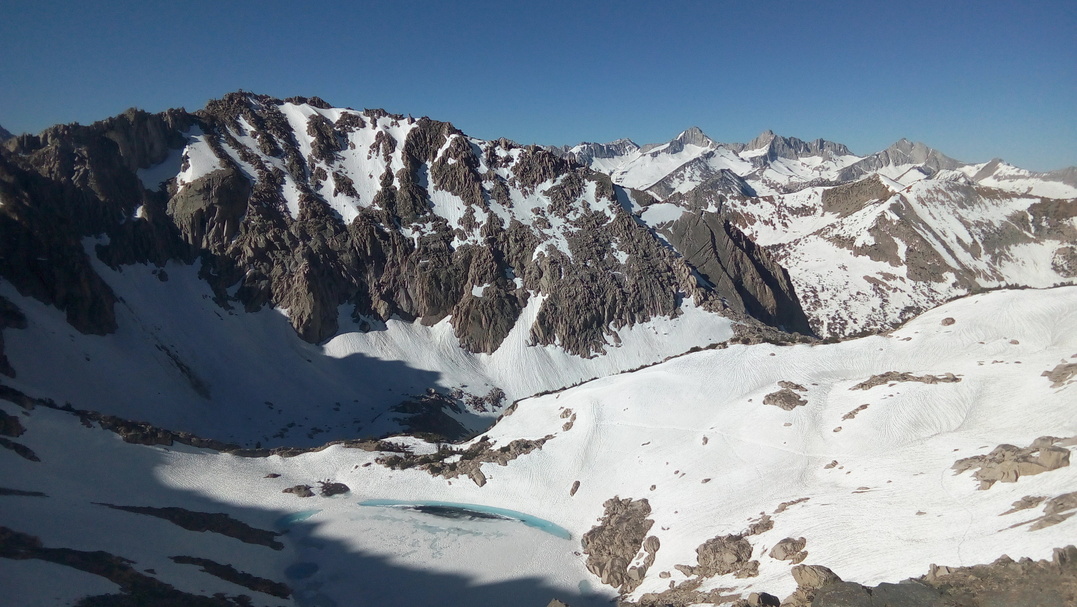 From the top of the pass we dropped in a gorgeous forest valley and trekked on to complete a 20+ mile(32 km) day. We camped very early again and were set up up for Muir Pass tomorrow.
---
Want to keep up with projects I'm working on and adventures I'm sneaking off to?
At most one newsletter per month with love from Lucky Hat/Packmule/Alessandro.