Without much planning and just going on the recommendation of hikers that I had met on the Florida Trail, my time hiking across Arizona was spectacular. I delayed the start of my trip to avoid very cold temperatures and I finished fast enough to avoid some unexpected forest fires.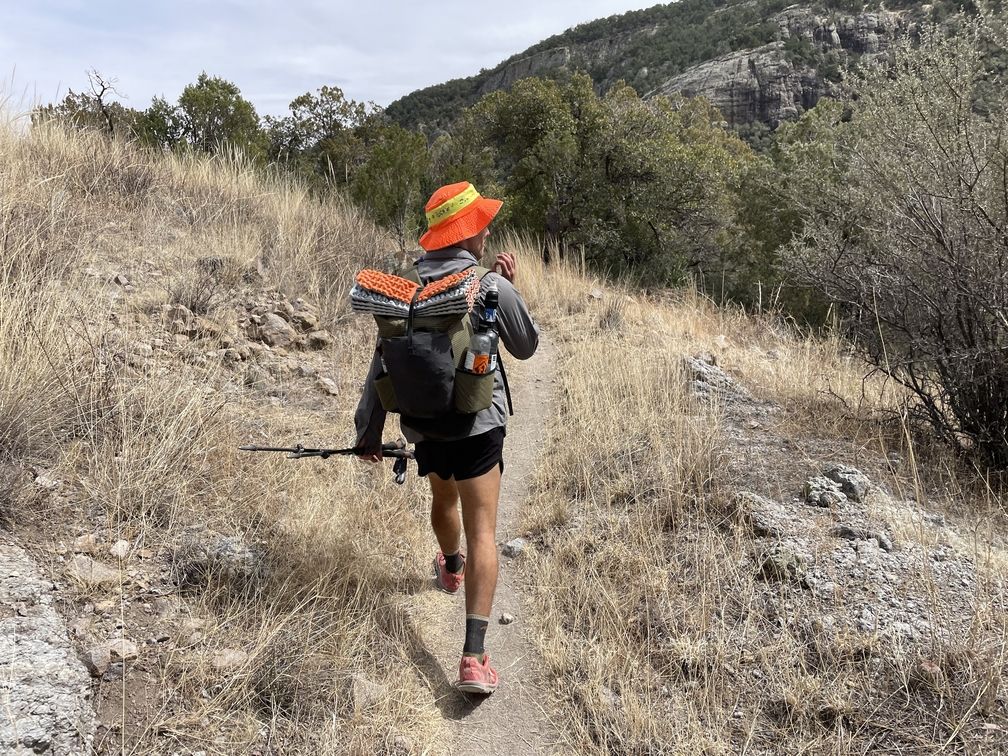 In general is was quite hot for the first half and quite cold for the latter half. I encountered roughly one storm per week on trail which was properly forecasted and easy to prepare for. The communities and people along the trail were all super friendly and welcoming though you may want to keep an eye out for the wildlife, in particular the snakes on hot days. Lastly, if you love mountains and the great outdoors I can't recommend doing this trail enough!
Humphreys Peak: We passed fairly close to the highest peak in the state but did not climb up. There is some regret in not doing that and wondering when I will ever again have the chance. Despite the peak being covered in quite a bit of snow a few hikers we passed still made the side trip and were able to summit. Depending on the conditions you find yourself in you should give it serious consideration.
Indian Garden Campground: There are two routes down from the south rim of the Grand Canyon to Bright Angel Creek. We took the standard south Kaibab route but I would love to check out the western path that goes by Indian Garden Campground that is apparently also very beautiful. If I were to through hike the AZT again I'd probably spend at least one more night at any campsite in the canyon and mosey about on the other side trails that can be found down there.
Utah: The hitchhike from the end of the AZT to St. George was more exciting than the last few days of hiking. I could not believe the scale and audacity of the mountain ranges which pop out to dot the horizon. I really would love to visit the three big parks: Arches, Canyonlands and Zion. It seems like southern Utah is a huge playground for hikers and bikers while being in the middle of Arizona and Las Vegas. Again if I planned this trip a bit better I would have spent at least a week with a car rental going around the whole area.
Here was the gear I brought and my thoughts on some items:
Keep :
I didn't try out any new gear on this trip so I don't have much to say here. What I would recommend is minimum 4L water capacity, ear plugs, and a sleep system that can handle temps into the 20F(-6C) range.
Lose 2:
Head Net: There were simply not enough bugs to warrant carrying this item. Though it weighs almost nothing and is quite small I'd rather practice a through style of minimalism. Having a bug net for my shelter was more than enough.
Nail Clippers: I've been carrying this item on trips over one month and I've loved having them. The issue is that it's a single use item that is rarely actually used. I will be switching to a Swiss Army Nails 580 which not only has a nail clipper but scissors and tweezers which I often find useful a few times per trip. The compact knife is almost double the weight but provides at least 3x the functionality and usefulness so it's a safe bet in my eyes.
5L Water Capacity: My personal experience and weather on the trail this year makes the extra 2L water bladder I brought seem useless. I never needed more than 3L of water for any one section of trail this year. If I were to do this trip again or another mild desert trail such as this one I would bring one less litre of carry capacity for water. Either two 1L water bottles and the 2L water bladder or just four 1L water bottles. I think having the buffer of one more litre is still worthwhile even if it means carrying an extra 2.2lb(1kg) occasionally.
The Grand Canyon. If you do not intend to spend a night in the canyon I pity your priorities.

Do you want to read a day by day journal of the journey?
Part 1 | Part 2 | Part 3
Want to see some tips for planning a trip like this? click here
---
---
Need professional help planning a trip or want a guide? Click here!
---
If you would like to signup to get a notification when the next article is out enter your email below: