Not too far ahead there are hot springs waiting so we pushed hard through the morning to reach it ASAP. The sun rose quickly and clawed at us as we hiked in and out of tree cover. Upon arrival at the hot springs we decided to take the rest of the day off. Swimming in the cold river and dipping into the boiling pools of hot water we spent over five hours relaxing. Sam and Monique eventually caught up to us in the late afternoon.
After considerable effort, Ari and I finally managed to break free and continue hiking forward as the sun was on it was down. We hiked all the way past sunset and camped out on an exposed ridge with a fantastic view.
Getting up early again Ari wasn't motivated so I just left her behind and set off. Only a few minutes from our camp I came across an injured gopher crawling on trail. It slowly scooted away and into a hole. The next stop on the hike was an infamous McDonald's which EVERY hiker stops at since it is only 0.4 miles(0.7 km) off trail.
Under the sweltering sun all I could think about was of the cheap burgers waiting for me. I managed to hike 22 miles(35 km) by 13:30. I quickly order four McDoubles and an apple pie for myself. Over the next three hours or so I just loitered in the restaurant and used WiFi.
Hiking out I plan on stopping and camping out near a water cache. There is the promise of a sustained climb for the better part of tomorrow with no water. On the way to the cache I meet a girl named Stitches. I wait for her twice as I spot rattlesnakes on the trail and want to make sure no one gets injured. At the cache there is a group of hikers who I had seen also relaxing at the McDonald's. They plan on hiking out in the darkness to counter-act the sun and waterless climb.
As the sun sets some pick up trucks with loud locals pull up nearby. They spend some time shooting their guns up into the hills which will be hiking tomorrow. After awhile they leave and I fall asleep.
Continuing from the water cache and across a dirt road the climbing begins. I trudge along hoping to get in and out of the next town for resupply, Wrightwood. Approaching the place where I would hitch into Wrightwood there were a lot of local day-hikers. I chatted with two different older gentlemen who both wished they had the strength to hike the PCT. Arriving at the trailhead another hiker was getting a hitch and I ran down to join him on the trip to town.
In town some hikers give me free food because they accidentally shipped themselves too much. The grocery store also offered a few freebies for PCT hikers which I gladly took. After a small snack I joined two other hikers, Killer Bee and Queen Bee, to hitch back to the trail. We were picked up by Moises who just moved into the area and had never taken hitchhikers before!
I paired up with the couple and we made our way to the next mountain on the PCT, Mount Baden-Powell. This mountain was named after the founder of boy scouts! In the parking lot to the trailhead of the mountain we were stopped by some road-trippers. Their son had completed the PCT the year before and they wanted to give us drinks and snacks. We stopped to chat and enjoy the treats.
As the sun set we began the ascent of Baden-Powell. It was quite steep along a series of switchbacks. Climbing up around 2/3 of the mountain, the sun was disappearing and we all settled down to camp for the night. It was quite a big day for me, doing over 9000 feet(2750 m) of elevation gain.
Eager to reach the top of the mountain I left the couple behind at camp. Though not as high as San Jacinto there were still some patches of snow I needed to traverse in order to reach the peak. At the top I was the only one there to enjoy the view. On the way down I got lost as the snow obscured the path completely and I end up off in a random direction. After getting reoriented and finally out of snow I made more progress on the large descent. I ran into three day-hikers who were training in order to do the John Muir Trail. They gave me a power bar and took some trash I was carrying.
The next section of the PCT involved a road detour which was not fun. Lots of speeding cars and not much of a shoulder to walk on. It was about 2.7 miles(4.3 km) long and then it ended at a serviced campground. I took a nap on a picnic table during the afternoon to avoid the sun. Leaving the campground led to a busy trail with many day-hikers. After about 3 miles(4.8 km) all the traffic died down and eventually I reached an backcountry campsite. I sat down to eat lunch and was joined by two other hikers who were from Belgium.
The rest of the day passed uneventfully. I got to camp which had many bees, encouraging me to set up quickly and go to bed.
Alone and hot, the day was quite difficult. I just zoned out and pushed myself forward. I managed to hike around 25 miles(40 km) by 15:00. I ran into one hiker named King Arthur and he mentioned that he was planning on reaching a ranger station by the end of the day. I figured why not try to also go there despite that it would be a 32 mile(52 km) day for me!
Around midday I meet three other hikers crowded around a barely flowing creek covered in shade. Two were from the Czech Republic, Raddick and Martin. The other was an American named Joel. They left me behind as I took over their spots to fill up on water and relax for lunch.
Continuing on at a blistering pace my eyes were peeled staring down all the plants overhanging the trail. There were many reports of wild poodle dog and poison oak on the trail here, both of which are poisonous. In reality I did not see any poodle dog on trail and only two small instances of poison oak.
At the ranger station I again met the three guys who were hanging out by the spring. We ate dinner together and then went to bother the ranger for some root beers which he was selling for a dollar a piece. There was also potable water provided to us that I filled up on. After some more chatting with the hikers I settled in for the night.
In the morning I left with Martin along the trail following a long descent. Around 08:00 the sun is already sweltering as I approach the Acton KOA. Straight from the KOA is a large exposed climb. I begin to sweat like crazy and pull out my umbrella as a morale booster while trudging along.
With the intense heat of the day I begin to ration the water I have left. Pushing forward the allure of a local pizza shop in the next town of Agua Dulce is my main motivation. The PCT leads me to cross underneath a freeway via a sewage pipe. The pipe is dark and there is some water trickling down along the floor and I take a half hour break within. The cool, damp and dark tunnel is a boon and I revel in it. I don't have a lot of water at this point but can't bring myself to filter the water running at my feet.
Continuing on out of the the tunnel I enter a stunning valley. The transition is shocking as my jaw drops at the beauty of Vasquez Rocks which is a series of wind swept rock formations. I pass a couple who is out for a day hike and they assure me I'm not too far away from my destination. I drink my last bit of water just outside of Agua Dulce and hurry forward. The official trail goes right down the main road of tiny Agua Dulce which I follow straight to grab myself a huge pizza.
I rush to buy a large Hawaiian pizza and chat with the couple I had seen earlier. I had convinced them to also check out this local pizza place. They buy me a beer! After devouring the whole pie I get a ride from a local down to the infamous trail angels at Hiker Heaven. On arrival I am given a list of rules: how to do laundry, where to take a shower, and where to set up for the night.
There is a crowd of hikers on this trail angels huge property. I hang out with a bunch of them for the rest of the day and end up sleeping on the floor of a trailer home.
In no real rush to leave again into the insanely hot weather, I spend most of the day hanging out at Hiker Heaven. Raddick, Martin, and Joel eventually arrive too. I meet a bunch of other hikers as well: Captain Jack, Princess Cowboy, Buttercup, Blue Suit, Becca, Aly, Prince, and Hawk. Everyone decides that the heat is too much to handle so they will hike out around evening and through the night.
Around 18:00 I leave with Becca, Aly, and Hawk for the night hike. The lack of sun is great and the desert is alive with movement. Putting on headlamps we often see the gleam of eyes staring at us from just beyond the path. I spot many tiny scorpions laying around and there are plenty of kangaroo rats drawn to our lights. Looking back down the trail in the distance other hikers' headlamps bob up and down in the darkness.
After 20 miles(32 km) or so we are all feeling exhausted enough to give up and set up camp. Despite all the critters I saw up until that point I have no desire to set up my tent. I am convinced by Hawk to cowboy camp for the first time ever. The set up is easy and I quickly doze off.
Without much sleep under our belts, the sun forces us up early out of our sleeping bags. The girls had woken up earlier, leaving Hawk and I behind. We packed up and soon I also leave Hawk behind. Hiking quickly I manage to catch the girls trying to hitch into the next little town which had another pair of popular trail angels. I was going to continue hiking but the hitch came and I decided to check it out.
The trail angel Terri was amazing. She brought us to her house which had a huge canopy in the front yard with a bunch of couches for hikers to crash on. After giving each hiker a hug, despite our dirtiness, Terri informed us of the included breakfast, dinner and port-a-potties that were available to us. The price of entry: we have to wear a Hawaiian shirt that she provided while we stayed over.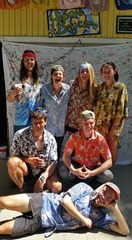 From top left: Joel, ?, Aly, Becca, Raddick, Hawk, Me
On one of the couches was a hiker from Israel named Que Pasa? who had night hiked the whole way from Hiker Heaven to here(Casa De Luna). Eventually Hawk, Raddick, Martin and Joel also arrived. The day was again spent hiding in the shade. In the afternoon Que Pasa? and I volunteer to assist in making dinner. HUGE cans of beans and cheese dip are dumped into pots which each of is responsible to stir. Under one canopy a table is set up to serve taco salads to 20+ hikers that have accumulated over the the day. To my surprise Ari appears just in time for dinner with her friend Matt who is originally from Toronto.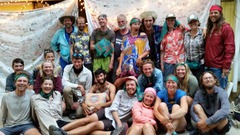 From top left: Blue Suit, Martin, ?, ?, Ari, Matt, Hawk, ?, Joel, ?, ?, ?, Raddick, Que Pasa?, Captain Jack, Aly, Princess Cowboy, ButterCup, me, ?, Becca, ?
During dinner Hawk, Matt and I watch the NBA championship finals. Toronto wins which allows Matt and I to celebrate at the expense of Hawk. Later Clax, a friend of Ari's, drives up to visit and we chat about ultralight gear. We all stay up late into the night before I pass out on one of the couches on in front.
Leaving Casa De Luna just before midday with Ari and Matt, Clax gives us a ride to the trailhead. He joins us for about 10 miles(16 km), all the while snapping tons of pictures. Having done the PCT the year prior Clax gives us a good idea of where we are going next...to a huge section of exposed desert valley.
The weather for the day is quite hot but it is overcast and manageable. Along the trail we pass by a handful of small prospector caves which we enter to explore. Coming up to a questionable water source around 14:00 we are instead met by a camper van. There is a father, Bill, who is trying to support the hike of his son, Lem, and at the same time dishing out great trail magic for all the other hikers. We are able to get clean potable water from him, watermelon, electrolytes and even foot-bath in a little tub with baths salts!!! Admittedly we spend too much time hanging around in the shade of the van enjoying these amenities.
Matt filling up on water
Hiking onwards at a quick pace we manage to do 30 miles(48 km) and we catch basically everyone who I had meet at Hiker Heaven days before. After a big family dinner everyone passes out in their tents.
Waking early to hike out with Matt and Ari, we make our way to Hiker Town. A weird place which consists of a bunch of small shacks, along a highway, which have been repurposed into overpriced lodgings for hikers. Bill, the trail angel, was there offering bananas and water. We don't stick around for too long and instead call a shuttle to a local restaurant/store, Wee Vill, they have a large yard behind their building to allow hikers to hang out in the shade and even take showers for free. Inside I take advantage of the grill to order a couple big burgers.
From left: Aly, Que Pasa?, Matt
The plan again is to wait out the hot sun in order to hike out in evening. The next section is flat and completely exposed. The PCT follows an aqueduct that feeds the west coast's cities and the trail passes through a large wind farm. Almost every hiker plans to do this 24+ miles(37 km) section at night. Eventually Bill also arrives at Wee Vill so Ari and I are able to soak our feet again. As the evening approaches we manage to get a ride with Bill back to Hiker Town which is the trailhead.
From left: Que Pasa?, Matt, Ari, Buttercup, Princess Cowboy
The aqueduct night hike begins with our small group consisting of Matt, Ari, Que Pasa?, Aly and Captain Jack. First we follow the open aqueduct then are made to walk along a huge metal pipe. As the sun fades and the moon comes out we have no need for headlamps. It is near full and completely illuminates us in moonlight. The hike is completely flat and soon my ankles hurt from the lack of variation.
At the wind farm Que Pasa? decides to set up camp and the rest us continue forward. After 30+ miles(48 km), barely on our feet, we make it to our planned stop near a creek. It's 04:00 in the morning so we quickly set camp and go to sleep.
With only three hours of sleep, the sun once again disrupts us from slumber. Filling up with water Matt, Ari and I head out for the day. It is hot and there is a lot of climbing. We come across some motorcycle riders who zig zag through the valleys stirring up dust.
At the top of one climb we suddenly see two pink patio umbrellas at the peak. As we approach we discover a local trail angel's set up. Two patio umbrellas, about six chairs, fresh fruit, cold pumpkin pie and tons of potable water await us! Without question we spend a fair amount of time hanging out under the umbrellas and chat with our host and some other hikers (two from Germany and one from Portland).
Continuing forward we pass by hundreds of windmills. It is quite windy and it seems the energy companies know how to capitalize on that. In the late afternoon we near the next resupply stop, Tehachapi. We manage to pick up a hitch from on top of a highway overpass with a young couple. Getting into town we eat some McDonald's then fill our packs up with food. Just outside the grocery store another local stops to offer a ride. We take it to a local motel. As I try to book the room the lady notices Matt and Ari will also be sharing the room so she raises the price on us and we decide to just leave. We go to the local airport strip and manage to get free camping for the night instead!
Fortunately for us we aren't forced up by the sunlight this morning. Unfortunately for us we are forced up by sprinklers. The plot of land which we camped on has automatic sprinklers that go off every morning at 08:00. Thankfully we realized this last night so we were out of the way and nothing got wet. Hitching back out to the trail wasn't too difficult.
Out of town there were some long sustained climbs under the sun. It was really taking a toll on us and without much good sleep the previous days we decide to take a siesta under a group of trees at the top of the climb. Three hours later we managed enough energy to get up and continue forward. We hiked into the night and Matt decided to drop to camp early. Ari and I continued until 22:30 and then set up in a nice open area for the night.
We sleep in a bit and start hiking around 07:00. The vegetation starts to change a little as I find myself walking not in desert shrubs but tall pine trees for a short period. It doesn't last long as I'm back into low bushes in no time.
Matt eventually catches up with us as we spend the day hopping from different water sources. We meet two other American hikers (Noah and Jordan) during the day and we flip flop stopping for water. Near the end of the day we reach a large water cache that is left out for hikers since the next section is bone dry.
From the cache I am just with Matt. We get caught in a small storm system that rains and hails on us for half an hour or so. Arriving an hour later to camp we find ourselves and the ground already dry. We set up and go to sleep. Sometime in the dark of night I hear Ari catch up with us.
Today we get the first glimpse of the snow capped Sierra Nevada range off in the distance. The day offers a lot of climbing as we rush forward to a distant water source. The main goal for the day is a flowing spring that is at the end of winding jeep road. We finally reach it in the afternoon and take refuge under some trees as we refill our dry bottles.
Heading out we lose track of Ari as she is not feeling well. Coming up to Walker Pass we see a canopy set up and a bunch of hikers lounging around. Matt and I decide to run straight down the hill to greet the magic. There is a homeless lady named Joy who is living out of her car. She gives us some fruits while another trail angel, Laurie, is present to give us an assortment of drinks. Ari arrives just as Matt and I set off again.
Before reaching camp there is a large climb but thankfully at this point it is evening and the sun is at the horizon. After a few more miles we reach camp and there is a multitude of stars lighting up the night sky. At some point in the night Ari catches up to us again.
Previous Story Next Story, PCT days 29 to 42
---
Want to keep up with projects I'm working on and adventures I'm sneaking off to?
At most one newsletter per month with love from Lucky Hat/Packmule/Alessandro.