Having cycled across Korea, I started hanging out with my friend in Busan. Acting the tourist I quickly forgot about continuing my trip. After a full 5 days in the big city though the itch came back and I wanted to get moving once more. At her recommendation I'd avoid the populated south-east coast cities and instead bypass Ulsan via Gyeongju and Pohang.
After spending a day visiting some popular attractions in the Gyeongju, I awoke early and began cycling a beeline for the coast. The route I chose snaked alongside and underneath a highway artery through lush green mountain valleys. In no time at all the smell of shrimp wafted to my senses as I rushed to meet the shoreline. Rejoining the labelled Korean cycling path infrastructure, I was led through countless small fishing villages. On one side were tightly packed fish vendors and on the other were the wave breakers protecting elderly women working on the latest catch. I'd end up passing near a hundred racks of seaweed, urchins, lichens and squid drying out in the sun right along the path. I wondered to myself how come there were no birds in sight with these easy snacks laying out in the open, but I never came across an answer.
I made a point of starting the coast path south of Pohang city. This allowed me to cycle to the eastern most point of the Korean peninsula. At the eastern tip was a pair of monuments called the Hands of Harmony. From the tip into the heart of Pohang the scenery changed abruptly. Suddenly I found myself run through a smog heavy industrial corridor of refineries and factories. I kept my buff snug over my mouth and nose with my eyes squinting through the pollutant heavy air.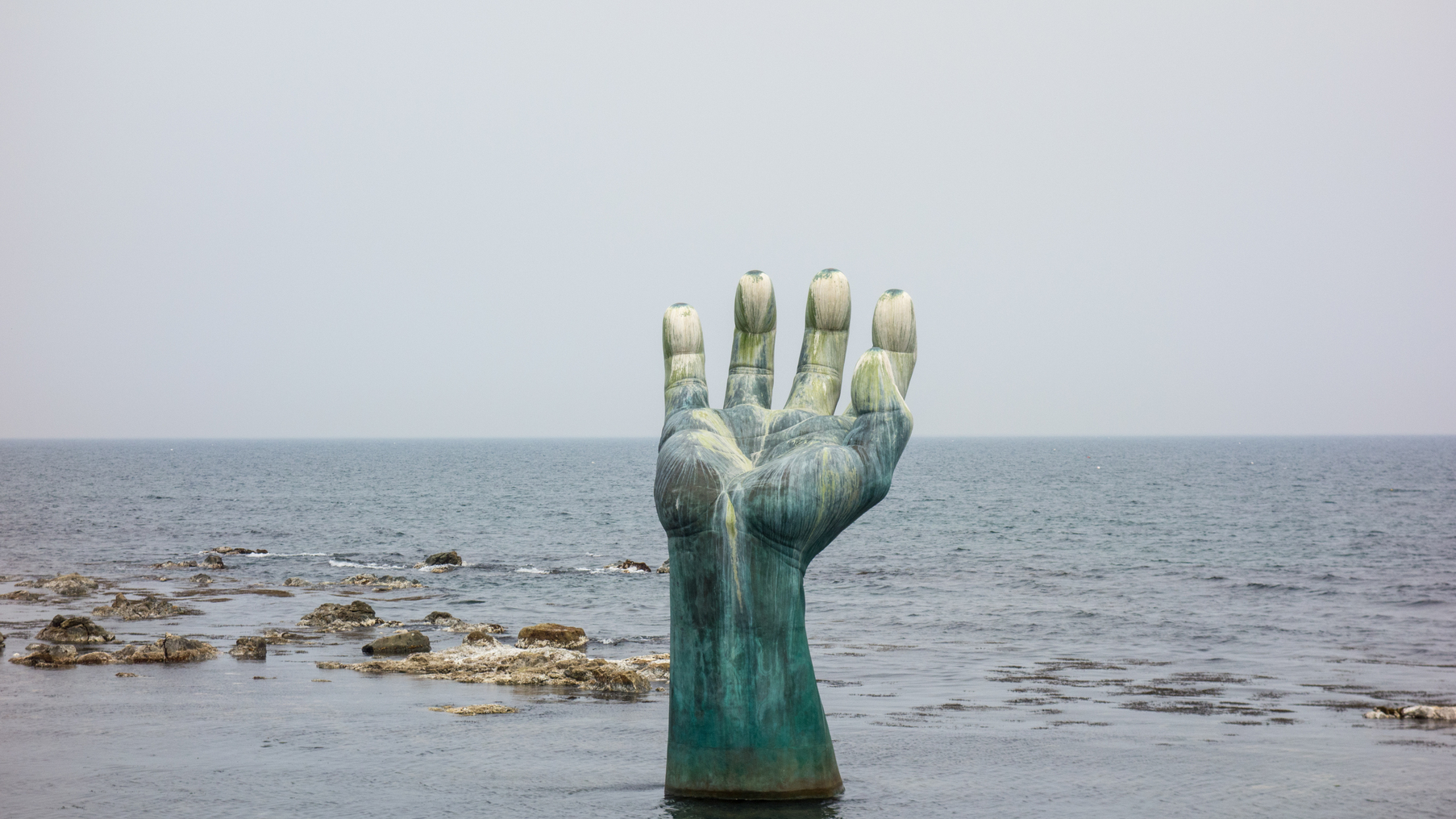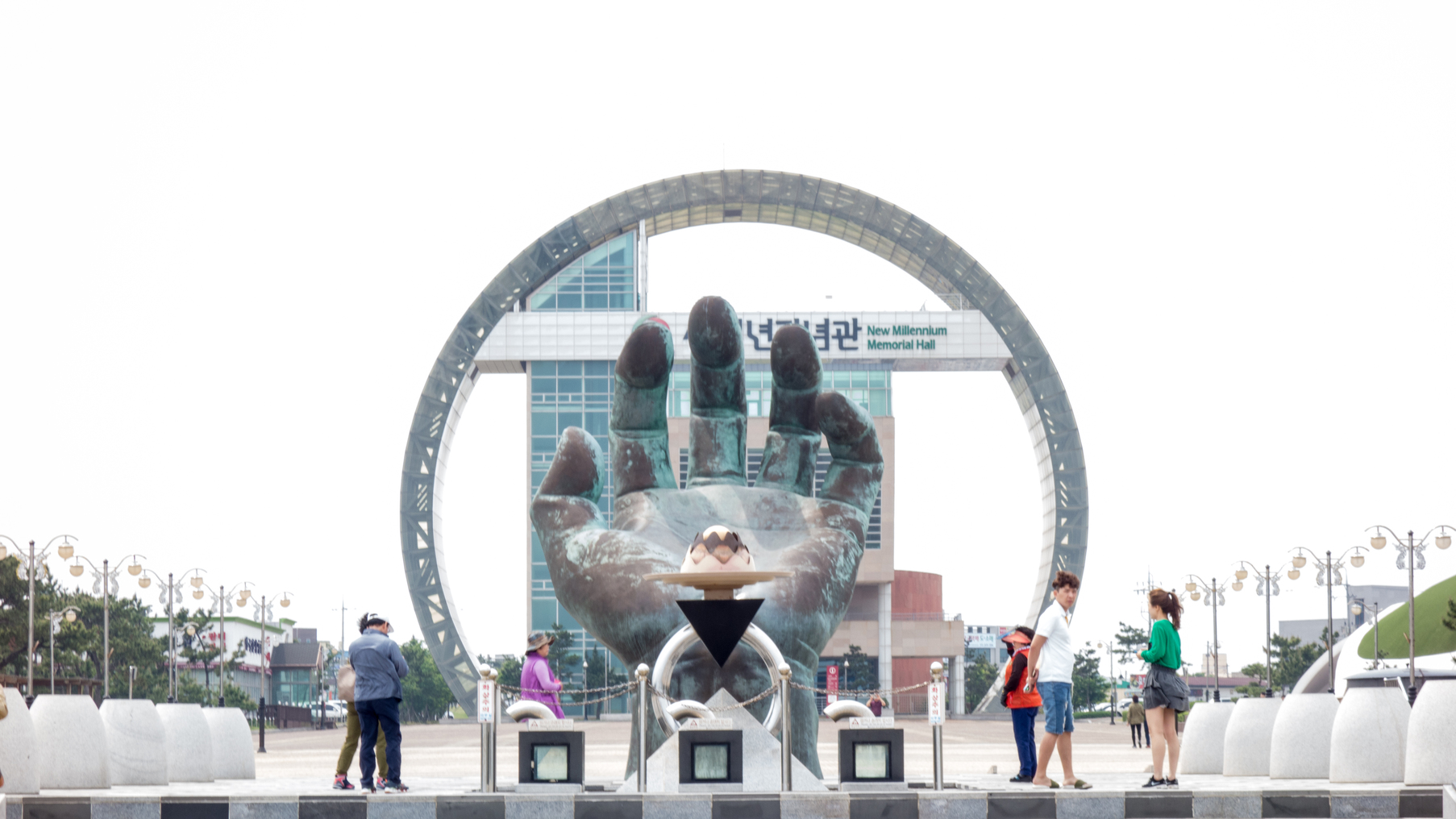 Hands of Harmony, Pohang. Located at the eastern most part of mainland Korea.
Thankfully on the northern edge of Pohang the beaches reappeared along with slightly less dense air. Stopping early to find housing was a priority. I was sweaty and now covered in the accumulated dust so the only thing I'd on my mind was a shower. With a deepened sun tan and some more junk food from a convenience store I spent the night wandering around a small beach strip listening to live music and watching people. A decent day all in all.
Checking the weather forecast I saw a storm system moving across the south of the peninsula that was predicted to hit the area I was currently at. I left early and biked hard hoping to be able to escape the looming clouds. I was speeding once again alongside sandy beaches and deep navy blue crashing waves. The sky was overcast, which was a welcome treat considering how sunburnt I already was. I began to pass cycling certificate checkpoints but they seemed much more sparely signed than the Seoul to Busan route. They were not officially added to the bike passport yet so there was a separate temporary paper passport which I found in one of the booths. Prior to coming to Korea I'd seen many maps depicting the eastern cycling path extending all along the coast, but I guess it was still being actively worked on by the government. This was confirmed as I passed by tons of seemingly abandoned buildings and public recreation spaces that had active construction sites.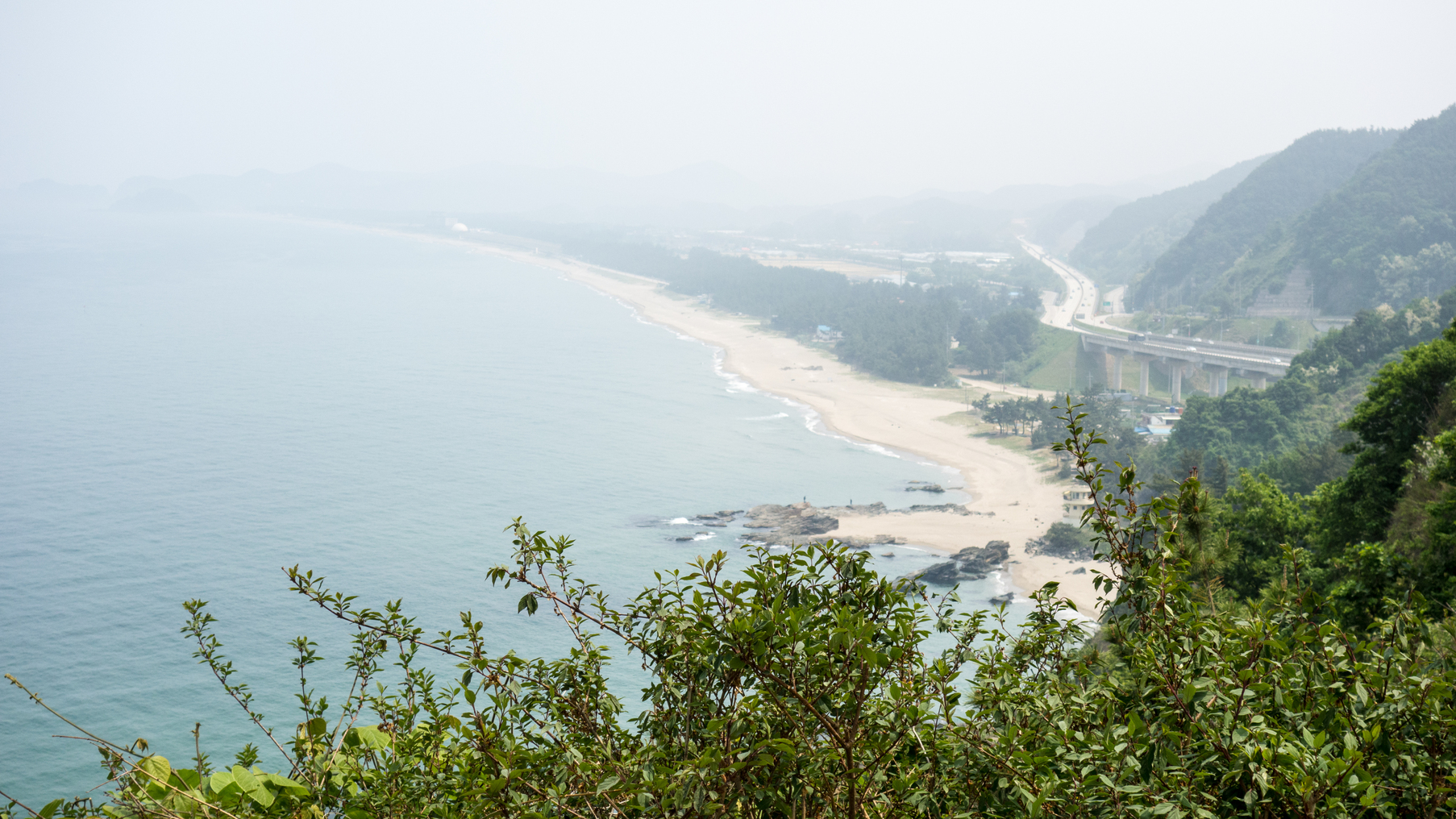 The coast and the smog
Though not as flashy as the the main cycling route, the east coast path was well enough marked that I disregarded my gps routes and instead purely followed the signs. It varied widely from the gpx files and I rolled through many small fishing villages on roads that were not marked on any map. The quality of the path was actually very good and they could easily officially open up a majority of the path if they wanted! There were quite of few climbs but also many great flat breakaways right along the water. Besides the gorgeous vista of the waves there was also the fascinating rivalry of all the seafood shops. Each shop seemingly had larger and larger crab sculptures on top of their businesses. One was actually 3 storeys large!
Just before reaching Uljin I chatted with some local riders at a certification booth. They make a point of laughing at me since I'd been incorrectly stamping my new paper passport, oh well. Talking with some other middle-aged gentlemen, in pretty good English, they tell me they are leading a bike tour. I mention that I saw their pack of cyclists early on in the day taking a break underneath a large crab monument. They ask me about my trip and I comment how it must be nice to have mechanical and transport assistance on cycling trips. They offer to refill my water bottles and even say that they can give me a lift into town with their group. I politely refuse, stating that I'd rather get around with my own legs.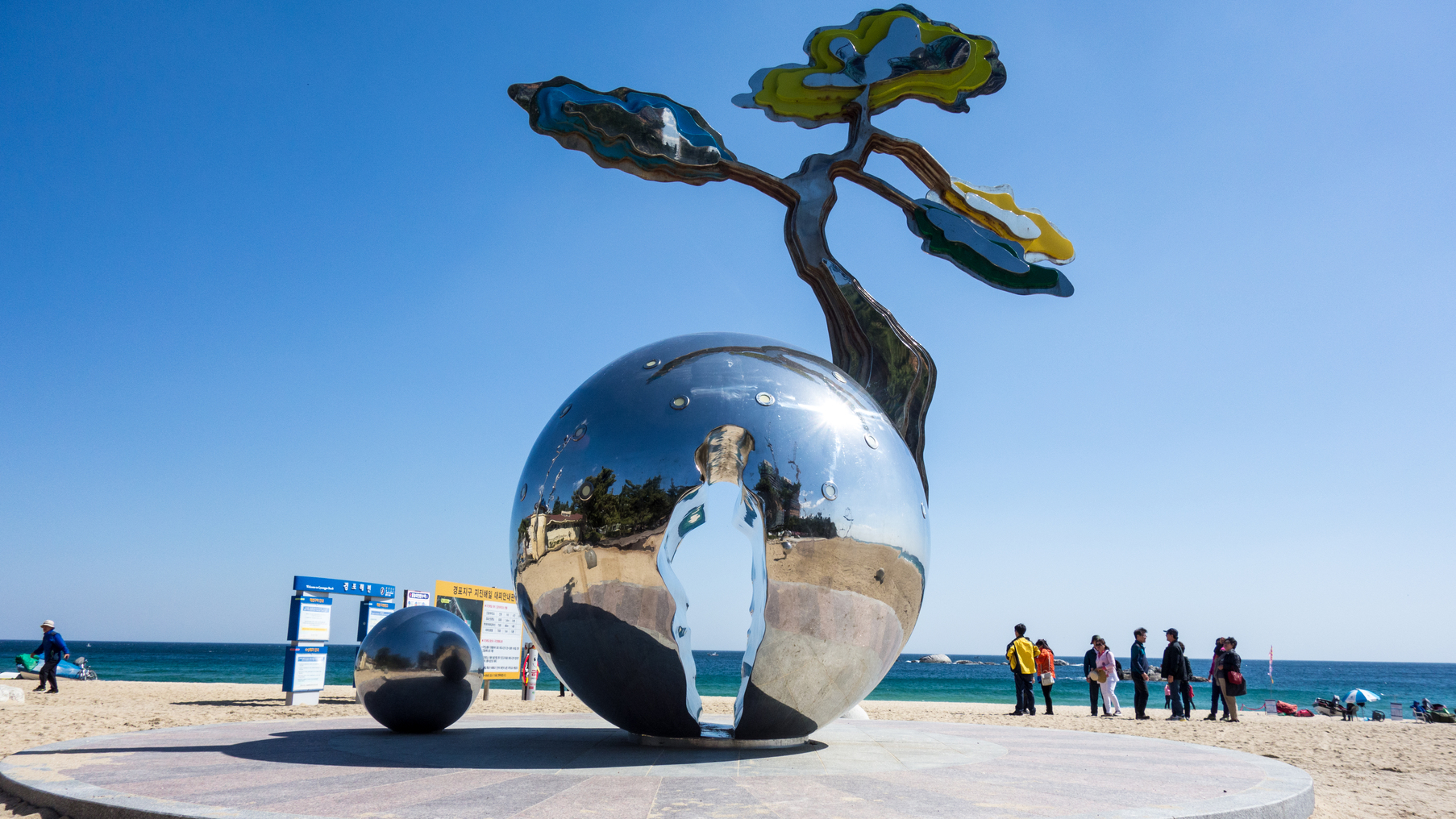 Art installation near a certification centre
I cycle off and a few minutes later I began to regret not taking their offer. Instead of spending a night chatting away with countless Korean cyclists I am instead relegated to the outdoors. I have been staying in hotels for the last week or so and the allure of camping calls to me. I stopped right before Uljin city and camped right along the river waterway. The weather was calm and the sun set as a rosy glow over the horizon.
This day started as a roller coaster of mishaps. Firstly before going to sleep, I attempted to take out my contact lenses in the dark. This ended with me spilling contact solution everywhere and losing one lens. With no spares, the rest of the two weeks in Korea I'd have only half vision. Secondly I'd pitched my tent under some trees so the hot morning sun didn't bother me. This had an adverse effect as the morning dew/humidity caused my tent to be covered in moisture. Lastly to end the morning, I went to piss under a pedestrian bridge and ended up pissing on myself a little bit. A great start all in all.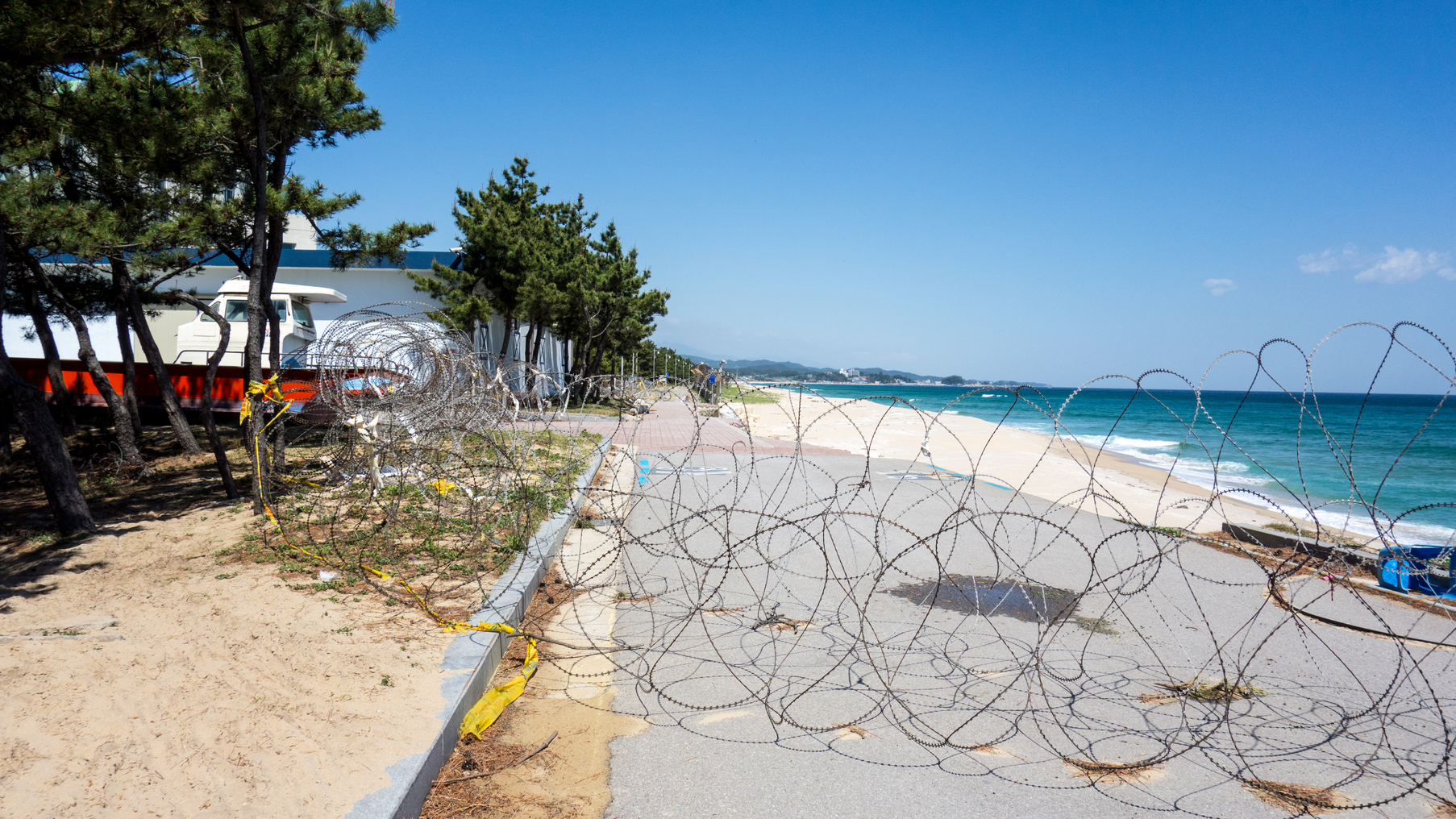 Encountered a lot of barbed wire and military posts along the east coast
After packing I rode into Uljin to grab some breakfast and food for the day from a convenience store. I somehow managed to miss the certification booth in the town and also get a flat tyre while passing through. Feeling pretty down in spirits while replacing my tube some locals came up to chat. They were a group of motorcycle tourists travelling around their country on a road trip! I told them that I'm doing the same thing but just on the bicycle and they seemed quite impressed.
Reconnecting with the actual coast beyond the town, the day passed quite similarly to the day before. I went past quite a few military outposts and kilometres of beachhead secured behind chain link fence topped with barbed wire. Despite this security many local fisher men and women had managed to open theses fences to get to prime fishing spots. I ended up passing more abandoned infrastructure that had markings for FIFA(?). I even passed by a large party bus with Cyrillic lettering blaring out euro tunes!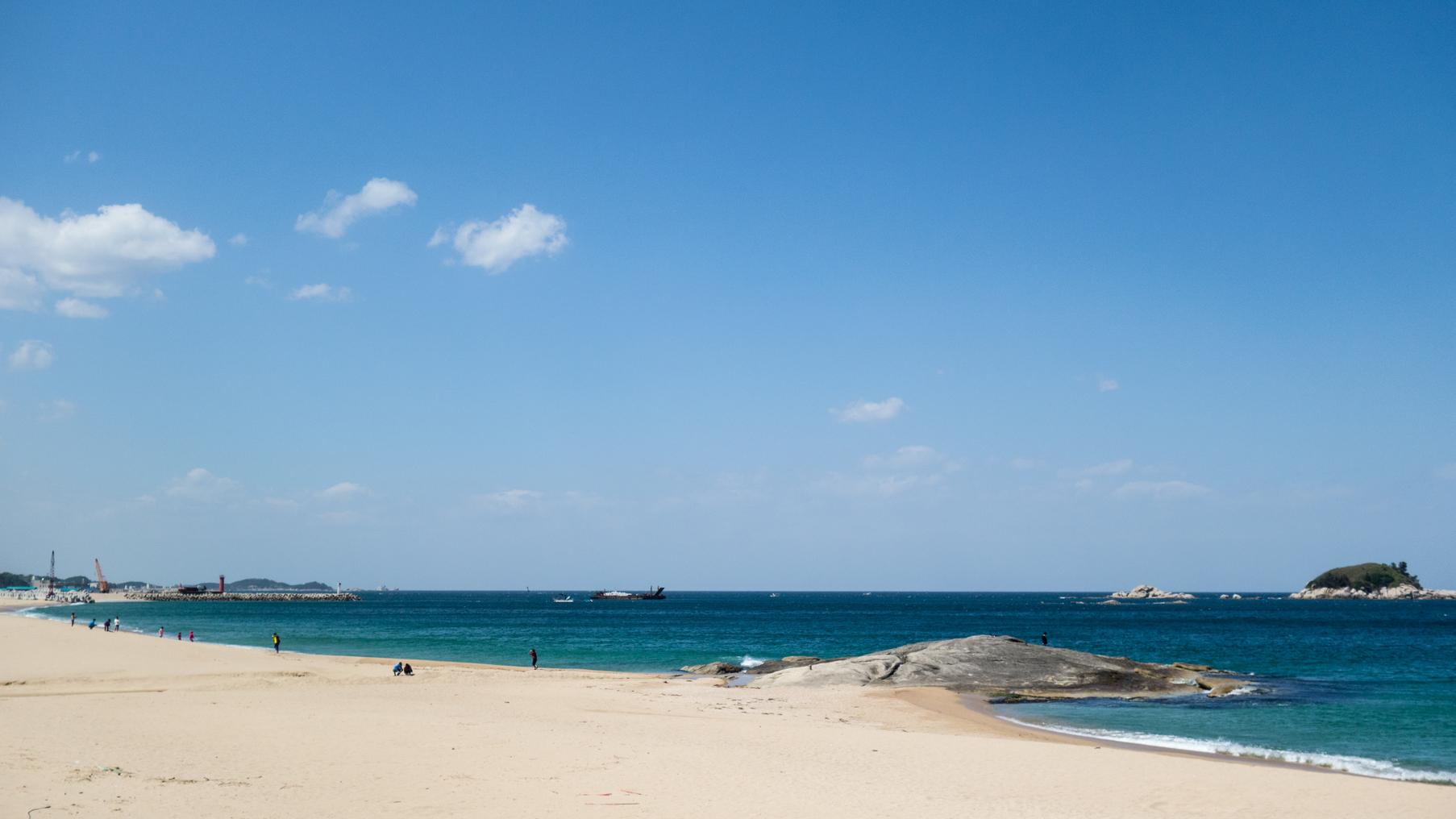 More coast
I got into a familiar pattern of climbing and chasing certification centres as the day passed by. I was caught up in some heavy rain near 1600h and ended up taking shelter underneath a bus stop for roughly an hour until the storm passed. Continuing on, the path was no longer exclusively for bicycles but mainly narrow coastal roads that I'd to share with the speeding cars. The actual quality of the pavement was also significantly worse than other areas I'd ridden through, but I attributed that to being exposed to the coastal environment. I was forced to navigate through a few more ugly and pollution riddled manufacturing towns until I got rained upon once again.
Not wanting to have to deal with the elements, I stopped at the next accommodation I found. A small hotel run by an elderly couple, and the husband peppered me with questions in broken English, obviously very inquisitive of what I was doing out there with my bike. After a quick shower and putting my wet clothes out to dry, I passed out in a comfy bed.
Waking in the morning I figured I'd two days left of riding until I reached the end of the eastern cycle path. As I left the hotel the owner's husband offered me water bottles and candy bars which I gratefully accepted. The weather, unlike yesterday evening, was gorgeous with the sun already strongly shining in a nearly cloudless sky. Within half an hour of biking I already hit a checkpoint along an empty beach. A Korean cyclist caught up to me I as sat down and ate some breakfast. He didn't speak any English but he offered a lollipop, which I politely refused. He was riding a fully loaded Surly LHT.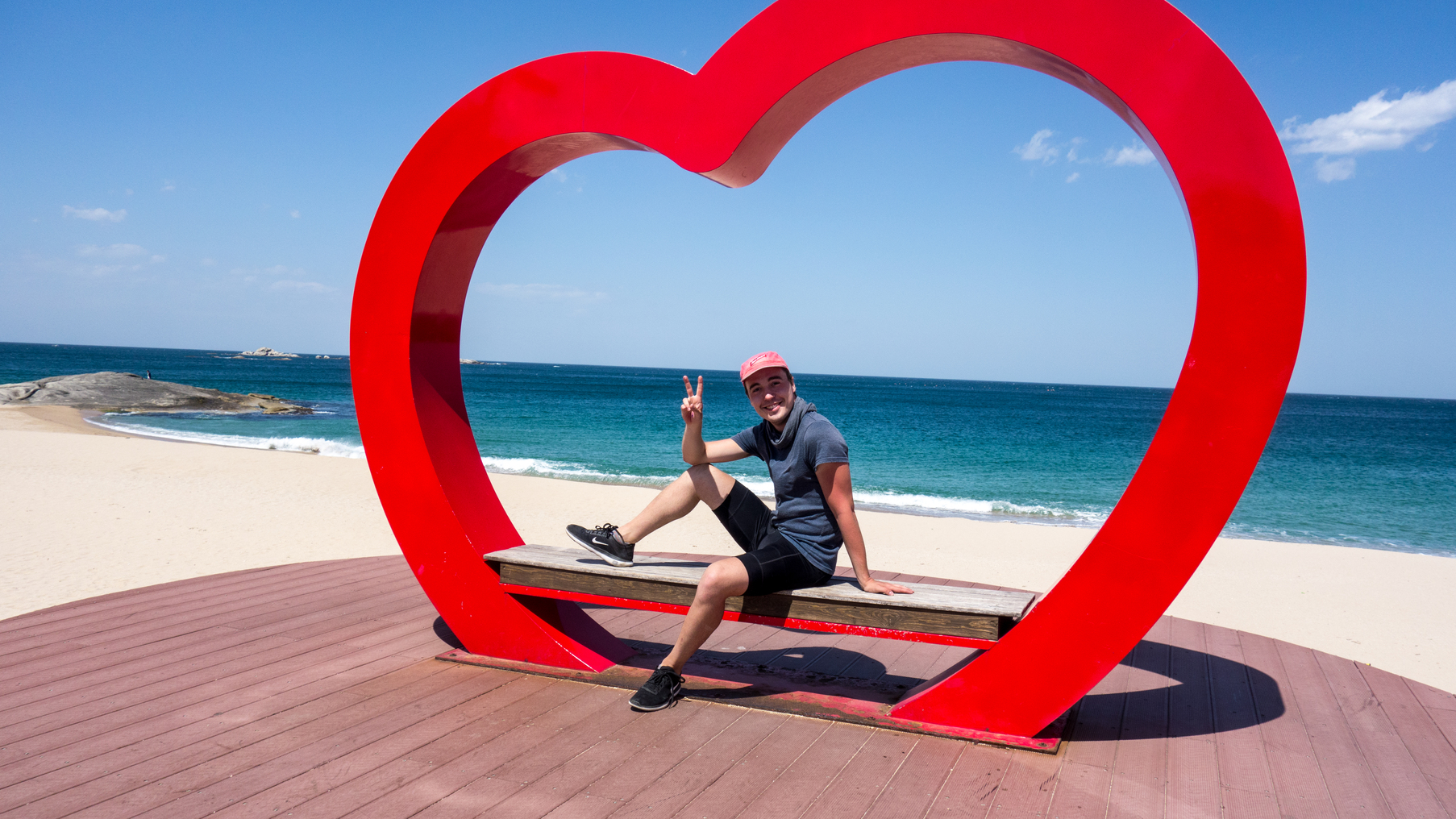 ❤
At the next certification centre again I met yet another Korean cyclist on a carbon mountain bike. I ended up spending the next few hours chasing, passing and being caught by this cyclist as we powered onwards from checkpoint to checkpoint. I eventually settled for tailing him as he set a good pace of travel. Eventually we hit a checkpoint that was at the top of a decently steep climb and we both took a break from the sun. We began trying to talk to each other but he knew almost no English and I knew maybe 5 words of Korean. I took out my phone which had an offline Google Translator app and we started passing it back and forth. It was a lot of fun chatting like this since the translation is often wonky so it was like an extended game of charades. After a brief snack we set off together, with him again setting the pace.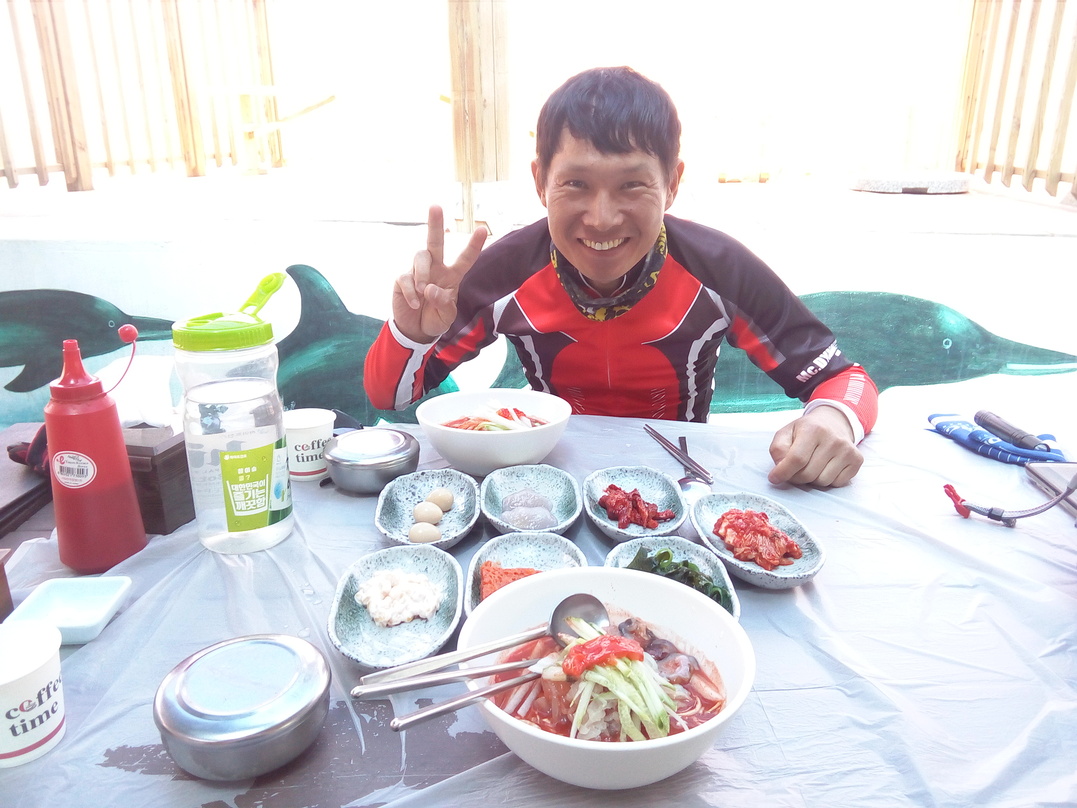 My new friend 노현태 (No Hyeon-Tae)
The next checkpoint was right along the coast in front of a seafood restaurant. My new friend pointed to his stomach and rubbed, he was hungry! After a bit of charades, I managed to ask him if I could join him for lunch and we went in together. We continued chatting using the translation app over a delicious meal of 물회 (mulhoe) which is spicy raw fish soup. Filling up our bottles in the kitchen, we then headed out and began racing again.
We stopped at some attractions along the coast as we biked but mostly we whizzed by at an astonishing pace. My original plan of two more days was quickly becoming finish the cycle path today! Before I knew it we were at the end and I'm in front of the last certification centre! After snapping some pictures without skipping a beat we doubled back to reach the closest town as dusk was coming. We needed to catch a bus from Daejin back to Sokcho before the sun set and service ended. We blitzed back and managed to come in time for the last bus of the day. I was very lucky to have my companion as the bus station was only marked in Korean and I'd have never found it without his help. My original plan was to bike back all the way to Sokcho but this was much better. The bus ride was about two hours and we took the time to get some shut eye. Just before arriving he asked me to join him for dinner and I eagerly accepted.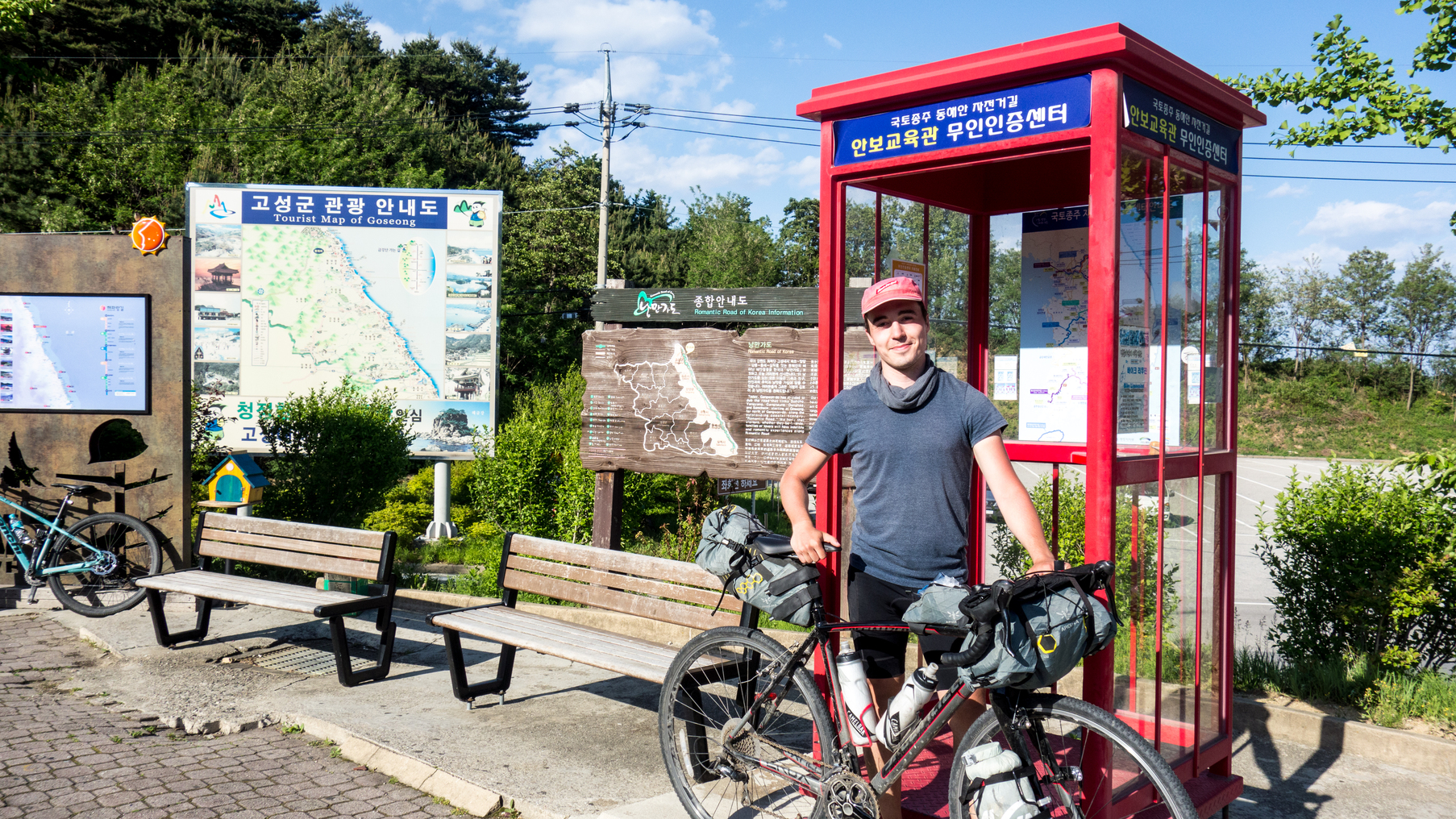 The final certification centre on the east coast bike path!
Despite it being traditionally just a snack food I convinced him to take me out for some 치맥 (chimaek). That is essentially fried chicken and 맥주 (maekju), which is Korean for beer. My friend from Busan had previously told me that Sokcho was famous for it's fried chicken. My companion and I'd a great dinner together drinking and passing the translator back and forth. Unfortunately he needed to take another bus back home since he worked in the morning! He lives in Gunsan which is all the way across the country on the west side. We say our goodbyes and each promised to visit each other in our respective home towns one day in the future. I ended up grabbing a cheap hotel near the bus terminal as I planned to spend two days exploring the huge national park in Sokcho before heading back to Seoul for my last week in Korea.
And so officially ended my cycling within Korea. The next week would see me doing many day hikes, drinking with new found companions and exploring Seoul's many different neighbourhoods. If you are interested in my post trip retrospective of what went well and what went wrong the click down below to read the next story.
---
Want to keep up with projects I'm working on and adventures I'm sneaking off to?
At most one newsletter per month with love from Lucky Hat/Packmule/Alessandro.